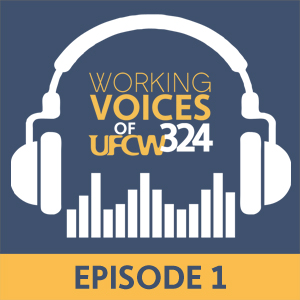 Introducing our very own member hosted, UFCW 324 podcast! We are excited to launch this podcast today as a tool to Inform, Educate, Conversate, Agitate, and Activate all members of our union. We hope you tune in for our monthly podcast where we will bring you relevant information from all the job sectors of our union.
Our very first host is Matt Walters, a shop steward at Pavilions in Laguna Beach and Vice President of our union. For this month's podcast, we bring you Andrea Zinder, our UFCW 324 President who speaks on her labor background and activism, discusses goals for our union, and discusses the victories, challenges, and opportunities for our members during these times.
We want to hear from you! Please send us an email with thoughts, comments, episode ideas to info@ufcw324.org.