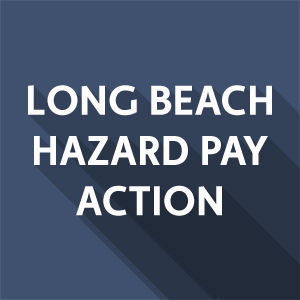 Grocery workers, city leaders, and community activists gathered at the Food 4 Less in Long Beach to express outrage at the decision by Kroger to close two of its stores in the city in retaliation for a "hazard pay" ordinance recently passed by the City Council.
The new law requires grocery chains to pay workers an added $4 per hour for the next four months. Local 324 has been one of the law's primary backers and is fighting to pass hazard pay ordinances in other cities as well.
The event was held on the heels of the news that a district court judge has denied a request by grocery chains for an injunction that would prevent enforcement of the law.
A press conference gave union leaders and local elected officials a chance to demand that Kroger reverse their decision and keep the stores open.
Long Beach Mayor Robert Garcia thanked grocery workers for showing up for work every day in light of the increased danger posed by the ongoing COVID-19 pandemic. He criticized Kroger for its decision to retaliate and attempt to intimidate by closing a Ralphs store and the Food 4 Less where they were gathered.
"What we are witnessing today is shameful. Everyone here should know that Long Beach will continue to stand with workers," Garcia said.
His words were echoed by 26-year Food 4 Less employee, Robert Gonzales. "I pray that they keep this store open, not only for my sake but for the people who live here," he said.
Before and after the press event, members and the community rallied in front of the store, holding signs that urged Kroger to restore hazard pay for workers.