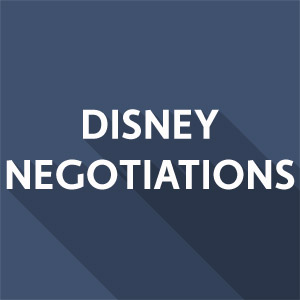 Update on 12/3/21
Disney cast members now have ratified an agreement for Disneyland Park, joining Disney California Adventures (DCA) in doing so. Between all four of our unions, the entire Master Services has now approved the Disney agreement.
We are proud of the gains made in this current contract and want to congratulate members on this important win. We also recognize that there is much more to fight for as we prepare for our next contract negotiations in just over two years. It is our goal to ride the momentum of this contract and continue building collective power for all Disney cast members of the Master Services Council.
Update on 11/5/21
In response to YOUR enthusiasm about the Town Hall, Disney modified its proposal & your committee agreed to recommend. Voting on 11/17/21. Details to follow.
Update on 11/2/21
PLEASE NOTE THAT THE TOWNHALL IS CANCELED
This just in!
Senator Bernie Sanders confirmed to address Disney members at the town hall on November 17th! The worker power momentum keeps building and can be seen across the country demanding better pay and fairness at the workplace. Join the town hall and hear from Bernie Sanders as we come together to say that Disney workers deserve respect and wages that reflect their hard work!
Also joining the Town hall: 
Dolores Huerta, Labor Leader, Activist and co-founder of the United Farm Workers Association
Peter Dreier, Occidental College and co-author of "Working for the Mouse," A Survey of Disneyland Resort Employees
Lou Correa, Representative for the 46th Congressional District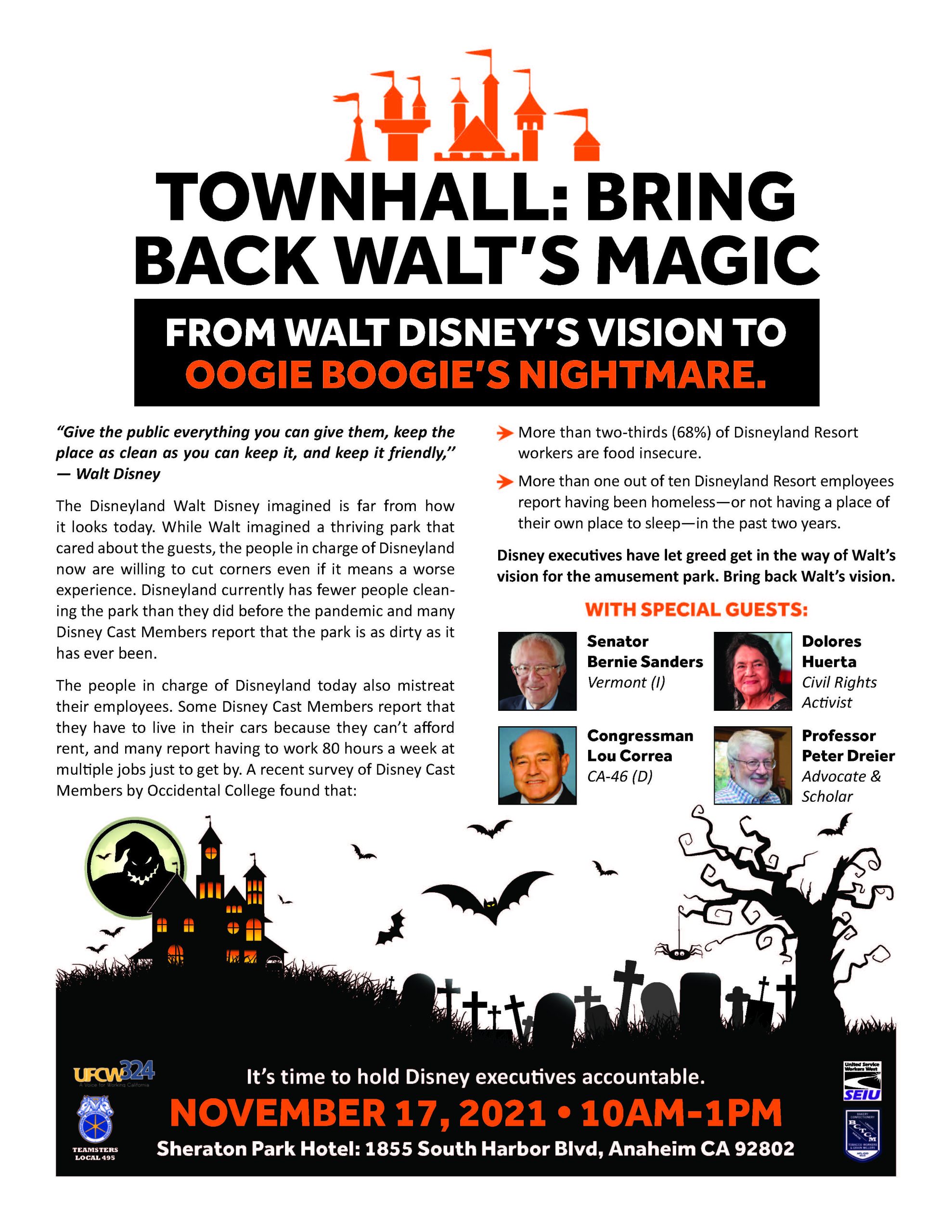 Update on 10/21/21
Disney negotiations resume on 10/27 and 10/28. Fair wage increases for all is the main issue. Remain strong and united. You are key to an acceptable offer.
Update on 8/6/21
A fantastic show of union strength with hundreds of Disneyland Cast Members yesterday! The Coalition of Resort Labor Unions, community allies, and supporters held a rally to tell Disney to do the right thing and negotiate a fair contract with adequate staffing, reliable scheduling, a safe and clean workplace, and pay increases that reflect high costs of living and reward workers for their labor. We stand shoulder to shoulder with our union siblings at UNITE HERE Local 11 and SEIU-USWW to tell Disney to restore jobs! This is what SOLIDARITY looks like!