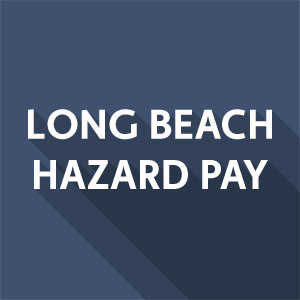 UFCW Western States Council
FOR IMMEDIATE RELEASE
February 25, 2021
Worker-Led Movement for Hazard Pay Grows as Long Beach Ordinance Upheld by Court; CA Cities and Counties Double Down on Protecting Essential Workers
City and County of Los Angeles; San Mateo County and Cities of Berkeley and Buena Park Vote to Provide Hazard Pay for Essential Grocery Workers
New Poll Finds 77% of Californians Support Hazard Pay Legislation
Sacramento, CA – Workers across California are celebrating huge steps in the growing statewide movement for hazard pay for essential grocery workers with a ruling today in federal court that Long Beach's hazard pay ordinance must be kept in place. Today's decision was the latest in a string of victories this week, where five more cities and counties in California voted to require temporary hazard pay for workers to adequately compensate them for the increased risk they face while going to work during the COVID-19 pandemic.
"Until a year ago, essential grocery workers would have never thought that their jobs would be considered life-threatening," said Andrea Zinder, President of UFCW Local 324. "But now, a year into the pandemic, grocery workers have to prepare themselves for what they may face at work, and what they may bring home to their families when they clock out for the day. We applaud the court for recognizing that essential grocery workers don't have the luxury of working from home and that their sacrifice deserves compensation. We hope other cities in our state also recognize the hard work essential grocery workers do to keep our communities going."
In denying the California Grocers Association's request for an injunction, Judge Otis D. Wright II said, "CGA utterly fails to address why the Ordinance is not an appropriate means for…fairly compensating grocery workers for the hazards they encounter as essential workers." Now that the judge has ruled so decisively, it's time for the grocery industry to stop these frivolous lawsuits, and start paying essential workers what they are owed.
The ruling comes the same week a new Berkeley IGS poll reported that 77% of Californians support legislation that gives hazard pay to frontline essential workers until they are able to receive vaccines.
"We go to work and we wonder if we'll be ok the next day," said Alex Corona, a four-year employee of Ralphs in Long Beach. "My mom and I both work for Ralphs, and I worry about her and my co-workers who have families to go home to. Any attempt to stop hazard pay or retaliate against workers for fighting for hazard pay is simply greed and we thank the court for standing up for us today."
This week, the City and County of Los Angeles, San Mateo County and the cities of Berkeley and Buena Park voted to join the growing number of cities across California opting to recognize the hard work of essential grocery workers in ensuring their communities are fed while continuing to weather the COVID-19 pandemic with temporary hazard pay. Both the City and County of Los Angeles' ordinances provide an additional $5 per hour for 120 days. San Mateo County will provide workers with an additional $5 per hour for 120 days. Berkeley's is $5 per hour until they are considered yellow tier, and Buena Park's is $4 an hour for 120 days.
"UFCW members are the definition of essential – keeping food safe and grocery stores open during this past year, but their paychecks say otherwise" said John Grant, President, UFCW Local 770. "Companies have continued to ignore the dangers facing frontline grocery store employees while lining their own pockets, and it's time workers saw some of that profit. We applaud the Los Angeles City Council and Los Angeles County Board of Supervisors for voting to provide workers with wages that reflect the risks they face performing their job duties during the pandemic. Now it's time for other cities across California to join us and stand behind these workers."
"UFCW Local 5 members applaud the County of San Mateo and the City of Berkeley for their recognition of essential frontline grocery employees and the risk they continue to face during the pandemic," said Jim Araby, director of strategic campaigns, UFCW Local 5. "Grocery companies are making an inordinate amount of profit during the pandemic and it's only fair workers see some of that profit for the risk they take going to work each and every day. Good employers like Lucky's/Save Mart have chosen to provide hazard pay to their employees since the beginning of the pandemic, and now it's time other employers follow suit."
The risks grocery workers face on the job each day are very real. A Harvard University study found one in five grocery workers tested positive for COVID-19 and three out of four had no symptoms. Among members of UFCW Local 324, over 1,900 grocery workers have been reported to have tested positive with COVID-19 this year, and many members of the union have been hospitalized or lost their life to COVID-19. Close to 2,000 members of UFCW Local 5 have tested positive and many have also been hospitalized.
"Grocery workers have worked for almost a year under the daily stress that they could get sick and bring home the virus to their families, maybe even causing a loved-ones' death," said John Gomez who works at a large Bay Area grocery store. "But today's ruling, and the fact that four more cities have joined our movement, fills me with hope for the future. Frontline essential workers like me and my coworkers have sacrificed so much to keep the economy running and we deserve to be compensated. We're grateful for the support of our elected leaders to ensure we receive the pay we deserve while we risk our lives and our health day in and day out to keep our community fed."
Even with vaccines being deployed, California risks another surge from virus variants that move faster than the state can get shots into arms, and the hazard pay many grocery stores across California voluntarily provided to workers when the state was under lockdown last Spring has been gone for months. It's critical that workers who are forced to shoulder more and more responsibilities to keep themselves and their coworkers safe be recognized for their bravery and resilience.
According to a Brookings Institution analysis, many of the United States' top retail companies have earned record-breaking profits during the pandemic, but this increase in profit has not made its way back to workers. Grocers nationwide instead used their excess pandemic profits to buy back shares all the while threatening to close down stores and misleading the public that hazard pay would have to be passed onto consumers.
# # #
The United Food and Commercial Workers Western States Council is the regional coordinating body of 11 UFCW local unions representing over 200,000 workers in California, Arizona, and Nevada. The Council is a part of the 1.2 million-member strong UFCW International Union. UFCW members are standing together to improve the lives of workers, families, and communities.