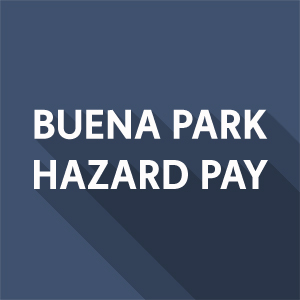 More Cities Move Forward with Hazard Pay Ordinances Fueling Momentum to Recognize Essential Frontline Workers
Buena Park, CA -The City of Buena Park voted Tuesday night to require grocery and drugstore employers to pay workers an additional $4 per hour in temporary hazard pay wages. The ordinance requires a second vote before it becomes law.
Buena Park is the second city in Orange County to pass temporary wage increases for workers who have been at work for almost a year now in a pandemic, face-to-face with the general public and joins more than a dozen other cities in California that passed similar measures in recent months.
Workers have been calling on grocery and drug employers to reinstate hazard pay because many forms of increased pay ended last Spring, but the risk has not stopped. As reported by the Brookings Institution, retail companies have made windfall profits during the pandemic –  employers profits have increased 98% – but there has been no significant COVID-19 compensation for workers, the majority of who are people of color and women.
"I worked through the pandemic while I was pregnant because I needed to keep a roof over my head," said Ashley Cantu, a 9-year Buena Park CVS pharmacy worker. "My store became a COVID-19 testing location and will soon be a vaccination site. I know we are an essential business, but I never thought we would be this exposed as much as we have in this pandemic."
"The stress is high," said Daniel Flynn, a 41-year employee at Albertsons and cashier in Buena Park. "We still have customers coming in not wearing masks properly or following safety guidelines. We know these employers have been so successful in this pandemic while we're out here taking all the risk."
The City of Buena Park passed their ordinance on the same day the Los Angeles Board of Supervisors also voted to join the growing movement by approving hazard pay for frontline workers.
"The Buena Park City Council and others are recognizing the need for profitable grocery and drug employers to pay workers according to the risks," said Andrea Zinder, President of UFCW Local 324. "Our members have been working under enormous stress, exposed every single day they go into work to the virus."
UFCW Local 324 represents grocery workers in Buena Park and has seen infection rates increase among its members drastically throughout the COVID-19 pandemic. More than 1,900 grocery workers within the union have tested positive for COVID-19 since March 2020, and many members of the union have been hospitalized or lost their life. An additional 350 drugstore members have become sick from COVID-19.
# # #
UFCW Local 324 represents 20,000 members in grocery, drug, pharmacy, health care, food processing and cannabis in Orange and parts of Los Angeles County