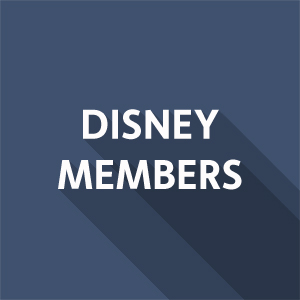 Report Safety Violations
Several Disney cast members who are back to work have recently tested positive for COVID 19. We are closely monitoring the situation to be sure Disney is complying with all agreed upon safety measures. If you become aware of violations, please report them on this form: https://ufcw324.org/dhsv/
Updated on October 21, 2020
Disney Layoff FAQs
This list may be updated in the next couple of days, so check back if your question is not answered. 
If I am laid off, what is the process for recall? During the first 12 months the company will email or call employees back to work based on seniority.  Employees have 5 days to respond and then must be available to return to work within 2 weeks.
What is the recall process after the first 12 months? After the first 12 months if you are still on layoff and want to stay on the recall list, you must call the company and let them know you are still interested.  We have requested the process for calling the company but have not yet received it.
Will I be subject to any pre-employment requirements when I am called back? Not during the first 12 months after layoff (calendar year 2021) but after that, the company will follow its procedure for new hires.  For Merchandise H/H this is only a criminal background check.
Will the union stay in touch with me so that I remember to call after 12 months? Yes, we will get an updated list from company and that time and reach out to you. If you change phone numbers, please remember to let us know.
What happens to my accrued vacation? Accrued vacation will be paid on your final paycheck.
Will I get paid out for unused PDOs? Company will not pay unused PDOs
What happens to my health benefits? After January 1, you will have the option to purchase COBRA
Will Union food bank and other benefits be available to me? Yes, while on layoff the union will make these available.
How do I turn in my costume and all other company issued items? The company will develop a COVID 19 safe system and let you know.
How do I clean out my locker? The company will develop a COVID 19 safe system and let you know.
I am in ASPIRE program, will I be able to continue? If you are in a degree program you will be able to complete the term you are enrolled in at the time of separation.  If you are in a non-degree program, you will be able to complete your program in full, even following separation.
I cannot log into the HUB. When you attempt to log in, you will see a phone number to call or a link to follow>
What happens to my 401(k)? Fidelity administers the 401(k) program.  You should contact them at 800-605-4015 or workplaceservices.fidelity.com
If I get another job, will it affect my severance? No, as long as you don't "quit" Disney.
When does my discount and Main Gate Pass become invalid? December 31, 2020
Can I still use my complimentary admission tickets after layoff? Yes, as long as you have printed or saved them prior to layoff.
How will I receive my severance pay? You will receive it the same way you have been paid in the past (direct deposit etc.).  First pay will be on Thursday November 12
Can you define scheduling seniority? Scheduling seniority is the date you began as a regular Merchandise H/H at your specific park.  This may be different from your company seniority which is you original hire date with Disney.
How does it work to bump back to a previous position and how will I know if I qualify? If you worked in a different job covered by the Master Services contract for you park, you may be able to bump back to it if you have enough company seniority.  You will be notified by a phone call from Disney.
If I have specialty training, will that save my job? No, layoffs are based entirely on scheduling seniority.
How do I get service award pins that I have earned? The company will develop a COVID 19 safe system and let you know.
Do I need to personally notify the union of my layoff or will I automatically be issued a withdrawal card? The union will automatically issue withdrawal cards to laid off employees on January 1.
Update on October 18, 2020
Disney Layoffs
In consultation with our attorneys and consistent with our contracts, the master services unions and Disney have agreed that layoffs shall occur as follows:
Disneyland and DCA are 2 separate contracts and bargaining units and therefore employees cannot bump back to a job at the prior park.
Scheduling seniority (the date an employee began as a merchandise HH in their respective contracts) controls the order of layoffs.
An employee who worked in a prior master services position (Teamsters, SEIU or Candy Makers) can bump back to that position to avoid a layoff.
For Merchandise HH, only CRs will be laid off.
Employees will retain recall rights for 24 months
Company will notify affected employees by USPS or email.
Employees will be laid off on November 1 and paid through December 31.  Pay will be calculated based on earnings from September 16, 2019 to March 14, 2020.  Employees who are currently enrolled in the company medical benefit, will continue to receive benefits during this time, but will have the employee premiums deducted from paycheck.
We will provide more information on the recall process to those laid off shortly.  If you have questions, please call your Union Representative, Jason Floyd at 714-609-8993 or Sylvia Saldana at 714-231-2243
To view the Memorandum of Understanding ("MOU") on Layoffs, click here.
Letter to Governor Gavin Newsom on Themepark Reopening Guidelines
We have sent a letter to Governor Gavin Newsom on reopening theme park guidelines. We are urging the Governor to direct the task force to meet with the representatives of the resort workers, as part of the reopening process. Read the letter below.
Governor Letter

Resources for Cast Members Impacted by Layoffs
Orange County Labor Federation 
Orange County Labor Federation provides support distributing food bags and provide assistance in completing EDD forms online.
Food Distribution- Every Tuesday and Wednesday from 10 AM-4 PM (or until supplies are exhausted.
Unemployment Benefits Assistance – Monday through Saturday, 10 AM- 5 PM. No assistance on Sundays
**Drive-thru food distribution will be at the rear parking zone. For more information or to set-up an appointment, call 714-385-1534
Unemployment 
Filing for unemployment- https://edd.ca.gov/about_edd/coronavirus-2019.htm
Video on filing for unemployment-  https://youtube.com/watch?v=QQKrICx80H8&feature=youtu.be
Federal Resources 
CARES Act information: http://unioncounsel.net/two_trillion_cares_act.pdf
More info on the CARES Act: https://home.treasury.gov/policy-issues/cares
Career Assistance & Guidance
The Orange County Labor Federation provides assistance for job seekers with online employment applications, cover letters, and resume development. Monday & Thursday from 10 AM – 4 PM. For more information and to set up an appointment, call 714-869-5239.
Statewide Resources
California's COVID Response for financial help, rent/mortgage moratoriums, mental health resources, etc.
Financial Assistance- https://covid19.ca.gov/get-financial-help/
Food Assistance- https://covid19.ca.gov/food-resources/
One-Stop Resource
For those impacted by job loss- https://onwardca.org
Orange County Resources
Job loss, food assistance, taxes, rent, childcare, etc- https://covid19info.ocgov.com/residents
Community Action Partnership of Orange County for food, utility assistance, etc- https://www.capoc.org/resources/
Catholic Charities for food assistance, counseling, crisis hotline, utility assistance, etc- https://ccoc.org/programs/#life-sustaining-services
Utility Payment Assistance 
Southern California Edison-https://www.sce.com/residential/assistance
So Cal Gas- https://www.socalgas.com/pay-bill/need-more-time-to-pay
Spectrum/Charter Communications- https://www.spectrum.com/browse/content/spectrum-internet-assist
Verizon- https://www.verizon.com/support/promise-to-pay-faqs/
AT&T- https://about.att.com/newsroom/2020/att_consumer_connected_together.html
Update on 10/9/20
UFCW 324 and other unions of the CRLU have been demanding testing for Disney employees. The company has listened and released a free COVID-19 testing program for cast members.
Please see the flyer below and the hub for more information.
DLR CM Testing Flyer

Update on 10/3/20
We had our first meeting with Disney regarding the announced layoffs on Friday 10/2. According to company representatives, 760 CR UFCW members will be laid off effective 11/1/20.  There are no plans to lay off any FT UFCW members.  This was an initial meeting to hear Disney's proposals.  We have 2 additional meetings scheduled for next week to present our proposals and to negotiate further.  It is our goal to provide maximum recall rights to any laid-off members as well as some compensation for as long as possible.
We will schedule a full virtual membership meeting as soon as we have more information to report.
Update on 9/30/20
UFCW 324 will be meeting with Disney to negotiate the announced layoffs.  Our goal is to protect as many members as possible.
It is our understanding that this will affect CRs from our union, not FT. We understand there are many questions. The details are yet to be negotiated. We will notify our members and schedule a virtual membership meeting once we have more information.
Update on 9/22/20
Governor Newsom signed into law Assembly Bill 1867 earlier this month that will ensure that all California workers who receive a COVID-19 positive test, a COVID-19 positive diagnosis from a licensed healthcare professional, or a COVID-19 order to quarantine or isolate will receive supplemental paid sick leave, even if they work for employers with more than 500 employees – workers who were excluded from the federal version of the law and will be effective through the end of 2020.
AB 1867 is a crucial measure that corrects an oversight at the federal level and ensures that every worker who performs essential functions will be protected with paid sick leave.
Essential workers are risking their lives whenever they go to work in hospitals, grocery stores, meatpacking plants, restaurant kitchens or countless other businesses in our state and deserve to be included in the pandemic supplemental paid sick leave program. That includes our merchandise cast members at Disney.
Allowing workers to access additional supplemental paid leave ensures workers don't have to come to work sick to make ends meet – keeping both customers and workers safe.
Under AB 1867, workers who have already taken COVID-19-related sick leave, but were either not paid or paid a lesser amount than what they were owed, are able to retroactively request that their employer pay them the amount they are owed.
Update on 7/14/20
Many of our members returned to work last week for the re-opening of Downtown Disney. We are demanding Disney's compliance on health and safety standards to protect workers and guests. To assist our union reps with enforcement, we ask all members back at work to submit any workplace violations to this link: https://ufcw324.org/dhsv/
Additionally, we are surveying those members for their input on whether we should demand the closure of Downtown Disney due to the Governor's July 13th order to close indoor operations, including malls. Please submit your response to: https://ufcw324.org/dhsv/
Your safety is our number one priority and we are continuing to monitor the re-opening and address questions and concerns.   Your Union Representative Jason Floyd is available if you have any questions.
Jason Floyd: (714) 609-8993
Update on 6/24/2020
We submitted a letter to Disney regarding your health and safety, calling for further safety measures before the opening of the resort. Click here to download.
HSL623

Update 6/10/2020
Attention UFCW 324 members! We have been in communications with Disney in regard to the phased reopening. Your health and safety is our priority and we will bring you the latest information once the details have been negotiated. Calls will be scheduled for this Friday to answer all your questions. Please stay tuned.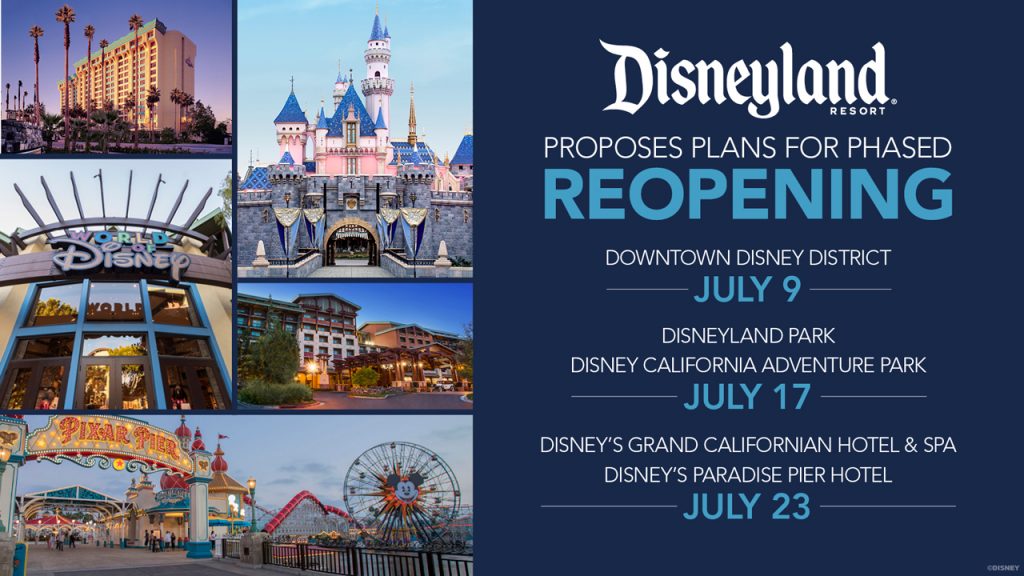 Update 6/4/2020
At Disneys request we had a preliminary meeting about recall for phased reopening. Disney says no date yet & denied 7/17 opening. We will keep you updated.
Update on 4/9/2020
BELOW IS A SUMMARY OF THE KEY UNION DEMANDS INCORPORATED IN THE FURLOUGH MOA.  THE FULL DOCUMENT IS ALSO POSTED HERE FOR YOUR REVIEW.
For all FT and CR cast members who have insurance, the company will pay both cast member and Disney premiums for Medical, Dental, Vision etc. for the duration of the furlough.
Anyone on a leave of absence the company will not pay your portion.
While on furlough the company will use 40 hours per week for all full time cast members for purposes of calculating continued full time status.
Furloughed employees who participate in the Pension plan will receive credit for the length of the furlough for the purpose of determining Credited Years of Service and Credited Hours of Service.
The date for CR employees who have been approved to receive a status conversion from Regular Part Time to Regular Full Time will be April 12, 2020.
Any request for payout of vacation or sick will be denied during the furlough period.
Any vacation or sick that was approved during the furlough period will be cancelled.
Vacation, sick days and ADO's that were approved during the original closure period will still be considered used and not put back in your bank.
Furloughed employees being recalled to work will be based on seniority according to the contract language section 20.A.1.A of the collective bargaining agreement.
Furloughed employees will have access to their main gate pass, the Hub and Disney Aspire.
Click here to view the Furlough Memorandum of Understanding for Master Services.
Your Union Representatives, Jason Floyd and Sylvia Saldana are available to you if you have any questions.
Sylvia Saldaña: (714) 231-2243
Jason Floyd: (714) 609-8993
Update on 4/8/20
Unemployment Insurance Resources available for download by clicking on the links below:
Information You Need to File an Unemployment Insurance Claim Checklist 
La Información que Usted Necesita para Presentar una Solicitud de Beneficios del Seguro de Desempleo Lista
Cal Jobs, Resume Building Template
Cal Jobs, Guiía para Desarrollar us Historial de Empleo
Update on 4/3/20
We are disappointed with Disney's decision to furlough employees as of April 19 and know this will create hardships on many of you.
We will be negotiating with Disney early next week to discuss the process for furlough and return to work once Disney reopens.  We will keep you updated.
At this time, we can provide assistance filing claims for unemployment insurance.  We will automatically issue withdrawal cards to everyone up to date on dues effective April 1.  When you return to work, dues will resume.
We are scheduling a teletown hall meeting Wednesday April 8 for all Disney members.  We will send information about the time and how you can join the call shortly.
Your Union Representatives, Jason Floyd and Sylvia Saldana will continue to be fully available to you during this time.
Sylvia Saldaña: (714) 231-2243
Jason Floyd: (714) 609-8993
Update on 3/31/20
Agreement for the period of March 29, 2020- April 18, 2020 regarding pay.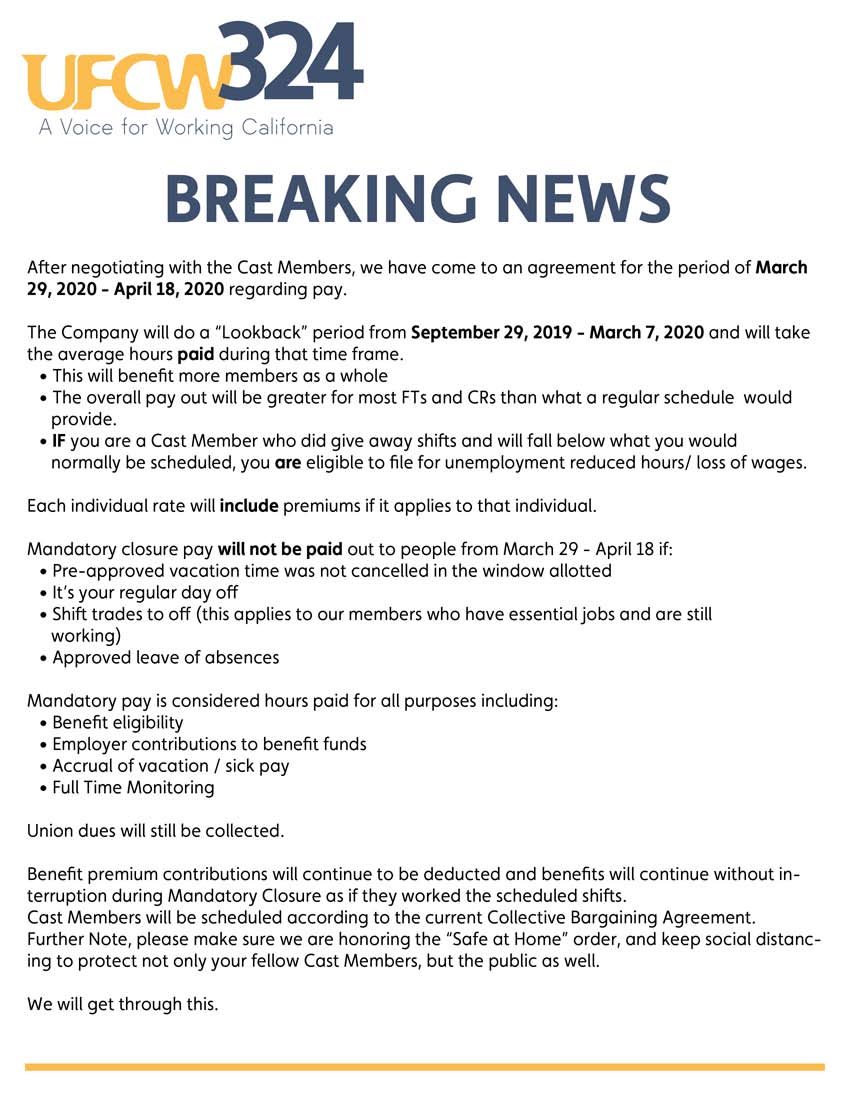 Update on 3/27/20
Your union has been in talks with Disney, pressing for a commitment to pay cast members during this closure. Disney is beginning to listen and has agreed to extend cast member pay through April 18th. We appreciate your patience and will keep you updated as more news develops. You are the Union!
Update on 3/18/20
By order of the Orange County Board of Supervisors and the Orange County Health Care Agency, the UFCW office in Buena Park will not be open for walk-ins.
Your union is always here to serve you, especially in this time of need, and we are available by phone 24/7 to answer your questions and address your concerns.
Your union representatives are available to you.
Sylvia Saldaña: (714) 231-2243
Jason Floyd: (714) 609-8993
We are here 24/7 to serve our membership and will continue to fight to ensure your workplace safety.
Update on 3/16/20
Disney heard you and will close DTD. Your union still has many questions for Disney. For now, if you can't get approval for childcare, talk to your union rep.
Sylvia Saldaña: (714) 231-2243
Jason Floyd: (714) 609-8993
Update on 3/13/20
If you are receiving instruction from management to show up to work, it is imperative that you report and work your shift. This is a fluid situation, and we will keep you posted with the most current facts as soon as we know them. The Union will be meeting early next week with Disney Management to discuss the many issues facing you and your fellow cast members. If you are feeling ill, it is also critical at this time that you utilize your sick time so as not to expose fellow cast members.
Update on 3/12/20
We have spoken to Disney and been assured they will pay cast members who are not provided work because of the park closure. More information will follow.
The Center for Disease Control and Prevention (CDC) has up-to-date information on the virus and steps for prevention. For more information visit the CDC website.