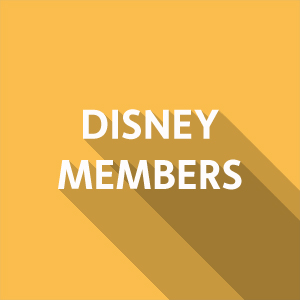 Update on 7/14/20
Many of our members returned to work last week for the re-opening of Downtown Disney. We are demanding Disney's compliance on health and safety standards to protect workers and guests. To assist our union reps with enforcement, we ask all members back at work to submit any workplace violations to this link: https://ufcw324.org/dhsv/
Additionally, we are surveying those members for their input on whether we should demand the closure of Downtown Disney due to the Governor's July 13th order to close indoor operations, including malls. Please submit your response to: https://ufcw324.org/dhsv/
Your safety is our number one priority and we are continuing to monitor the re-opening and address questions and concerns.   Your Union Representative Jason Floyd is available if you have any questions.
Jason Floyd: (714) 609-8993
Update on 6/24/2020
We submitted a letter to Disney regarding your health and safety, calling for further safety measures before the opening of the resort. Click here to download.
HSL623

Update 6/10/2020
Attention UFCW 324 members! We have been in communications with Disney in regard to the phased reopening. Your health and safety is our priority and we will bring you the latest information once the details have been negotiated. Calls will be scheduled for this Friday to answer all your questions. Please stay tuned.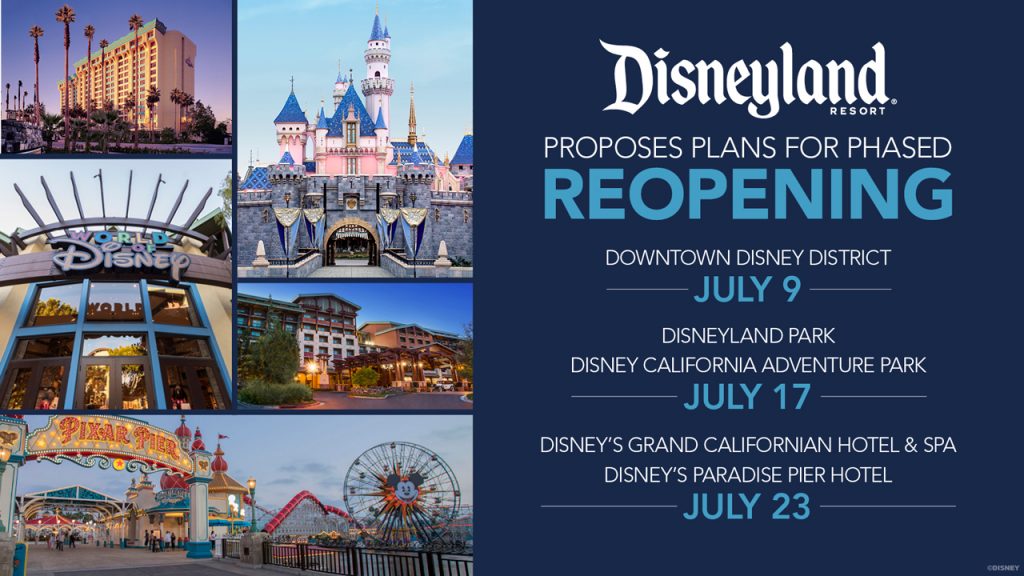 Update 6/4/2020
At Disneys request we had a preliminary meeting about recall for phased reopening. Disney says no date yet & denied 7/17 opening. We will keep you updated.
Update on 4/9/2020
BELOW IS A SUMMARY OF THE KEY UNION DEMANDS INCORPORATED IN THE FURLOUGH MOA.  THE FULL DOCUMENT IS ALSO POSTED HERE FOR YOUR REVIEW.
For all FT and CR cast members who have insurance, the company will pay both cast member and Disney premiums for Medical, Dental, Vision etc. for the duration of the furlough.
Anyone on a leave of absence the company will not pay your portion.
While on furlough the company will use 40 hours per week for all full time cast members for purposes of calculating continued full time status.
Furloughed employees who participate in the Pension plan will receive credit for the length of the furlough for the purpose of determining Credited Years of Service and Credited Hours of Service.
The date for CR employees who have been approved to receive a status conversion from Regular Part Time to Regular Full Time will be April 12, 2020.
Any request for payout of vacation or sick will be denied during the furlough period.
Any vacation or sick that was approved during the furlough period will be cancelled.
Vacation, sick days and ADO's that were approved during the original closure period will still be considered used and not put back in your bank.
Furloughed employees being recalled to work will be based on seniority according to the contract language section 20.A.1.A of the collective bargaining agreement.
Furloughed employees will have access to their main gate pass, the Hub and Disney Aspire.
Click here to view the Furlough Memorandum of Understanding for Master Services.
Your Union Representatives, Jason Floyd and Sylvia Saldana are available to you if you have any questions.
Sylvia Saldaña: (714) 231-2243
Jason Floyd: (714) 609-8993
Update on 4/8/20
Unemployment Insurance Resources available for download by clicking on the links below:
Information You Need to File an Unemployment Insurance Claim Checklist 
La Información que Usted Necesita para Presentar una Solicitud de Beneficios del Seguro de Desempleo Lista
Cal Jobs, Resume Building Template
Cal Jobs, Guiía para Desarrollar us Historial de Empleo
Update on 4/3/20
We are disappointed with Disney's decision to furlough employees as of April 19 and know this will create hardships on many of you.
We will be negotiating with Disney early next week to discuss the process for furlough and return to work once Disney reopens.  We will keep you updated.
At this time, we can provide assistance filing claims for unemployment insurance.  We will automatically issue withdrawal cards to everyone up to date on dues effective April 1.  When you return to work, dues will resume.
We are scheduling a teletown hall meeting Wednesday April 8 for all Disney members.  We will send information about the time and how you can join the call shortly.
Your Union Representatives, Jason Floyd and Sylvia Saldana will continue to be fully available to you during this time.
Sylvia Saldaña: (714) 231-2243
Jason Floyd: (714) 609-8993
Update on 3/31/20
Agreement for the period of March 29, 2020- April 18, 2020 regarding pay.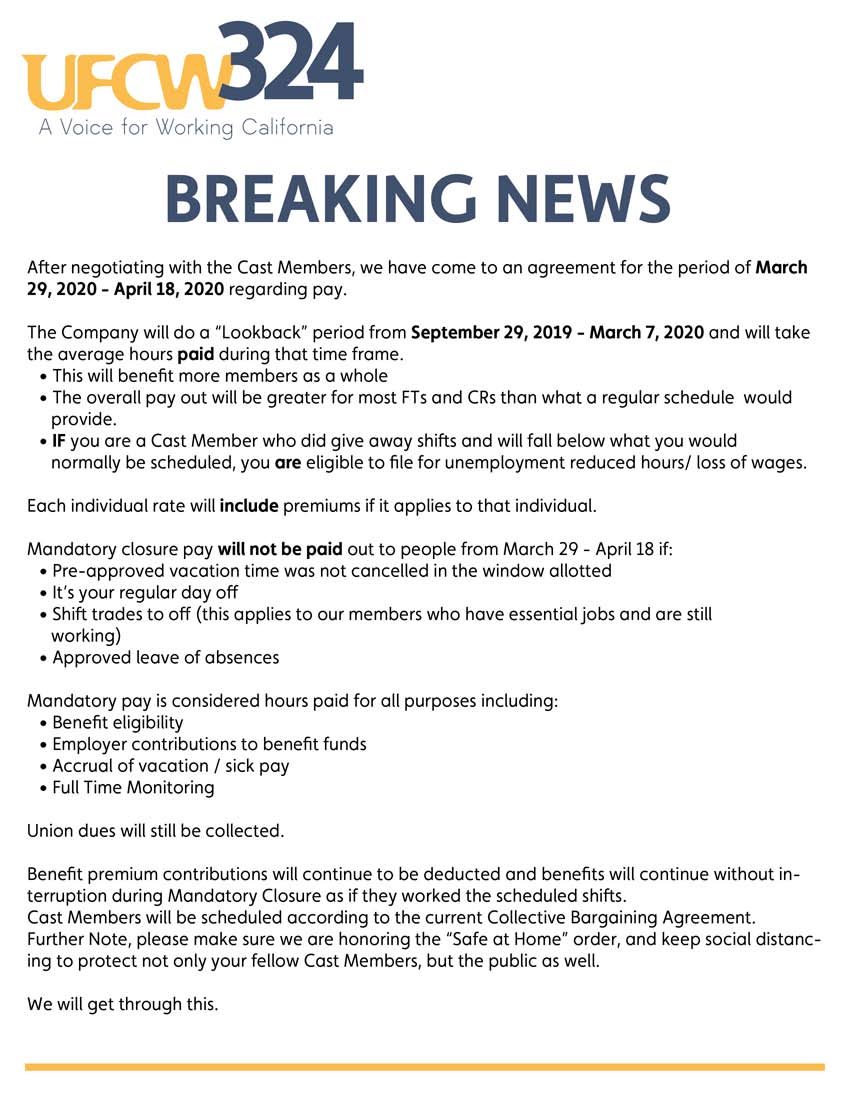 Update on 3/27/20
Your union has been in talks with Disney, pressing for a commitment to pay cast members during this closure. Disney is beginning to listen and has agreed to extend cast member pay through April 18th. We appreciate your patience and will keep you updated as more news develops. You are the Union!
Update on 3/18/20
By order of the Orange County Board of Supervisors and the Orange County Health Care Agency, the UFCW office in Buena Park will not be open for walk-ins.
Your union is always here to serve you, especially in this time of need, and we are available by phone 24/7 to answer your questions and address your concerns.
Your union representatives are available to you.
Sylvia Saldaña: (714) 231-2243
Jason Floyd: (714) 609-8993
We are here 24/7 to serve our membership and will continue to fight to ensure your workplace safety.
Update on 3/16/20
Disney heard you and will close DTD. Your union still has many questions for Disney. For now, if you can't get approval for childcare, talk to your union rep.
Sylvia Saldaña: (714) 231-2243
Jason Floyd: (714) 609-8993
Update on 3/13/20
If you are receiving instruction from management to show up to work, it is imperative that you report and work your shift. This is a fluid situation, and we will keep you posted with the most current facts as soon as we know them. The Union will be meeting early next week with Disney Management to discuss the many issues facing you and your fellow cast members. If you are feeling ill, it is also critical at this time that you utilize your sick time so as not to expose fellow cast members.
Update on 3/12/20
We have spoken to Disney and been assured they will pay cast members who are not provided work because of the park closure. More information will follow.
The Center for Disease Control and Prevention (CDC) has up-to-date information on the virus and steps for prevention. For more information visit the CDC website.