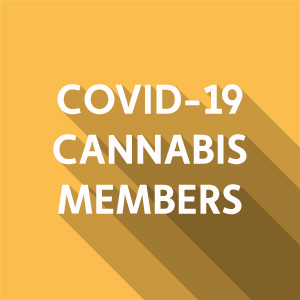 COVID-19
Update on 4/15/20
City of Long Beach, Additional Sick Time 
Due to the advocacy of workers, community and the union, Long Beach City Council unanimously directed city staff to create a policy on that provides an additional 2 weeks (80 hours) of sick time for any essential employee working for a company that has more than 500 employees, who become sick with COVID-19, quarantined because of COVID-19 or have to quarantine to care for a dependent or family member sick with COVID-19. The policy still needs final approval, which is expected by May 5th, but will be retroactive to March 1st.
Update on 4/10/20
We are communicating with employers on workplace safety protocols. Your union representative is available to address concerns and will continue to ensure your contract is being enforced.  It is our priority to keep you informed and help you in this difficult time. We have put together a list of resources for you.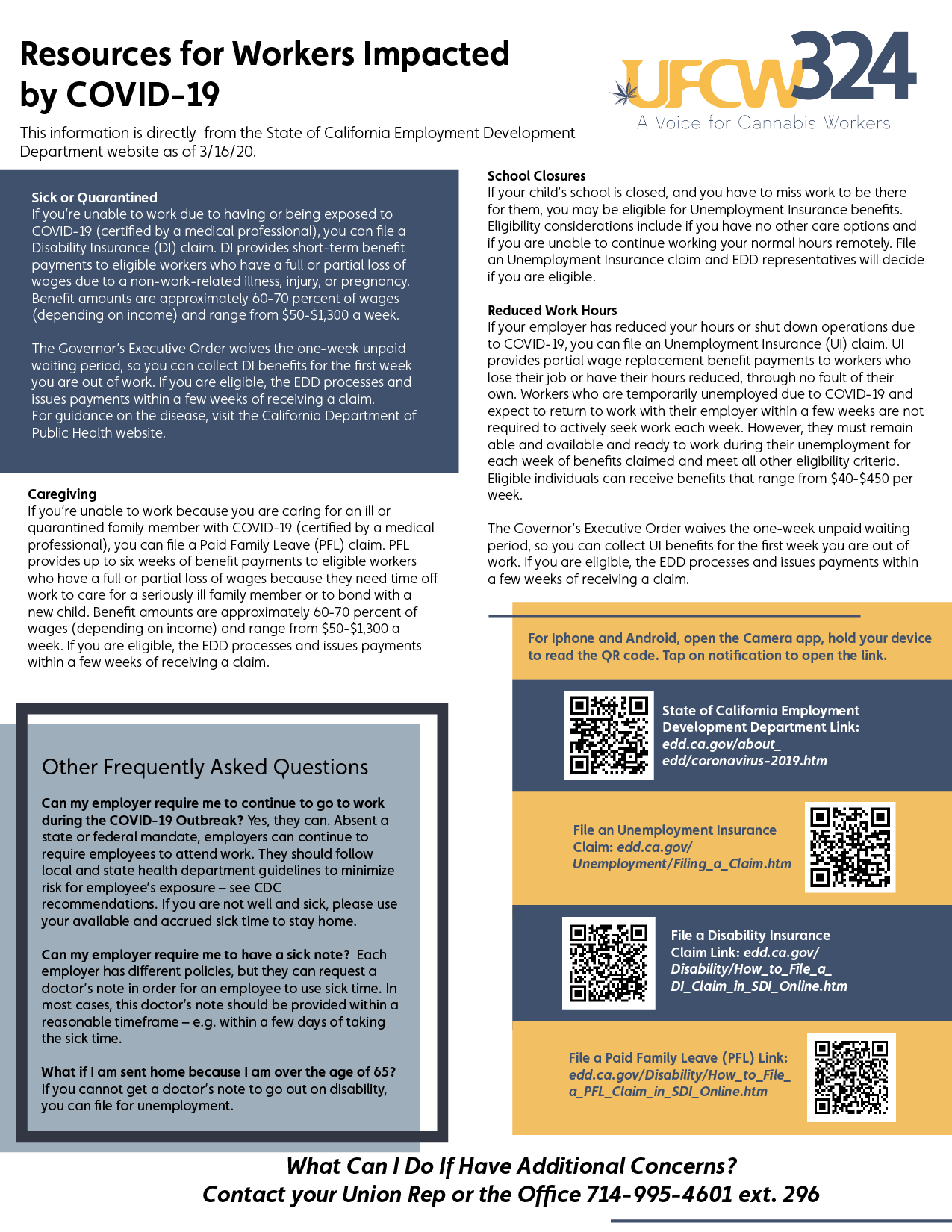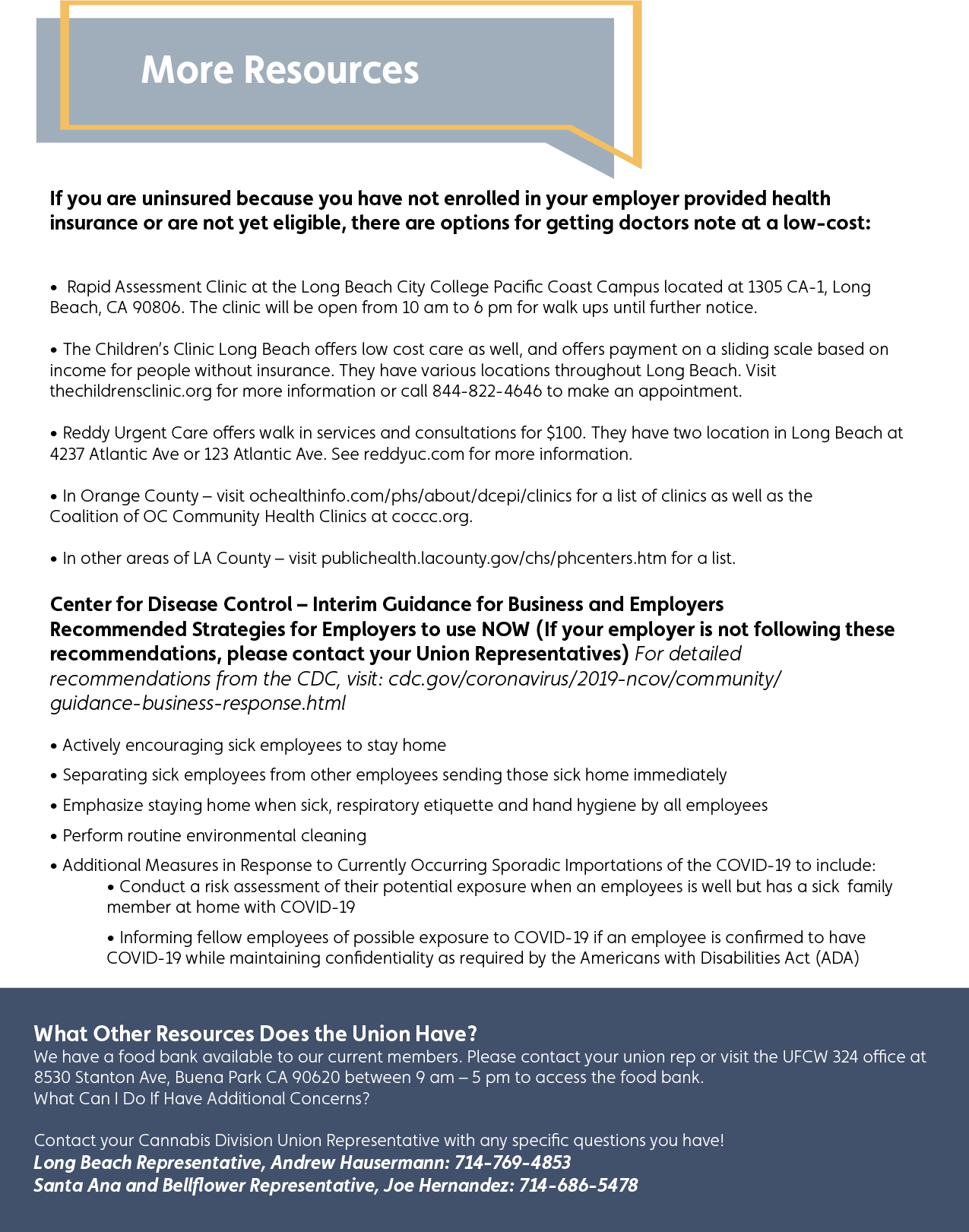 Other Frequently Asked Questions
What are some best practices my dispensary can take to try and keep us safe as employees?
Since the middle of March, UFCW 324 has been communicating with all of our Cannabis employers around best practices for worker safety. We asked all of our Cannabis employers to sign a Memorandum of Understanding that committed them to 1) accommodating schedules for sick time and changes in child care coverage, 2) maintain health coverage for all workers on sick leave, 3) ability for members to take unpaid leave if workers are uncomfortable working, 4) two weeks of additional paid sick leave called "replacement pay" for anyone diagnosed or quarantined as a result of COVID-19, 5) appropriate sanitary supplies and personal protective equipment, 6) and following all health mandates from local, state and federal officials around social distancing in dispensaries. In addition to this document, we have also shared a list of "best practices" and recommendations for worker safety during the pandemic with every Cannabis employer. Every employer's response has been different to these recommendations and not every shop has signed the MOU. If you are concerned about issues around safety at your workplace, please contact your union rep immediately. 
If I have a compromised immune system, am I still required to go to work?
If you have a compromised immune system or are otherwise at higher risk from COVID-19 (see this CDC list of groups at higher risk), you should be able to stay home or self-quarantine as long as you can provide a doctor's note or medical certification that states the need to stay home from work. You should provide that doctor's note to your employer. Each employer is handling sick leave in slightly different ways, however, we have currently sent letters to each of our Cannabis employers asking that anyone needing to take medical leave will not lose their employment status or their seniority upon returning to work. In most cases, if medical leave has been pre-approved by a doctor or medical professional as a "reasonable accommodation", your job will be protected when you come back from leave by state and federal laws. If your employer does not approve your sick leave or threatens your job, contact your union representative immediately.
After getting sick leave with your employer, you should immediately apply for Disability Insurance. To be eligible for Disability Insurance (DI) benefits, you must submit certain medical documentation.
I need to stay home to take care of someone with a compromised immune system, someone who is elderly or is otherwise at risk for COVID-19 exposure, can I take leave from work?
In most cases, if you need to stay home to care for someone who is sick, quarantined, or at high risk of exposure you can apply for Paid Family Leave (PFL), which will allow you to take a temporary leave from your work and receive a percentage of your wages. To be eligible for PFL benefits, you must submit certain medical documentation regarding the family member in your care who is either ill or quarantined due to COVID-19.
What kind of medical documentation is required to prove disability or paid family leave?
Medical documentation requirements can be met by a medical certification for that person / for yourself from a treating physician or a practitioner that includes a diagnosis and ICD-10 code, or if no diagnosis has been obtained, a statement of symptoms; the start date of the condition; its probable duration; and the treating physician's or practitioner's license number or facility information. This requirement can also be met by a written order from a state or local health officer that is specific to your family member's situation. Absent those documents from a physician or health officer, you may be eligible for an Unemployment Insurance (UI) claim instead.
If I'm not at high risk and am not taking care of someone, but still don't want to go to work, can I be required to go to work during this public health crisis?
Yes, your employer can still require you to attend work unless there is a mandate from federal, state or local authorities unless you can provide a doctor's note or verification of your eligibility for Family Medical Leave (FML). It is important to note, that medical leave can cover a range of different medical issues and could include stress leave, or other mental health issues that may be heightened from the current situation. Some employers are being more flexible in allowing individuals to make decisions around their personal health without a medical need, but that is handled on a case by case basis with each company's policy. Please contact your union representative if you have specific concerns.
Would I qualify for benefits if I choose to stay home from work due to underlying health conditions and concerns about exposure to the virus?
You could be eligible for unemployment benefits. The State's Employment Development Division representatives will seek details from you to determine eligibility based on the reason you are unemployed and the reason for restricting your availability to work. You may be required to actively seek work each week to show that you are still making yourself available for work. The work search could include looking for work through online channels, mailing job applications, calling about job openings, registering in CalJOBSSM (the state's online job exchange system), etc.
If I'm not working or the shop is forced to shut down, will my healthcare stop?
If you currently have employer-provided healthcare, in most cases your healthcare coverage will continue through the end of April. We are attempting to negotiate with employers around extending health insurance coverage beyond April, but that will be handled on a case by case basis. If you are on medical leave, many employers continue to cover their portions of medical insurance as long as the employee continues to cover their portion of the contribution. Please contact your union representative if you have any further questions.
How much will I get paid if I take Paid Family Leave or Disability?
The State of California offers a tool to estimate your benefits at this website:https://www.edd.ca.gov/Disability/PFL_Calculator.htm
Can I take both paid Family Leave (to care for a sick / at-risk relative) and Disability because of my own illnesses at the same time?
In general, these benefits cannot be used at the same time. However, if you reach limits on one program, you should be eligible to apply for the other after you have exhausted the first benefit assuming you are eligible for both.
If I think I may have COVID-19, where can I get tested?
Currently if you are a Los Angeles county resident, you can see if you qualify to get tested and schedule an appointment at a free testing clinic at https://lacovidprod.service-now.com/rrs. In Orange County, testing currently must be coordinated with a referral from a medical professional.
Where can I access care if I'm currently uninsured?
If you need a doctor's note or are sick with non-COVID 19 related symptoms in the City of Long Beach and you do NOT have flu like symptoms, the City of Long Beach opened a new Rapid Assessment Clinic at the Long Beach City College Pacific Coast Campus located at 1305 CA-1, Long Beach, CA 90806. The clinic will be open from 10 am to 6 pm for walk ups until further notice.
Who is covered by requirements in the Families First Coronavirus Response Act that requires some employers to provide two weeks of additional sick pay if I'm diagnosed or quarantined because of COVID-19?
The simplest answer is all employers with less than 500 employees nationwide. However, employers with less than 50 employees may exempt themselves by claiming it would be a financial hardship for the company. For certain, employers with 50 – 499 employees corporation wide are required to comply with the Act. The Department of Labor has provided some clarity around eligibility for this expanded benefit on their website.
If my employer isn't covered by the Families First Corona Virus Response Act's requirement for extra sick days for employees diagnosed or forced to quarantine because of COVID-19, but I am sickened while working as an essential employee, am I eligible to file for workers compensation?
In an executive order issued on March 23rd, Gov. Newsom declared that anyone that is an "essential worker" that is found to have or quarantined under the presumption of having COVID 19 by a medical professional shall be eligible for workers compensation claims. This means that if you are sickened during this time, it is presumed that you contracted it at work, and you can file a workers compensation claim to cover all medical costs associated with your care and expedite the process of applying for disability to cover 60-70% of your lost wages. This website details the process for filing a workers compensation claim:https://www.dir.ca.gov/dwc/FileAClaim.htm. Please contact your union representative if you are sickened with COVID-19 related symptoms so we can assist in making sure your claim is filed in a timely fashion.
Links:
Applying for State Aid
State of California Employment Development Department 
File an Unemployment Insurance Claim
File a Disability Insurance Claim
File a Paid Family Leave Claim
Frequently Asked Questions About Employee Benefits During COVID-19
Medical Recommendations
CDC Guidance for Business and Employers Recommended Strategies
CAL OSHA Recommendations on Protecting Workers from COVID-19
Understanding Your Rights
Legal Aid at Work – CoronaVirus Frequently Asked Questions
Legal Aid at Work – Disabilities in the Workplace: A Guide to Federal and State Laws
Legal Aid at Work – State Disability: Your Legal Rights
Legal Aid at Work – Lost Your Job? Your Rights and Benefits
Community and Labor Resources
COVID-19 Los Angeles County Community Resources
COVID-19 Orange County Community Resources – put together by VietRise
COVID-19 Resources for Undocumented Californians – put together by California Immigrant Youth Justice Alliance
Resources from the California Federation of Labor
Resources from the Orange County Labor Federation
Eviction Defense
Gov. Newsom Executive Order stopping all evictions in California between March 27th and May 31st, 2020 for renters impacted by COVID-19
Sample letter for Landlord requesting rent relief
Update on 3/18/20
By order of the Orange County Board of Supervisors and the Orange County Health Care Agency, the UFCW office in Buena Park will not be open for walk-ins.
Your union is always here to serve you, especially in this time of need, and we are available by phone 24/7 to answer your questions and address your concerns.
Your union representatives are available to you:
Long Beach, Andrew Housermann: 714-769-4853
Santa Ana and Bellflower, Joe Hernandez: 714-686-5478
We are here 24/7 to serve our membership and will continue to fight to ensure your workplace safety.