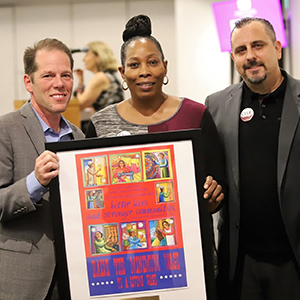 UFCW 324 members Brian Baxley and Janifer Suber accepted the "Architects of Justice" Award Feb. 13 in Santa Ana on behalf of Local 324. The annual honor is presented to individuals or groups whose efforts to advance social and economic justice throughout the previous year stood out as exceptional. The award is sponsored by CLUE (Clergy and Laity United for Economic Justice) which has been one of the most vocal and high-profile allies of Organized Labor in Orange County for decades.
Clergy from local churches, synagogues and mosques routinely join UFCW members on picket lines and are regular participants in delegations that have confronted store managers.
CLUE's leaders praised UFCW members for standing up to grocery chains in last year's contract fight, adding that the resulting contract set an example for working men and women throughout the region.