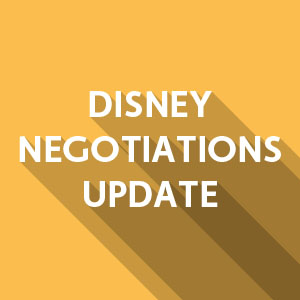 Not offering pay increases that reflect your hard work and not rewarding years, even decades of service is offensive for a multi-billion dollar company that prides itself as the "Happiest Place on Earth."
Disney's insulting economic proposal offers increases of only 3% and does nothing to recognize long-term workers. The wages proposed do not adequately reward ALL workers for their dedication and commitment to providing the best experience possible for the thousands of guests who visit the park every day. Your experience matters!
Due to Disney's unwillingness to respond to the union's proposal yesterday, it has become apparent that further discussions will not be productive, and the mediator has canceled today's negotiation session.
This contract is an opportunity to improve your work life and stand together to demand that Disney give workers the respect and dignity they deserve. We must stand together to hold Disney accountable and bring back Walt's Magic. It is critical you join us at the Town Hall on November 17th to discuss the next steps for an acceptable contract offer.
Join us for the Townhall on November 17, 2021!
Time: Doors open at 10 AM/ Program 11 AM- 1 PM
Location: Sheraton Park Hotel, 1855 South Harbor Blvd. Anaheim, CA 92802
Tell us you're coming by completing the form below.