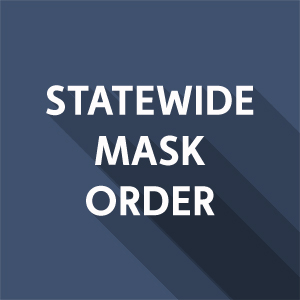 The Governor's order, put in place on June 18th of 2020 requires face coverings for all Californians in indoor and outdoor public spaces when distancing is not possible to help reduce the spread of COVID-19.
The order includes the use of face coverings in high-risk situations to include:
Inside of, or in line to enter, any indoor public space;
Engaged in work, whether at the workplace or performing work off-site, when:

Interacting in-person with any member of the public;
Working in any space visited by members of the public, regardless of whether anyone from the public is present at the time;
Working in any space where food is prepared or packaged for sale or distribution to others;
Working in or walking through common areas, such as hallways, stairways, elevators, and parking facilities;
In any room or enclosed area where other people (except for members of the person's own household or residence) are present when unable to physically distance.
You can view the full order by clicking here.