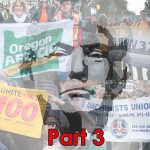 A PAI Special Report:
By Mark Gruenberg
PAI Staff Writer
Part 3 in a 3-part series
OTHER TRUMP AGENCIES ATTACK WORKERS
DOL isn't the only Trump Cabinet agency trampling workers. While Trump officially pulled the plug on the jobs-losing Trans-Pacific Partnership "free trade" pact – after Obama shelved it due to labor and congressional Democratic opposition – his trade rep went ahead with talks on a "new NAFTA."
Trump would write worker rights into the new NAFTA text, but he's vague on how strong they would be, or how they would be enforced. And while Trump brays about Mexican worker
rights violations and low wages, which cost U.S. jobs as U.S. firms decamp south of the border, he's silent on a demand from the third NAFTA nation, Canada, to strengthen worker rights in the U.S. by outlawing so-called state "right to work" laws.
Trump's Agriculture Department is considering a proposal from big chicken producers, and their Republican congressional advocates, to eliminate limits on poultry line speeds at processing plants. The Obama USDA allowed one speedup, over the protests, and actual picketing, of USDA poultry inspectors and their union, the Government Employees. They argued a faster production line would decrease consumer safety – by allowing more sick chickens to speed through – and cause more worker injuries.
On Feb. 16, the Commerce Department finally recommended Trump curb steel and aluminum imports that threaten national security. The metals dumped from China and elsewhere cause domestic plants to close, workers to lose their jobs and make the U.S. dependent on foreign metal for its guns, tanks and aircraft. Commerce gave Trump several options, including tariffs of up to 53 percent, and import quotas. His deadline is in mid-April.
"Aluminum and steel workers are still waiting to see if Trump will be a different kind of politician or whether he will do nothing about unfairly traded aluminum and steel imports," Steelworkers President Leo Gerard said earlier in February.
GOP-RUN CONGRESS PILES ON
Trump's Republican troops on Capitol Hill got into the act, too. Using a Gingrich-era law, the Congressional Review Act, they obliterated federal rules, not only repealing them now, but banning the agencies involved – including OSHA and the Consumer Financial Protection Bureau – from ever tackling those topics again. Before the recent slew of CRA laws, the act was invoked only once its preceding 21 years: To eliminate OSHA's rule designed to end ergonomic (repetitive-motion) injuries on the job.
Trump crowed about using the CRA. He held a press conference, flanked by right-wing Republican governors and mayors, to sign four repeals. One "rolls back the so-called blacklisting rule," he said.
That was an Obama-era Labor Department rule telling federal contracting officers to take into account a corporation's record in obeying – or disobeying – labor laws, environmental laws, civil rights laws and paying its taxes when considering whether to award it federal contracts. Manufacturers "said this blacklisting rule was one of the greatest threats to growing American business and hiring more American workers," Trump claimed. He offered no evidence of the "threat."
"Congressional Republicans have been instrumental in supporting this deregulatory effort," EPI reported. "In the first 90 days of the (2017) congressional session, the House and Senate used CRA resolutions — which provide for a quick process to overrule recent regulations — to overturn 14 Obama-era rules
And the tax cut law gives more aid to parents of private-school kids, at the expense of public schools and their teachers. Sen. Ted Cruz, R-Texas, inserted that provision, pushed by Trump Education Secretary Elizabeth "Betsy" DeVos. It lets those parents use "529 savings accounts" to withdraw up to $10,000 a year tax free to use for "public, private or religious elementary or secondary school expenses." Until now, the parents could pull out the money only to pay for kids to go to college.
The law "ensures each child receives an education that meets their individual needs, instead of being forced into a one-size-fits-all approach to education, or limited to their zip code," Cruz claimed.