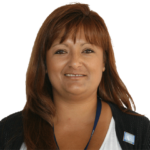 Sandra Scotty of Stater Bros. #142, has been in the industry for 28 years. She started out as a courtesy clerk and is now a cashier.
Martinez's hobbies include playing and watching a variety of sports and arts and crafts.
When asked what inspired her to get more involved she said, "I like knowing what is happening in our union and getting that information back to the store."
Q: How would your life be different if you were not a union member?
A: "I wouldn't have the life that I do. The benefits, and the protection of the contract make a big difference."
Q: If you could make a change in the workplace, what would it be?
A: "I would like better communication in the store."
Q: What do you like most about your job?
A: "I like the customers and the people I work with."