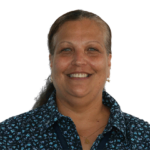 Madeline McGuire of Rite Aid #5520 has been in the industry for over 30 years. She started as a bookkeeper and is now the Night Supervisor.
McGuire's hobbies include reading Grisham novels, knitting and spending time with her 5 grandchildren.
When asked what inspired her to get more involved she said, "I love helping the underdog, I even used to bring people into the union to join after they started working."
Q: How would your life be different if you were not a union member?
A: "My job wouldn't be a 'good job.' We wouldn't have benefits, and the pay wouldn't be as good."
Q: If you could make a change in the workplace, what would it be?
A: "Nothing. I have been here so long that things just get done. I have a good relationship with my bosses, if I need something changed it changes."
Q: What in your life are you most proud of?
A: "My grandkids."
Q: What is it you like most about your job?
A: "I like interacting with people."