UFCW 324's electoral endorsements are determined through a member-led process with advice from the Los Angeles County and California labor community.
The choices voters make this year will have long-lasting effects on working people, and we feel the candidates listed below will provide opportunities for and support working people and their families. These candidates have demonstrated their commitment to workers' futures, including higher wages, good quality jobs and healthcare, and the ability to stand up for themselves on the job.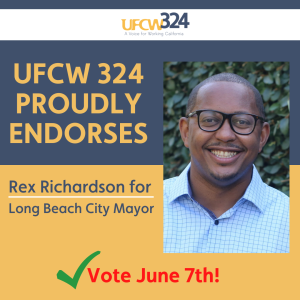 UFCW 324 members are endorsing Rex Richardson for Long Beach City Mayor because Rex is the only candidate who is ready to collectively build a better Long Beach. Rex will ensure Long Beach has the jobs, housing and economic opportunities working families need to thrive. He's put local businesses first, improved air quality and helped lead Long Beach's much-heralded COVID-19 pandemic response. Rex will put Long Beach's working families first and we're proud to support his candidacy.
Congress
CD 38 – Linda Sanchez
CD 40 – Dr. Asif Mahmood
CD 42 – Robert Garcia
CD 45 – Jay Chen
CD 47 – Katie Porter
CD 49 – Mike Levin
State Senate
SD 30 – Bob Archuleta
SD 34 – Tom Umberg
SD 36 – Kim Carr
SD 38 – Catherine Blakespear
State Assembly
AD 56 – Lisa Calderon
AD 62 – Anthony Rendon
AD 64 – Elizabeth Alcantar
AD 65 – Mike Gipson
AD 67 – Sharon Quirk-Silva
AD 68 – Avelino Valencia
AD 69 – Josh Lowenthal
AD 70 – Diedre Thu-Ha Nguyen
AD 73 – Cottie Petrie-Norris
AD 74 – Chris Duncan
Los Angeles County
Los Angeles County Assessor – Jeffrey Prang
Los Angeles County Sheriff – No Endorsement
City of Long Beach
Mayor – Rex Richardson
Long Beach City Attorney – Dawn McIntosh
Long Beach Prosecutor – Doug Haubert
Long Beach Council District 1 – Mary Zendejas
Long Beach Council District 3 – No endorsement
Long Beach Council District 5 – Megan Kerr
Long Beach Council District 7 – Roberto Uranga
Long Beach Council District 9 –  Joni Ricks-Oddie
Long Beach Unified District 1 – Nubia Flores
Long Beach Unified District 3 – Juan Benitez 
Board of Equalization
District 2 – DUAL endorsement: Michaela Alioto-Pier/ Sally Lieber
District 3 – Tony Vasquez
United States Senate
U.S. Senate – Alex Padilla
California Constitutional Offices
Superintendent of Public Instruction – Tony Thurmond
Insurance Commissioner – Ricardo Lara
Treasurer – Fiona Ma
Controller – Malia Cohen
Attorney General – Rob Bonta
Secretary of State – Shirley Weber
Lieutenant Governor – Eleni Kounalakis
Governor – Gavin Newsom