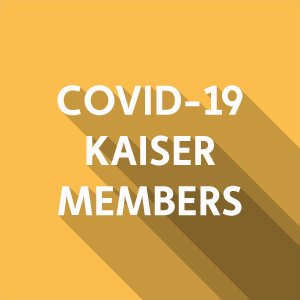 Update on 4/14/20
New Benefit Enhancements: COVID Sick Leave, Childcare, Hotel Housing
Together as a union, we have negotiated with Kaiser for improved benefits. New Benefit Enhancements include:
 Up to 80 hours additional paid leave for employees sick with COVID confirmed by a positive test
Childcare grants of $210 to $300 per week based on hours worked
Short-term hotel housing
The package extends through May 31, and we will push for an extension past that date if necessary based on the spread of COVID.
Click here to view the full benefit details.
Contact your UFCW 324 Union Representative with any questions: Charity Jemison 714-869-4161
Update on 3/24/20
We know you have been working under difficult, stressful, and hazardous conditions related to COVID19. As a healthcare worker, you are on the frontlines and at risk throughout the day. We are in constant communication with Kaiser, making demands for your safety and an increase in pay in this challenging time.
It is an unprecedented time, and you have stepped up in this crisis. The work you do is vital and needs to be acknowledged by Kaiser. We will keep you updated as information becomes available. Your union representative is available to you 24/7 to answer any questions or concerns.
Your union representative: Charity Jemison at 714-869-4161
Update on 3/18/20
By order of the Orange County Board of Supervisors and the Orange County Health Care Agency, the UFCW office in Buena Park will not be open for walk-ins.
Your union is always here to serve you, especially in this time of need, and we are available by phone 24/7 to answer your questions and address your concerns.
Your union representative is available to you: Charity Jemison at 714-869-4161
We are here 24/7 to serve our membership and will continue to fight to ensure your workplace safety.
Update on 3/16/20
This is a very difficult time with many changes happening day-to-day. Your work on the front lines is vital to keep people healthy and we are taking the necessary steps to work with your employer to expand workplace safety protocols during this time. Your local is closely monitoring the reports from the Center for Disease Control (CDC).  Your safety at work is our priority.
With the developing COVID-19 preventative measures taking place, staff should engage their managers directly to address school closures. That said, employees will generally need to use accrued time off (Paid Time Off/Earned Time Off/Vacation) hours to cover the School Closure Leave.
California law provides at least 40 hours per year of protected time off for a parent to address a closure. If an employee/parent requests time off due to closure of their child's school or licensed daycare provider, they are authorized to use 40 hours of PTO/ETO or vacation time.  If the employee doesn't have sufficient PTO/ETO or vacation hours accrued, the employee should still be provided up to 40 hours of time off, however the absence will be unpaid. The employee must be a parent, guardian, stepparent, foster parent, or grandparent of, or a person who stands "in loco parentis" to the impacted child for School Closure Leave. If both parents work at the same worksite, they cannot take this leave at the same time. They could take it sequentially if the school closure is long enough.
Use of Sick Leave:  For longer term closures due to COVID-19, employees may be able to use and designate up to one-half of their yearly sick leave/time off hours (if already accrued) as "Kin Care" if quarantine is recommended by civil authorities or where there has been potential exposure to COVID-19. In California, the time would also count as "Paid Sick Leave" under California law or a local Paid Sick Leave ordinance.
Your UFCW 324 union rep is available to assist you should you have any questions.
Charity Jemison at 714-869-4161.