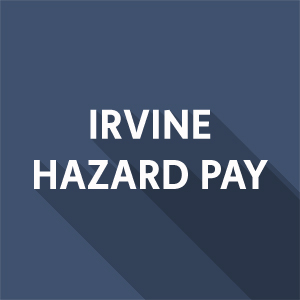 Irvine is the First City in Orange County, CA to Join the Growing Worker Movement Calling for Hazard Pay 
The City of Irvine voted Tuesday night to require grocery and drug store employers to pay workers an additional $4 per hour in temporary hazard pay wages for 120 days. Irvine joins a growing wave of cities, recognizing frontline workers are the ones who keep our communities going with food and supplies in the middle of a deadly pandemic and the risks they undertake in doing so.
"As more cities and counties move forward with hazard pay ordinances, we applaud the City of Irvine for taking this important step in recognizing the risks grocery and drug store workers face performing their essential job duties," said Andrea Zinder, President of UFCW Local 324. "Companies like Kroger ended hazard pay in mid-May of 2020 as profits soared and COVID-19 cases surged, deciding to instead spend their earnings on stock buybacks rather than recognizing the workers that contributed to their success. This temporary wage increase shows workers that their elected officials stand behind them and are grateful for the jobs they do to keep our communities fed."
A report by the Brookings Institution shows the momentum building around hazard pay mandates to fairly compensate workers for the risks they take going to work during the pandemic. Irvine joins a dozen other cities in California and nationwide like Long Beach, Los Angeles, Berkeley, Oakland, San Francisco and Seattle, WA. Threats from companies like Kroger and the California Grocers Association will not stop workers from calling on more cities to support hazard pay for their hard-working grocery and retail employees.
"For almost a year now, we've been working these demanding jobs, exposed and under very stressful conditions as more and more of my co-workers get sick ­– eight of my co-workers were out sick at one time," said Jose Ortiz, a 29-year employee and Meat Manager at Albertsons. "My son and daughter also work at grocery stores in Irvine, and I worry about them and if either of us will be next."
UFCW Local 324, representing grocery workers in Irvine, has seen infection rates increase among its members drastically throughout the COVID-19 pandemic. More than 1,800 grocery workers within the union have tested positive for COVID-19 since March 2020, and many members of the union have been hospitalized or lost their life. An additional 330 drug store members have also become sick from COVID-19 during the past year.
The call for hazard pay garnered the support of the residents, community and religious leaders who together rallied to support workers during public comment. The ordinance will require a second vote before it becomes law.
# # #
UFCW Local 324 represents 20,000 members in grocery, drug, pharmacy, health care, food processing and cannabis in Orange and parts of Los Angeles County.