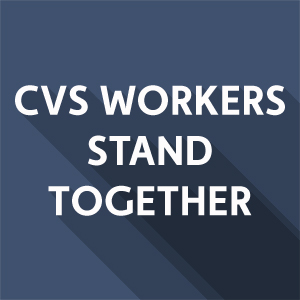 As CVS workers, we know what it means to be essential. Working around the clock during the pandemic to make sure our stores are open, safe, and well-stocked for our communities has been our focus for over a year now.
That's why we also know what it takes to make our stores better and safer for everyone.
And now that our union contract is up for renewal across California, we have the opportunity to make that happen.
California CVS workers are standing together to keep our stores open and our communities safe:
• Better Staffing and Hours
• Improved Safety Standards
• Wages that Reflect Our Work
• Fair and Affordable Family Healthcare
• Stronger Store and Worker Security
Standing together, we can make sure CVS management takes the right steps to make CVS a better place to work and shop. And we can make sure that it happens with a union contract.
Join us by liking and following our Facebook and Instagram page, so we can share our stories, ideas and concerns, and speak directly to our communities about what it means to be essential and what we need to make CVS better for everyone.
Click on the links below!