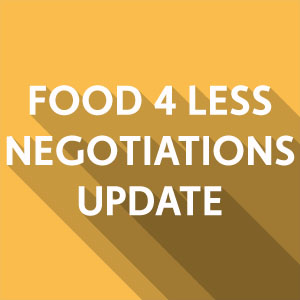 During the pandemic, grocery workers have been at the frontlines, and Food 4 Less has ignored the dangers you risk.
It's a critical time to work together and unite and fight for more in these negotiations. Negotiations began on Monday, January 6th and Southern California UFCW locals and union members were ready to get to work and negotiate a contract with Food 4 Less that uplifts workers with fair wages, benefits, and a safe workplace.
Despite record-breaking profits, Food 4 Less has expressed that they are not interested in creating additional costs for the company. Small annual wage increases do not reflect the increased workload Food 4 Less expects of you and does not close the gap between your rates of pay and pay rates at Ralphs' for the same work.
This is the time to come together. We are stronger when we are united. We must stand together in demanding a contract that values your work and your health and safety.
Check out the Facts Below! Food 4 Less sales are increasing, and CEO's are making money while UFCW 324 members get sick from COVID-19. It's time to Fight for More!
We have additional negotiation dates scheduled in the coming weeks. We will keep you updated.
F4LP1

F4L Negotiations Research Doc (1) copy

SALES_LABOR1