Update on 11/24/21
Congratulations to UFCW Kaiser members for ratifying a new 4-year contract today! Together, healthcare workers stood united to secure wage increases, staffing improvements, maintain health benefits and defeat Kaiser's two-tier wages!
Update on 11/13/21
Check out the Alliance of Health Care Union's website for all the latest by clicking here. 
A tentative agreement with Kaiser Permanente has been reached for a new union contract! Details of the agreement will be presented to UFCW membership for ratification. Strike averted!
The Tentative Agreement includes wage increases and wage justice, major staffing improvements, and two-tier is defeated! Read more below.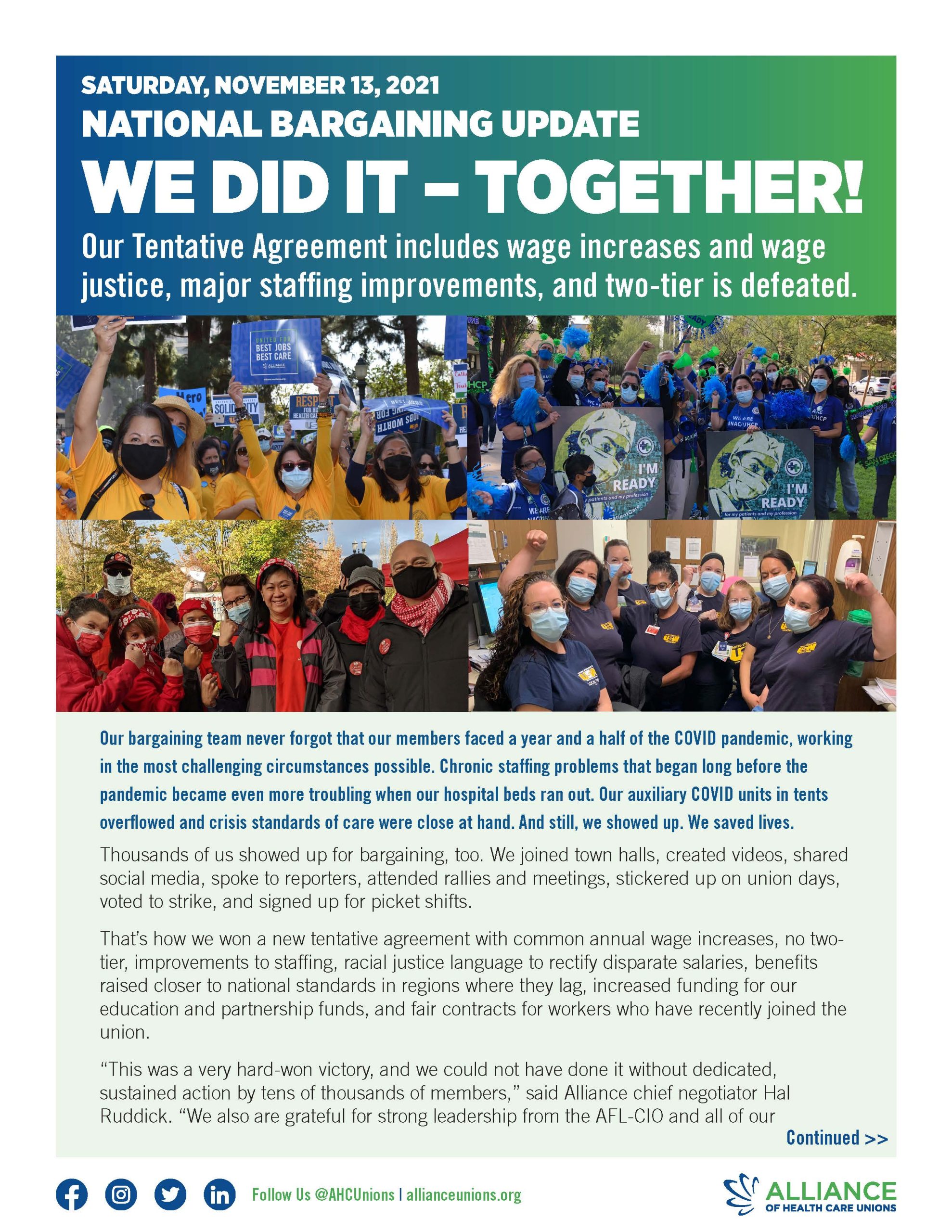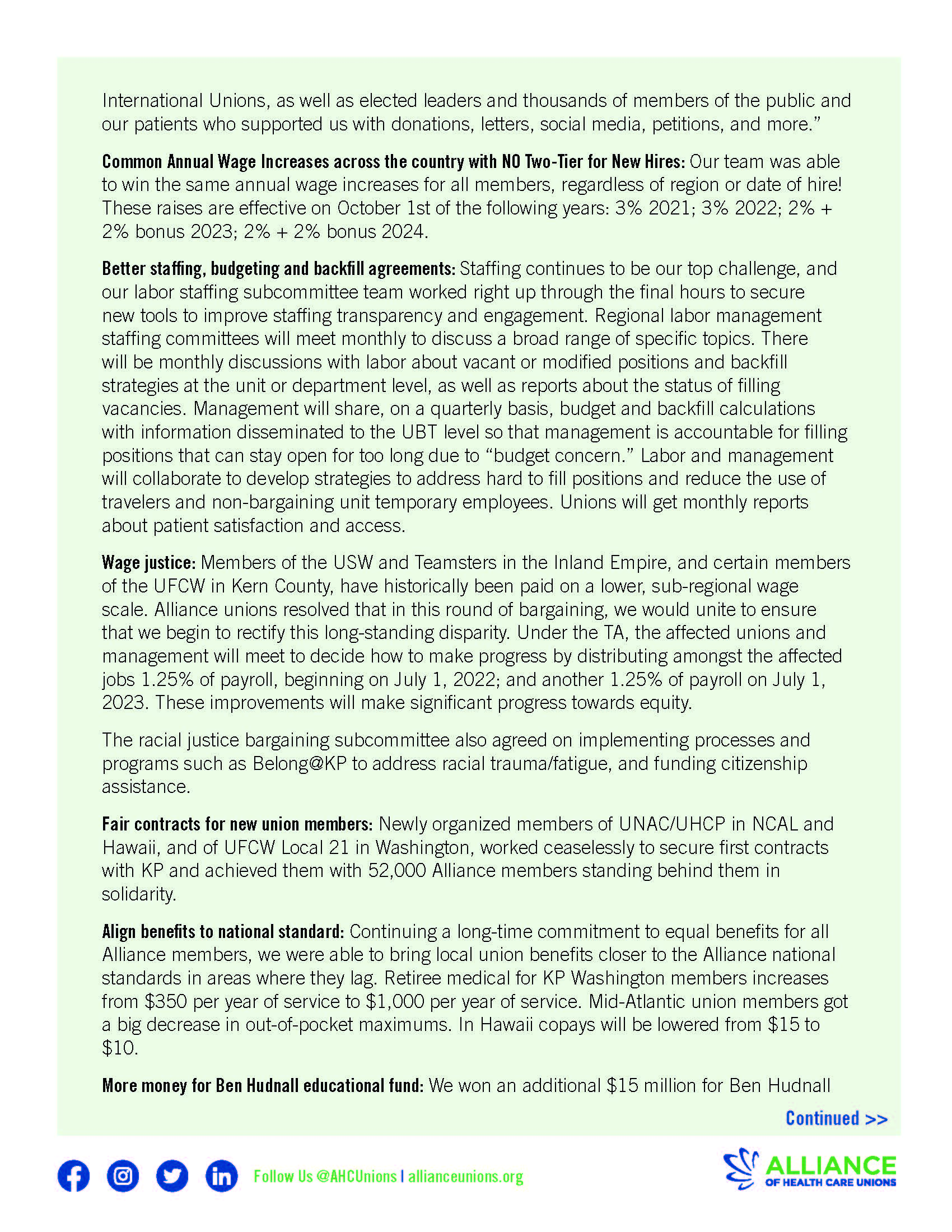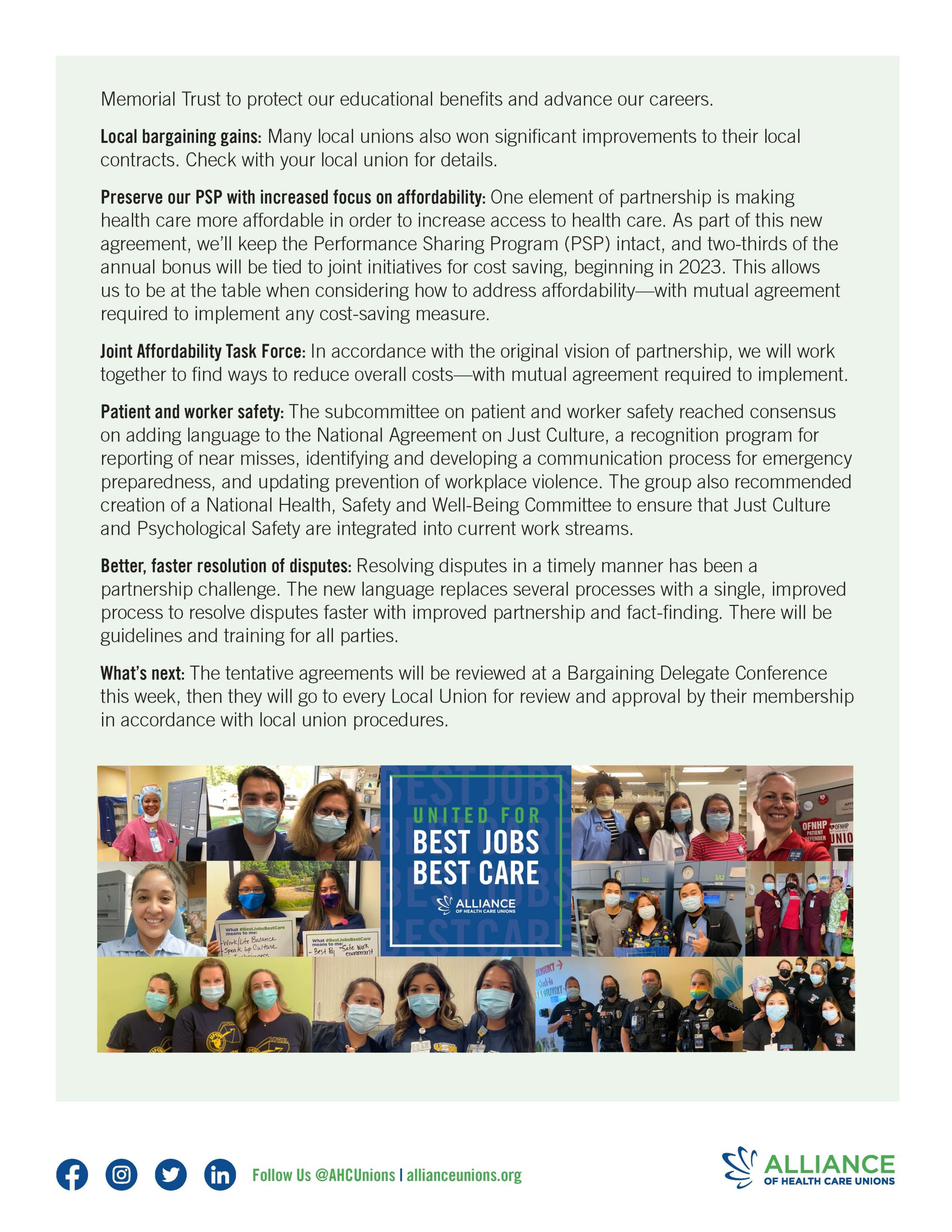 Download the PDF by clicking here. 
Update on 10/22/21
Last week, three of the Alliance's largest unions – UNAC/UHCP, United Steelworkers Local 7600, and OFNHP – AFT Local 5017 – announced that over 95% of each union's members voted to authorize a strike. This week, two more locals announced their members also voted overwhelmingly to authorize strikes – Unite Here! Local 5 in Hawaii, and UFCW Locals in SCAL. Collectively, these five unions represent 36,000 Alliance members eligible to strike now with more locals voting soon. We are united to win for our patients, our communities, and each other!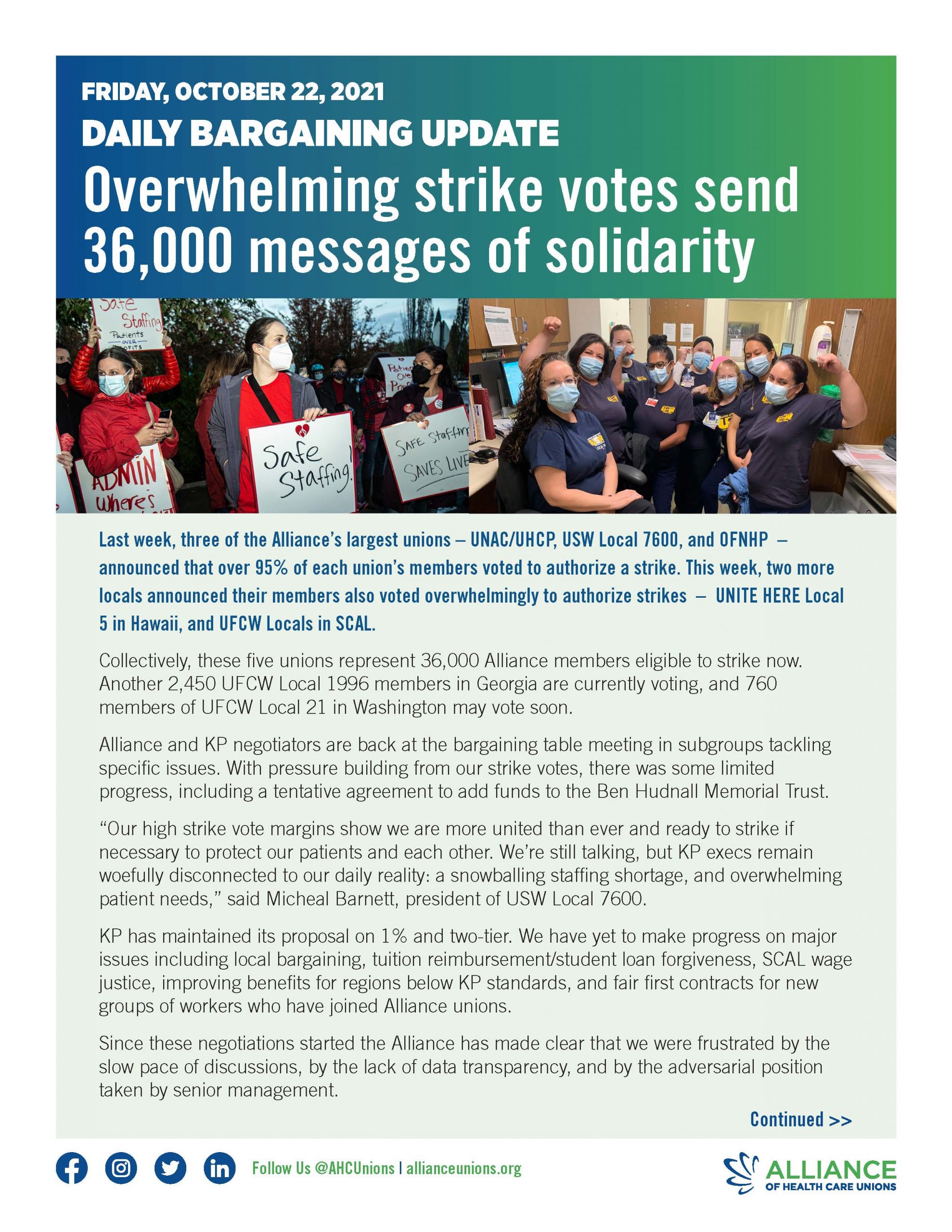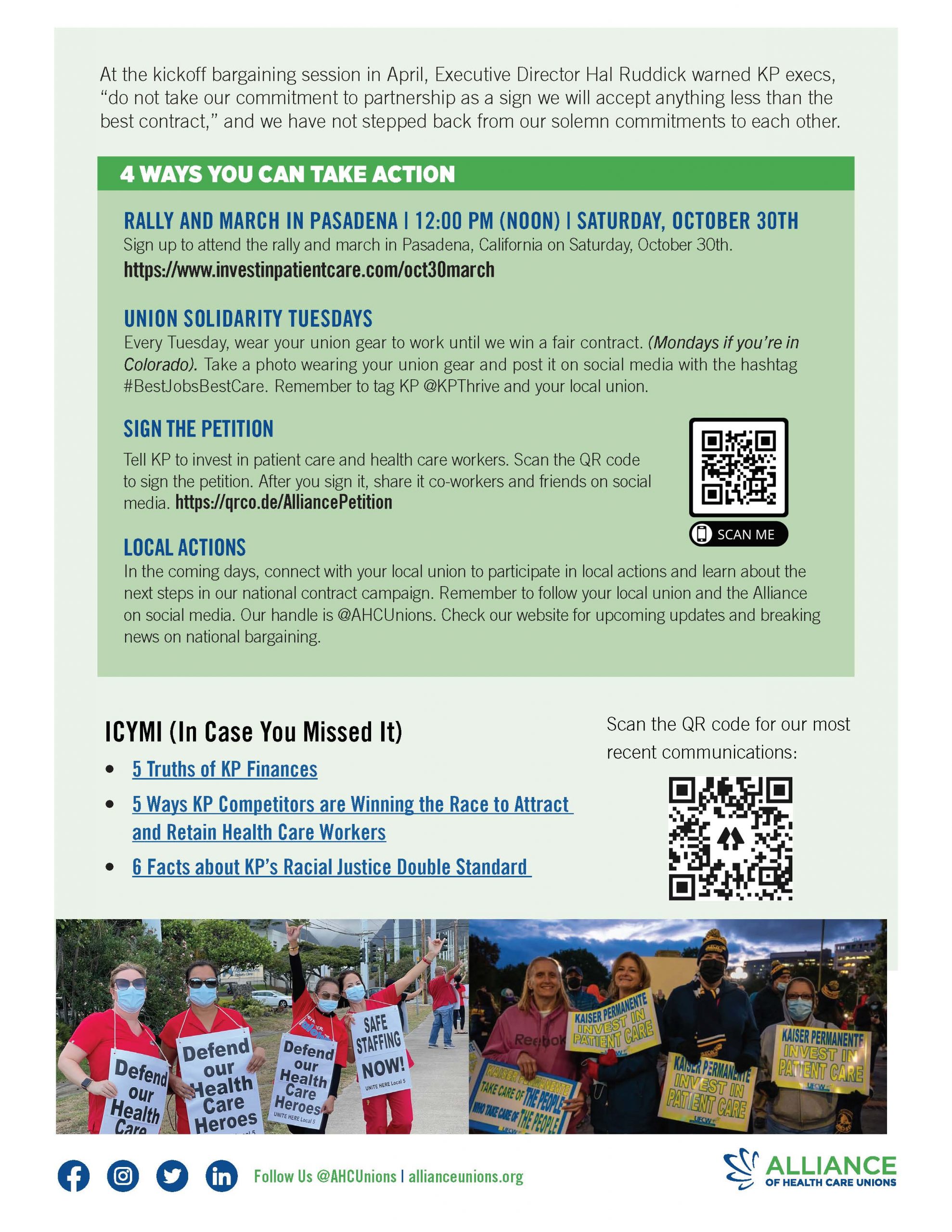 Update on 10/13/21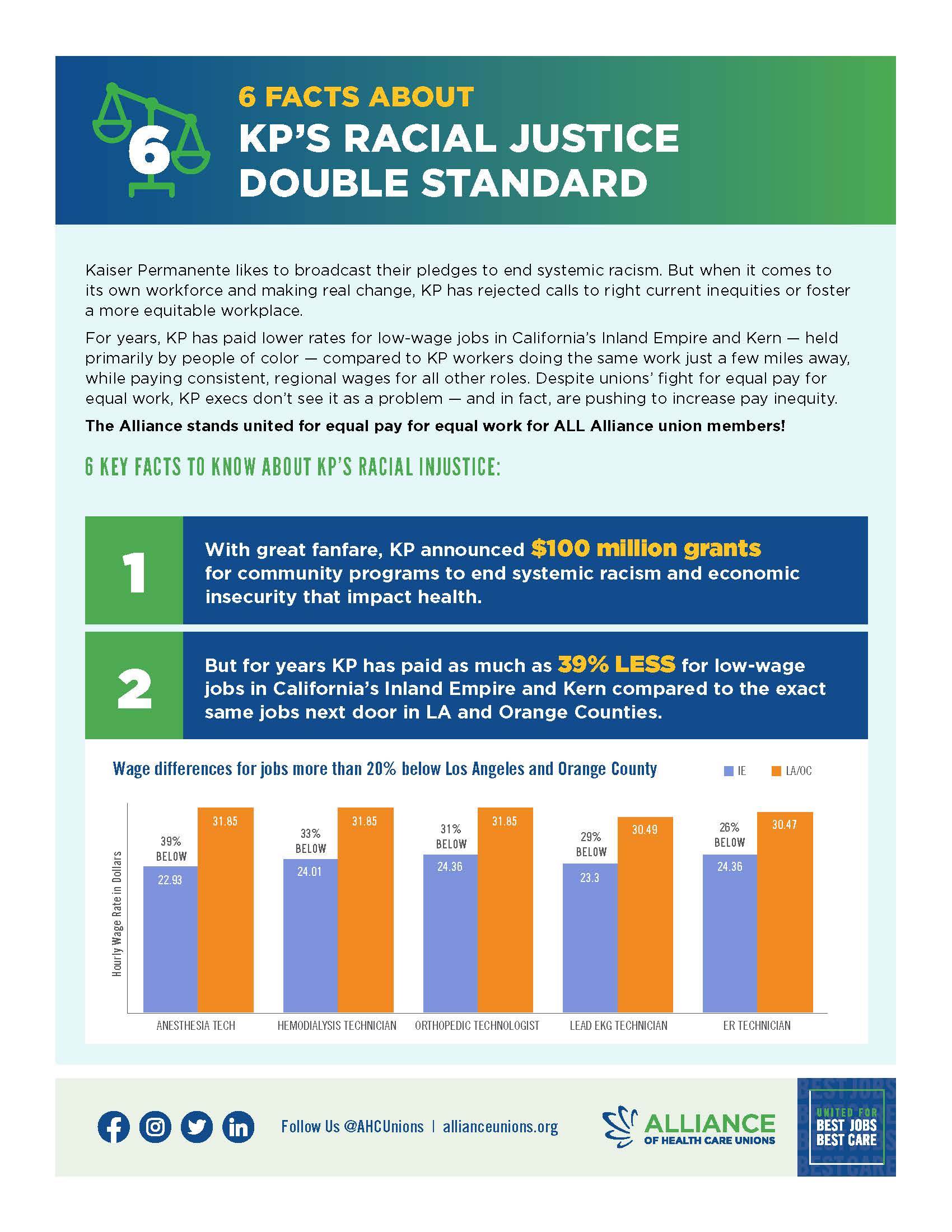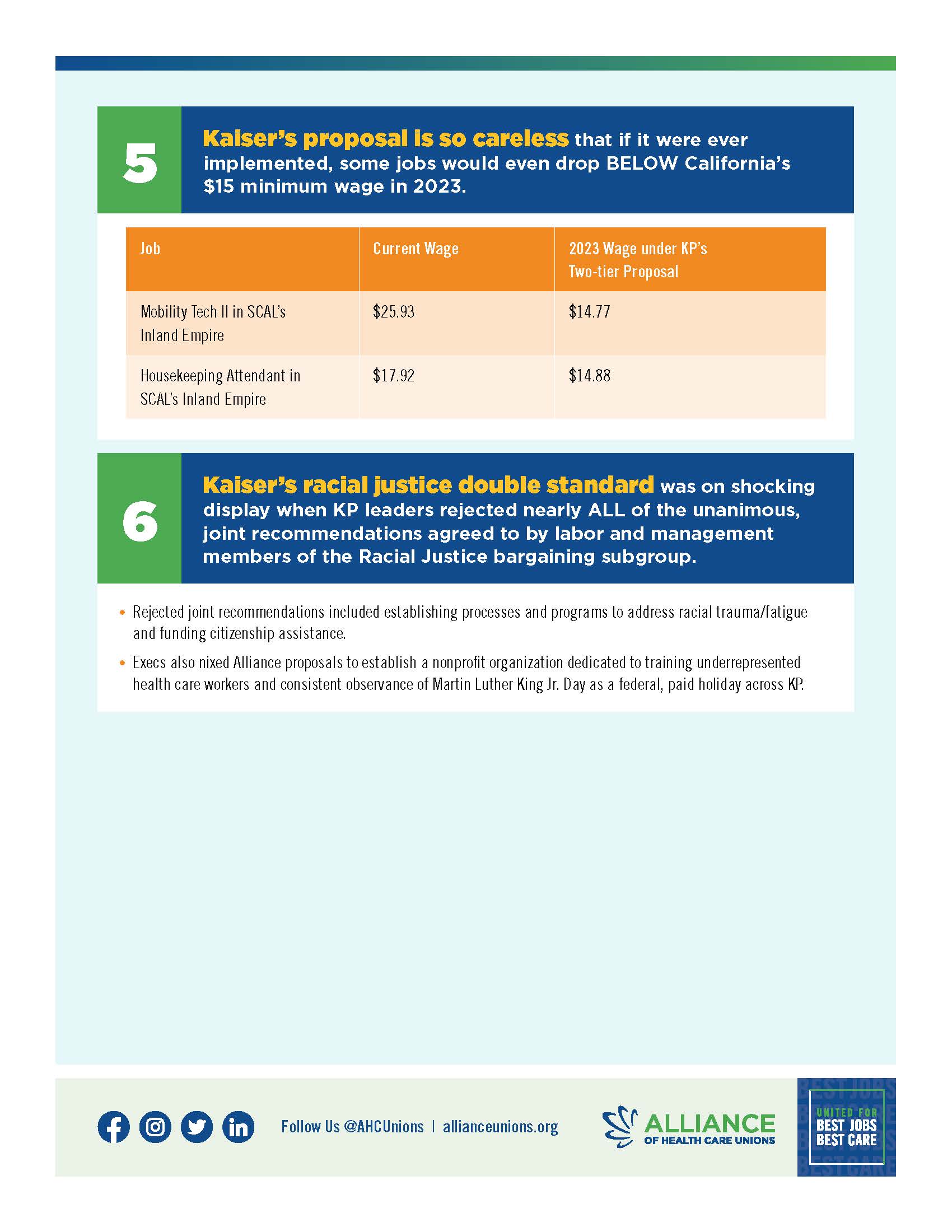 Update on 10/5/21
Where we stand on 6 Key Issues. Compare our proposals with what Kaiser has proposed at the national bargaining table.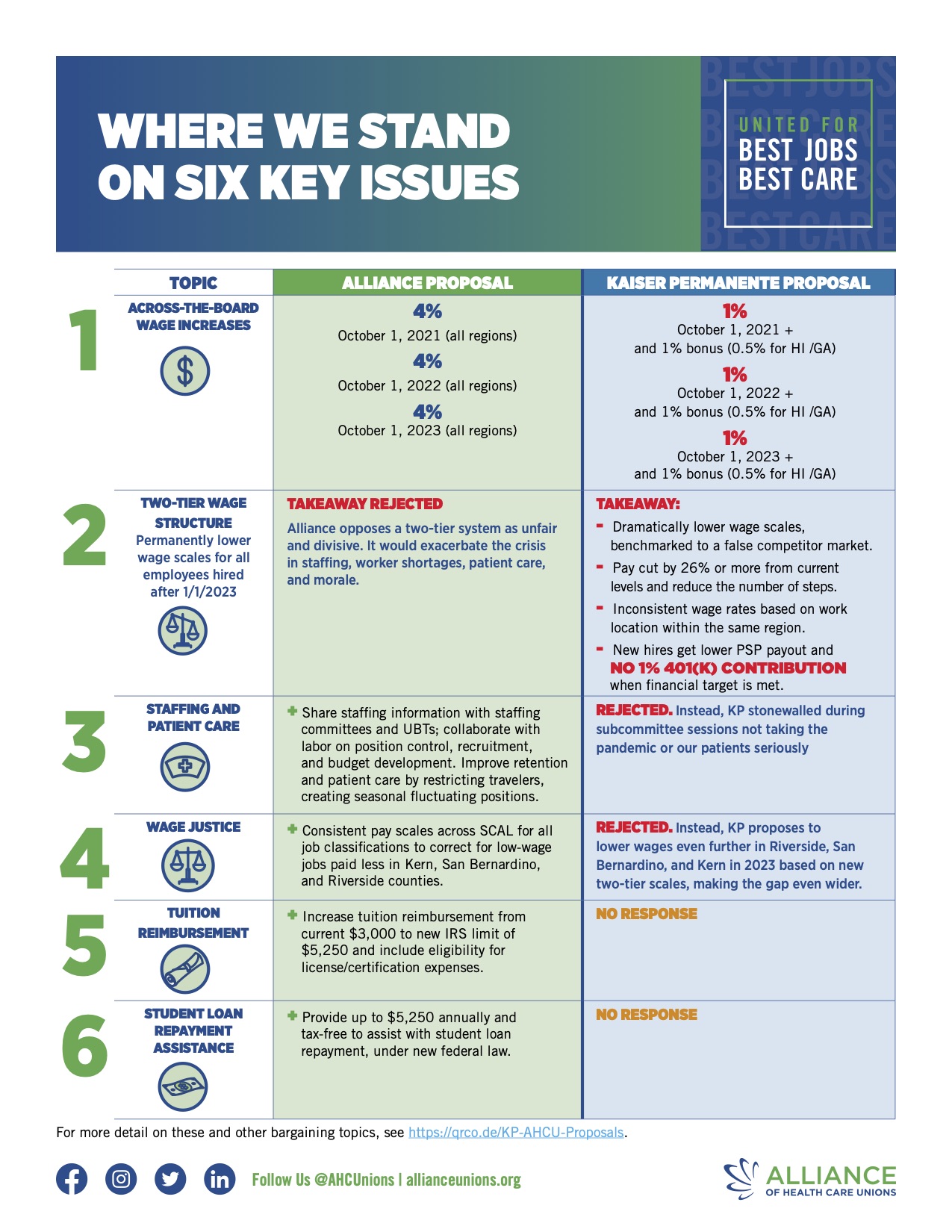 Update on 9/29/21
Wealthy healthcare giant Kaiser Permanente sits on $44.5 billion in reserves, but claims they can only afford an annual wage increase of 1% and a two-tier wage scale. Read and share the 5 Truths of Kaiser Permanente Finances. Link here:  www.ahcunions.org/news/2021/9/29/the-5-truths-of-kaiser-permanente-finances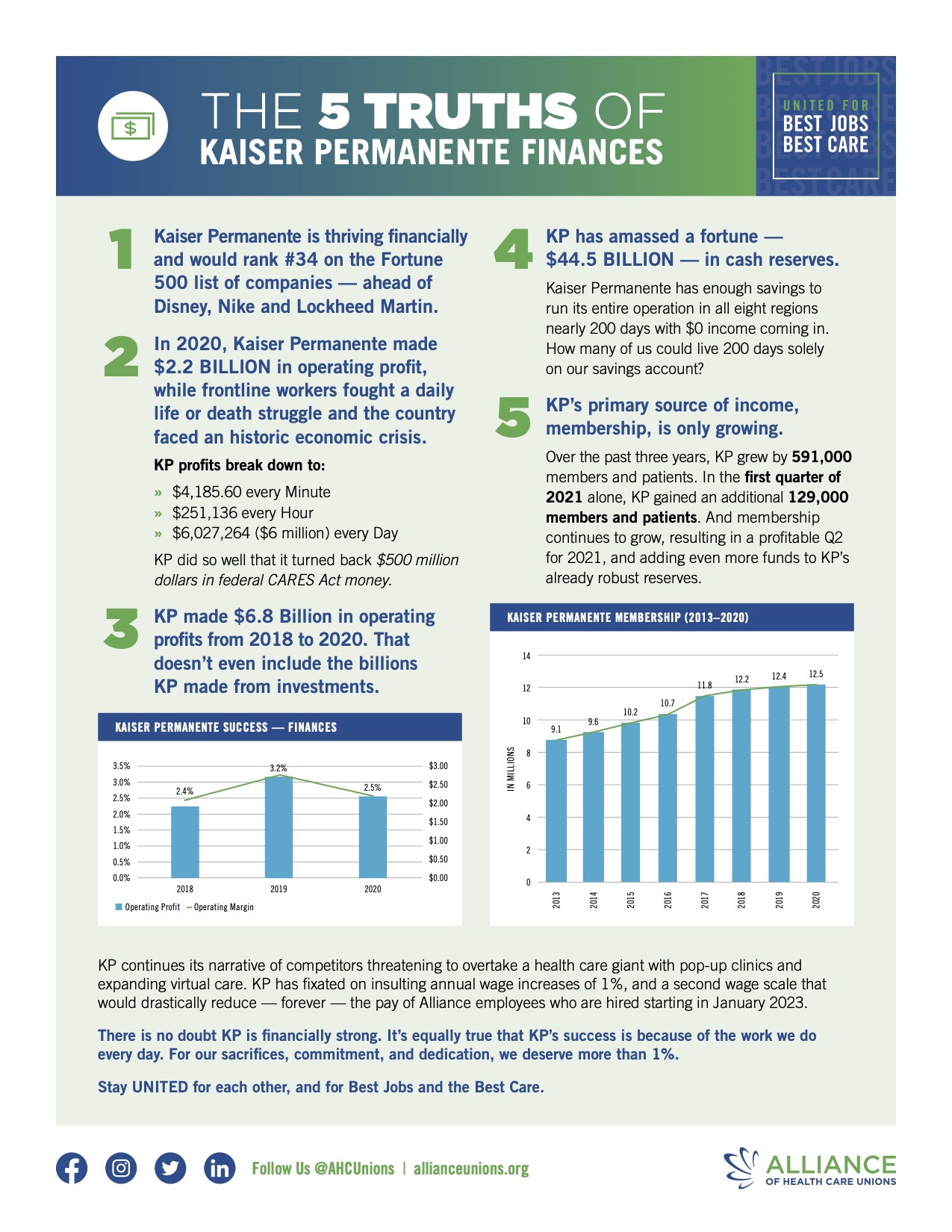 Update on 9/10/21
Because of management's approach, these negotiations are in serious trouble – unlike anything our Alliance unions have experienced with Kaiser Permanente since the 1990's," said Alliance chief negotiator Hal Ruddick. "Unless management dramatically changes course, this conflict will continue to escalate. The Alliance is united, strong, and ready to stand up for our members and our patients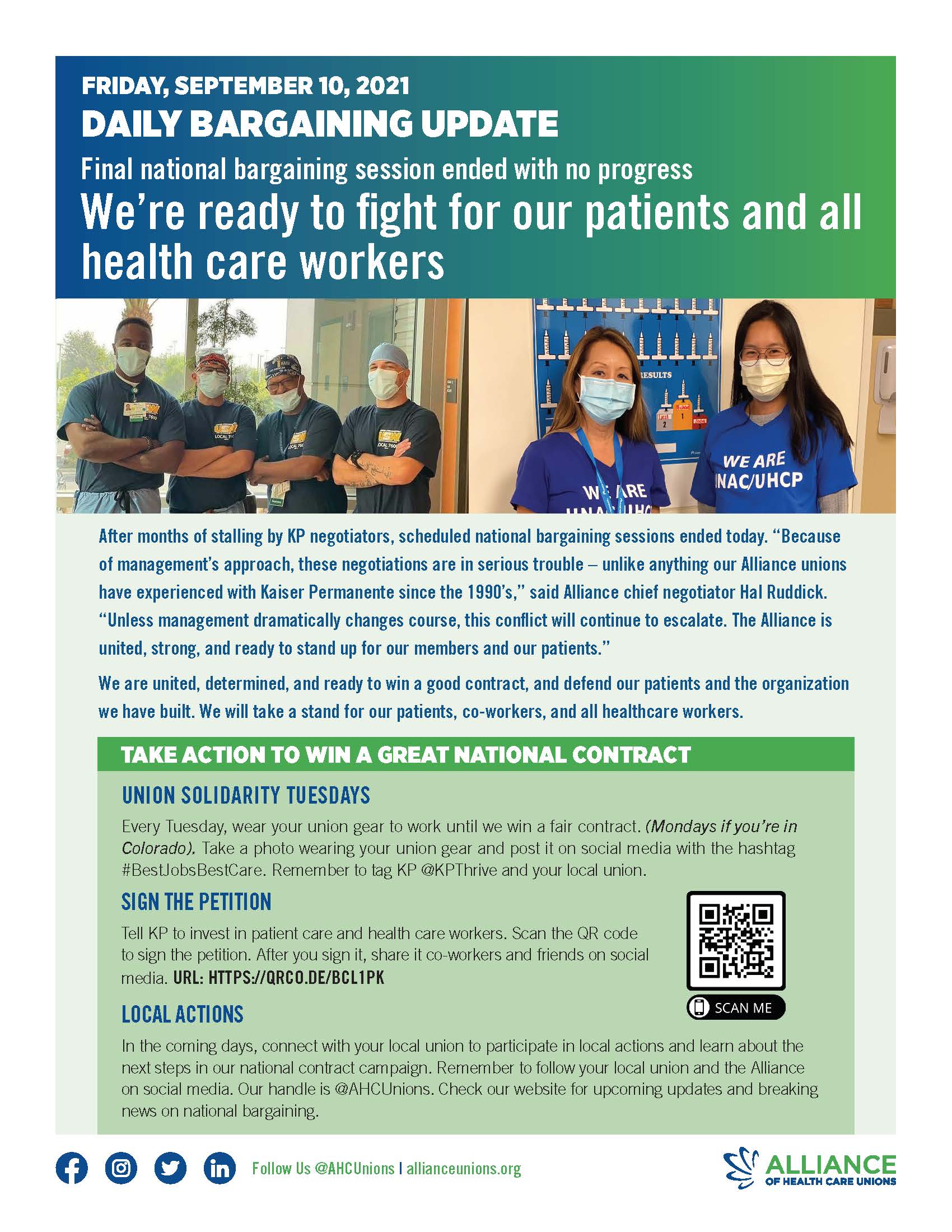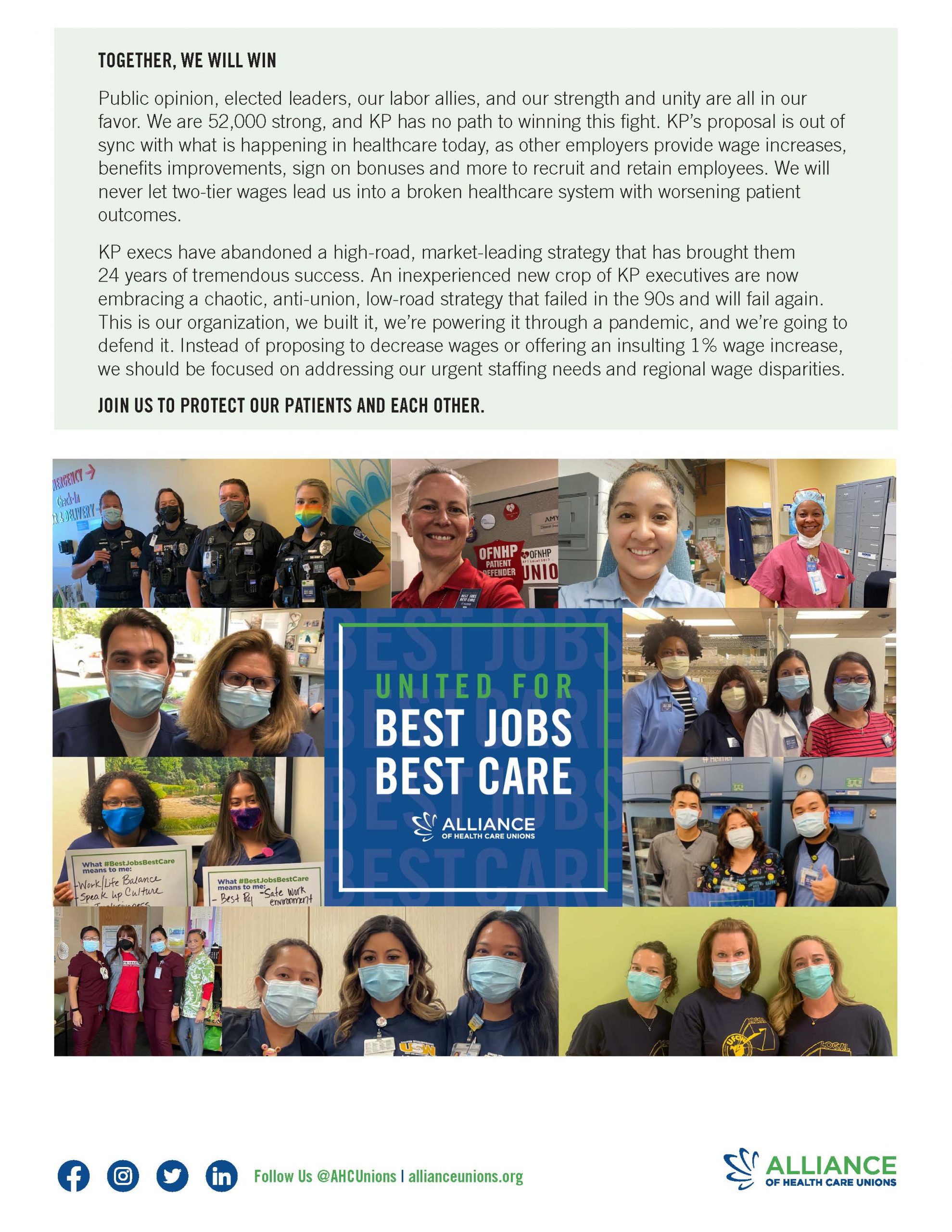 Update on 9/1/21
The Alliance's new analysis shows that if implemented, KP's proposal would see newly-hired USW mobility techs, housekeeping attendants, and dietary aides in the Inland Empire earning less than California minimum wage! KP's proposed two-tier system would only make the wage injustice in the Inland Empire worse.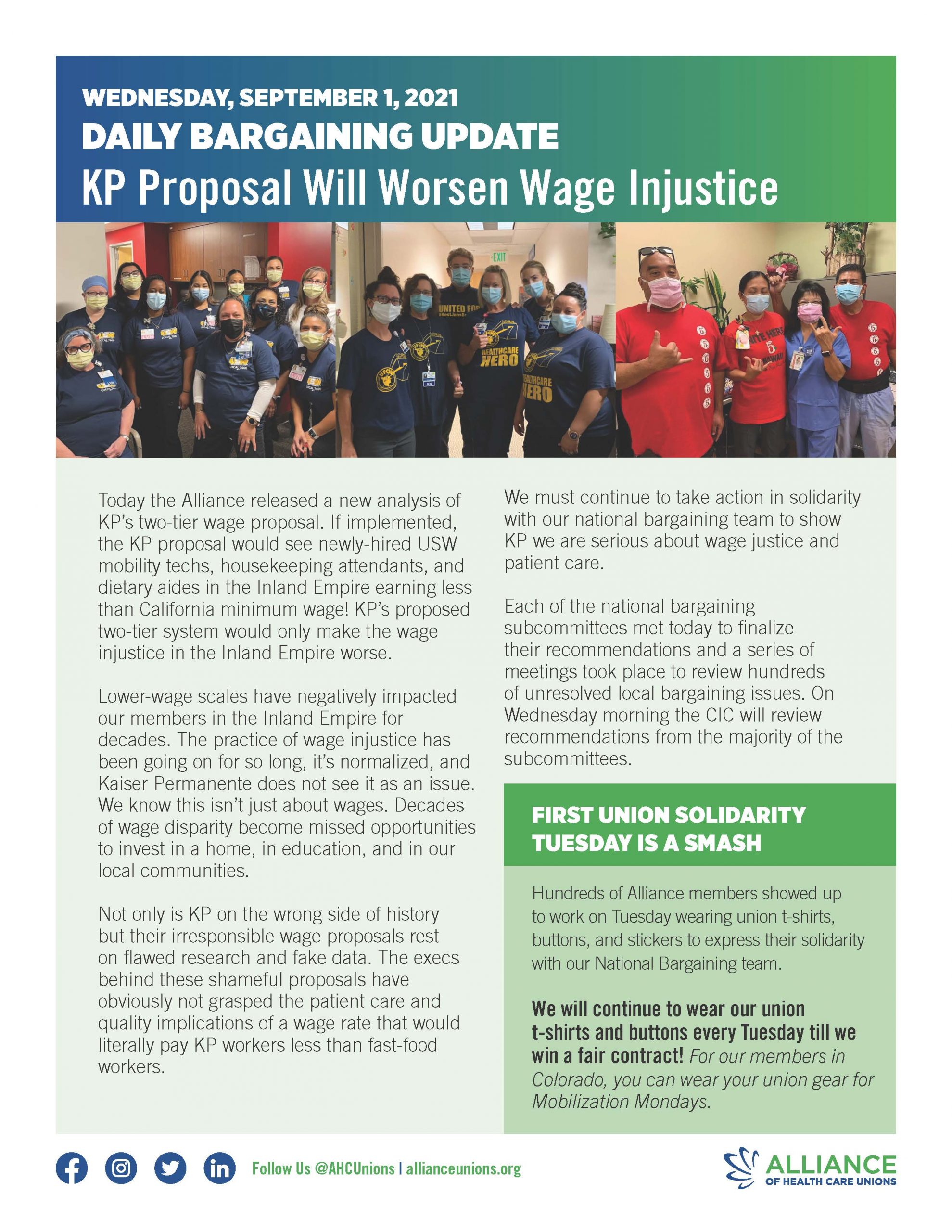 Update on 8/31/21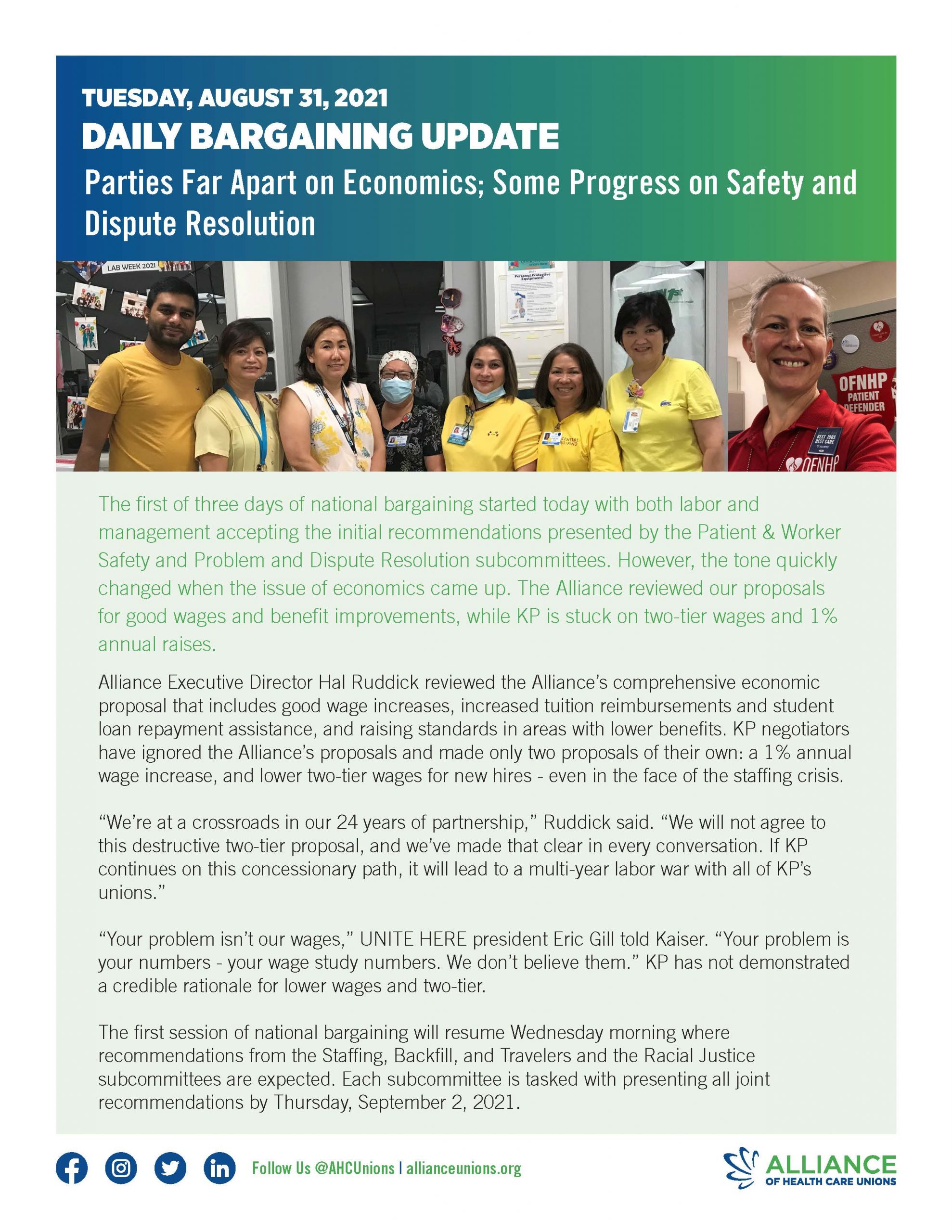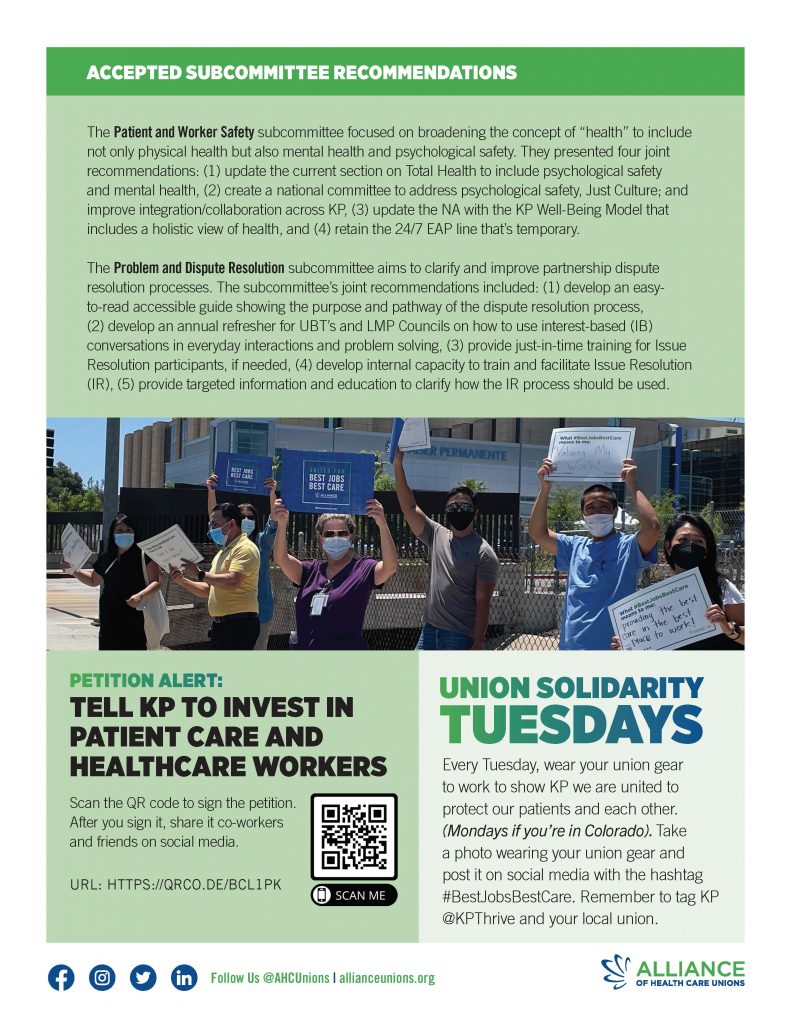 Update on 8/26/21
Starting Tuesday, August 31st! UNION SOLIDARITY TUESDAYS!
On Tuesday, we will wear our union colors, buttons, and stickers in solidarity with our bargaining team. Take a selfie and tell us why you agree safe staffing is important. Use the hashtags #SafeStaffingSavesLives #BestJobsBestCare #UFCW324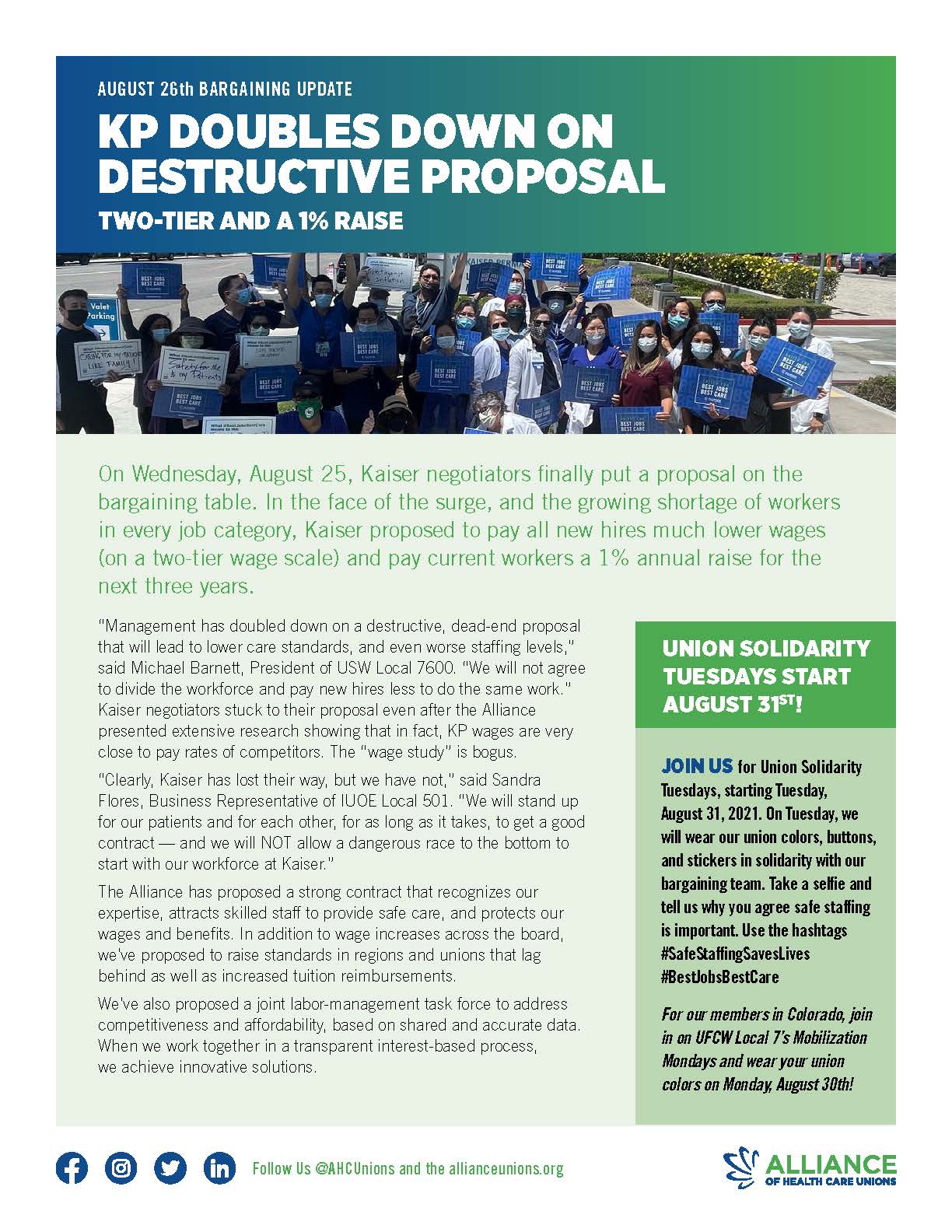 Update on 8/6/21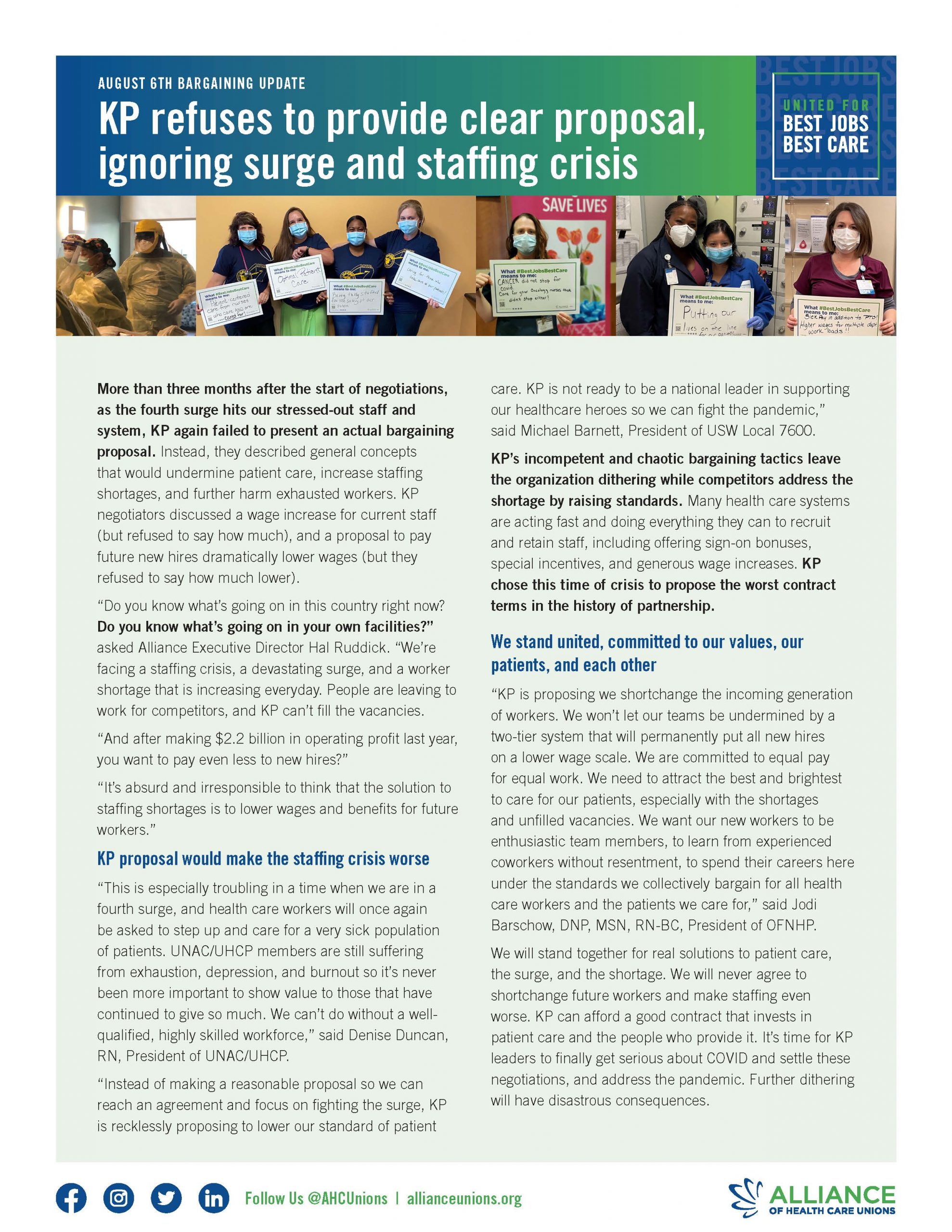 Update on 7/28/21
As COVID-19 hospitalizations continue to climb and those who provide patient care and service have to dig deep to weather another surge, Kaiser Permanente execs can't be bothered to put a proposal on the bargaining table. Instead of thanking those who fought on the front lines to save lives, KP execs are using this moment to try to maximize profit. Our Alliance bargaining team will not stand by as KP attempts to wring concessions from the workers who have always provided the best care and service — and gave everything during the COVID-19 pandemic. Read the latest national bargaining update below.