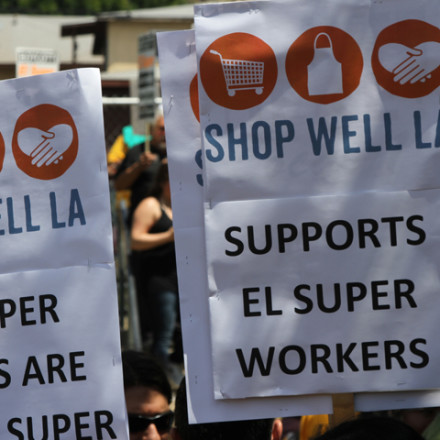 10/30/15 – -Orange County Register – Jennifer Muir
Community and union leaders, local members of the clergy, as well as workers from El Super grocery stores across California, were among roughly 750 protesters dispersed by police in Paramount on Wednesday. The group marched through the parking lot of an El Super store that also serves as the chain's U.S. headquarters.
Their issues are not complicated. They want a fair wage, a safe working environment and a voice in the workplace so they can speak up against being exploited. El Super hasn't wanted to talk to its employees. In fact, the company had to be ordered by a federal court to return to the bargaining table, after the court recently determined El Super had committed unfair labor practices.
Standing together on the streets of Paramount was an act of civil disobedience that is seldom used by most unions these days, including United Food and Commercial Workers, which represents some El Super workers. But when an employer won't even come to the bargaining table, standing together in public to raise awareness in our communities can sometimes be the only way to get a behemoth corporation to listen.
UFCW is the largest private-sector union in the United States, and El Super is owned by the second-largest corporation in Mexico.
Tensions between the workers and El Super have been more than two years in the making, beginning with the expiration of the collective bargaining agreement between El Super and unionized workers at seven of its 50 locations in Southern California, including two stores in Anaheim.
At the heart of this dispute are core economic issues that mean the difference between paying for rent and living on the streets for El Super workers – what they seek is minuscule for an industry behemoth like El Super, whose parent company Group Chedraui reported $4.9 billion in revenue in 2012.
Equally important as issues of economic security are concerns about being treated fairly. For example, El Super recently made headlines when the corporation unilaterally took away vacation hours that employees had already earned. A federal court had to intervene and order El Super reinstate vacation time.
When workers have stood up against these obviously unfair tactics and for their right to stand together in a union, they've faced retaliation. One vocal worker was fired recently, and the National Labor Relations Board ordered the company to rehire and compensate the employee with back pay.
Most troubling in this dispute is that at a time when America's Latino immigrant community is helping to revitalize the nation's shrinking middle class, El Super is aggressively attempting to lower the bar.
Southern California's standards of pay and benefits for retail grocery workers has for many years set the standard for workers in urban centers across the country. El Super, however, has clearly told its employees to tone down their American Dreams.
El Super workers perform the same tasks and possess the same skills as their unionized counterparts in the same industry but make $3-$5 an hour less, along with "benefits" nobody can afford.
By all accounts, El Super is every bit as financially healthy as its local competitors, but you would never know it by looking at the paychecks and lifestyles of the men and women it employs.
There is no reason its workers should be treated as second-class citizens, and we urge Orange County shoppers to let El Super know they agree.