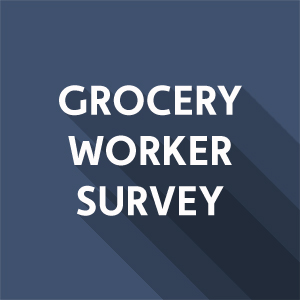 UFCW Local 324 is working with researchers at UC San Francisco and UC Berkeley so we can better understand how to support and protect workers during the COVID-19 pandemic as well as once shelter-in-place restrictions start to lift.
The survey should take about 10 minutes to complete. It will be available online between June 17 and July 8, 2020, and would appreciate it you would fill it out as soon as possible.  Your participation is voluntary and you do not have to answer any questions you do not want to answer. We will not know who participates and who does not, as it is anonymous. You will have the option to provide your contact information separately if you are interested in participating in follow-up surveys.
To go to the survey, click on this link.  It can easily be filled out on a computer, tablet or smartphone.
Please feel free to forward this to any grocery worker that you know regardless of their membership status in the Union.  If you have any questions for the researchers, contact Principal Investigator Carisa Harris, UC San Francisco and UC Berkeley, at ucergonomics@gmail.com.
Thank you for considering this request to participate.