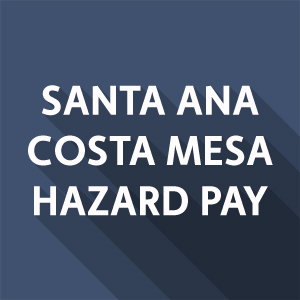 UFCW Local 324
FOR IMMEDIATE RELEASE
March 3, 2021
Workers Celebrate Hazard Pay Victory as Santa Ana City Council Passes Urgency Ordinance 
Costa Mesa City Council Instructs City Attorney to draft Hazard Pay Ordinance to be Considered at a Future Meeting 
Buena Park, CA – Members of the United Food and Commercial Workers (UFCW) Local 324 are celebrating a victory in the movement for hazard pay as the Santa Ana City Council voted Tuesday to pass a temporary urgency ordinance giving grocery and drugstore workers an additional $4 per hour for 120 days. For almost a year now, grocery and drug store workers have been braving the frontlines of the COVID-19 pandemic and as vaccine access for essential workers is slow to roll-out, the risks of the job continue to put workers at significant risk of contracting COVID-19 and taking it back home to their families. Santa Ana becomes the third city in Orange County to pass a temporary wage increase for workers who have been at work, face-to-face with the general public.
"My work has become a more stressful and hazardous environment to work in," said Gloria Bernal, a pharmacy technician at CVS in Santa Ana. "Our store has never closed and remains open 24 hours a day. I contracted COVID-19 and exposed my family. My husband, who suffers from kidney disease, became severely sick from the virus and is now on disability. Our work has put our health and the safety of our family at high risk."
Building on the victory in Santa Ana, the Costa Mesa City Council instructed the City Attorney on Tuesday night to draft a hazard pay ordinance after hearing directly from frontline essential grocery and drugstore workers on why the wage increase is so important.
"As a single parent, I am in a situation where I must go to work to provide for my daughter and I," said Alma Gutierrez, a worker at Ralphs in Costa  Mesa and resident. "As an essential worker, we've been working to keep the economy running while risking our lives to serve the community. As the pandemic continues, we are overworked, underpaid, and with fear of getting sick."
These victories for essential frontline grocery and drugstore workers come on the heels of a California federal court ruling last week, rejecting a request for an injunction filed by the California Grocers Association (CGA) challenging the City of  Long Beach's first in the state hazard pay ordinance that passed unanimously in January.
"CGA's attempt to stall and file lawsuits against cities is unconscionable and disrespectful and needs to stop," said Andrea Zinder, President of UFCW Local 324. "Companies have continued to see profits grow as workers take on all the risk. Our members have been demanding hazard pay for months, calling on their employers to recognize the challenges and the exposure they encounter daily. This is a worker-led movement, and we thank the Cities of Santa Ana and Costa Mesa for listening to workers and addressing the much-needed recognition they deserve."
More than 2,200 grocery and drug store workers within UFCW Local 324 have tested positive for COVID-19 since March 2020.