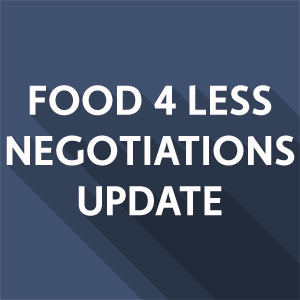 Translation in Spanish will be available.
Member Meetings on January 13th or January 14th
We have scheduled Food 4 Less member meetings to update you on contract negotiations. Meetings will be held via zoom on January 13th at 6 pm or January 14th at 9 am. Please register for a meeting, and a zoom link will be sent to you.
We encourage all members to participate. We are stronger when we are united. We must stand together in demanding a contract that values your work, your safety, and your health.
Register Here!
January 13th Meeting at 6 PM/ Reunión 13 de enero a las 6 PM
Register by clicking here/ Regístrese haciendo clic aquí
January 14th Meeting at 9 AM/ Reunión 14 de enero a las 9 AM
Register by clicking here/ Regístrese haciendo clic aquí
Hemos programado reuniones de miembros de Food 4 Less para darle Información sobre las negociaciones del contrato.  Las reuniones se llevarán a cabo a través de zoom el 13 de enero a las 6 pm o el 14 de enero a las 9 am.  Regístrese para una de las reuniones y se le enviará un enlace de zoom.
Alentamos a todos los miembros a participar.  Somos más fuertes cuando estamos unidos.  Debemos unirnos para exigir un contrato que valore su trabajo, su seguridad y su salud.
Habrá traducción al español.
For assistance on downloading Zoom and other helpful resources, click here.
Para obtener ayuda para poder descargar Zoom y otros recursos útiles, haga clic aquí.