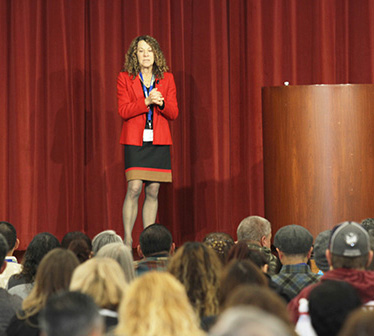 Stewards' Conference honors activists at the forefront of contract fight
Only a few weeks after a contentious contract campaign that ended in a sweeping win for union members, Local 324 stewards gathered for their annual conference Dec. 5.
A revolving slide show starring some of the 500 + members at rallies and other actions kept the crown entertained as they streamed into the Greg M. Conger Auditorium.
The positively charged atmosphere made the perfect setting for the newly elected leadership team of President Andrea Zinder and Secretary-Treasurer Matt Bell.
Zinder's first address to stewards as President drove home the event's theme—Mobilize!
"This year, we recognize our food stewards, who also led a ground-breaking campaign staying strong through months of delay and employer intransigence. The result was the negotiation of our best food contract in the last 20 years," Zinder said to rousing applause.
Both Zinder and Bell asked stewards to use 2019 as a model for future battles and invited them to use their imaginations to ponder how much further they could advance if they could grow the pool of co-workers even further
"We achieved great success by mobilizing 500-plus members. . . just think what we could achieve if we do the same with 5,000," Bell said.
For the first time since the Stewards; program began at Local 324, dozens of activists were honored with certificates or plaques that formally acknowledged their role in the campaign. Albertsons steward Brian Baxley was honored with the coveted Steward of the Year Award, receiving the trophy after Zinder praised his commitment to the cause as inspirational.
The event concluded after Zinder presented State Sen. Josh Newman (D-Fullerton) with the Solidarity Award, recognizing his support for a litany of pro-labor initiatives in Sacramento.
"He walked side-by-side with many of you and he did it without any fanfare or publicity," Zinder said of Newman, stressing that Labor's success at the state level demands more politicians like him be elected to office.
In his brief remarks to the crowd Newman congratulated stewards on their successful contract and endorsed their goals of holding corporations more accountable for their actions.
"There is power in what you folks did in standing up to your employers and standing up for yourselves," he said.