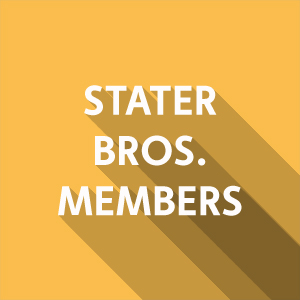 Update 5/22/20
We are pleased that Stater Bros. has extended the $2 appreciation pay through June 14. You are essential and you are heroes.  Thank you for all you do.
Update 5/12/20
Stater Bros. has extended the $2/hour appreciation pay through 5/31. Thank you for your heroism and for providing essential services to your community.
Update 4/24/20
Stater Bros is extending the $2 hero pay through May 17th.
Update 4/10/20
Stater Bros is extending the $2 hero pay through May 3rd.
Update 3/20/20
Workers Secure Pay Boost from Stater Bros.
Workers, through the Southern California UFCW Local Unions, have been calling for pay increases for grocery store workers on the frontlines. 
ORANGE COUNTY – As measures to stop the spread of COVID-19 intensify, with Gov. Gavin Newsom issuing an order for all Californians to stay at home, grocery store workers remain the lifeline to the public, going to work every day. Without special training in public health or disease prevention, stockers, checkers and others who keep the grocery stores open for shoppers are suddenly first responders.
Since shopping — and profits — have surged for grocery retailers like Stater Bros. grocery workers, through their union, have called for increased pay. In response to the news today Stater Bros. announced all of the company's hourly employees working in the stores will receive a $2 per hour wage increase for the subsequent four weeks. UFCW Local 324 released the following statements:
"I'm a single mom. I've been working many long hours away from my 4-year old son to provide for our communities. I understand the importance of our jobs and I'm proud to stand with my co-workers and my union in ensuring we are protected at work and that employers are recognizing our sacrifices in these difficult times," said Rachel Rosen, grocery clerk at Stater Bros. in Garden Grove. 
"This crisis is demonstrating that it's not the bankers or the marketing executives that are essential: it's grocery workers, pharmacists, delivery drivers and others who are among the lowest paid in our societies," said Andrea Zinder, president of UFCW Local 324. "Increasing pay for those on the frontlines is critical."
About Southern California UFCW Local Unions: Southern California UFCW Local Unions represent over 60,000 grocery workers throughout Southern California.
###
Ultimas Noticias de Stater Bros.
COMUNICADO DE PRENSA: 20 de marzo de 2020
Contacto con los medios: Priscilla Luviano  priscilla@ufcw324.org 714-869-5239
Trabajadores aseguran un aumento de sueldo de Stater Bros.
Los trabajadores, a través de las locales de unión UFCW del sur de California, han estado pidiendo aumentos de sueldos para los trabajadores de las tiendas de comestibles primeros en responder.
CONDADO DE ORANGE – A medida que se intensifican las medidas para detener la propagación del COVID-19, con el gobernador Gavin Newsom emitiendo una orden para que todos los californianos se queden en casa, los trabajadores de las tiendas de comestibles siguen siendo el salvavidas para el público, yendo todos los días a trabajar. Sin capacitación especial en salud pública o prevención de enfermedades, los almacenistas, las cajeras y otros que mantienen las tiendas de comestibles abiertas para los compradores se convierten de repente en los primeros en responder.
Desde que las compras —y las ganancias— han aumentado para los minoristas de comestibles como Stater Bros. Los trabajadores, a través de su unión, ha pedido un aumento de sueldo. En respuesta a las noticias de hoy, Stater Bros. anunció que todos los empleados por hora de la compañía que trabajan en las tiendas recibirán un aumento de sueldo de $2 por hora durante las siguientes cuatro semanas. La UFCW Local 324 publicó las siguientes declaraciones:
"Soy madre soltera. He estado trabajando muchas horas lejos de mi hijo de 4 años para proveer para nuestras comunidades. Entiendo la importancia de nuestro trabajo y estoy orgullosa de estar con mis compañeros de trabajo y mi unión para asegurar que estamos protegidos en el trabajo y que los empleadores están reconociendo nuestros sacrificios en estos tiempos difíciles", dijo Rachel Rosen, empleada de comestibles en Stater Bros. en Garden Grove.
"Esta crisis está demostrando que no son los banqueros o los ejecutivos de mercados que son esenciales: son los trabajadores de comestibles, los farmacéuticos, los choferes repartidores y otros los que están entre los peor pagados en nuestras sociedades", dijo Andrea Zinder, presidenta de la UFCW Local 324. Aumentar los sueldos de los primeros en responder es fundamental".
Las uniones UFCW del Sur de California representan a más de 60,000 trabajadores de comestibles en todo el sur de California.
###