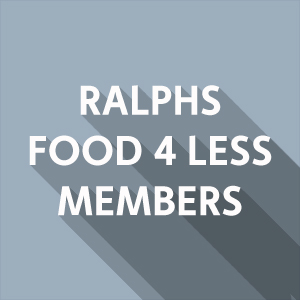 Update on 4/17/20
Ralphs and Food 4 Less have extended the $2/hour appreciation pay through 5/16/2020. Thank you for all that you do!
Update on 4/17/20
Ralphs and Food 4 Less have extended the $2/hour hero pay through 5/2/20.  Thank you for all you continue to do every day.
Update on 3/31/20
Together, we've made it loud and clear that Kroger can do better to protect employees and pay you for the work you are doing during this difficult time.  They have agreed to a $2.00 premium on straight time and $3.00 on all overtime hours. The premium will be from March 29th through April 18th. They have also agreed to start implementing directional aisles and will supply masks.  We continue talks with your employer and we will update you as more information becomes available. Your union representative is available to you 24/7 to answer any questions or concerns.
Find your union representative here:  https://ufcw324.org/representatives/
Ralph's/ Food 4 Información Actualizada
Juntos, dejamos claro a Kroger que pueden proteger mejor a los empleados y pagarles por el trabajo que están haciendo durante estos momentos tan difíciles.  Han acordado un aumento de $2.00 en tiempo regular y $3.00 en todas las horas extras. El aumento será del 29 de marzo al 18 de abril. También han acordado implementar pasillos direccionales y proveerán máscaras.  Continuaremos las conversaciones con su empleador y lo actualizaremos a medida que haya más información disponible. Su representante de la Unión está disponible para usted 24/7 para contestar cualquier pregunta o preocupación.
Encuentre a su representante de la Unión aquí: https://ufcw324.org/representatives/