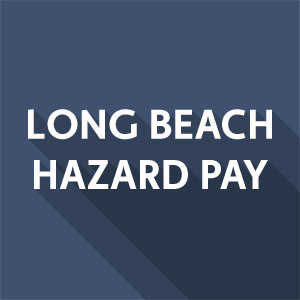 UFCW Local 324
FOR IMMEDIATE RELEASE
January 19, 2021
Long Beach City Council Approves Ordinance Requiring Grocery Employers to Pay Hazard Pay
Grocery Workers Now Required to be Compensated an Additional $4 Per Hour in Hazard Pay 
Long Beach, CA – Today, the Long Beach City Council unanimously voted to mandate grocery chains with more than 300 employees nationwide pay an additional $4 per hour in hazard pay to their workers. The city is the first to pass such an ordinance. Cities statewide are also considering similar actions to compensate workers for the increased job risk they face during the COVID-19 pandemic.
"Our members have been fighting long and hard for the hazard pay they deserve," said Andrea Zinder, President of UFCW Local 324. "They're doing hard work on the frontlines that keep our communities going while putting their lives and the lives of their families at risk. We applaud the City of Long Beach for recognizing the risk workers are facing daily and that they deserve to be compensated accordingly."
UFCW Local 324, representing grocery workers in Long Beach, has seen infection rates increase among its members drastically throughout the COVID-19 pandemic. More than 1,600 grocery workers within the union have tested positive for COVID-19 since March 2020, and many members of the union have been hospitalized or lost their life.
On Monday, California became the first state in the nation with three million known COVID-19 cases and more than 33,000 deaths. Just last week, Long Beach faced its deadliest week yet of the pandemic.
"We're understaffed and exposed to thousands of people daily," said Elizabeth Leon, a worker from Food 4 Less. "I got COVID-19 in late December 2020 and I was off of work for three weeks recovering. I had to figure out how I would pay my rent and feed my kids while Food 4 Less waited to pay me the sick time I was entitled to for weeks. Workers like myself are sacrificing so much while these companies continue to make millions off our backs. This support from the City of Long Beach means so much to the grocery workers who have kept the economy running and will continue to as the state reopens and our economic recovery begins."
Unless extended by the City Council, this ordinance will expire in 120 days. "With the release and distribution of the COVID vaccine we would hope that frontline grocery workers will no longer face the hazards they do today; however, if the pandemic is still infecting essential workers in the future we would hope that the council looks at extending hazard pay," said Derek Smith Political Director for UFCW Local 324.
# # #
UFCW Local 324 represents 22,000 members in grocery, drug, pharmacy, health care, food processing and cannabis in Orange and parts of Los Angeles County.