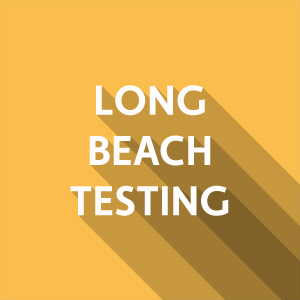 Update on 4/30/20
Mayor Robert Garcia announced free testing, prioritizing Long Beach essential workers! Asymptomatic essential workers can now get tested if you are concerned you have potentially been exposed to COVID-19. 
The free testing begins today and you must make an appointment in order to get a test. We urge you to register today as spots will fill up quickly. Drop ins will not be accepted.
Please be prepared to show your work badge or an ID at the test site. A test will be provided whether or not you have health insurance, are documented or undocumented. Walk up testing is available for those who don't have a vehicle. Again, appointments are required.
Individuals who do not have access to the Internet or need assistance making an appointment online can call the City's InfoLine at (562) 570-4636. 
Testing Locations:
Jordan Plus School (171 W. Bort Street, Long Beach)
Thursday, April 30th and Friday, May 1st
Phone sign-up only. Call (888) 634-1123 to register for Thursday or Friday testing. Testing Hours: 7am-7pm.
Saturday, May 2nd and Going Forward Beginning Saturday, the online option will also be made available for scheduling appointments. To sign up on-line, please visit: https://lhi.care/covidtesting. 
Beginning next Monday, May 4th, all testing will be Monday – Friday; 7am – 7pm
Long Beach City College Pacific Coast Campus (1305 Pacific Coast Campus, Long Beach)
Thursday, April 30th and Going Forward
Reservations for COVID-19 testing at the LBCC College Pacific Coast Campus location can be made online at: http://longbeach.gov/health/diseases-and-condition/information-on/coronavirus/covid-19-testing/. Testing hours are 10am – 1pm, 7 days per week.
Should you be notified that you have tested Positive, you must contact Occupational Health at (562) 570-4053 to complete screening and for next steps.
For more information on this announcement, please visit: http://bit.ly/3aRaFpb