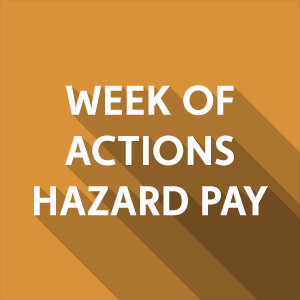 Essential workers are still on the frontlines of COVID-19!
As cases continue to spread across Orange County, workers continue to be essential to our communities. In cities like Santa Ana, our communities and our members are heavily impacted, having more positive cases than the rest of the county.
Essential workers are not expendable. It's time for CEOs to acknowledge the sacrifices and risks workers face every day and provide hazard pay and enforce safety measures!
Join us for these socially distanced store actions to demand Hazard Pay! 
Tuesday, September 1st
CVS Pharmacy
3911 S. Bristol St., Santa Ana, 92704
10:30 AM – 12 PM
Thursday, September 3rd
Food 4 Less
2140 S. Bristol St., Santa Ana, 92704
10:30 AM – 12 PM