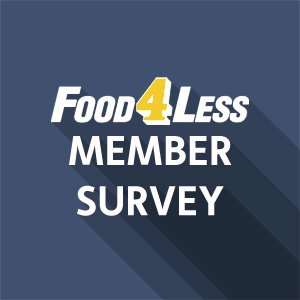 January 2020
To All UFCW Members Employed by Food 4 Less:
Our union contract expires on June 7, 2020. The contract expiration gives us the opportunity to make changes to our working conditions and improve our wages and benefits.
Last year, we successfully negotiated wage increases and benefit improvements for the workers at Ralphs and Vons/Albertsons. The medical improvements, including dental and vision roll-over and the availability of Kaiser to those hired after 2004 with more than 6.5 continuous years in the industry, apply to Food 4 Less workers automatically. The wage increases and other changes to your working conditions are not guaranteed and must be negotiated separately before June 7, 2020. It is therefore critical to have your participation in the contract campaign.
The process of negotiating a new contract usually takes several months. At the end of the process, you get to vote to accept or reject the changes offered by the Company. Member participation and input throughout this process is extremely important and will help to achieve better working conditions and higher wages.
We need to hear from you about the workplace issues that you and your coworkers care about to ensure that our proposal to the Company reflects your needs. This contract survey is a key opportunity to share your concerns and ideas about what changes or improvements you would like to see at work. You can also update your contact information to receive negotiation updates.
This survey will only be used to develop proposals and bargaining strategies for the upcoming negotiations. Your responses will not be shared with your Company.
Please complete the survey by clicking here by Friday, January 31.
A todos los Miembros de UFCW Empleados por Food 4 Less:
Nuestro contrato de la Unión vence el 7 de Junio del 2020. El vencimiento del contrato nos da la oportunidad de hacer cambios en nuestras condiciones de trabajo y mejorar nuestros sueldos y beneficios.
El año pasado, nosotros negociamos exitosamente aumentos de salario y mejoras en los beneficios para los trabajadores de Ralphs/Vons/Albertsons. Las mejoras en los beneficios médicos, incluyendo la transferencia (roll-over) del beneficio dental y de visión, y la disponibilidad de Kaiser para las personas contratadas después del 2004 con más de 6.5 años contínuos en la industria, aplican a los trabajadores de Food 4 Less automáticamente. Los aumentos de salario y otros cambios a tus condiciones de trabajo no están garantizados y tienen que ser negociados de manera separada antes del 7 de junio del 2020. Por ello, es de suma importancia contar con tu participación en la campaña de contrato.
El proceso de negociar un nuevo contrato usualmente toma varios meses. Al final de ese proceso, tú tienes que votar para aceptar o rechazar los cambios ofrecidos por la Compañía. La participación y las sugerencias de los miembros en todo este proceso es extremadamente importante y ayudará a lograr mejores condiciones de trabajo y sueldos más altos.
Necesitamos escuchar tus opiniones sobre los temas en el lugar de trabajo que te importan a tí y a tus compañeros de trabajo para asegurar que nuestra propuesta para la Compañía refleja tus necesidades. Esta encuesta sobre el contrato es una oportunidad clave para compartir tus inquietudes e ideas sobre qué cambios o mejoras te gustaría ver en el trabajo. También puedes actualizar tu información de contacto para recibir las últimas noticias sobre la negociación.
Esta encuesta solamente será usada para desarrollar propuestas y estrategias de negociación para las próximas negociaciones. Tus respuestas no serán compartidas con tu Compañía.
Por favor, completa la encuesta haciendo clic aquí antes del Viernes 31 de Enero.