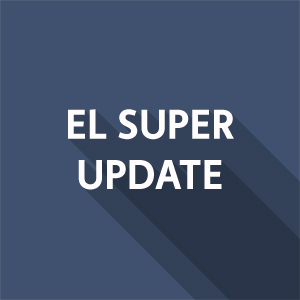 El Super Contract Update as of Friday, January 17, 2020
Thank you to all of the El Super members and activists for submitting survey responses about how to improve the lives of El Super workers and make El Super a better place to work. From those surveys we developed proposals to secure the following contract improvements:
Family sustaining wages;
Sufficient Hours;
Fair Scheduling Practices that work for everyone;
Guaranteed Sick Time; and
Respect and Fair Treatment
Petitions are circulating in the stores in support of these goals. Please speak to your shop steward to show your support and sign the petition.
We have met with the Company and presented our proposals. We also received proposals from the Company. The two negotiating sessions scheduled for January 22 and 23 had to be cancelled due to the unavailability of some of the Company's representatives but we scheduled new dates.
Our next negotiation sessions are now scheduled for February 12, 18 and 19. We are planning to have worker representatives at future negotiating sessions as we push for higher wages and necessary contract improvements.
We will continue to provide updates throughout the negotiation process. It is important for all members to remain active in, and informed about, the contract campaign to secure the best contract possible. If you want to get more involved or you have any questions regarding your union contract or the process of negotiations, please speak to your shop steward or your union representative.
En Español 
Lo Último sobre su Contrato con El Súper.  Actualizado el viernes 17 de enero, 2020
Gracias a todos los trabajadores y activistas por participar en las conversaciones que tuvieron con los Representantes de la Unión, sobre cómo mejorar sus vidas en El Súper y como hacer de El Súper un mejor lugar para trabajar. Basado a sus respuestas, nosotros desarrollamos propuestas para negociar las siguientes mejoras en su próximo contrato: 
Sueldos adecuados para sostener a sus familias
Suficientes Horas por semana
Prácticas Justas de Programación de Horarios que funcionen para todos;
Días de Enfermedad Garantizados y
Respeto y Trato Justo
 Actualmente se está circulando una petición en las tiendas para apoyar a estas metas. Por favor, habla con el delegado de tu tienda para mostrar tu apoyo y firma la petición.
Nos hemos reunido con la Compañía y hemos presentado nuestras propuestas. También recibimos propuestas de la Compañía. Las dos sesiones de negociación que teníamos programadas para el 22 y 23 de enero, tuvieron que ser canceladas debido a la falta de disponibilidad de algunos de los representantes de la Compañía, pero acordamos nuevas fechas.
 Nuestras próximas negociaciones están programadas para el 12, 18 y 19 de Febrero. Estamos planeando tener trabajadores presentes en las próximas negociaciones, ya que estaremos presionando a la compañía por sueldos más altos y mejoras necesarias al contrato.
Continuaremos dando actualizaciones a lo largo del proceso de negociaciones. Es importante que todos los miembros se mantengan activos e informados sobre la campaña de contrato para lograr el mejor contrato posible. Si quieres ayudar o si tienes alguna pregunta sobre tu contrato de la Unión o el proceso de negociaciones, por favor, habla con tu delegado en la tienda o tu Representante de la Unión. ​