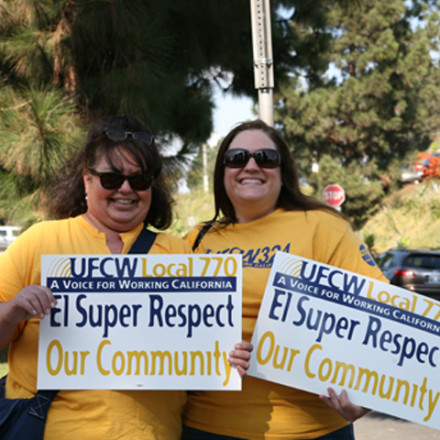 The National Labor Relations Board (NLRB) secured a rare form of injunctive relief from "irreparable harm" caused by El Super's unfair labor practices. The "10j" injunction signifies that a federal judge would agree that the company's actions were so bad, an immediate remedy was called for.
THREE ISSUES – THREE VICTORIES!
•  Finding the company had unlawfully terminated Fermín Rodríguez for his union activity the Court ordered El Super to immediately reinstate Mr. Rodríguez to his former position as cashier at Store #13.
•  Finding the Company unlawfully unilaterally changed its vacation policy the Court ordered the El Super to reverse the changes to the vacation policy, and (1) ensure employees accrue one week of vacation time during their first year of employment and (2) accrued time is calculated on a yearly basis upon the completion of each full year worked.
•  The Company tells the Court it now recognizes it has a legal obligation to bargain – The Court accepts this agreement to return to the table – Bargaining will resume with the Unions on August 18th.
¡¡¡GRAN TRIUNFO de los Trabajadores de El Súper!!! LA CORTE FEDERAL ORDENA A EL SUPER REMEDIAR SUS ABUSOS
La Junta Nacional de Relaciones Laborales (NLRB) aseguró una inusual forma de alivio judicial frente al "daño irreparable" causado por las prácticas laborales injustas de El Súper. La orden judicial "10j" significa que un juez federal estaría de acuerdo en que las acciones de la compañía fueron tan negativas que se tuvo que recurrir a un remedio inmediato.
¡TRES DEMANDAS-TRES VICTORIAS!
•  El Súper había despedido ilegalmente a Fermín Rodríguez por sus actividades sindicales, por eso la Corte ordenó a la compañía su reinstalación inmediata a su puesto de trabajo como cajero de la tienda El Súper # 13.
•  La compañía modificó unilateralmente su póliza de vacaciones, por eso la Corte ordenó a El Súper eliminar dichos cambios y asegurar que 1) los empleados acumulen una semana de vacaciones durante su primer año de trabajo y 2) las vacaciones acumuladas sean calculadas cada año, una vez complido el año completo de trabajo.
•  El Súper reconoció ante la Corte su obligación legal de regresar a la mesa de negociaciones. La Corte aceptó este acuerdo y las negociaciones entre la empresa y los locales sindicales se reanudarán el 18 de Agosto.