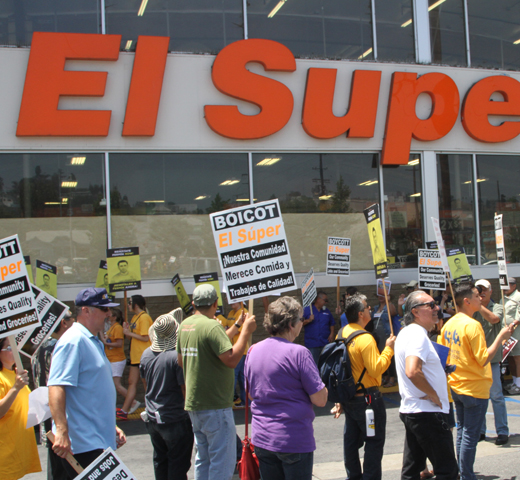 About the Dispute
Southern California United Food and Commercial Workers (UFCW) Union locals 324, 770, 1428 and 1167 represent approximately 575 El Super workers employed at seven locations.
These low-wage, predominantly Latino workers were covered under a collective bargaining agreement (CBA) with El Super that expired on September 27, 2013.
The Union and the bargaining committee met with El Super numerous times between September 2014 and April 2014, where they communicated the importance of the members' proposals to the Company repeatedly.
El Super submitted their "last, best, and final" proposal which did not adequately address the members' most important issues: living wages, respect on the job, seniority rights, affordable health benefits, paid sick leave, and a guarantee of 40 hours per week for full-time workers (who are currently only guaranteed 32 hours per week).
On April 14, the UFCW filed Unfair Labor Practice charges against El Super, alleging coercive statements, interrogation, surveillance, and unilateral changes in working conditions.
El Super implemented its "last, best, and final offer" without fulfilling its bargaining obligations, and after workers told them it was unacceptable by voting overwhelmingly to reject it and authorize their union to call a strike. El Super's failure to return to bargaining table has gone on since June 2014. UFCW has filed Unfair Labor Practice charges against the company for its refusal to negotiate.
On January 8, 2015, El Super fired Fermin Rodriguez. Mr. Rodriguez was active with his union and a member of the El Super worker negotiating committee. He often gave voice to the workers concerns when speaking to the press or the community. The union was filed Unfair Labor Practice charges challenging Fermin's termination.
About the Company
El Super is managed by the Paramount, CA based Bodega Latina Corp. There are 49 El Super locations in California (43 stores), Arizona (4 stores), and Nevada (2 stores). El Super is focused on serving Mexican first, second and third-generation consumers.
Bodega Latina Corp is 81.4% owned by Mexico-based Grupo Comercial Chedraui (Chedraui). Chedraui operates 211 markets in Mexico. It is Mexico's third largest retailer.
Chedraui made $131 million in profits in 2013, an increase of 6.5% over 2012. It brought in $5.1 billion in revenues in 2013, an increase of 3.8% over 2012.
The El Super stores in the U.S. have become a significant contributor to the company's success. Chedraui's U.S. stores recorded a sales growth of 10.6% above 2012, and contributed 22% of Chedraui's total income. By comparison, sales growth at Chedraui's Mexican stores was 2% in 2013.
The company's success is continuing into 2014. Chedraui reported a 2.6% growth in EBITDA in the first three months of 2014, same-store sales growth of 1.1%, and customer traffic increased 2.1%. As a result, Chedraui recorded revenues 5.3% more than in the same period in 2013, and operating profit grew by 4.3%.
Forbes estimated (January 2013) the personal wealth of Chedraui's Chairman of the Board, Alfredo Chedraui Obeso, at over $1 billion. Forbes reported in October 2014 that Mr. Chedraui Obeso is the owner of the 163-foot super yacht, Tsumat, for which he paid an estimated $50 million.
About the Boycott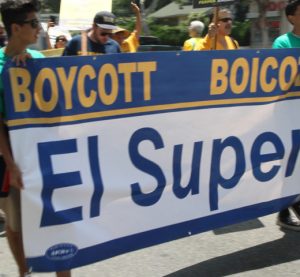 In 2014, El Super stepped up its union busting efforts and workers were compelled to vote, in a US Government supervised election, to re-certify their union. The workers voted on December 12 – by a more than 3-1 – in favor or retaining the UFCW. El Super workers' mandate followed in spite of an aggressive "Vote No" campaign by the company that included captive audience meetings conducted by El Super CEO Carlos A. Smith.
After the recertification vote, the union promptly sent a letter to the company asking for them to return to the bargaining table. El Super has ignored this request.
El Super's inaction, and its steadfast refusal to address the workers' priorities such as more guaranteed hours, adequate sick leave, and fair pay, led to our call for a consumer boycott of El Super markets on December 20. The California Labor Federation and the Los Angeles County Federation of Labor have sanctioned the boycott with their full support.
Two days later, four community-based organizations anchoring the Coalition for a Better El Super – East LA Community Corp., Pueblo y Salud, Strategic Concepts in Organizing and Policy Education, and Strategic Action for a Just Economy – publicly endorsed the workers' boycott call. The Coalition members demanded an investigation into El Super's business practices by County health authorities. Since February 2014, inspections at Los Angeles, San Bernardino and Orange County El Super stores have documented 679 violations of environmental health regulations.
The boycott will continue until El Super workers achieve their core goal of winning respect and a fair contract. The outstanding issues include adequate paid sick leave, seniority rights, guaranteed 40-hour work weeks, and fair pay.
On Febraury 18, faith-based leaders joined El Super workers and their supporters to announce that one hundred community, labor and faith organizations from throughout Southern California endorsed the El Super boycott.
Seventeen City of Los Angeles Neighborhood Councils and/or Development Councils, which provide local representation for residents in areas of the City served by El Super markets, adopted resolutions endorsing the El Super boycott.