Update on 10/09/21
UFCW 324 members and thousands of CVS workers across Northern, Central, and Southern California overwhelmingly ratified a new contract this week.
CVS workers and the worker-led bargaining committee stood together through months of negotiations to secure improvement in the new three-year deal. During negotiations, members signed petitions, held store delegations, and participated in sticker and store actions to engage with customers. Community, labor allies, and elected leaders joined in these actions as a show of solidarity.
The new contract includes wage increases for all job classifications, health benefit improvements, new contract language for a "Safety Committee" comprised of CVS workers, new staffing requirements, flexibility on bereavement leave, and much more!
This contract is a significant leap forward for the thousands of essential CVS workers who stood together for improvements and recognition of their work. It is with the participation of members that this can happen!
Update on 9/28/21
En Español, hága clic aquí.
We have reached a tentative agreement with CVS for a new Union Contract. The agreement is subject to ratification by the CVS membership. Below is the list of the voting times and locations.
We will be mailing out a voting card that you should receive in the next few days. Please bring the voting card to any of the voting locations and cast your ballot.
At all voting locations, you will receive a summary of the contract changes and union representatives will be available to answer any questions.
This momentous agreement was achieved only because of the solidarity and strength of you and CVS members throughout California.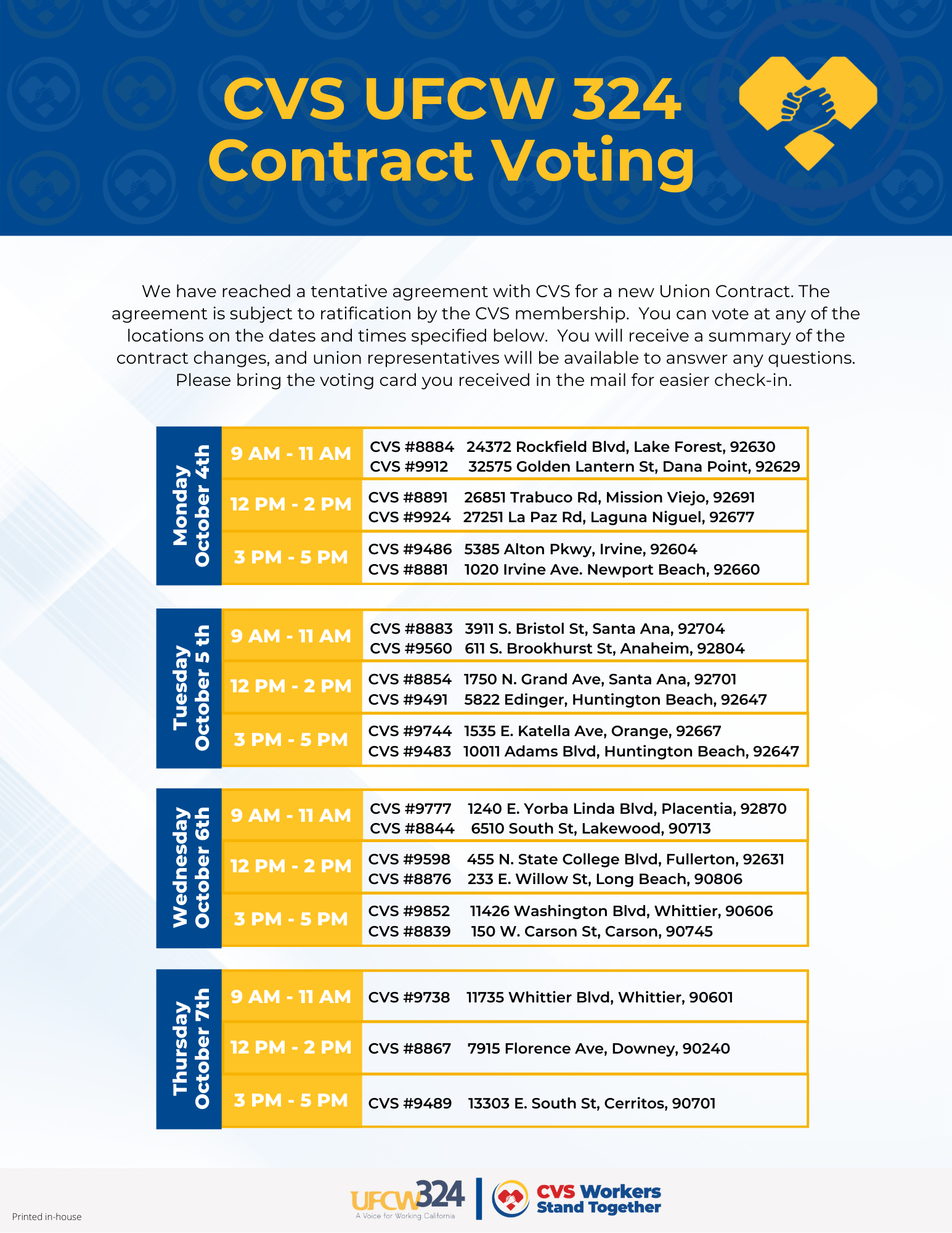 Update on 9/20/21
Please join us on Sunday, September 26th at 7 PM for an important Zoom meeting to update you on CVS negotiations and next steps.
Please register in advance by clicking on the link here: https://bit.ly/3ECP2Jq
Once you've registered, you'll receive an email with the webinar link. New to Zoom? Click here ufcw324.org/zoomhelp/ for helpful resources.
Negotiations Update: 
We've concluded two days of negotiations this week and there is no progress to report. CVS is not recognizing the risks you have taken over the past year. This is unacceptable. CVS has made billions off the hard work of its employees during the pandemic. We will be holding a negotiations update webinar on Sunday, September 26th at 7 PM.  A registration link for this meeting will be text out early next week.
We've been engaging with customers to put pressure on CVS. Store actions continue to let customers know that workers are calling for better CVS stores in our communities! Join a Store Action on September 24th! We need to show our union strength by participating and showing a large presence at these actions. Your participation is critical.
Get involved and make a difference by coming to one of the following actions: 
Have you followed the CVS Workers Standing Together Facebook page? Check it out by clicking here! 
Hemos concluido dos días de negociaciones esta semana y no hay avances que informar.  CVS no reconoce los riesgos que ha asumido durante el año pasado.  Esto es inaceptable.  CVS ha ganado miles de millones con el arduo trabajo de sus empleados durante la pandemia.  Llevaremos a cabo un seminario web de actualización de negociaciones el domingo 26 de septiembre a las 7 p.m.  Un enlace de registro para esta reunión se enviará a principios de la próxima semana.
Nos hemos hablado con los clientes para presionar a CVS.  ¡Las acciones de las tiendas continúan haciendo saber a los clientes que los trabajadores están pidiendo mejores tiendas CVS en nuestras comunidades!  ¡Únase a una acción este 24 de septiembre!  Necesitamos mostrar nuestra fuerza de la unión participando y mostrando una gran presencia en estas acciones.  Su participación es fundamental. ¡Involúcrense y sea la diferencia!
Update on 9/10/21
CVS workers held two store actions in Whittier and Fullerton today, talking to customers about the importance of a fair contract for better stores. Essential CVS workers continue to put in the hard work for our communities. Customers agree and are showing their support! #CVSWorkersStandTogether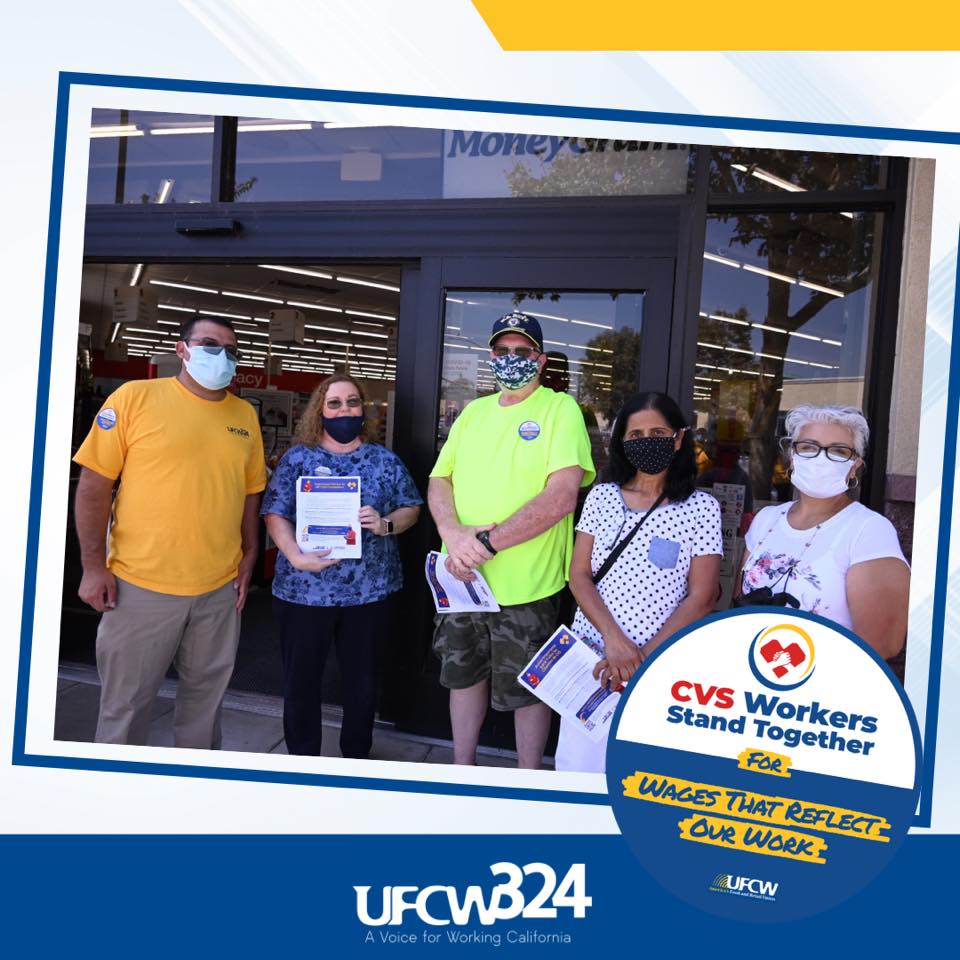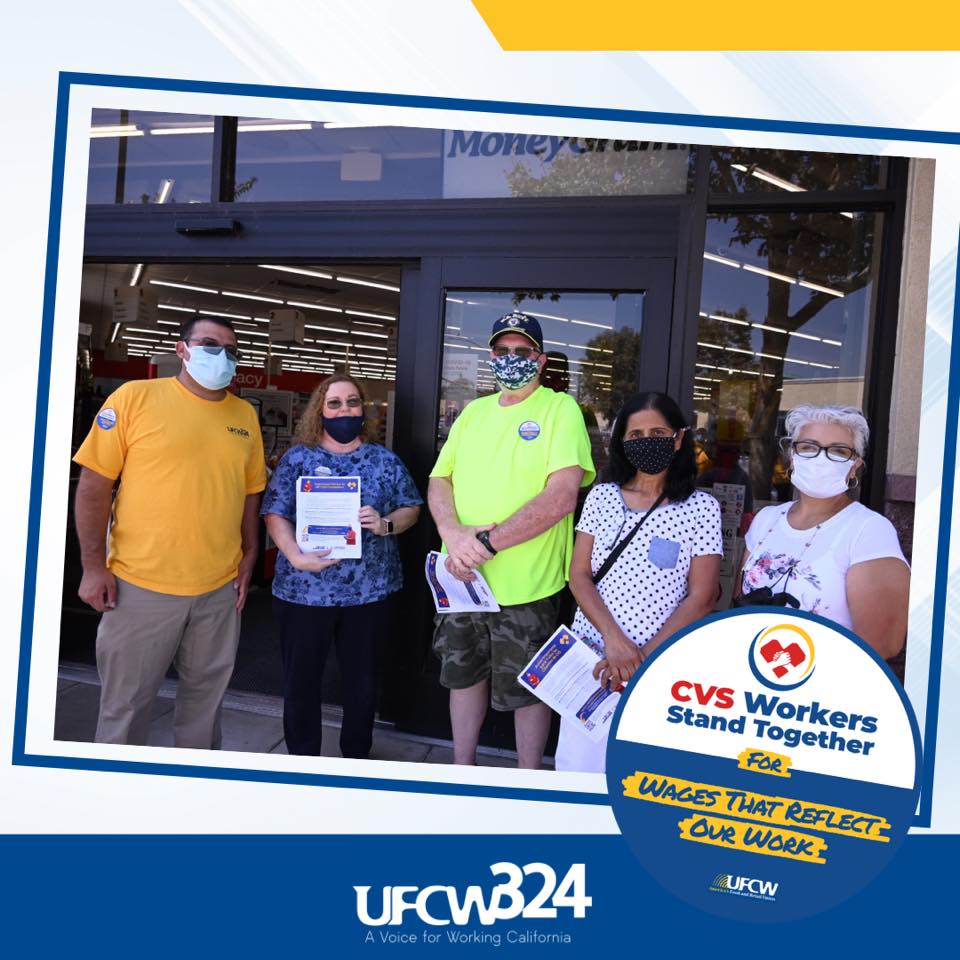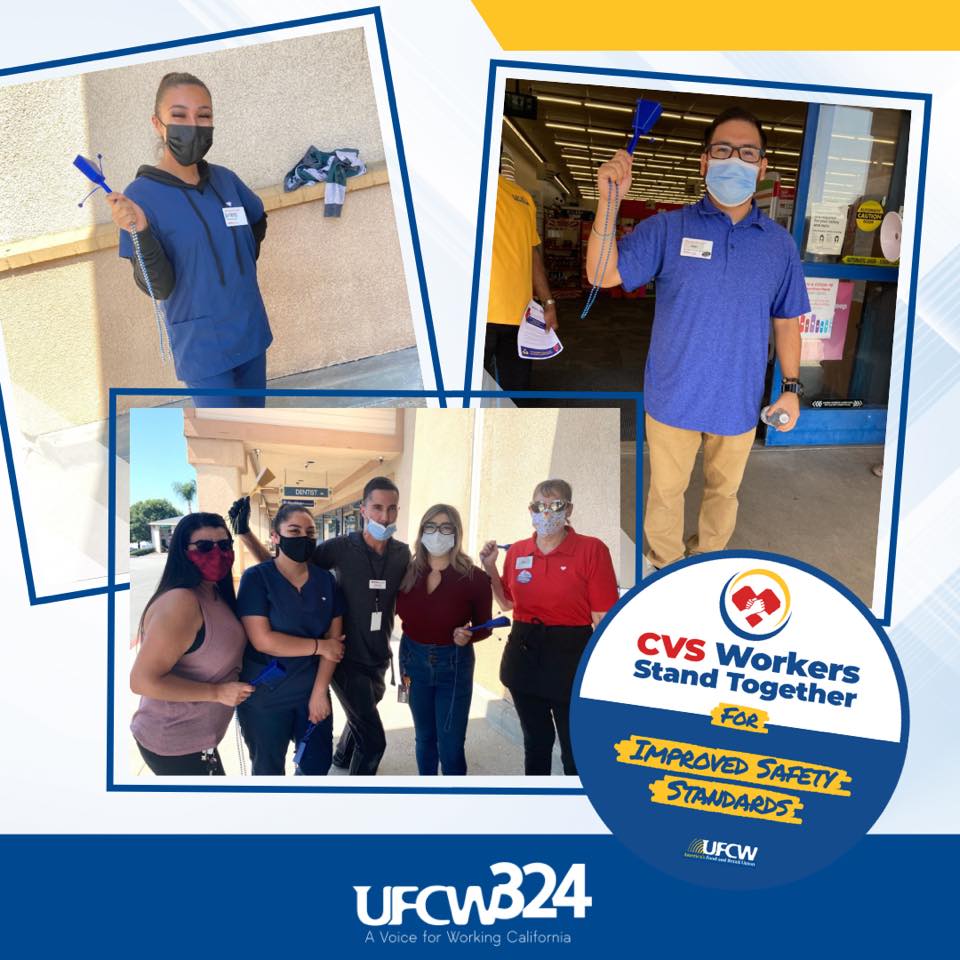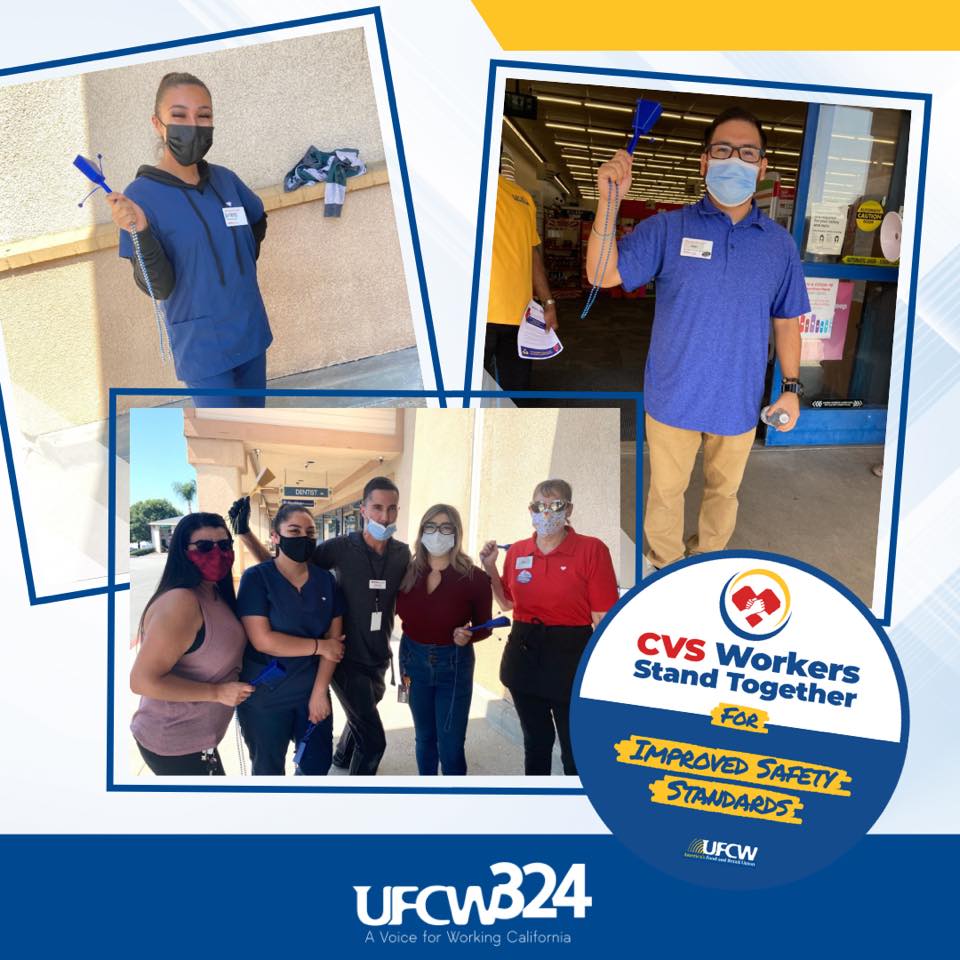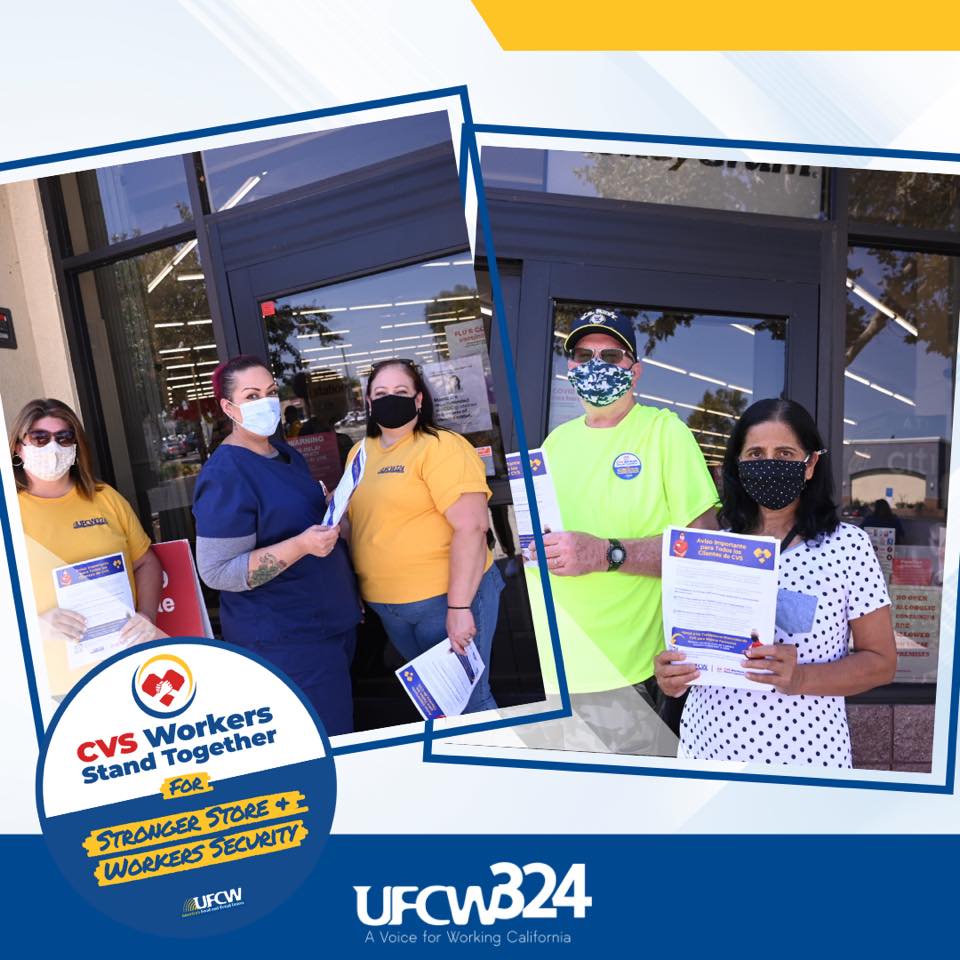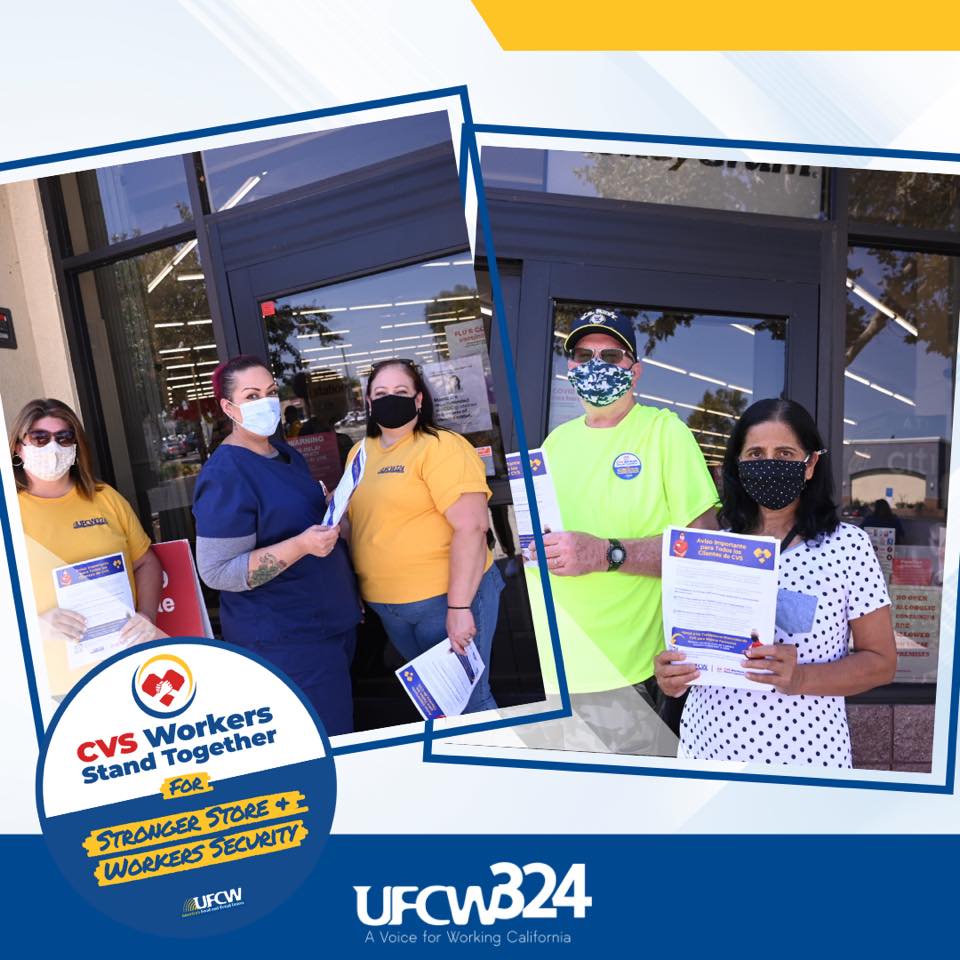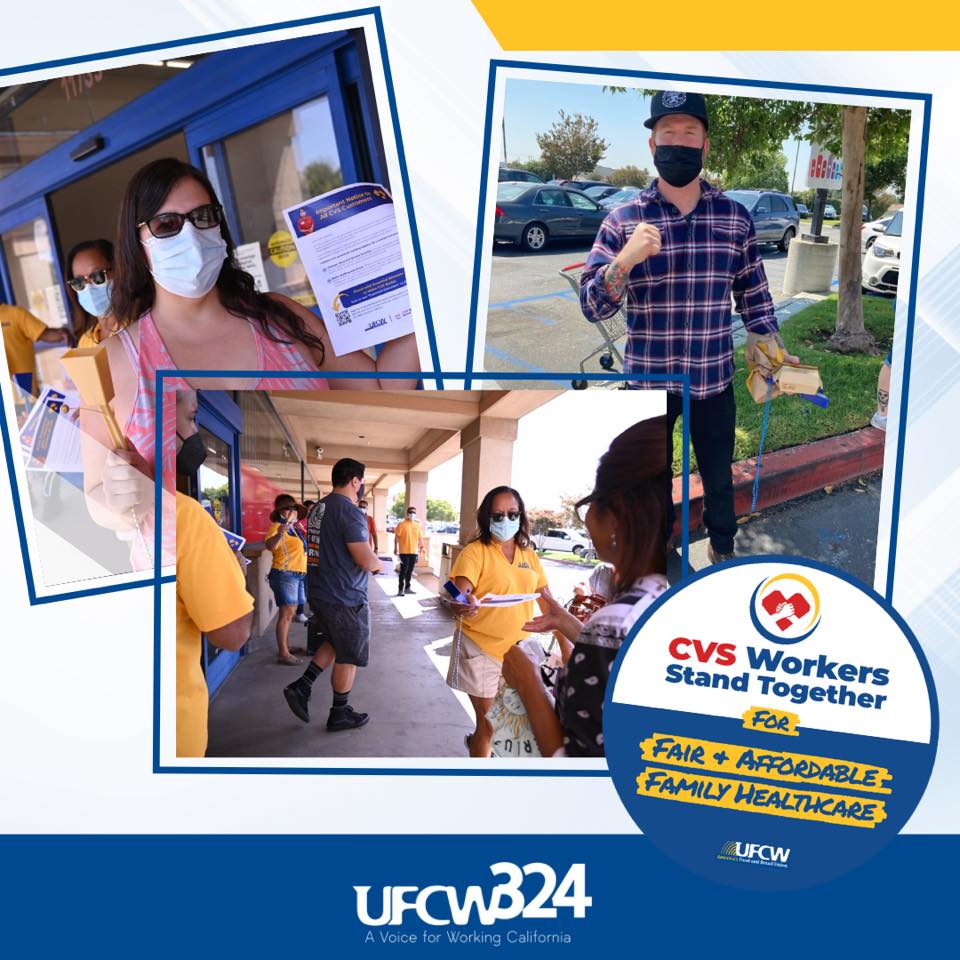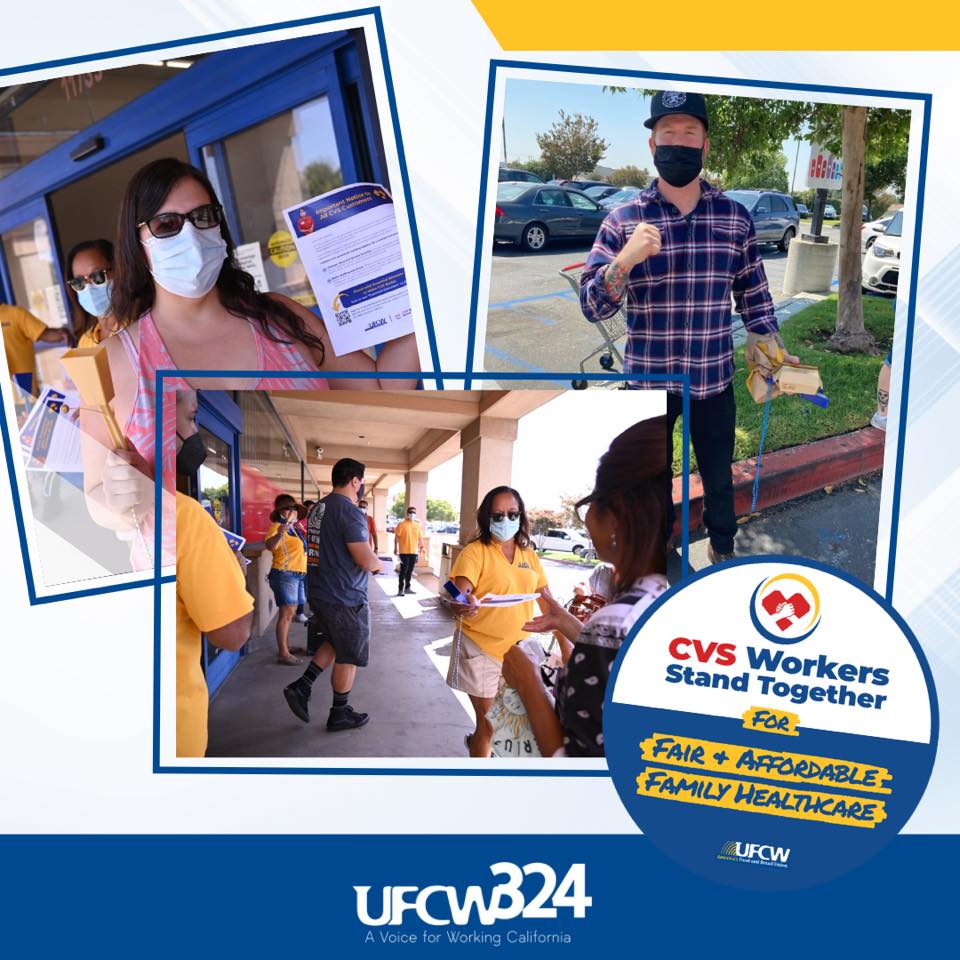 Negotiations Update on 9/3/21
We started store actions engaging customers this week. The company noticed and made a little movement at the bargaining table, but not enough.  We are still far apart on key issues.
We must continue to put pressure by talking to customers in front of stores. CVS members must show up to these actions to demonstrate our strength. We have scheduled additional negotiation dates in the next couple of weeks,  but if CVS does not make a proposal that adequately address your concerns , a strike vote will be necessary.
Check out the video from the worker action below. You can get involved and make a difference by coming to one of the following actions:
En Español
Comenzamos acciones en la tienda para involucrar a los clientes esta semana.  La compañía se dio cuenta e hizo un pequeño movimiento en la mesa de negociaciones, pero no lo suficiente.  Todavía estamos muy separados en temas clave.
Debemos seguir presionando hablando con los clientes frente a las tiendas.  Los miembros de CVS deben presentarse a estas acciones para demostrar nuestra fuerza.  Hemos programado fechas de negociación adicionales para las próximas semanas, pero si CVS no hace una propuesta que aborde adecuadamente sus preocupaciones, será necesaria una votación para huelga.
Por favor sea la diferencia asistiendo a una de las acciones. Complete el formulario para comprometerse para unirse el viernes 10 de septiembre de 11 am. a la 1 pm.
8/2/21
CVS workers continue showing up and providing the best customer service! Today, CVS workers are showing unity with a sticker action calling for better wages. CVS workers deserve respect and appreciation with pay that reflects their hard work! Check out the images from the worker action below. More actions coming soon. Stay tuned on how you can get involved.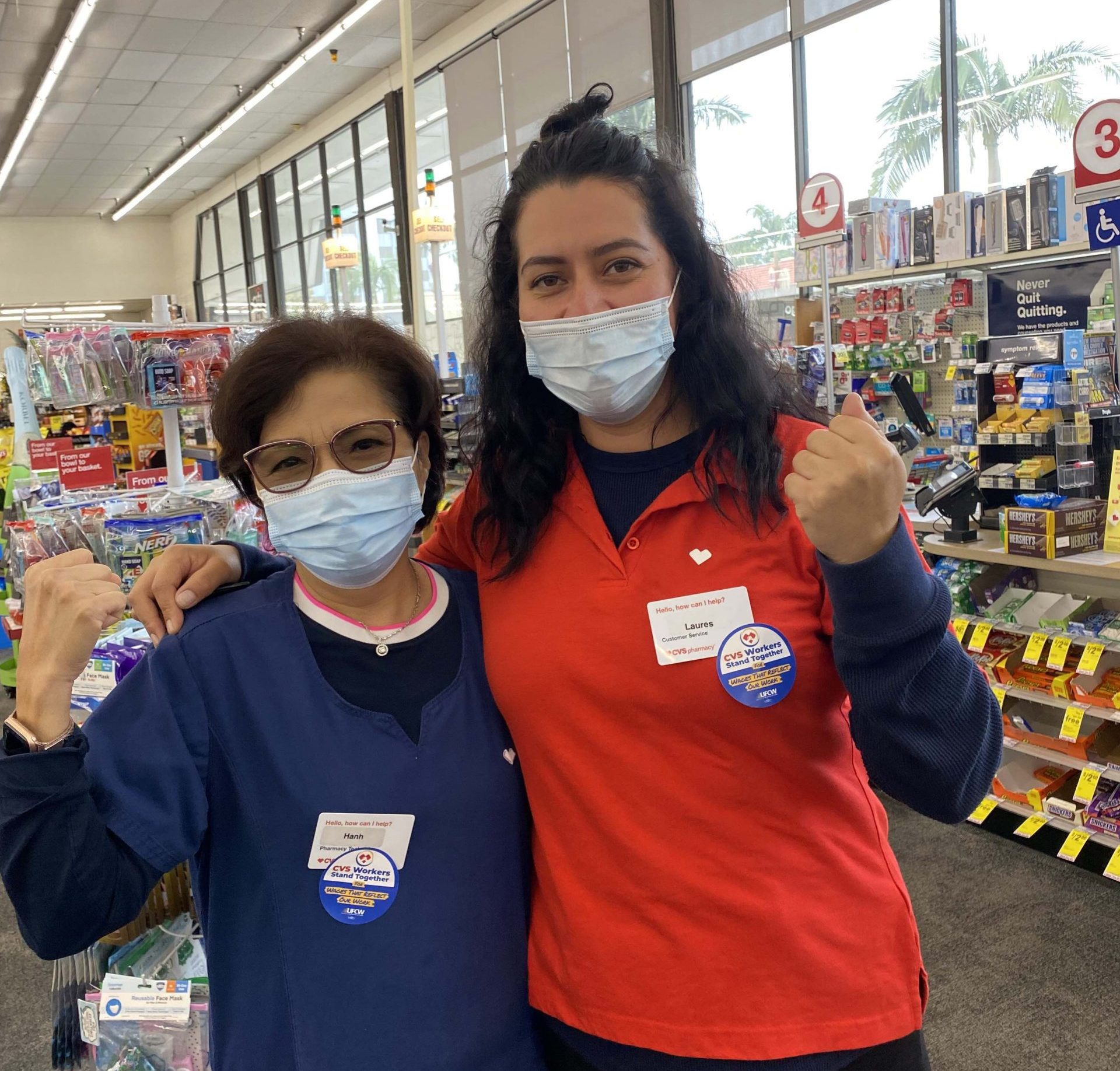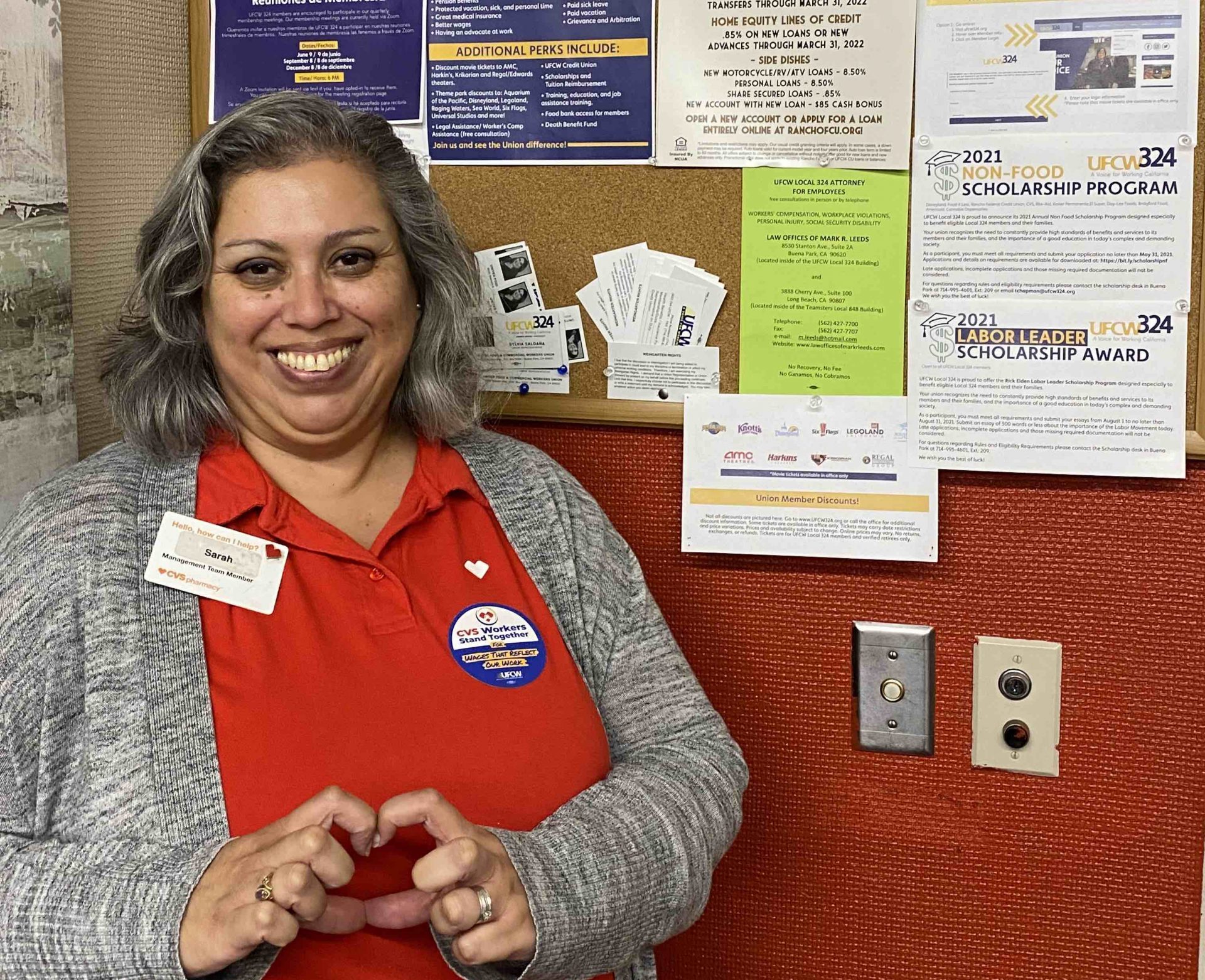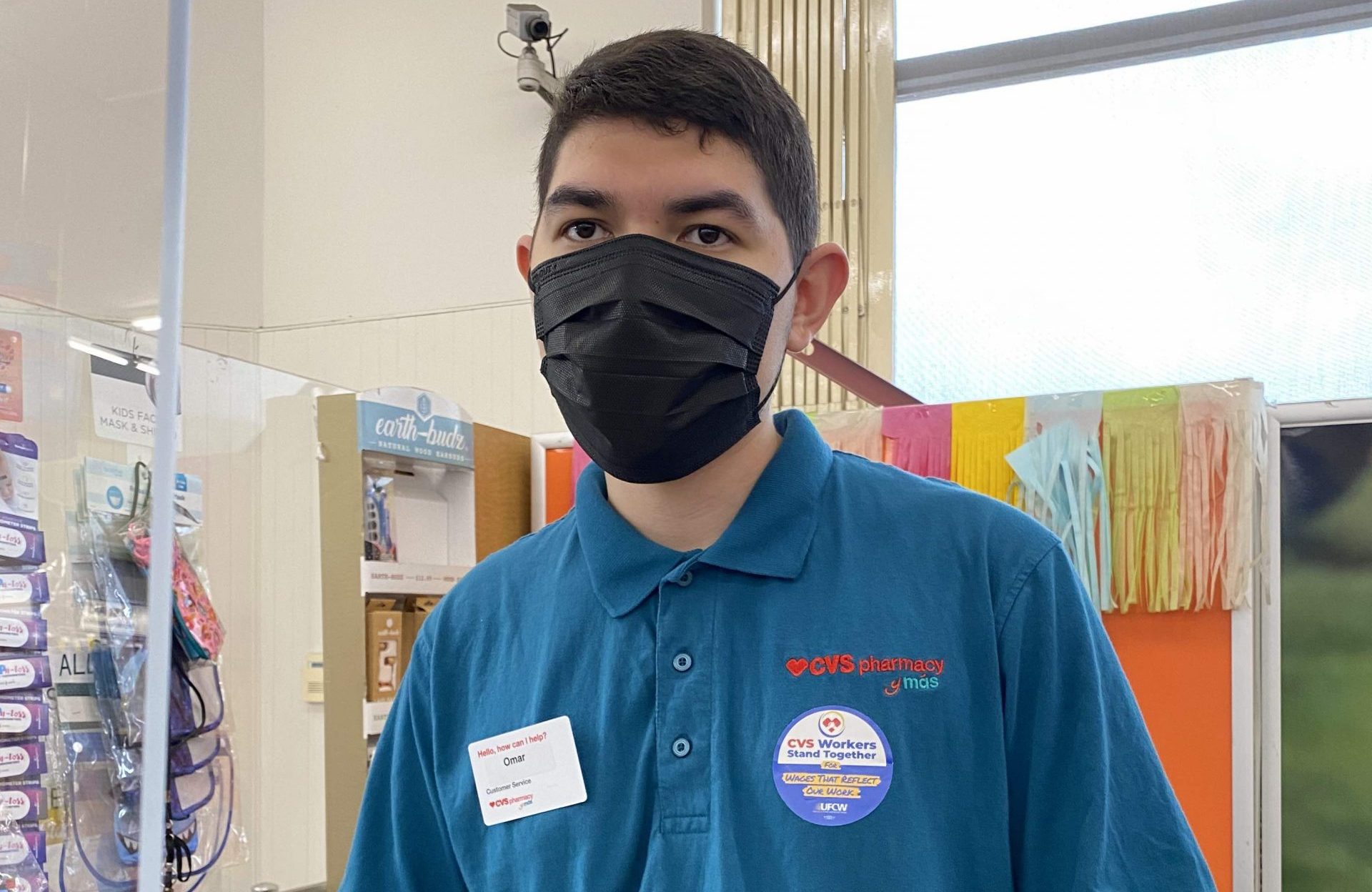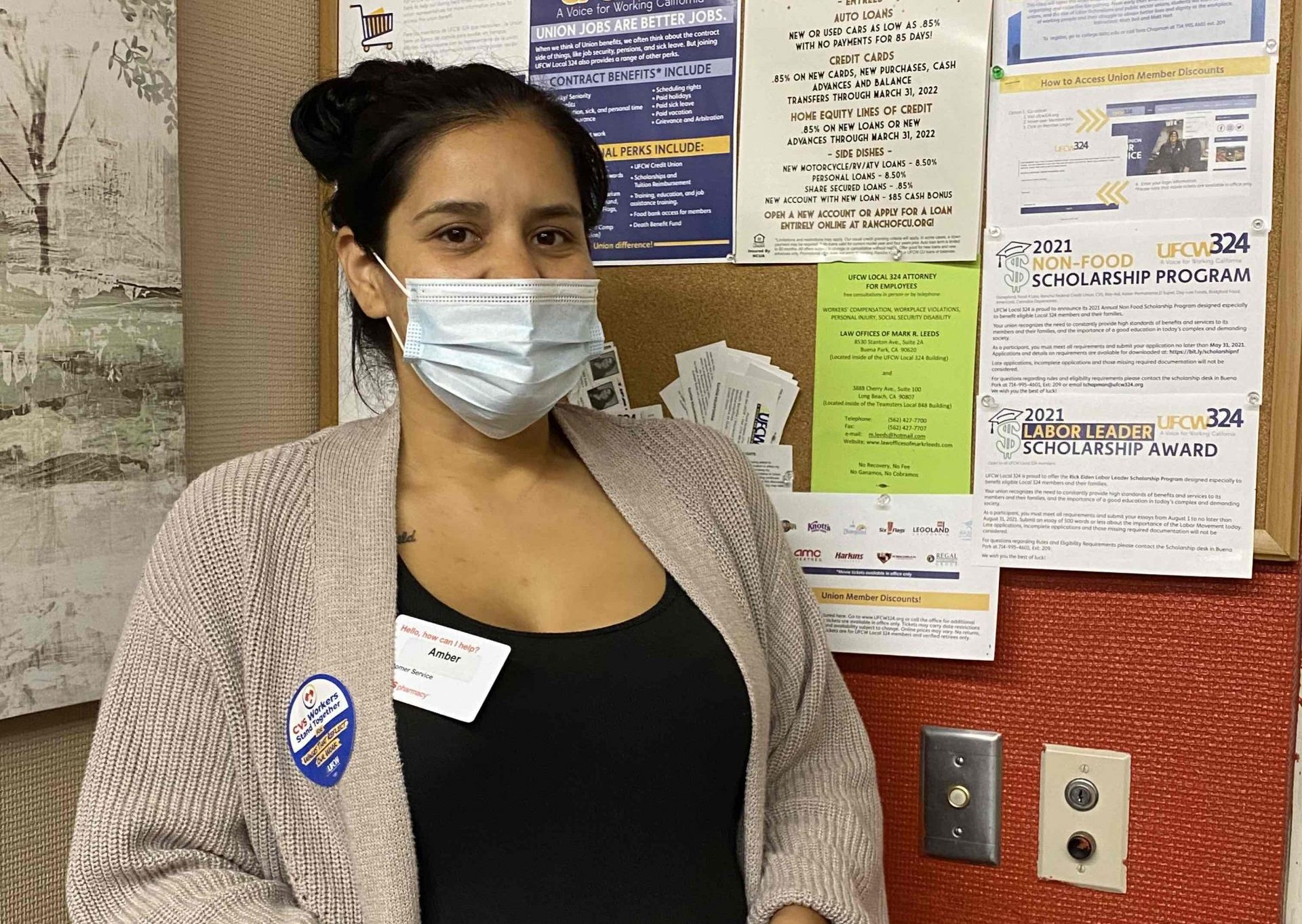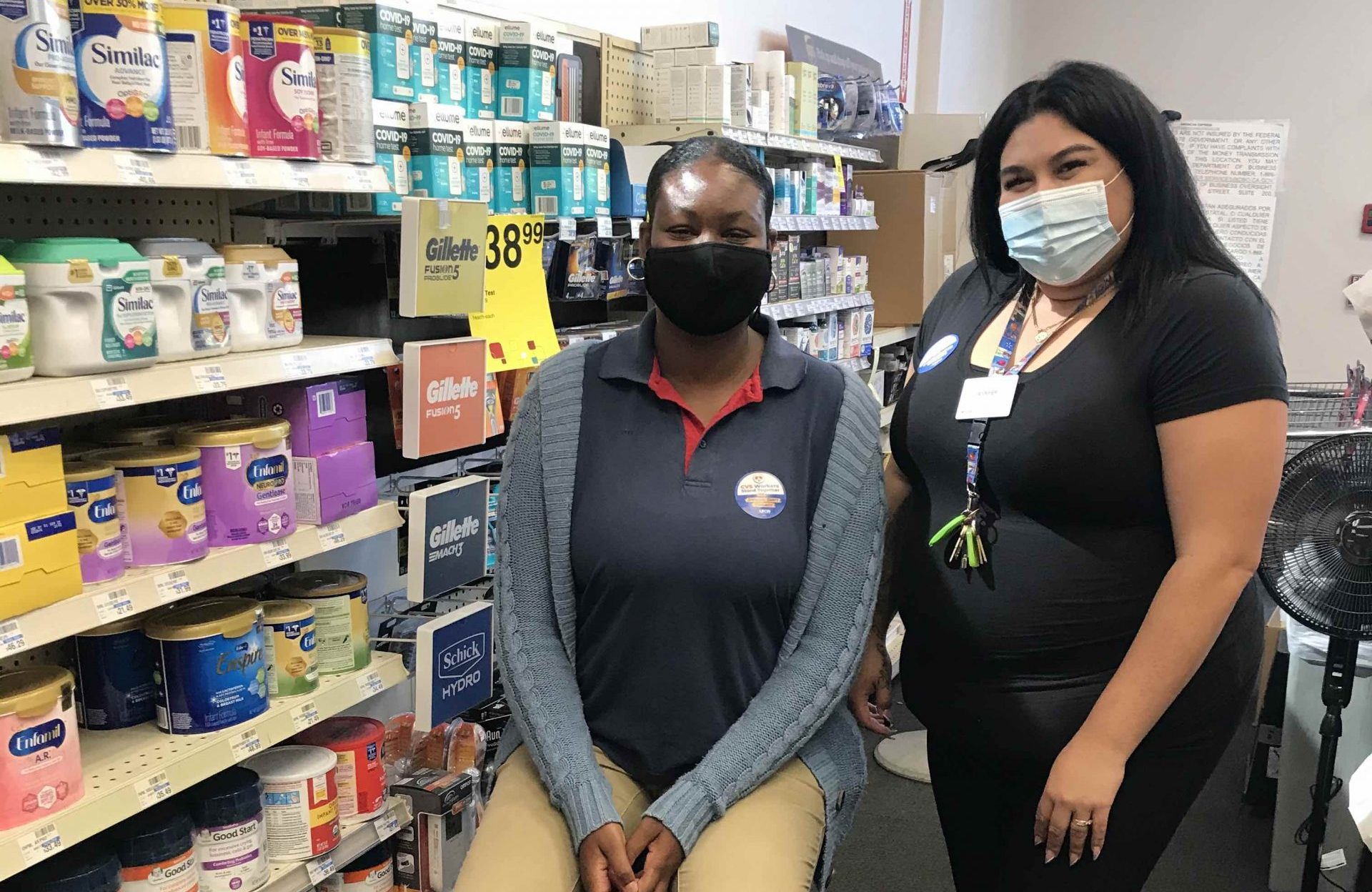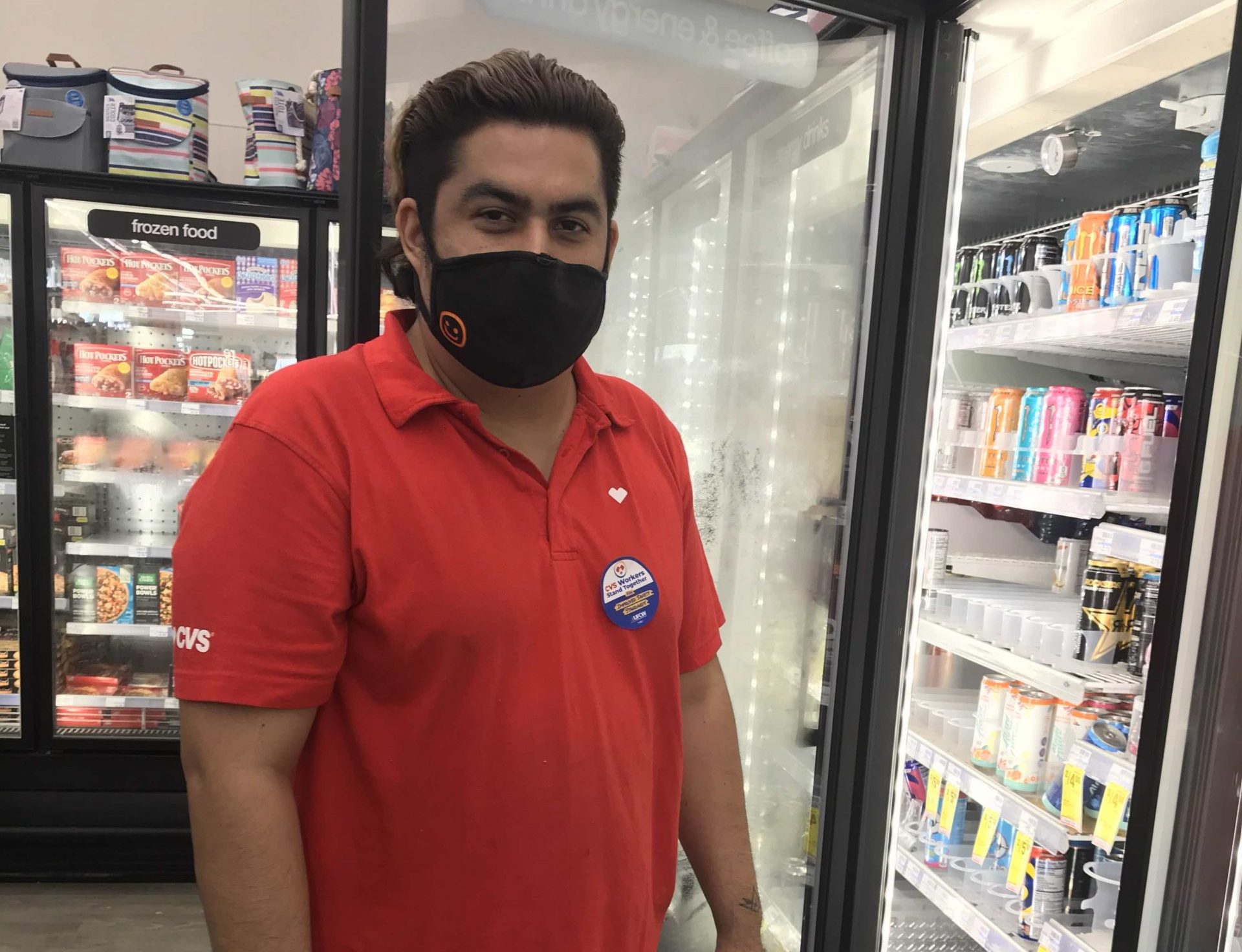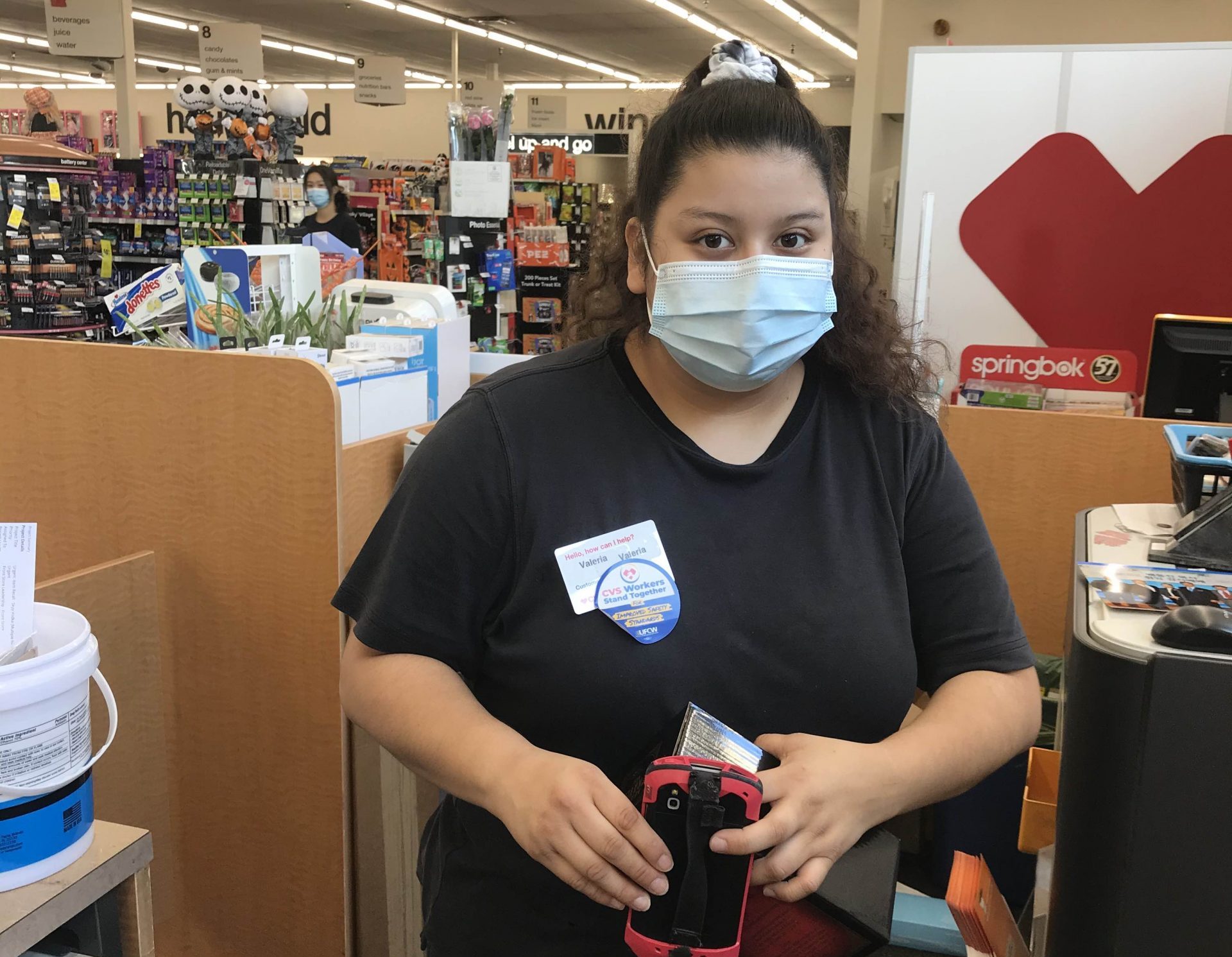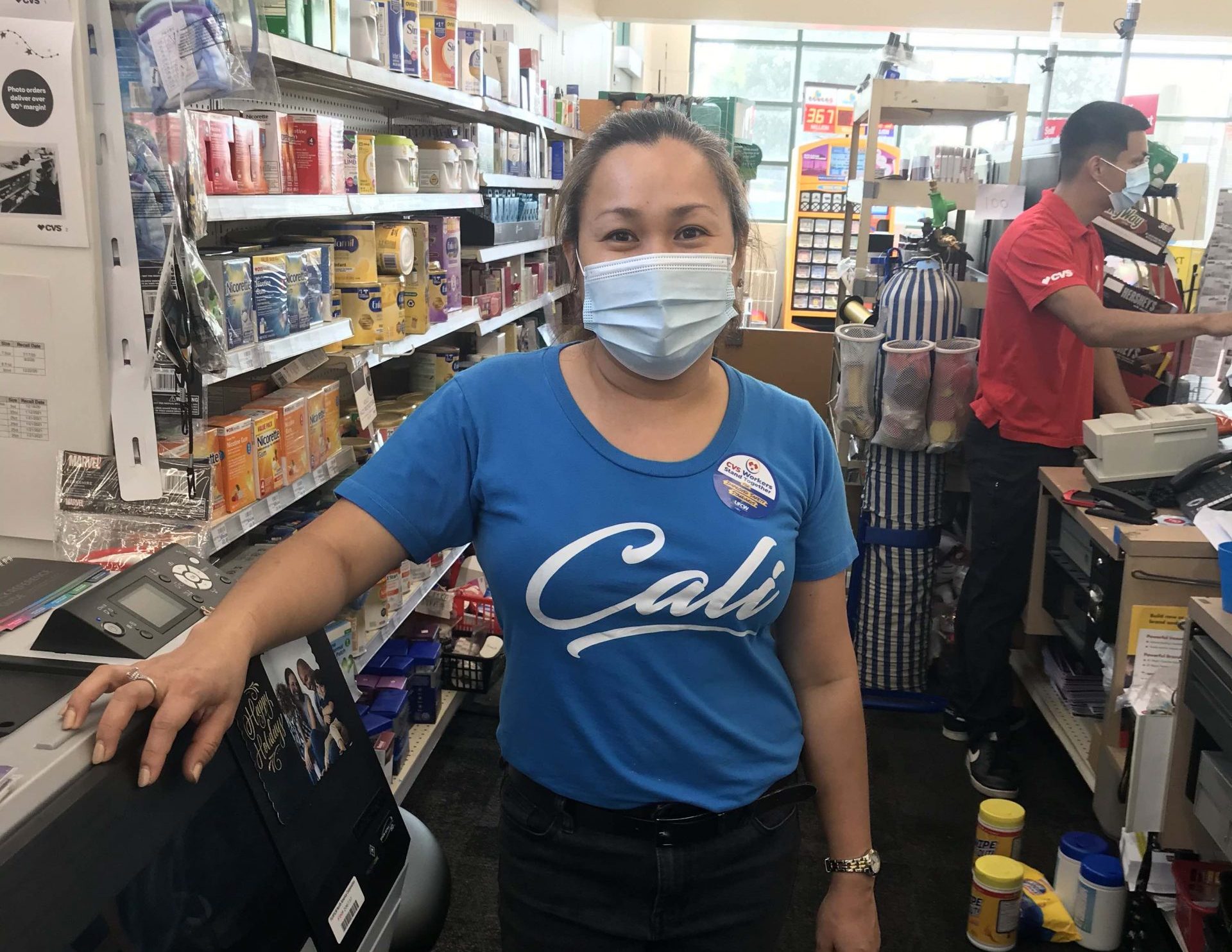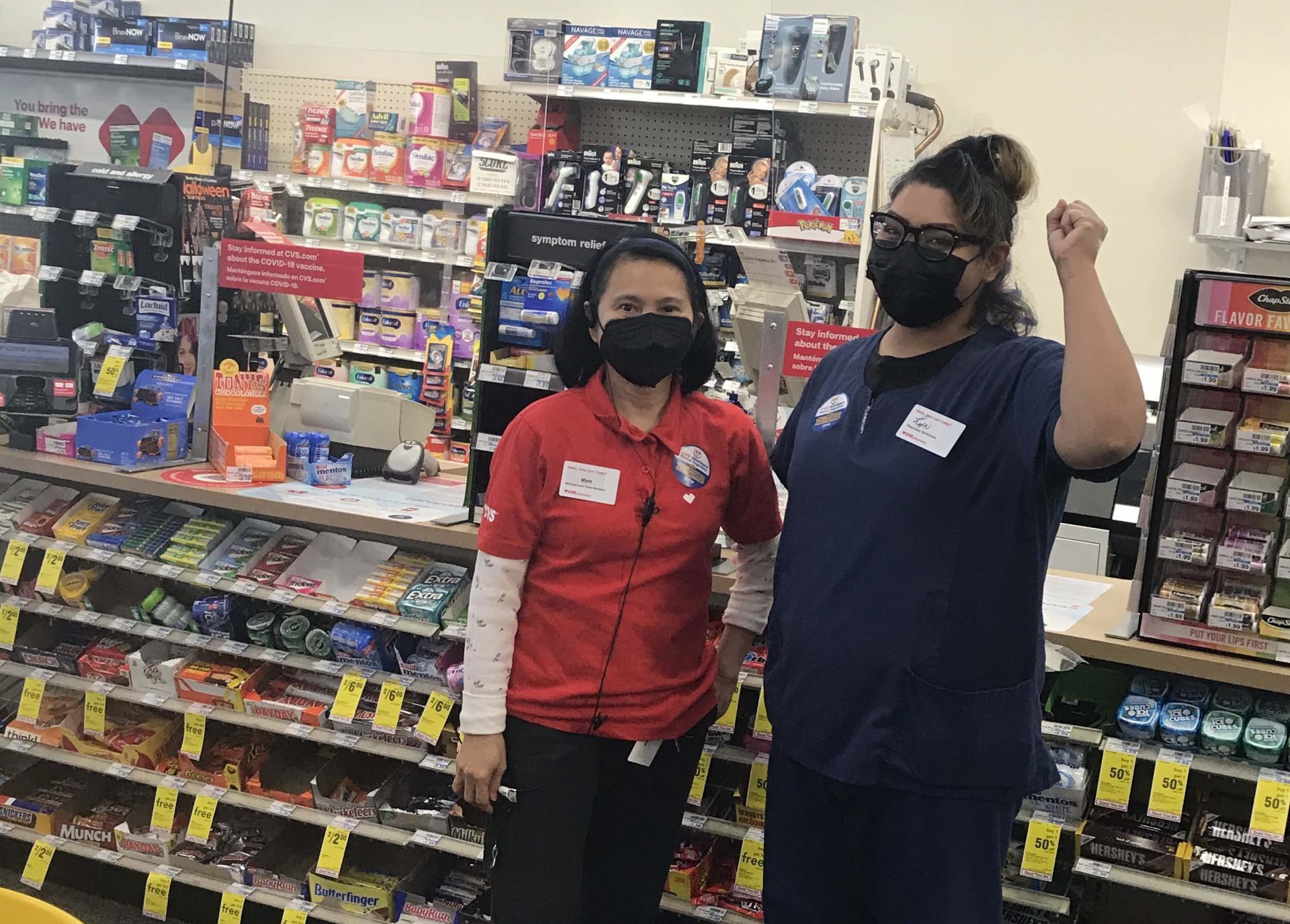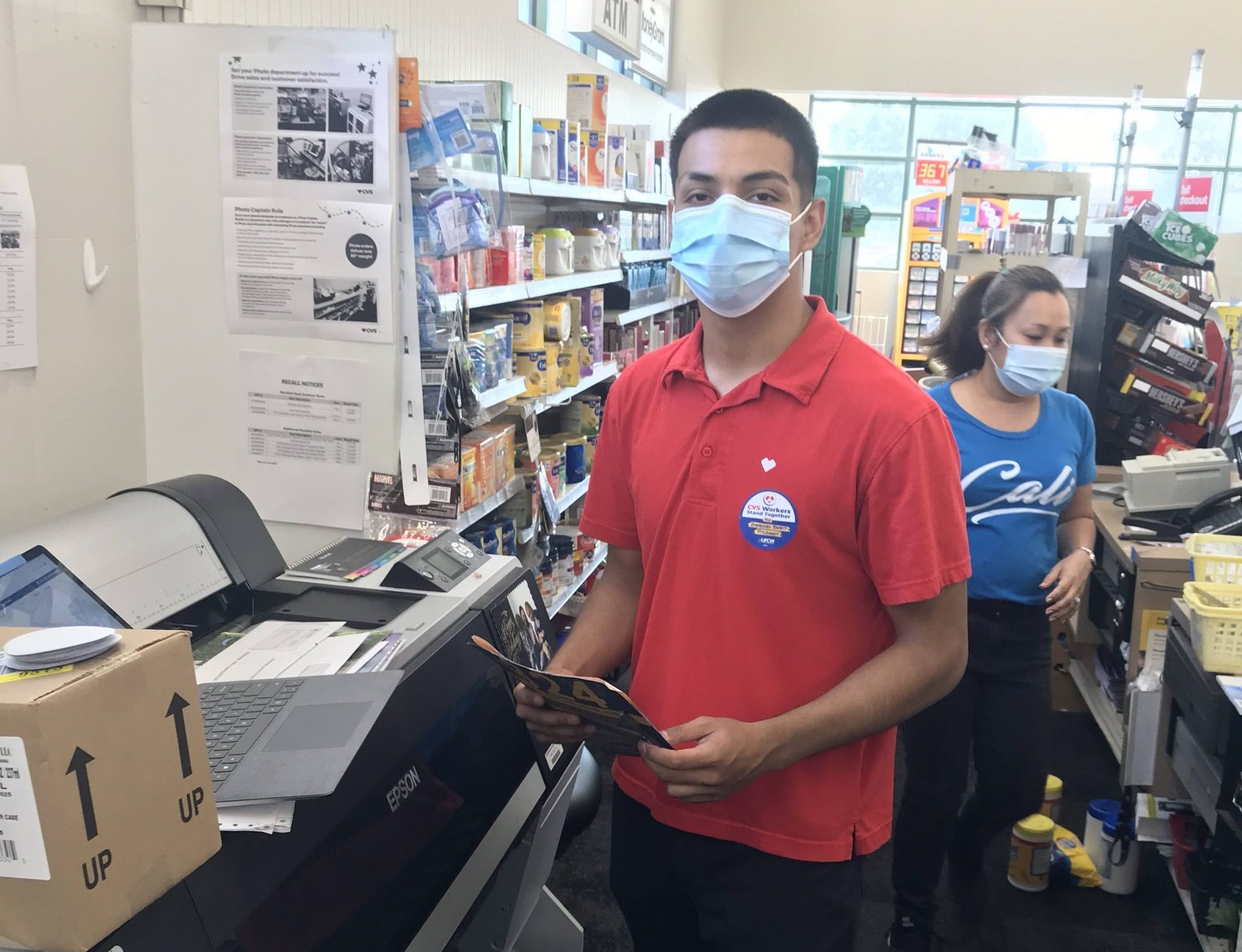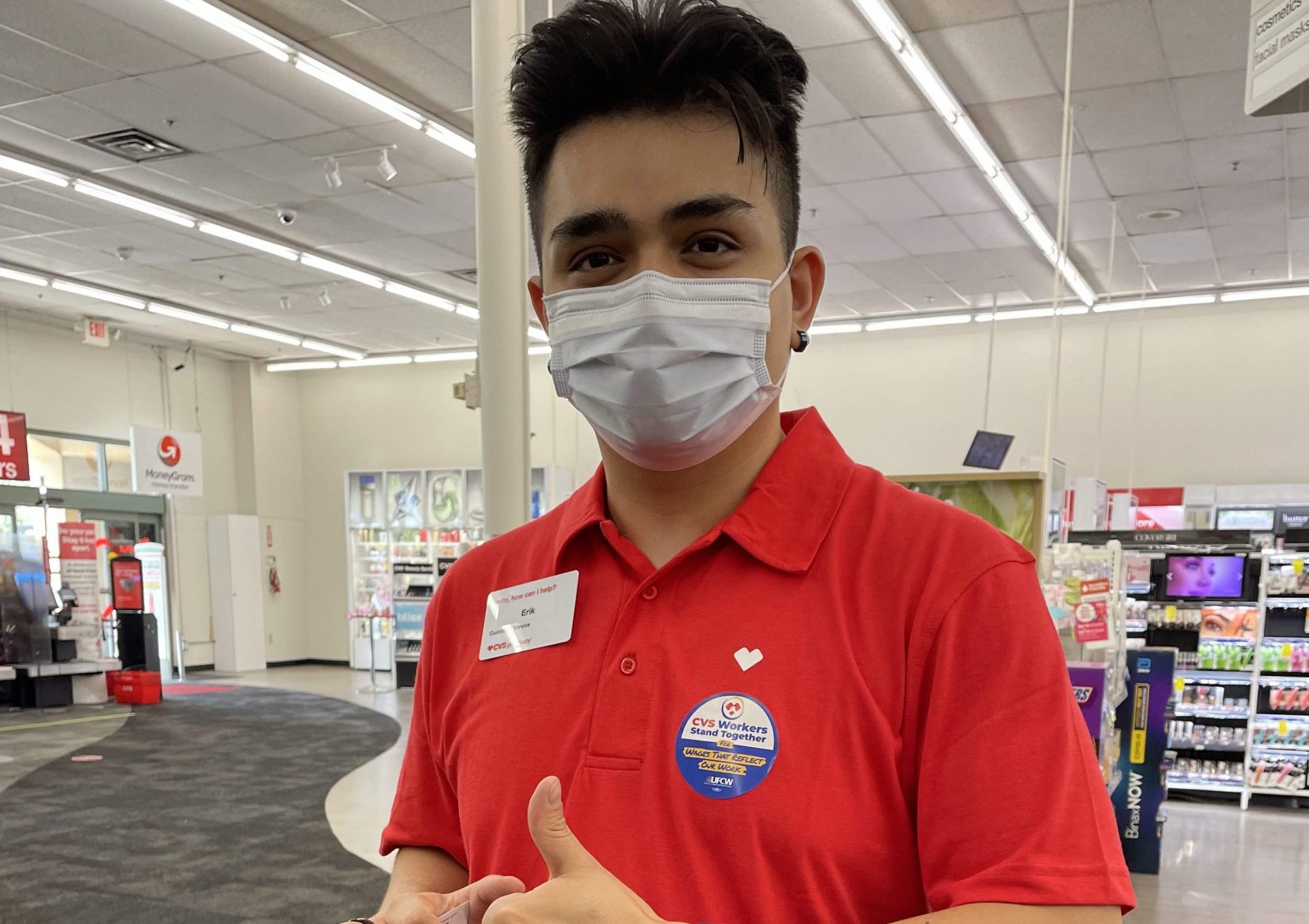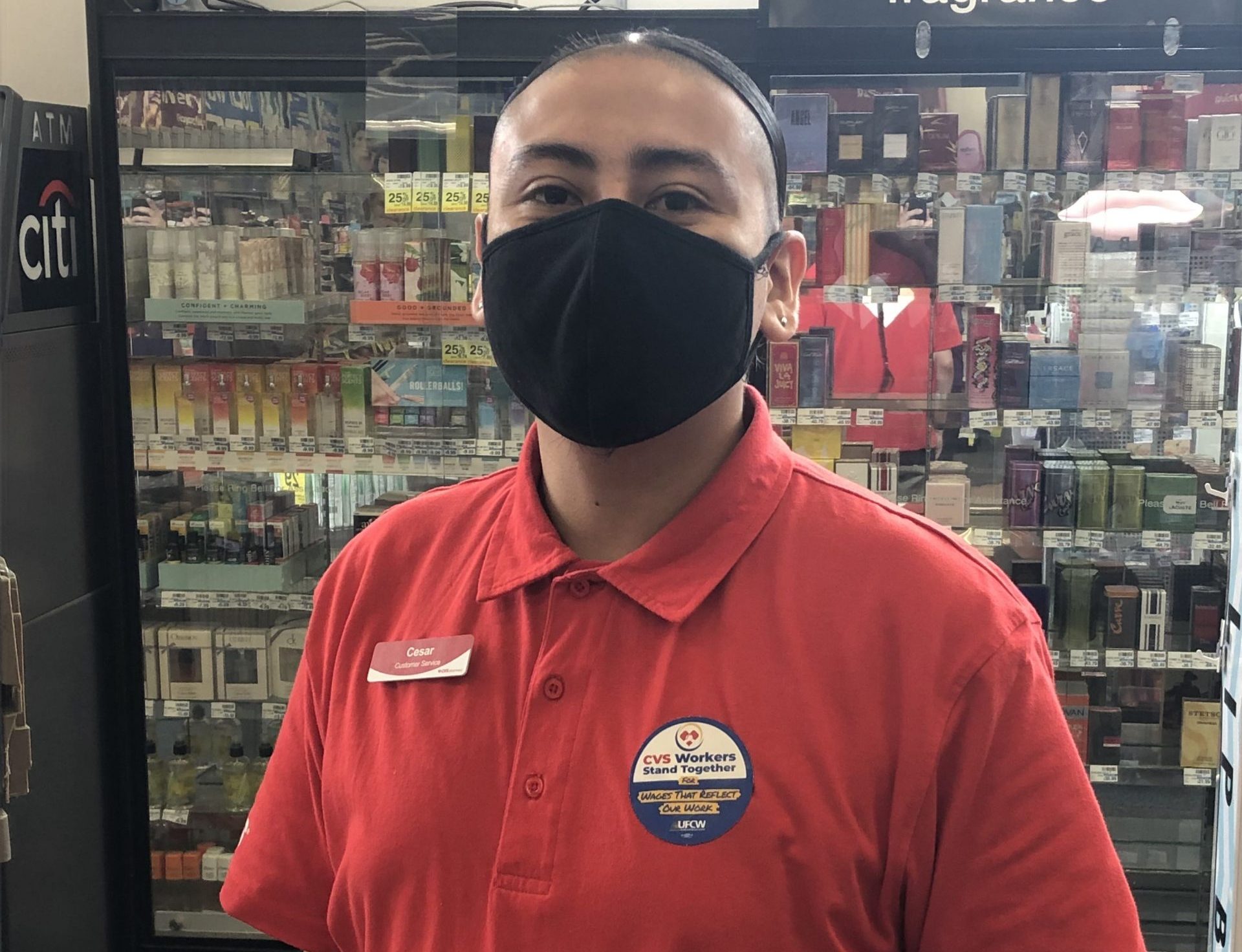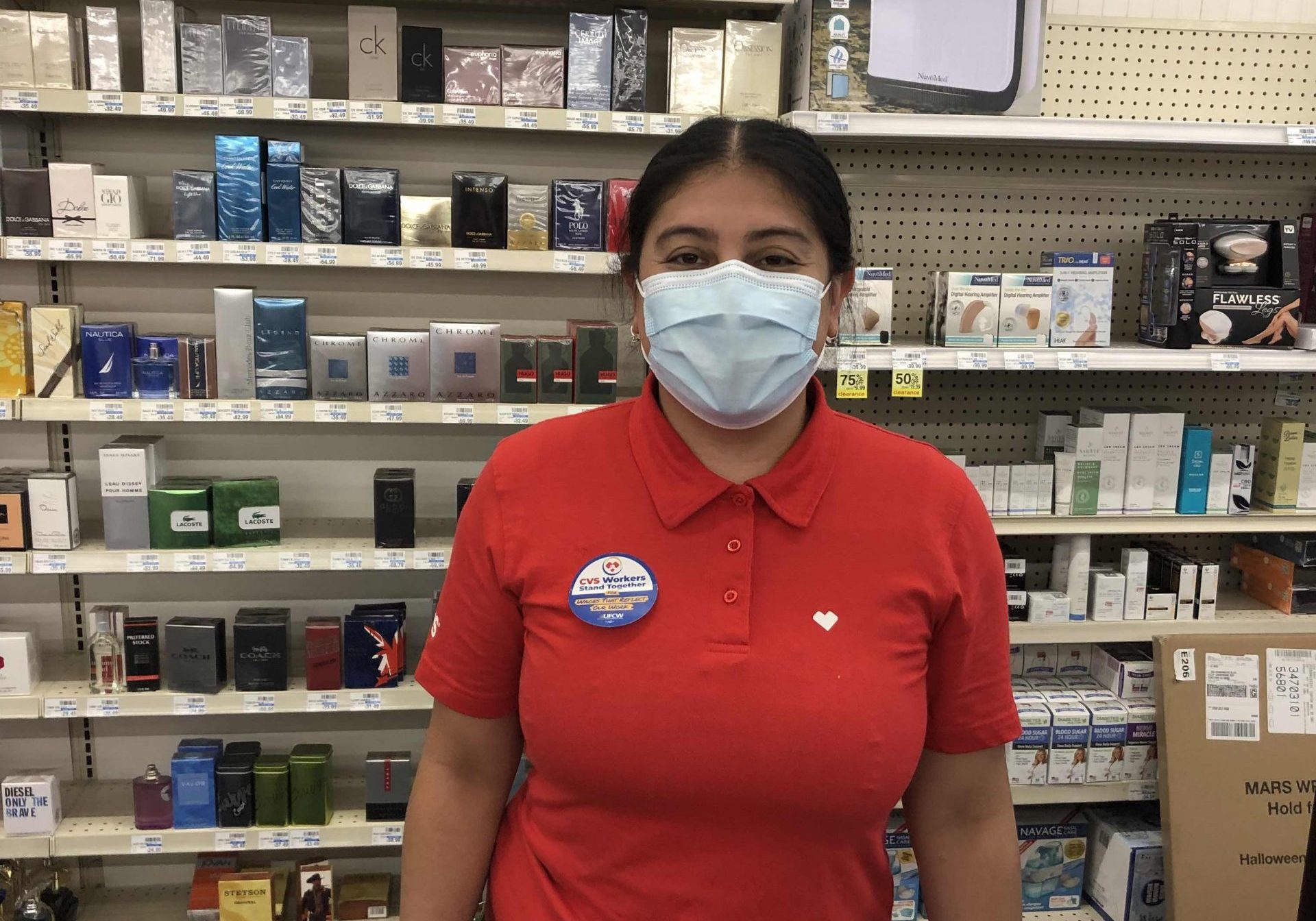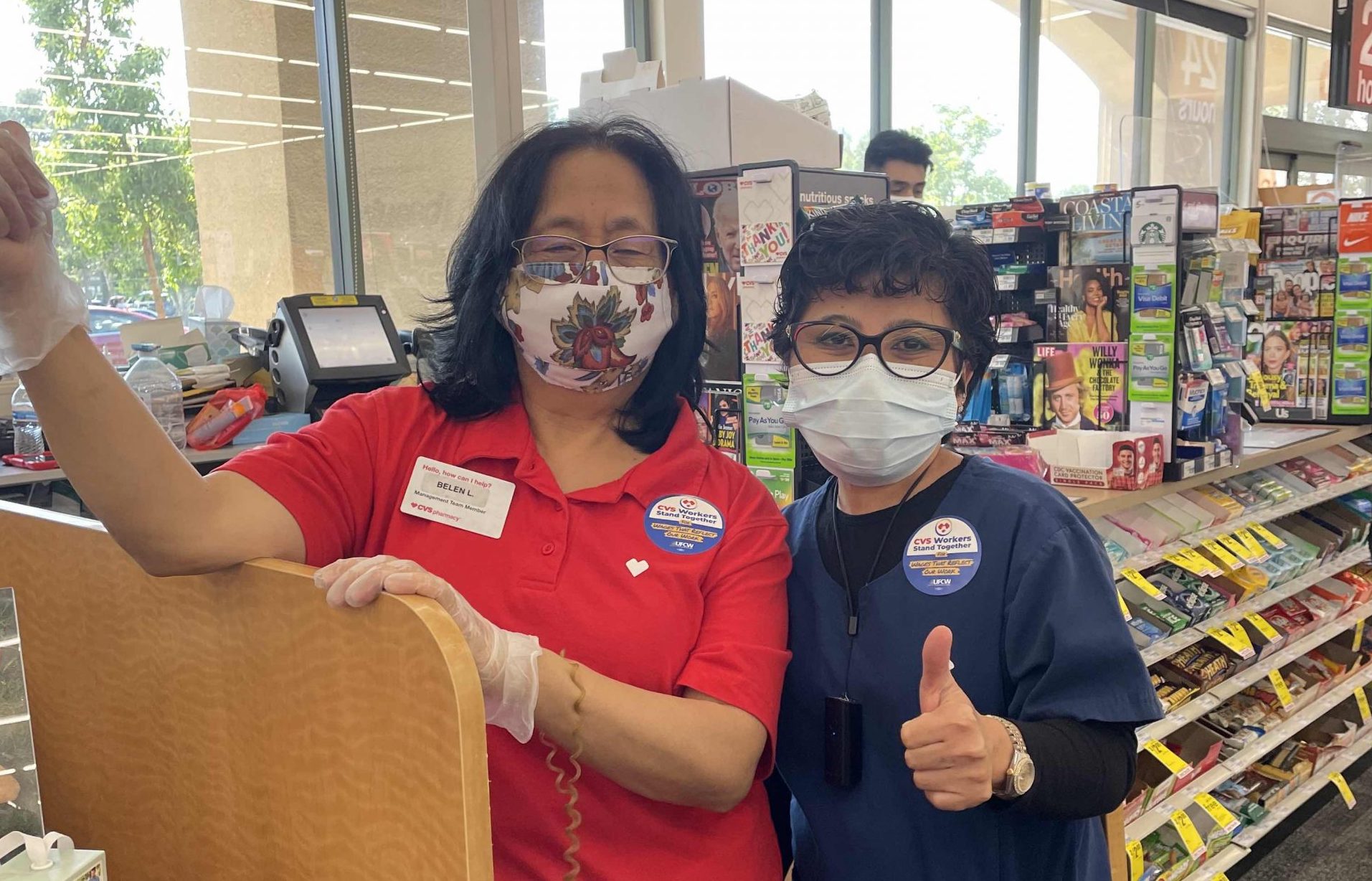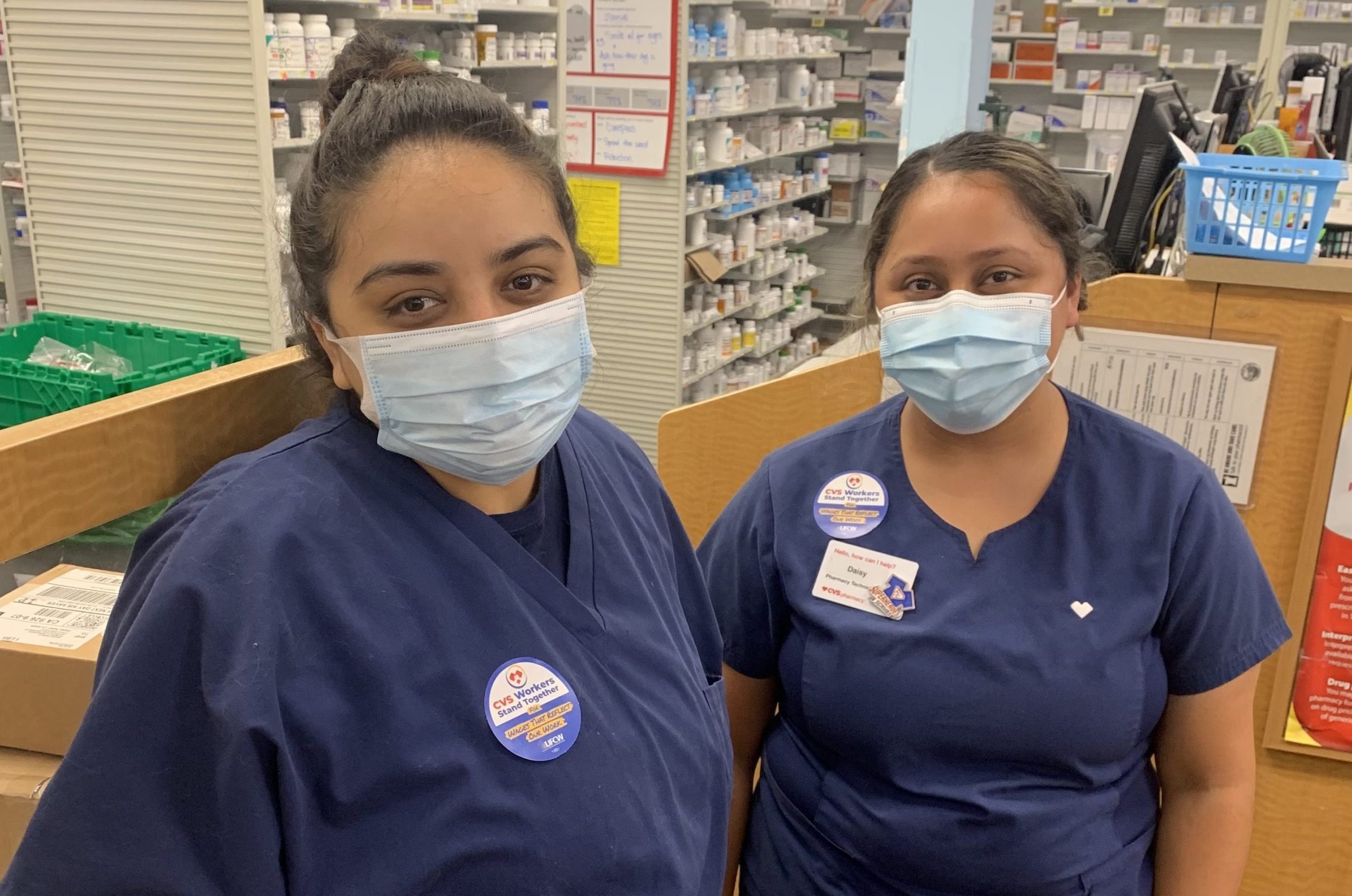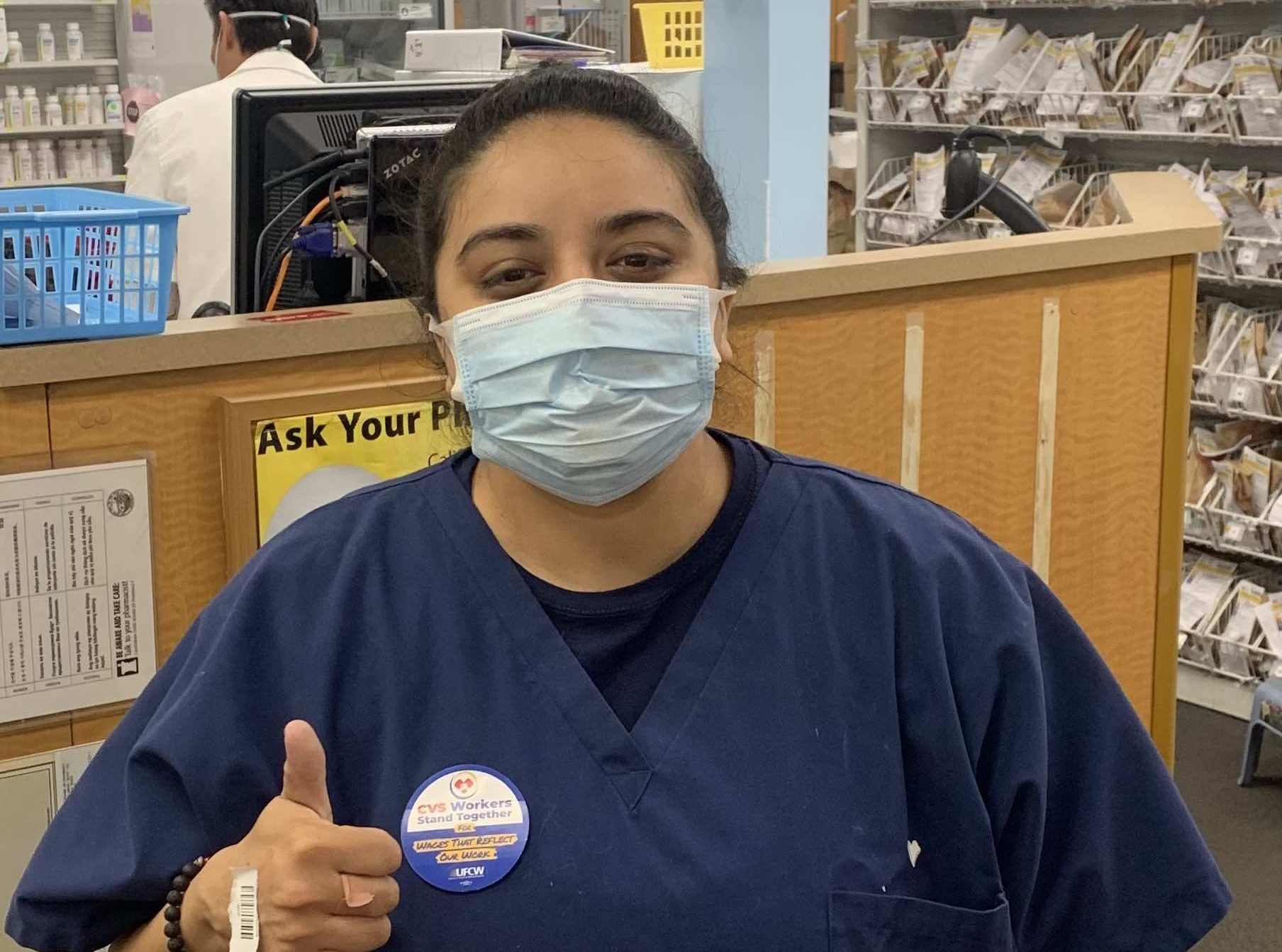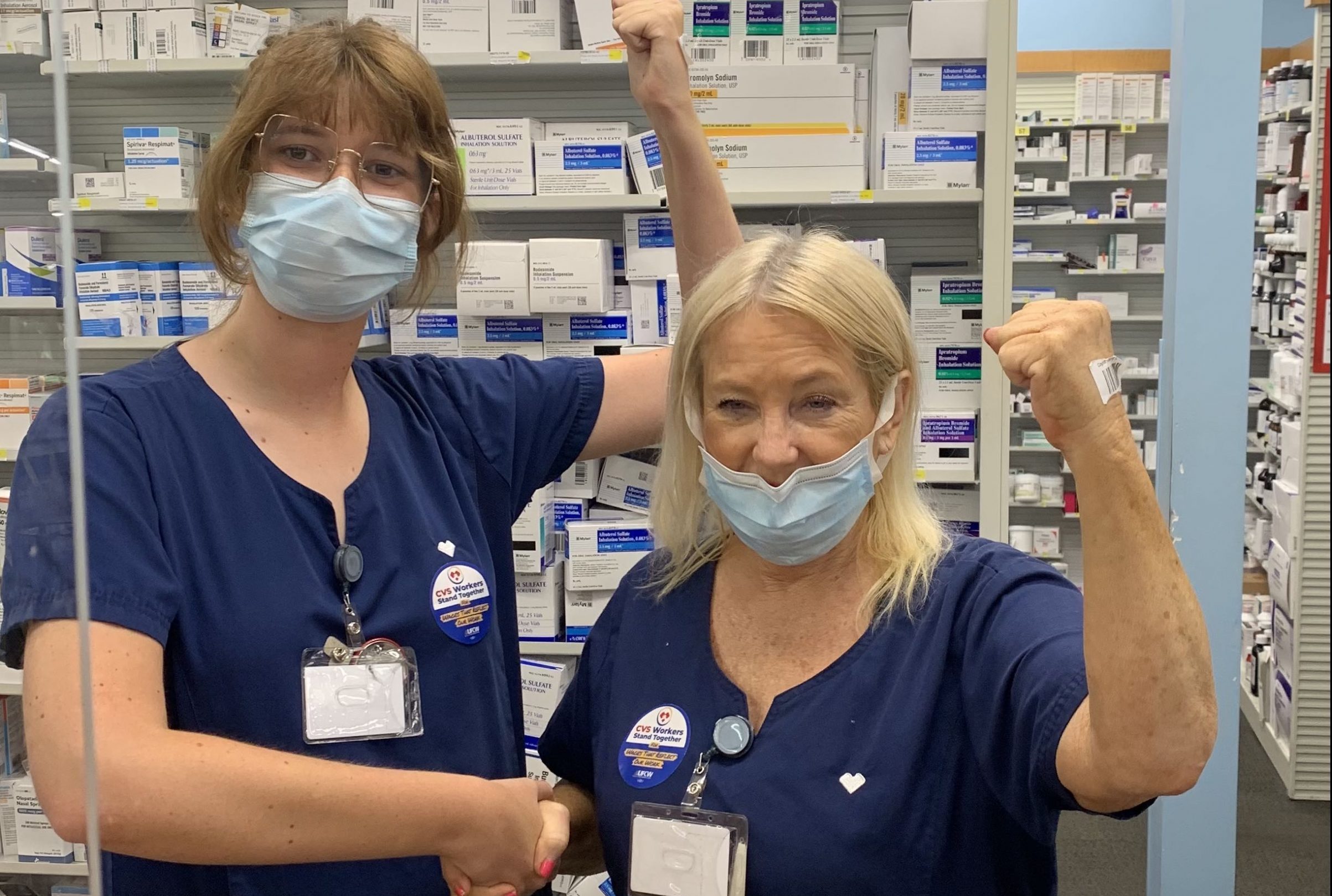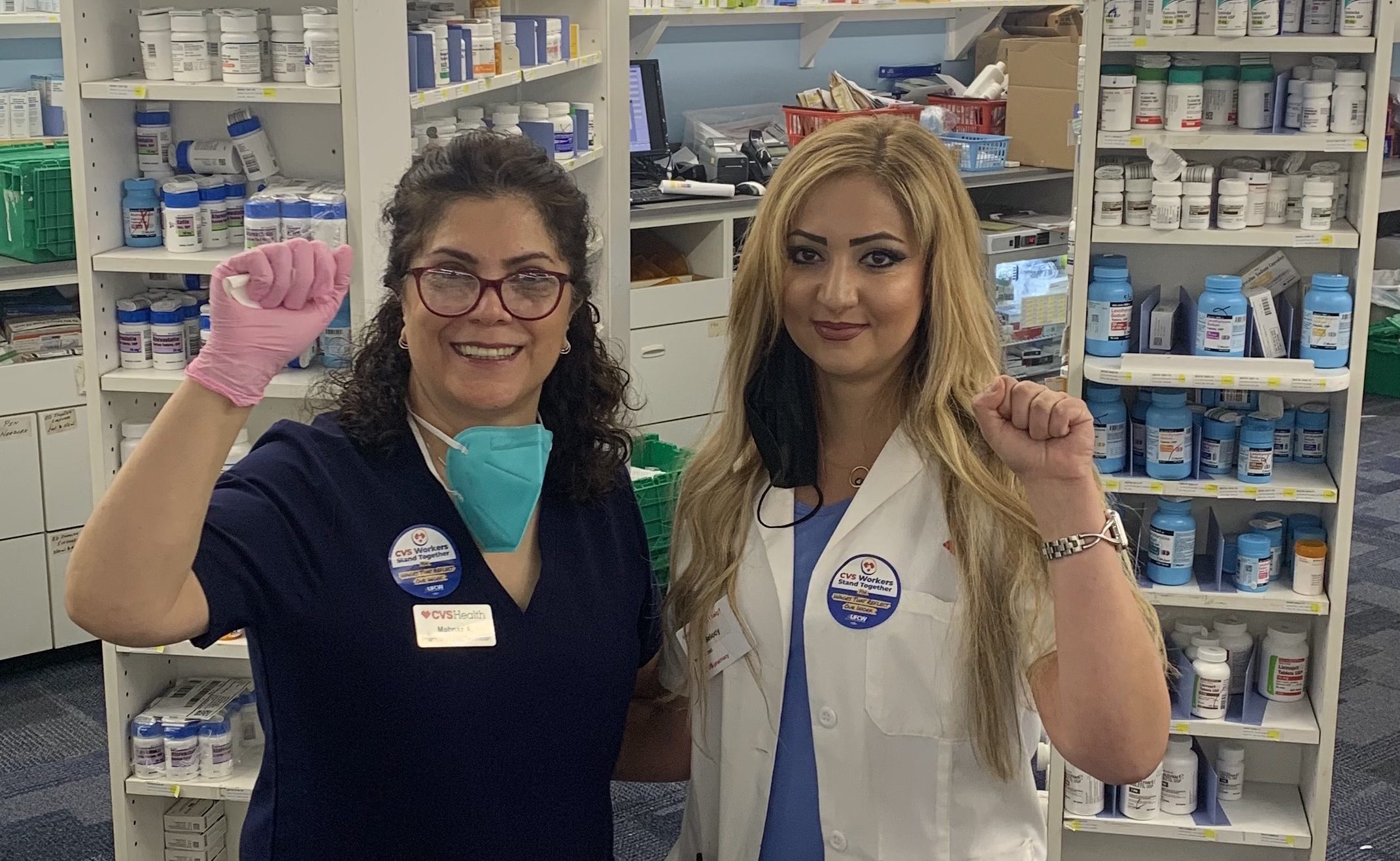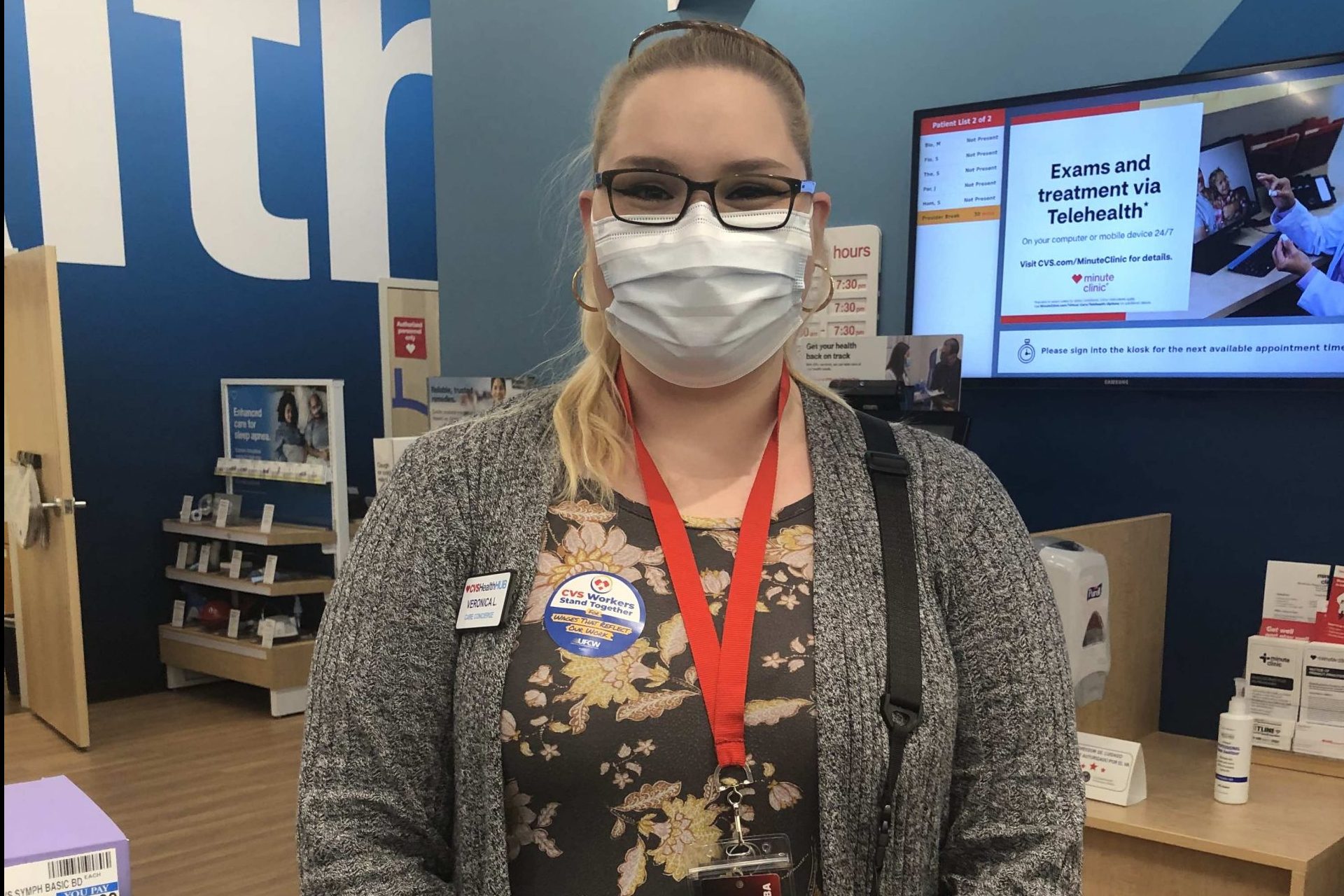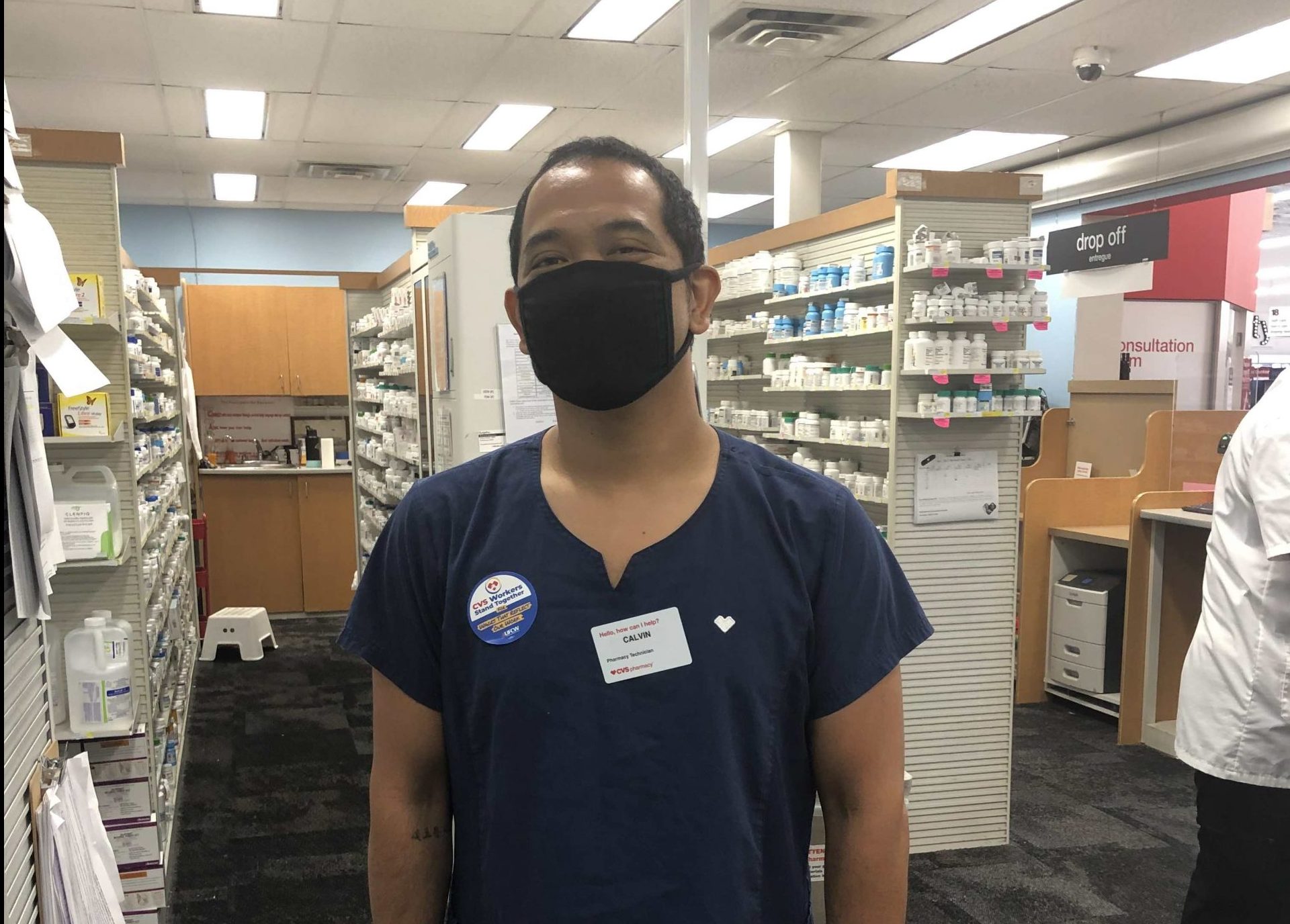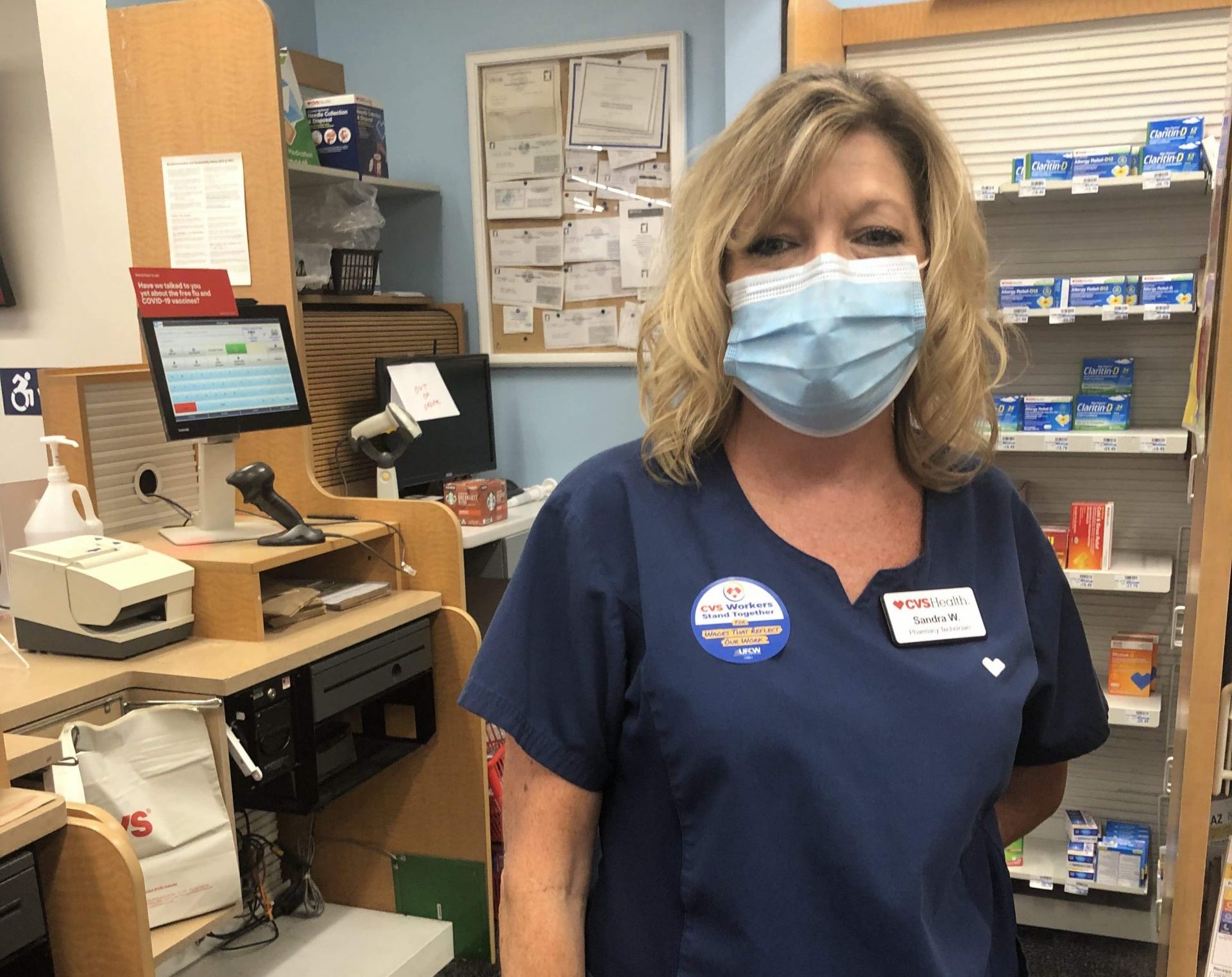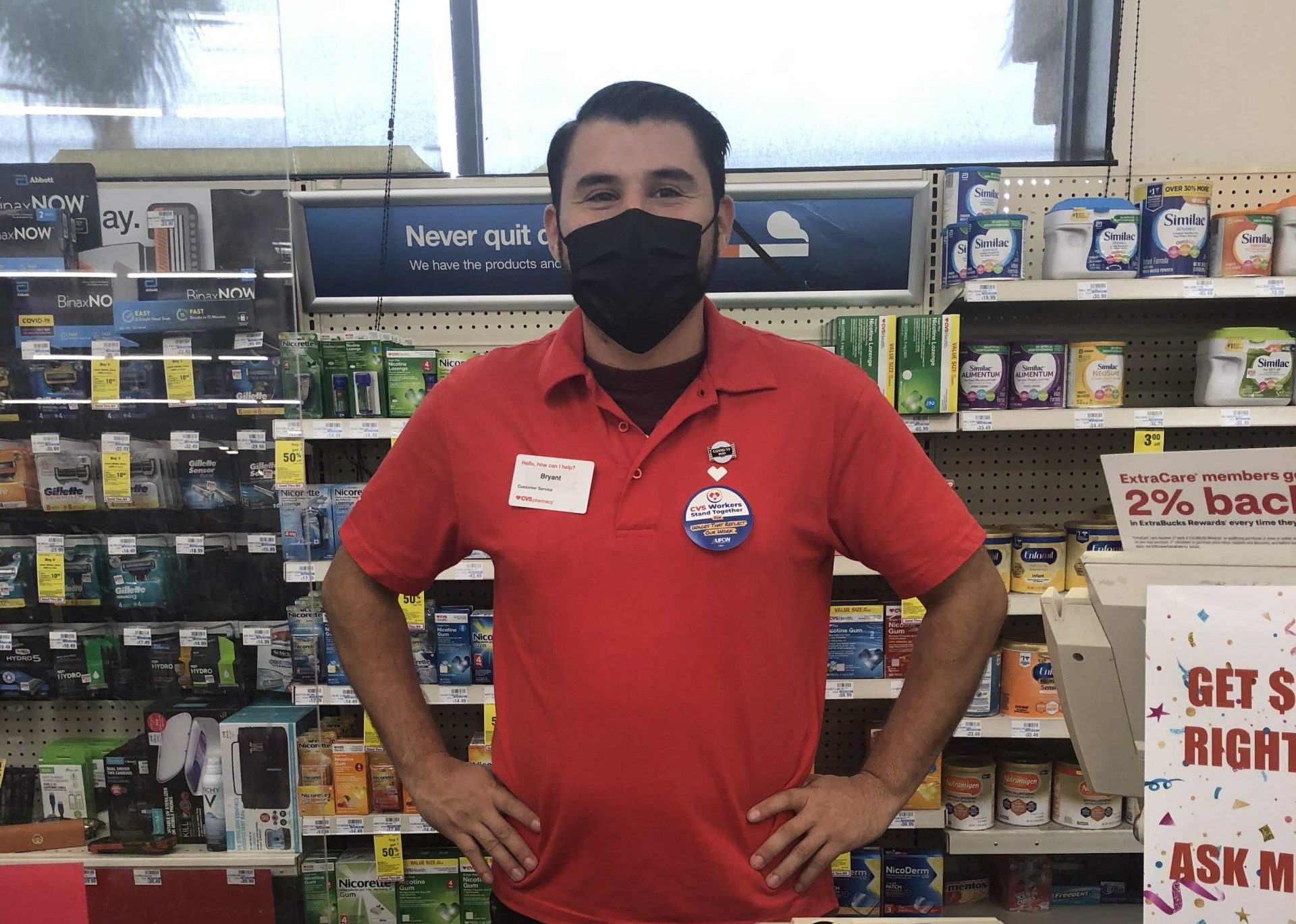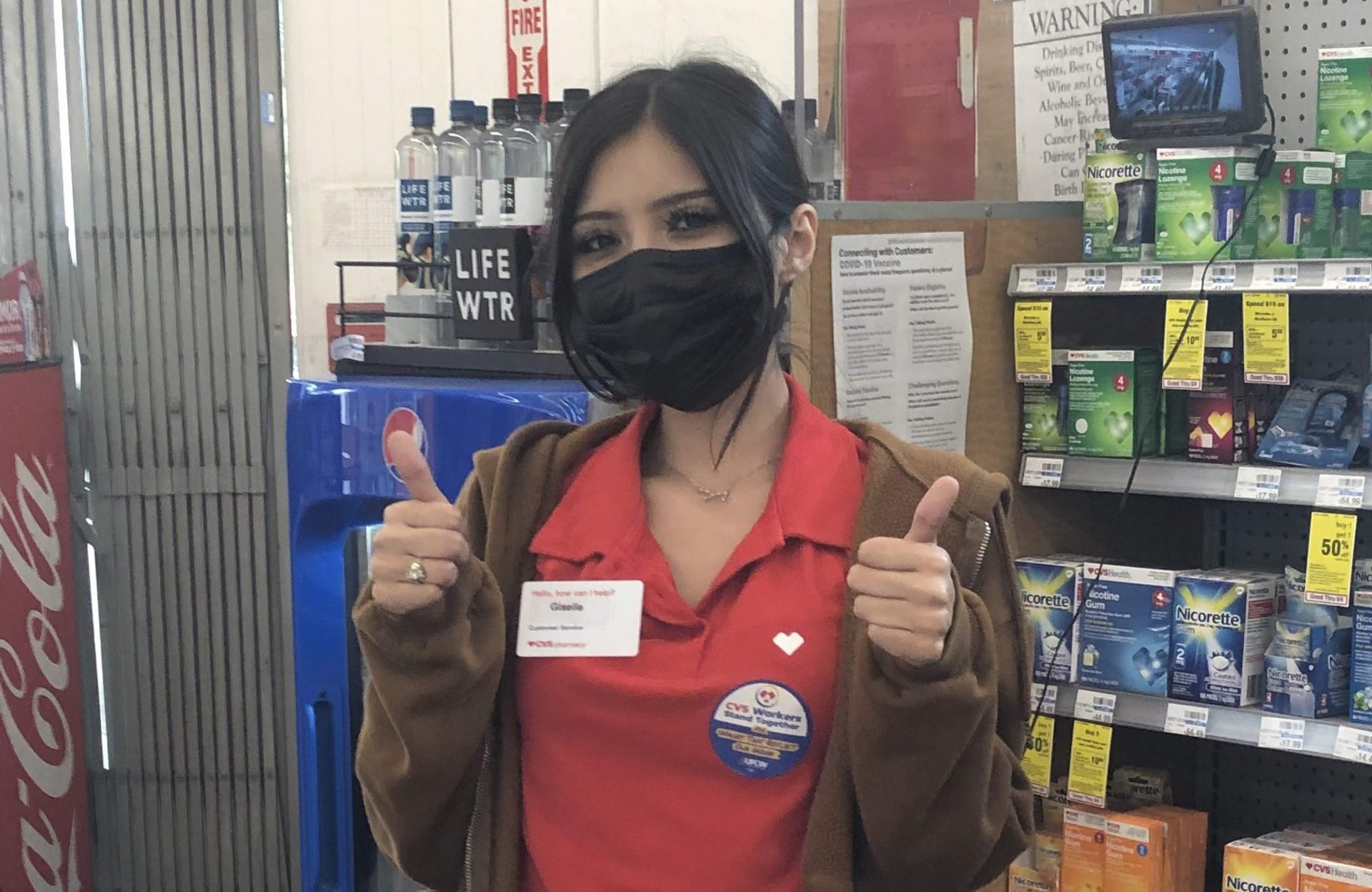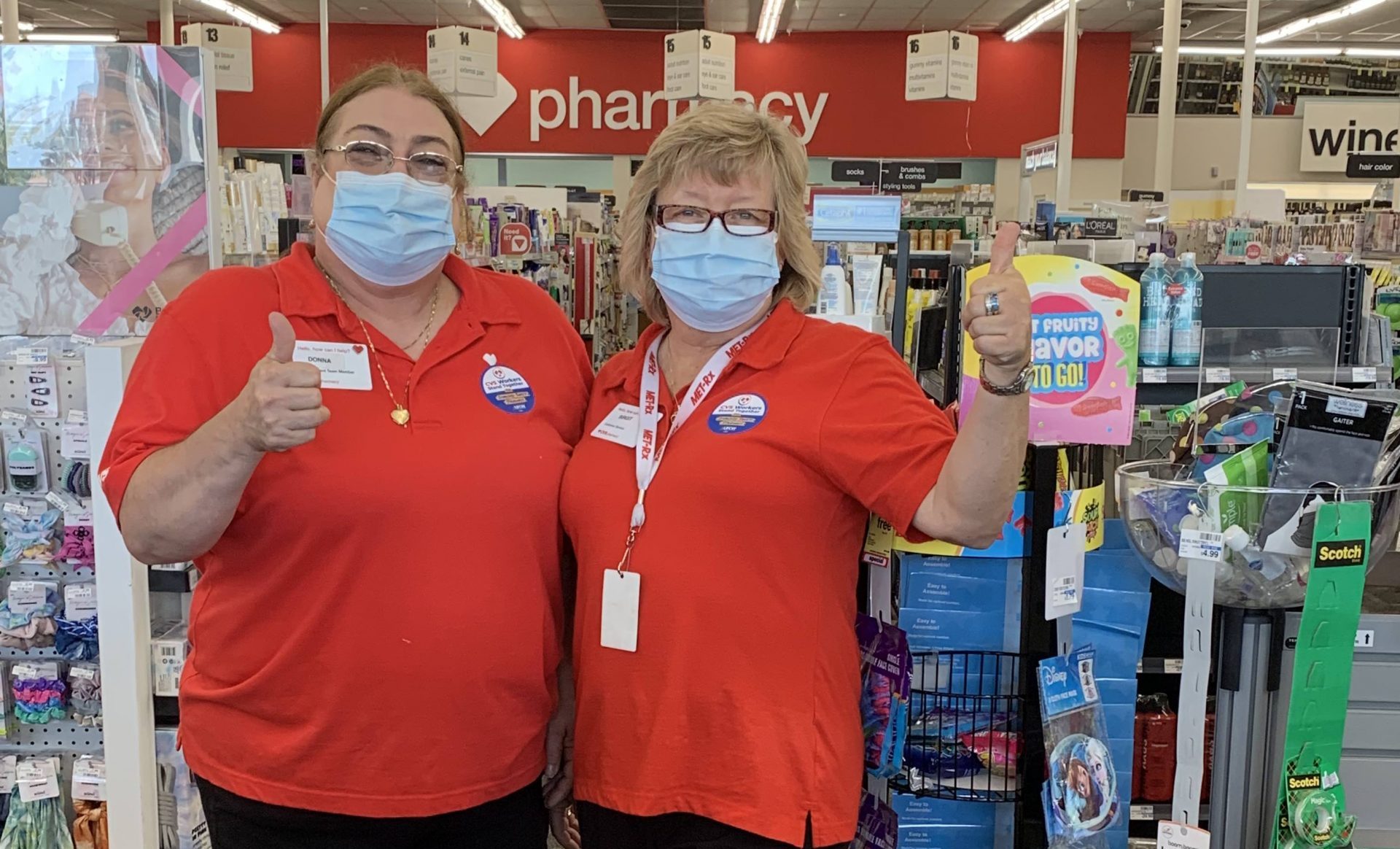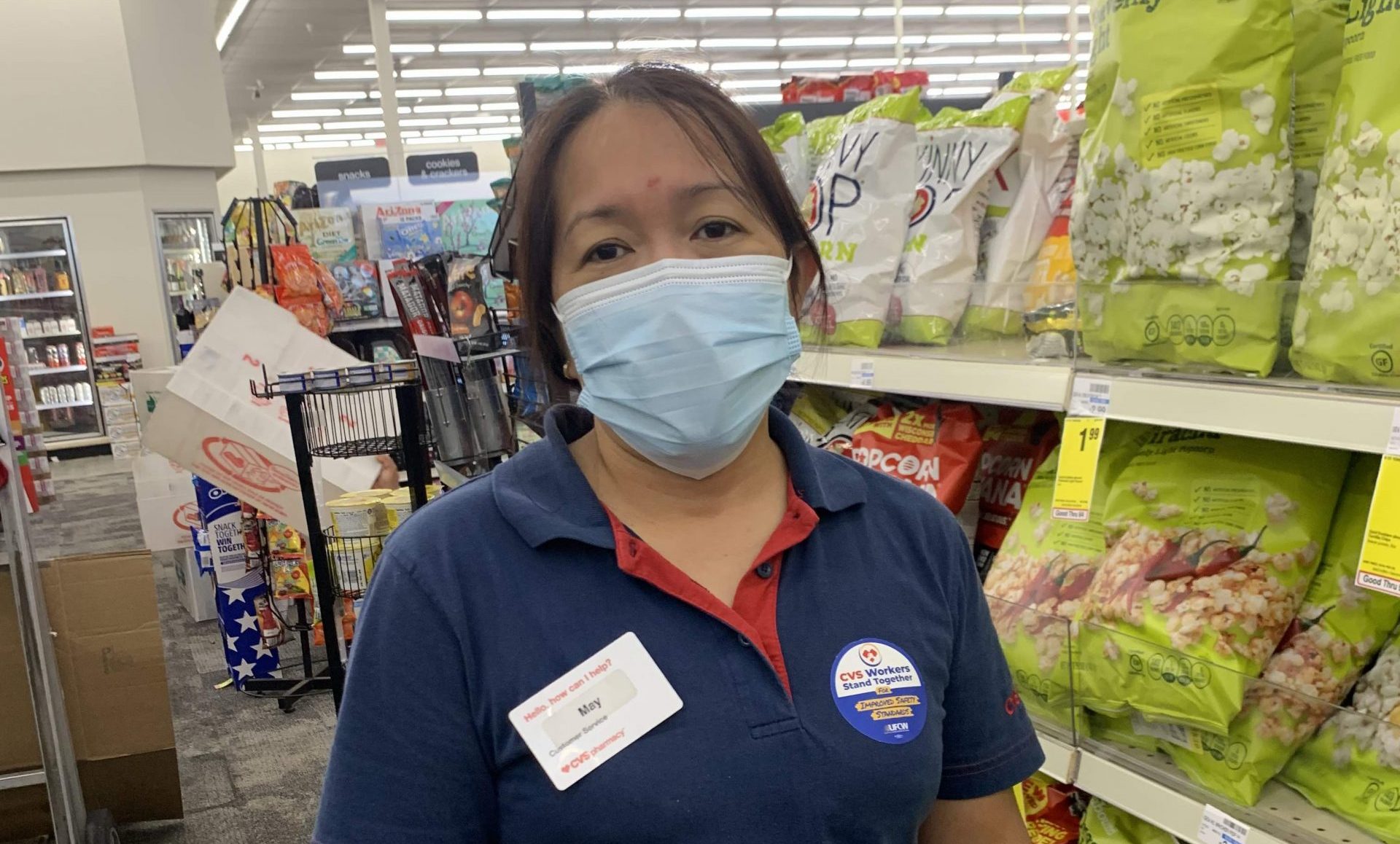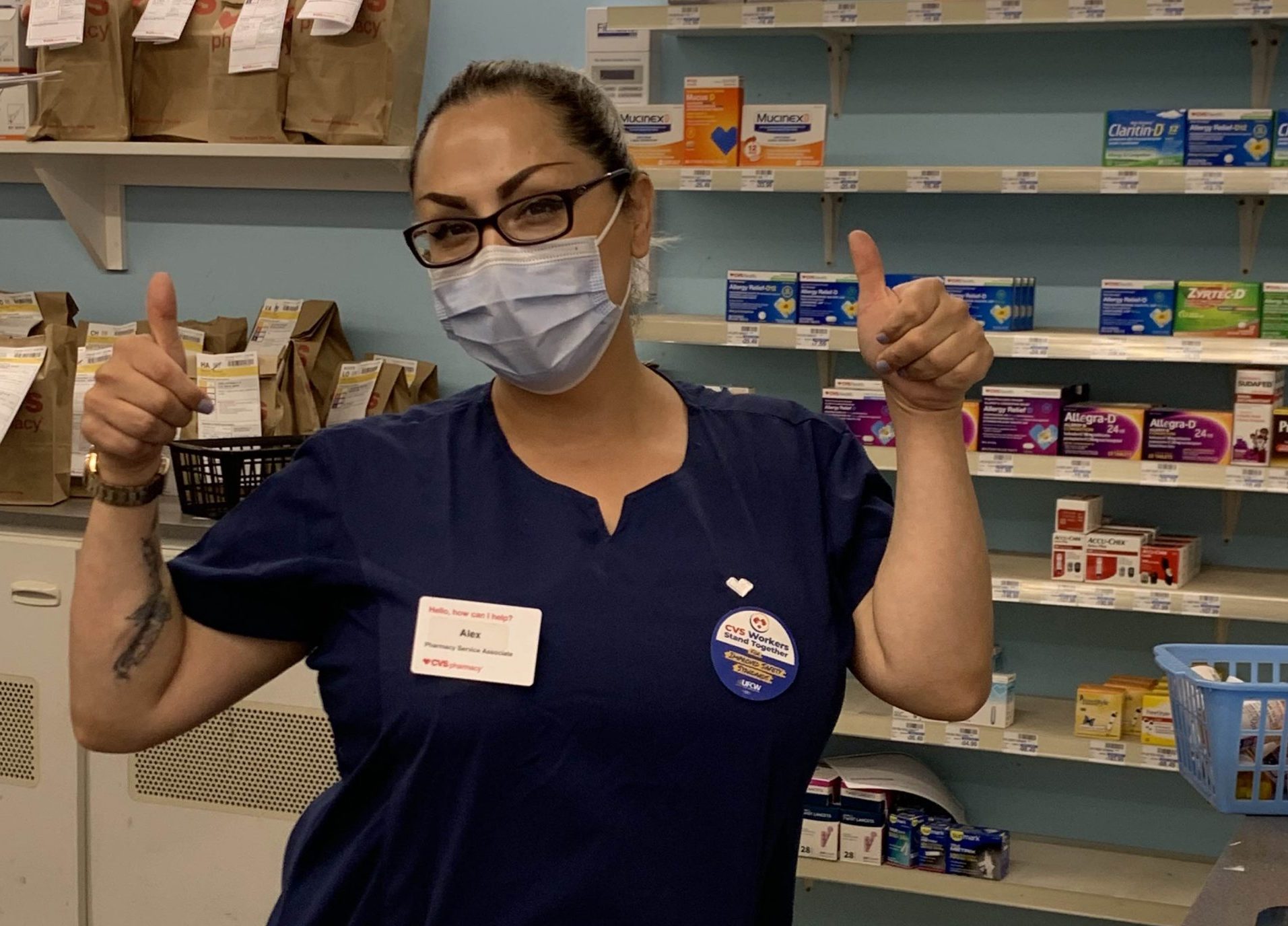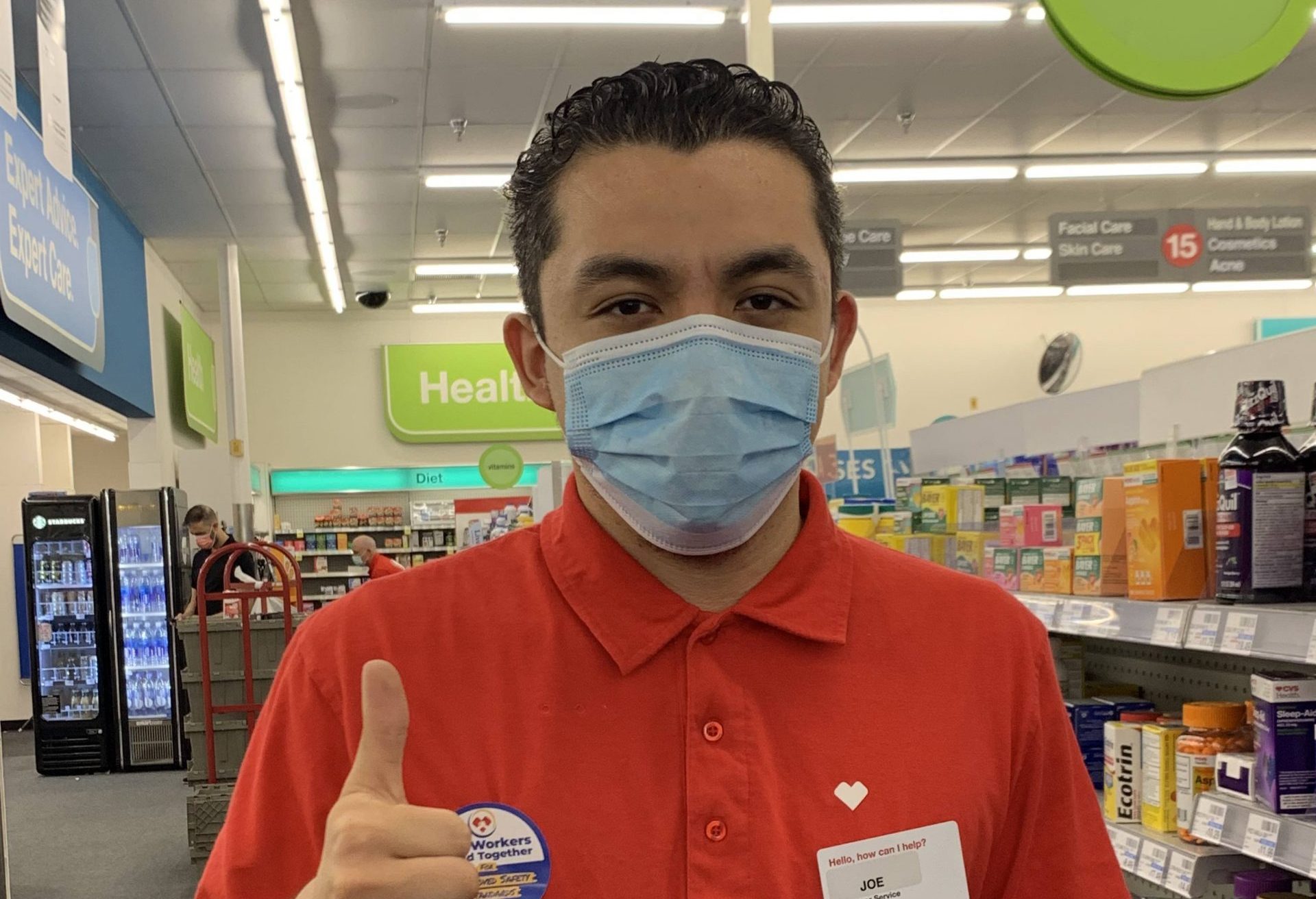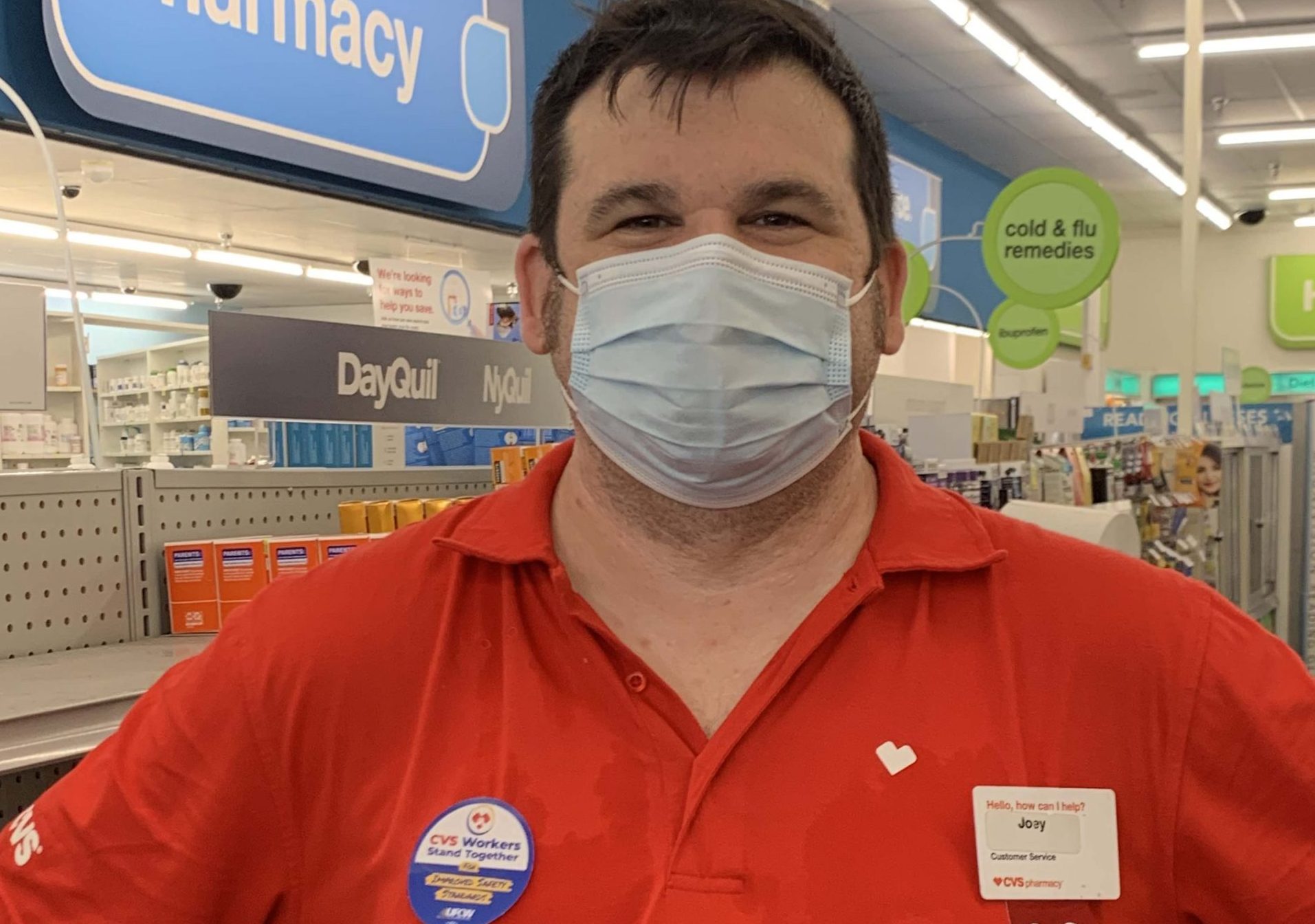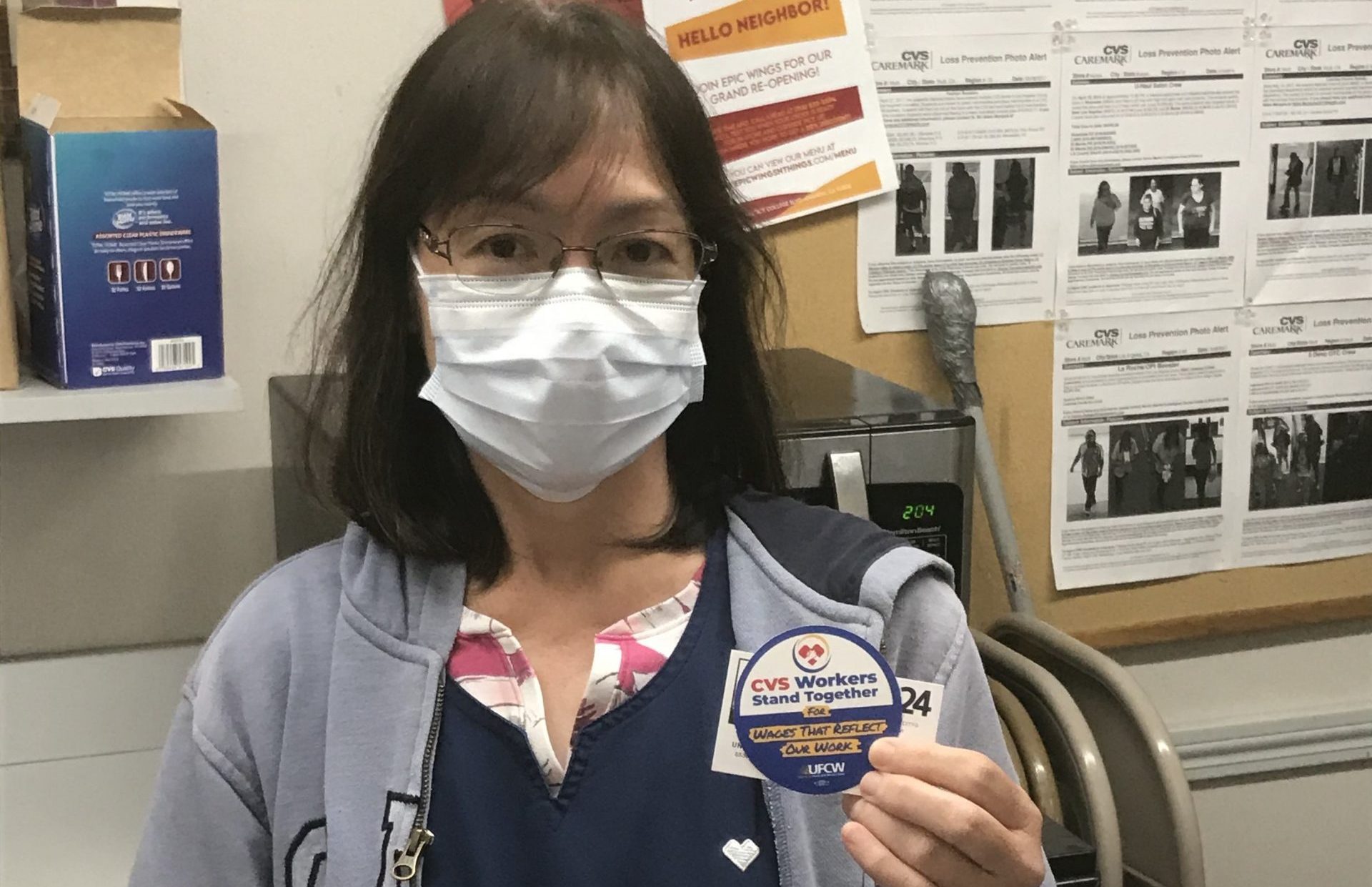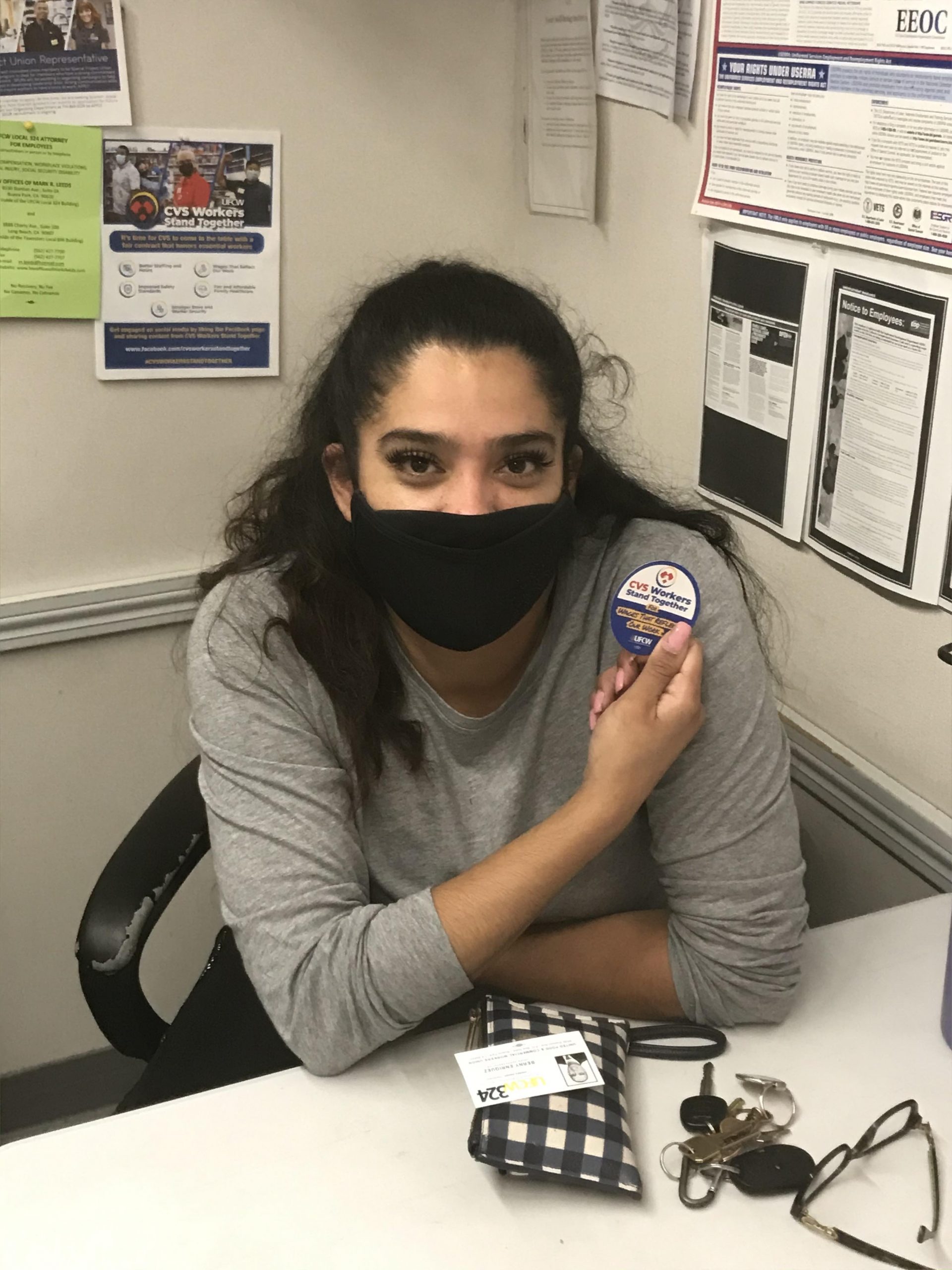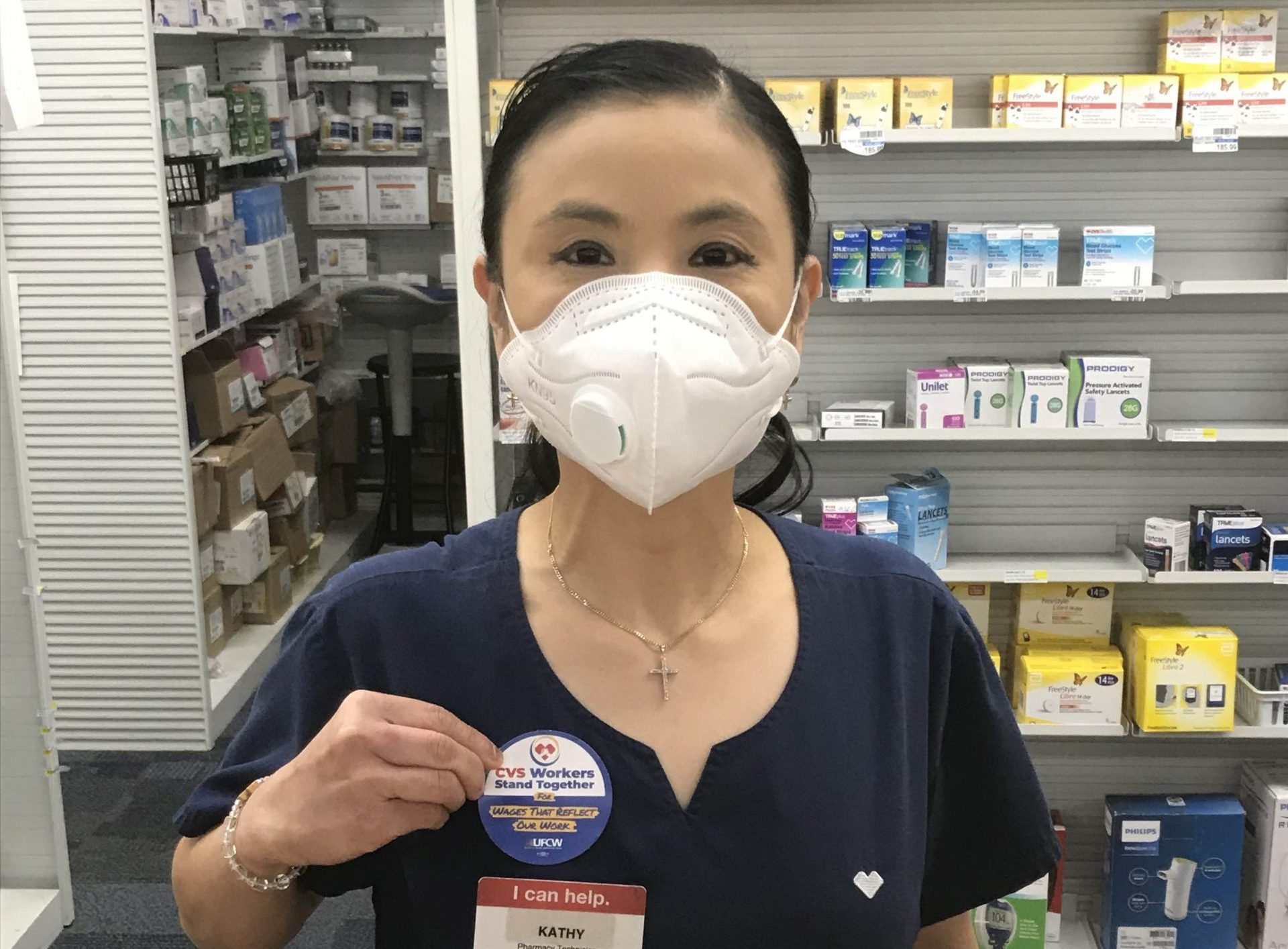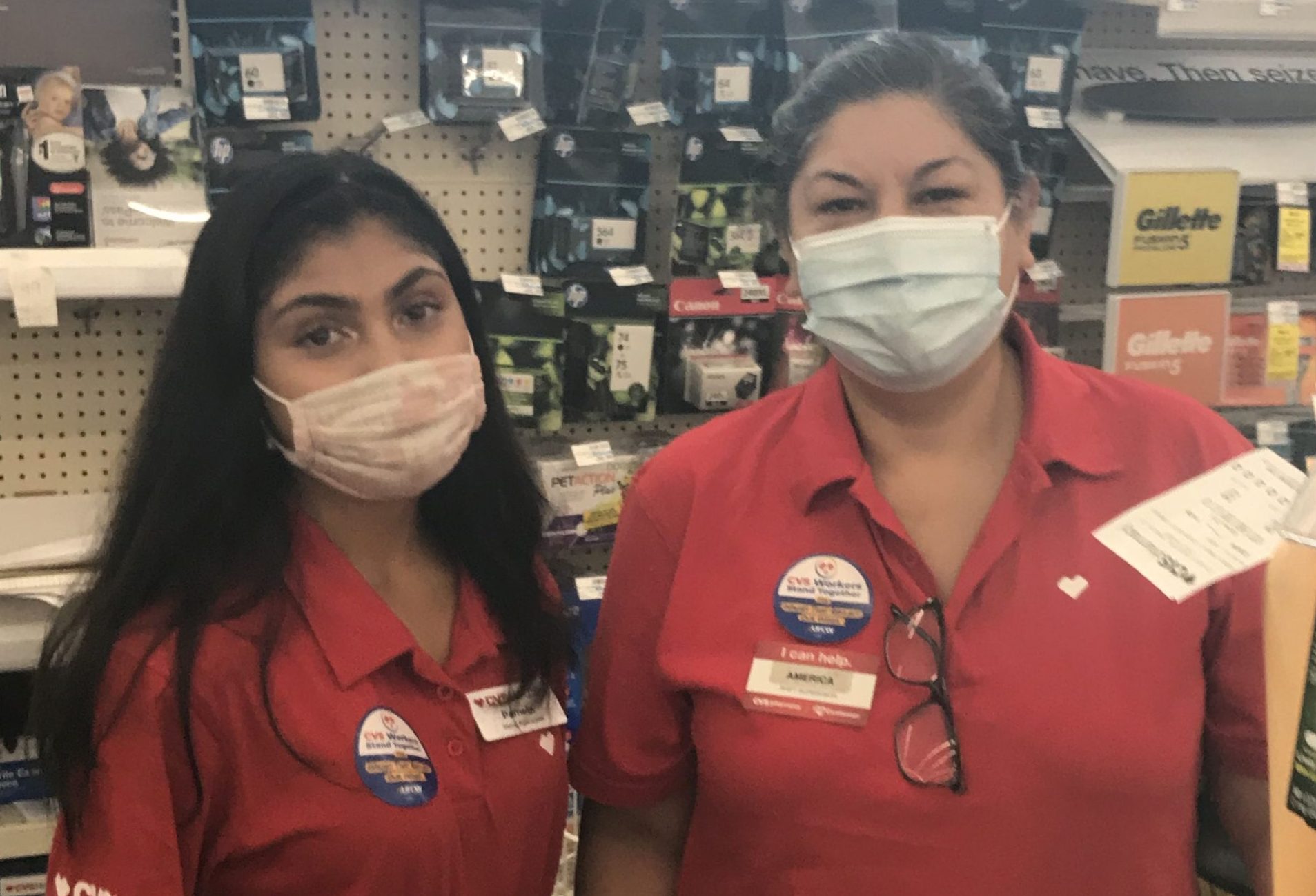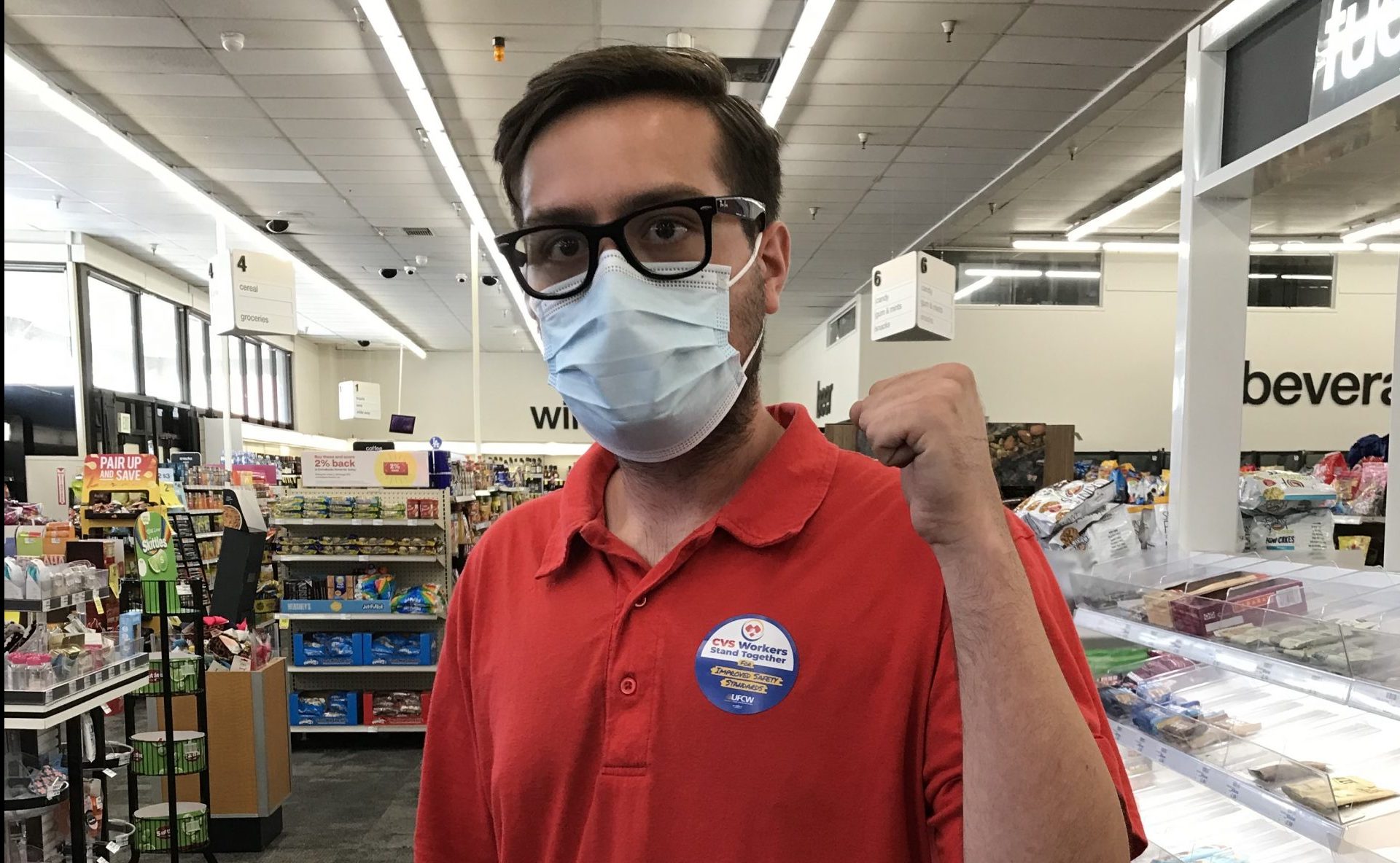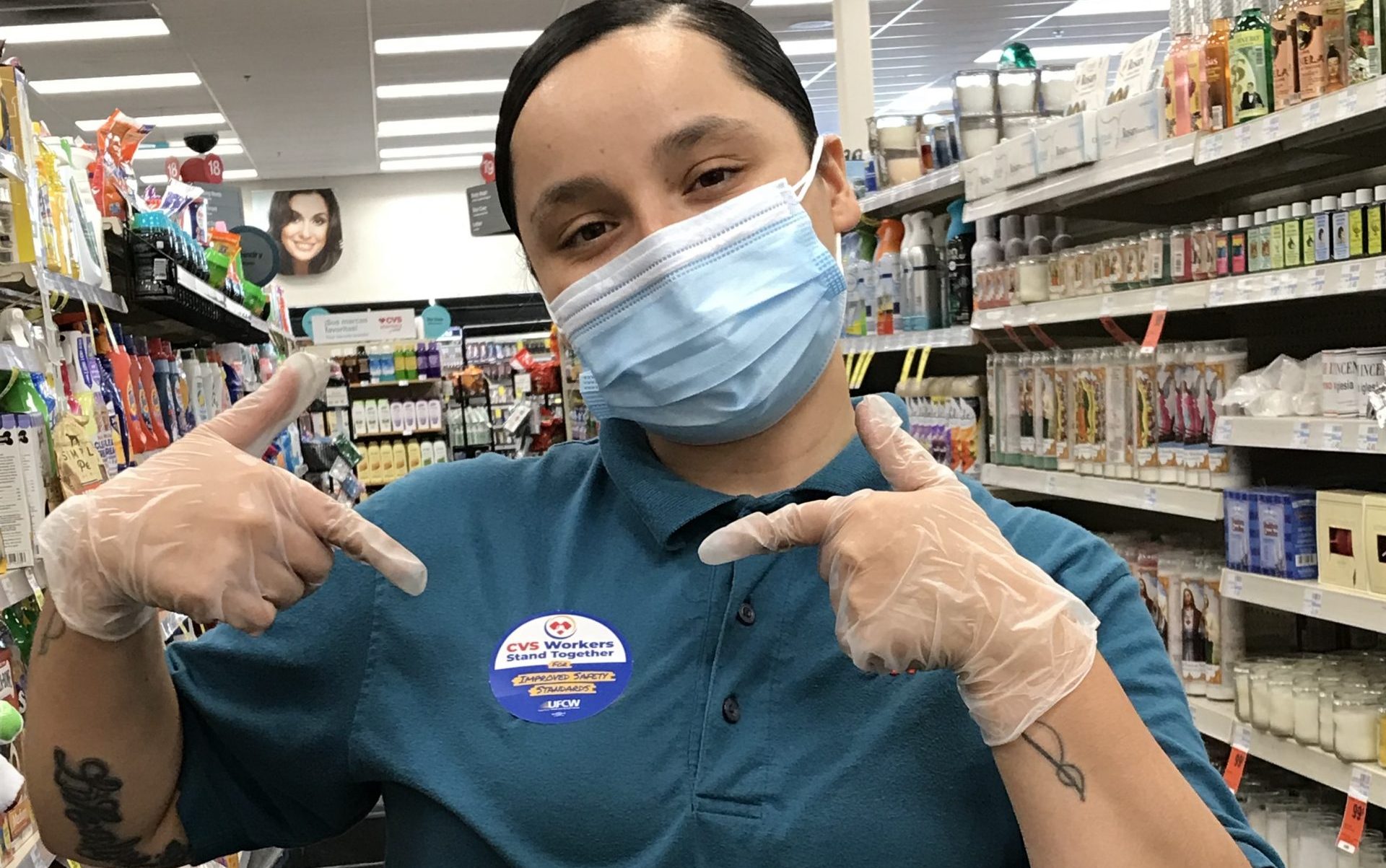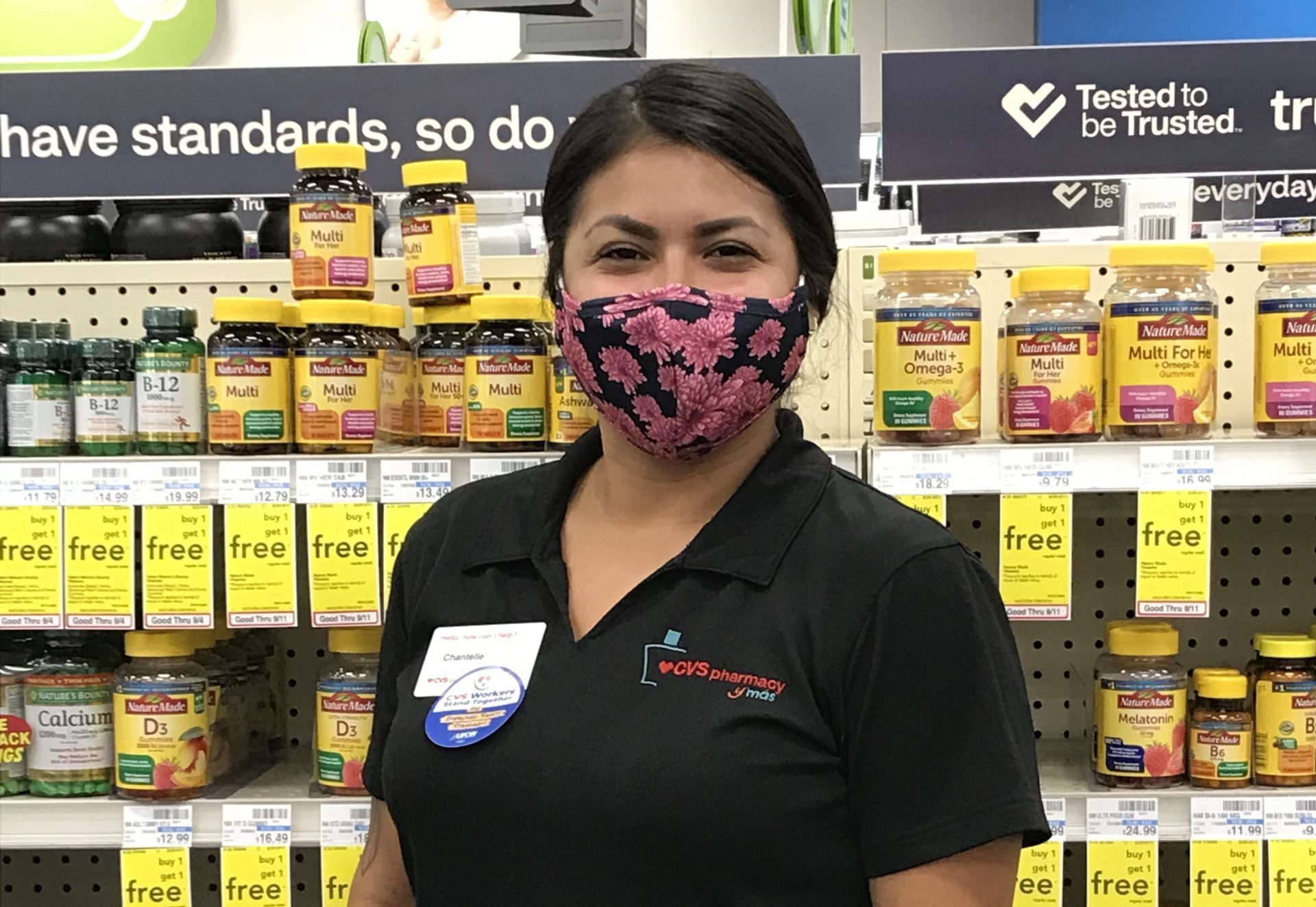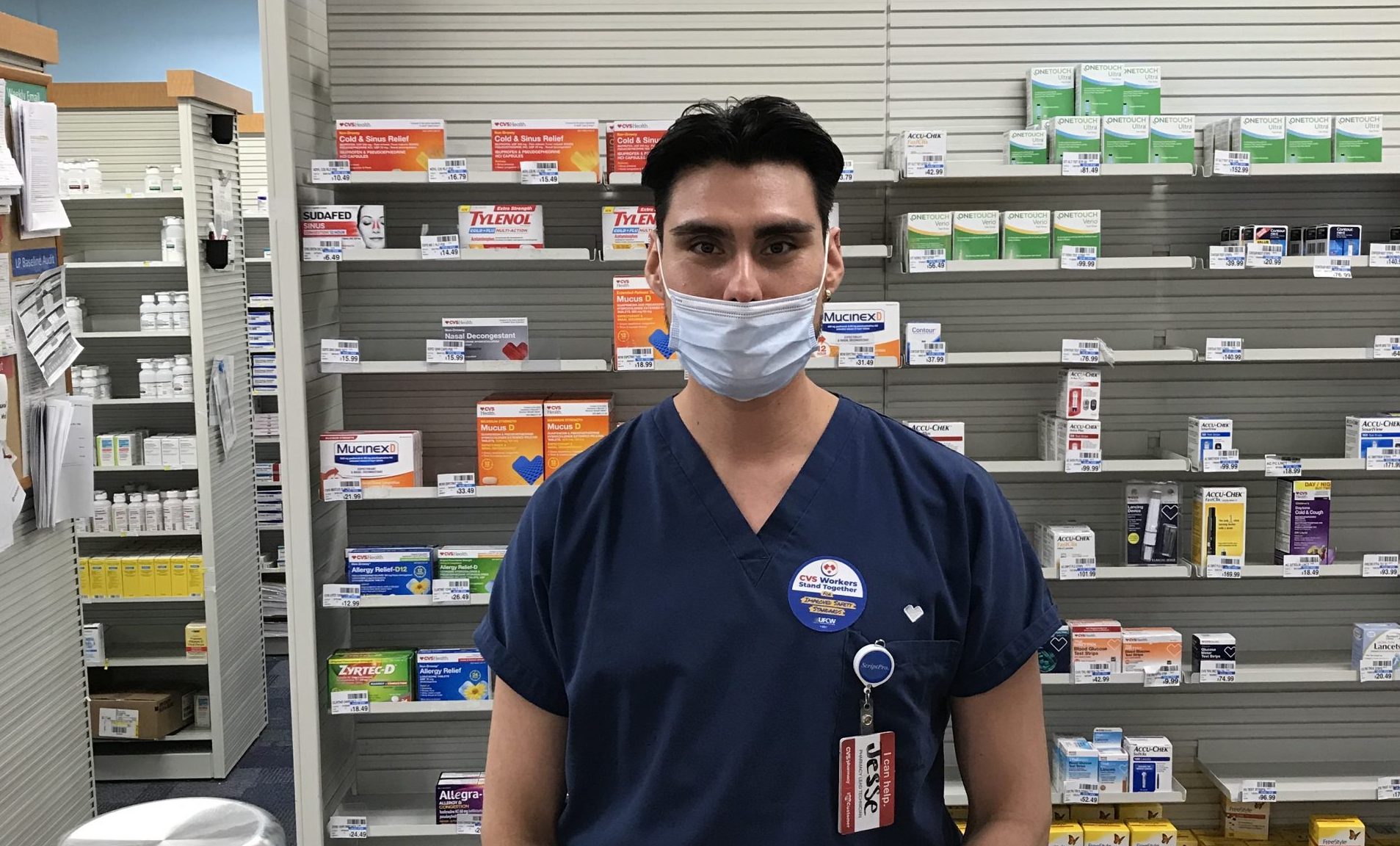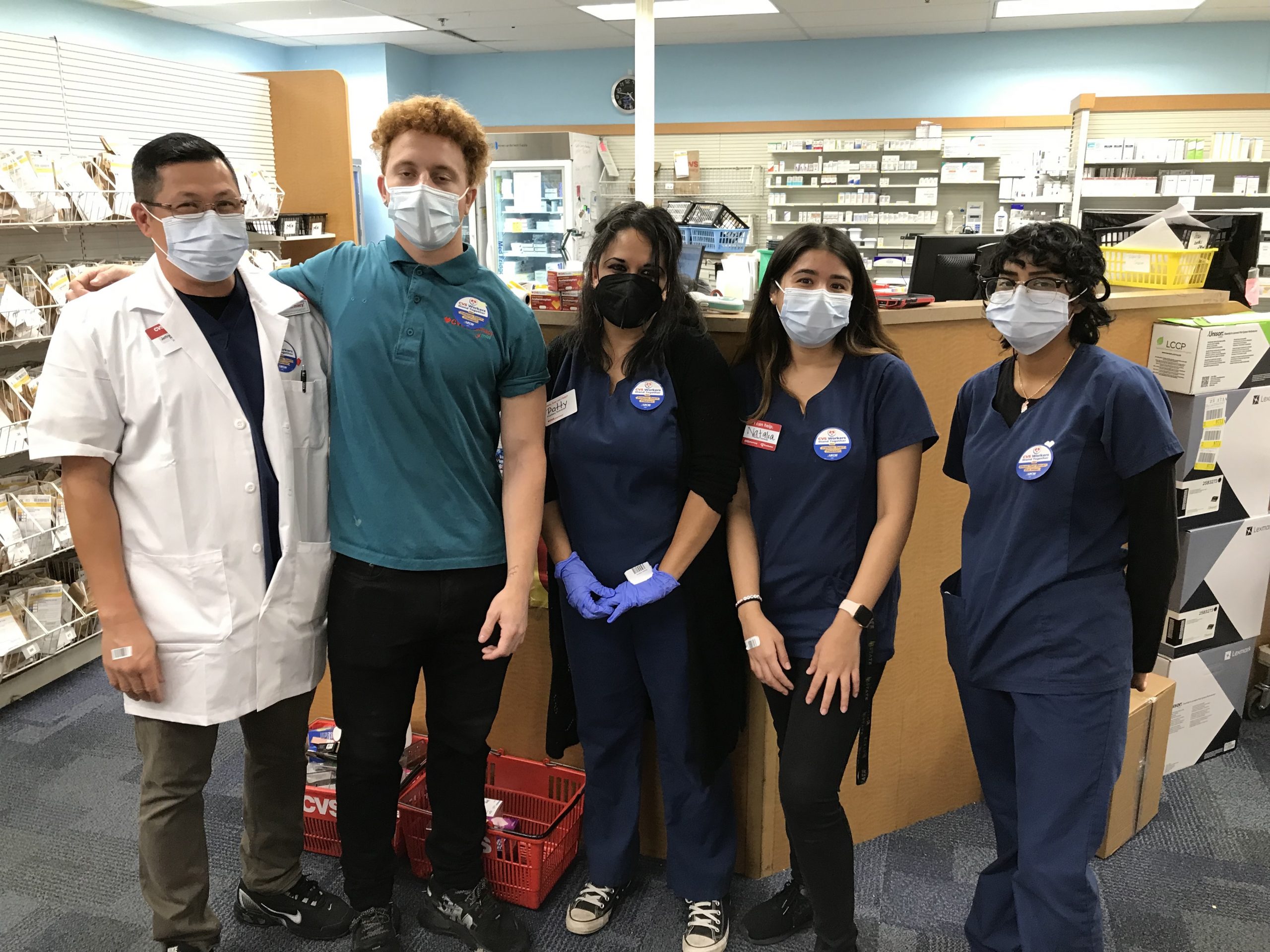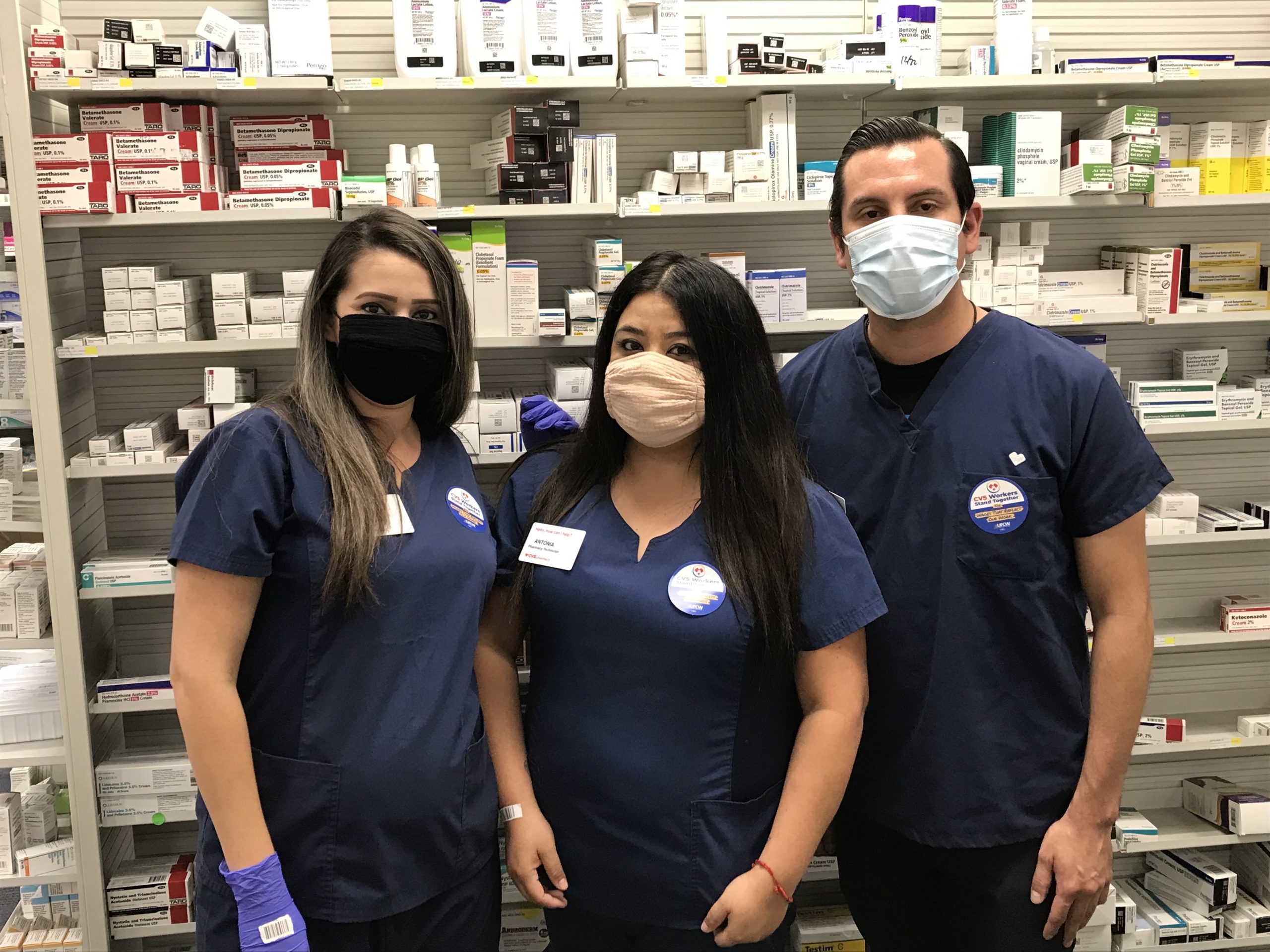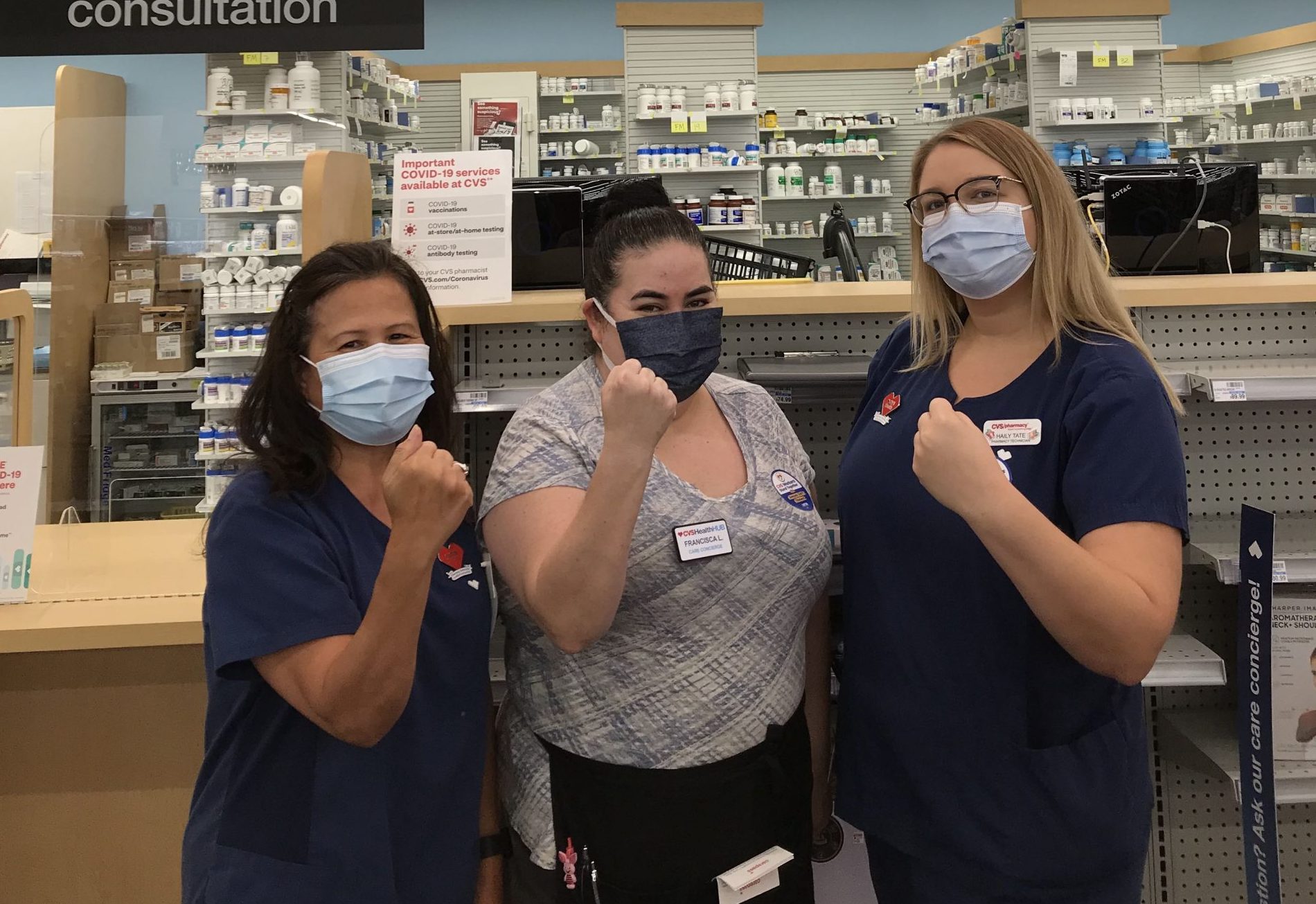 Update on 8/19/21
While CVS made very little movement in negotiations yesterday, CVS workers were demonstrating their solidarity with stickers demanding better staffing and hours. The next step is to ask customers to stand with us in demanding a fair contract from CVS – a contract that provides fair pay and benefits as well as safety, security and adequate time and staff so that CVS workers can provide their customers the shopping experience they expect and deserve.
Check out the images from the worker action below. More actions coming soon. Stay tuned on how you can get involved.
CVS ha hecho muy poco movimiento en las negociaciones el dia de ayer, los trabajadores de CVS están demostrando su solidaridad con calcomanías que exigen mejores horarios y personal.  El siguiente paso es pedir a los clientes que nos apoyen con un contrato justo de parte de CVS, un contrato que proporcione sueldo y beneficios justos, así como seguridad, tiempo y personal adecuados para que los trabajadores de CVS puedan ofrecer a sus clientes la experiencia de compra que esperan y merecen.
A continuación vea las imágenes de la acción de los. trabajadores.  Próximamente habrá más acciones.  Esté atento a cómo puede participar.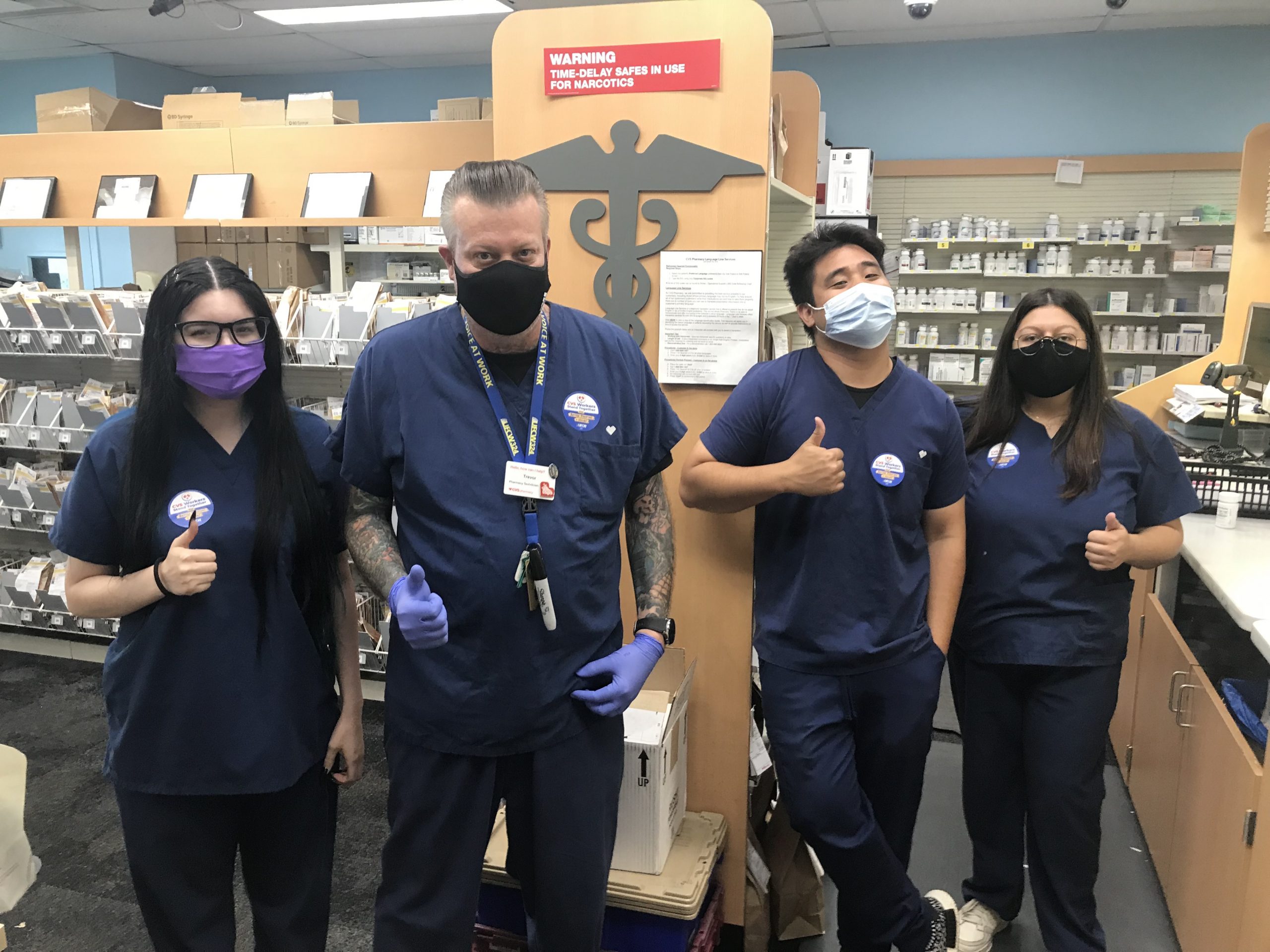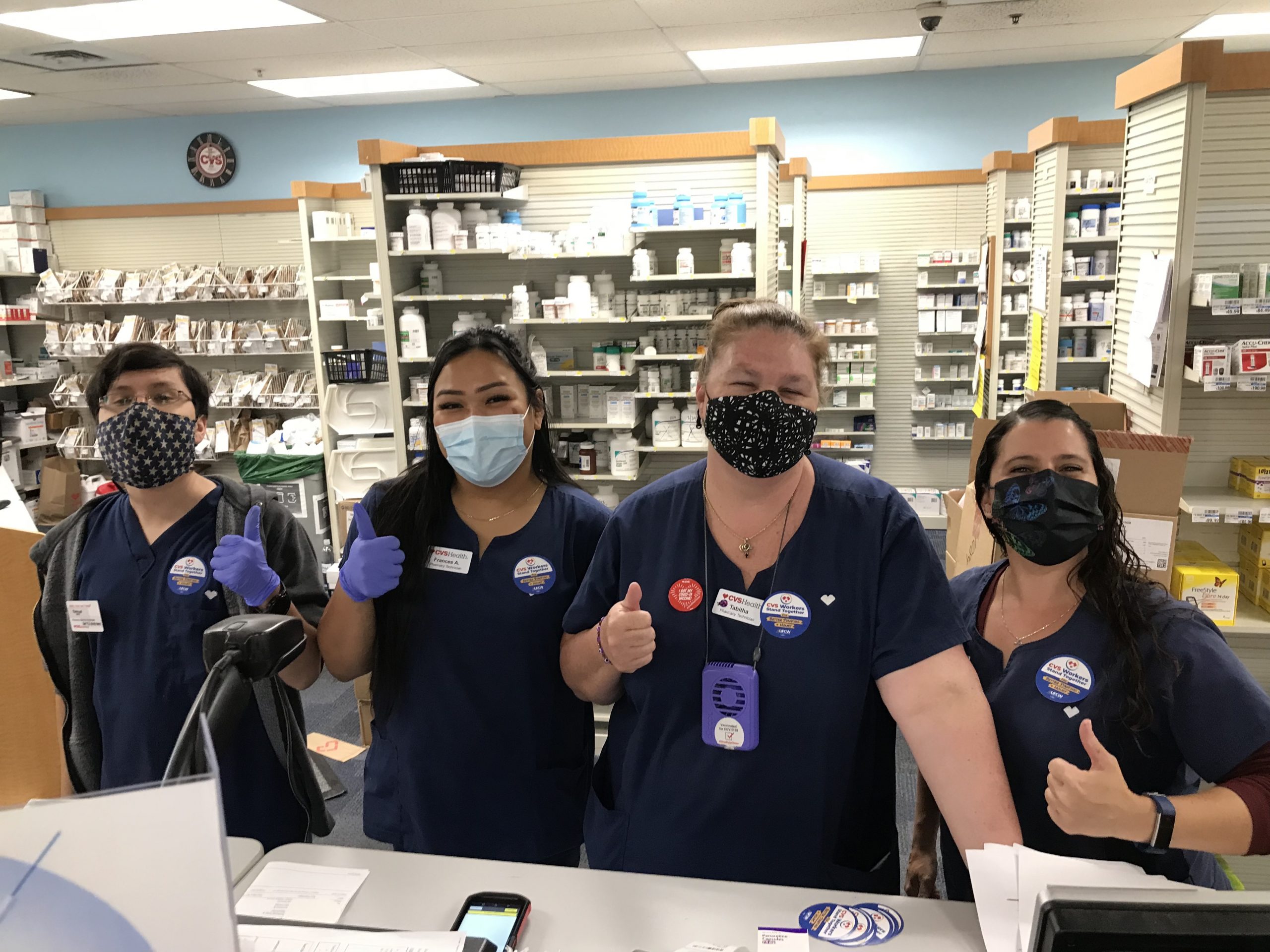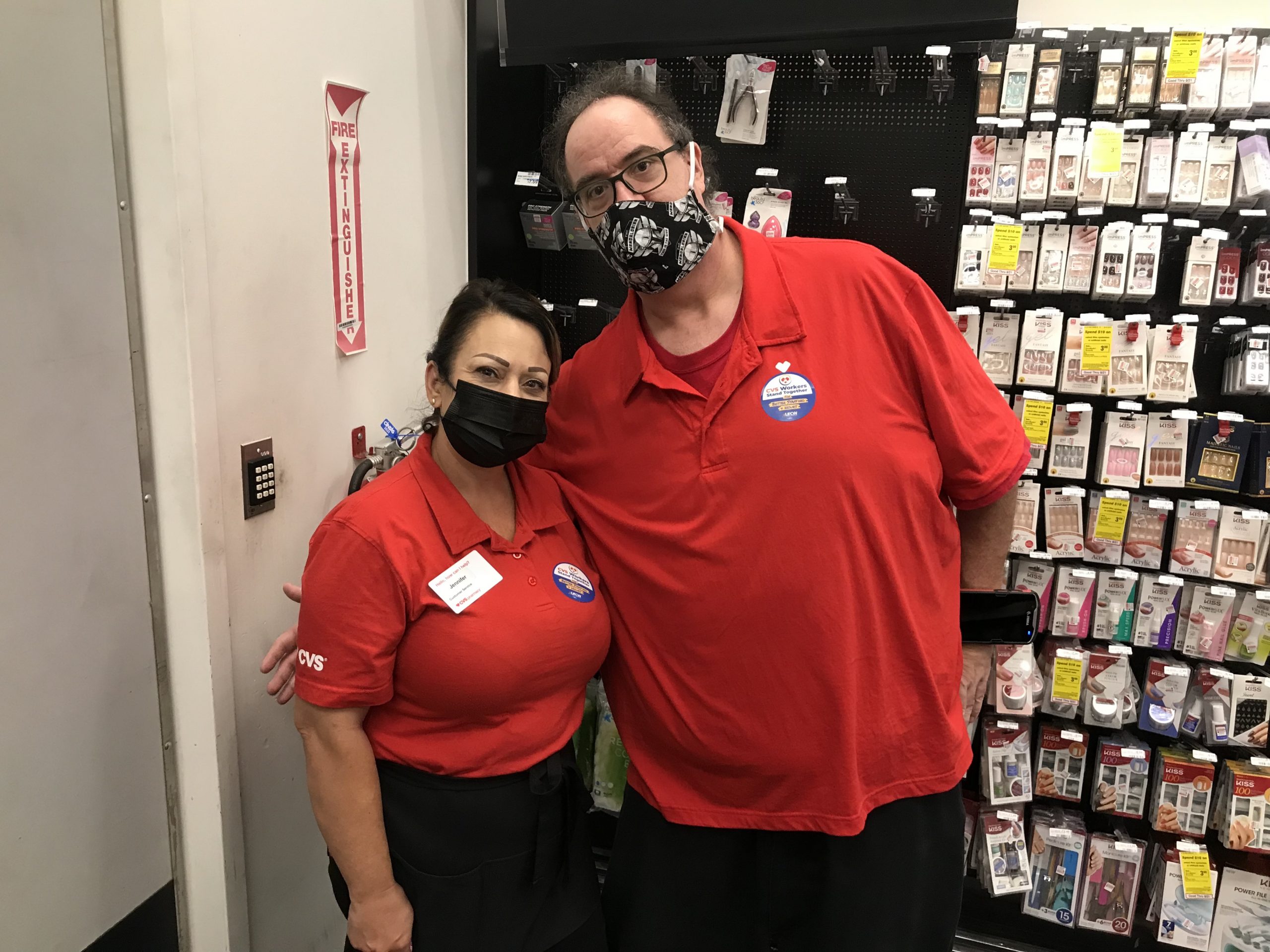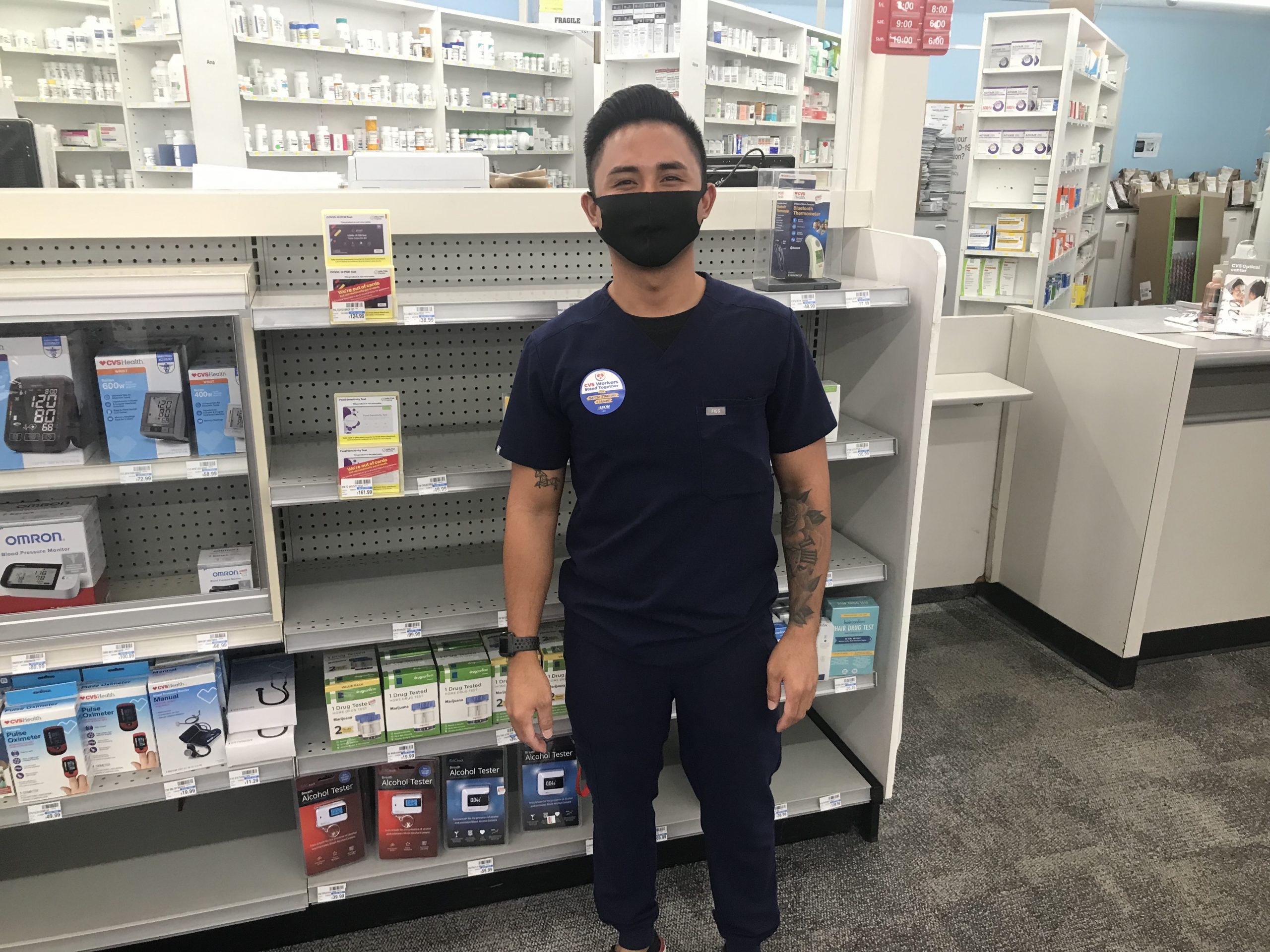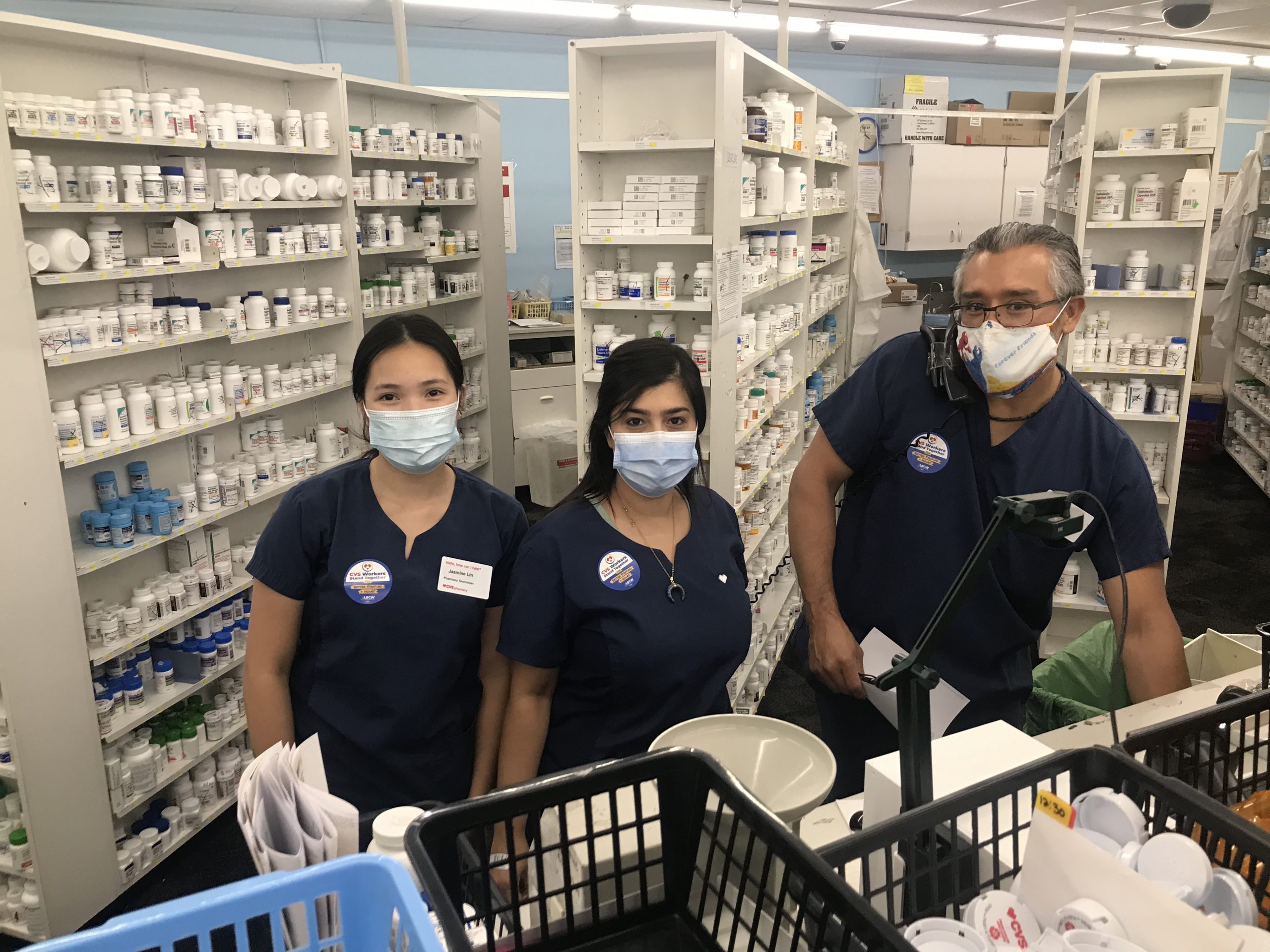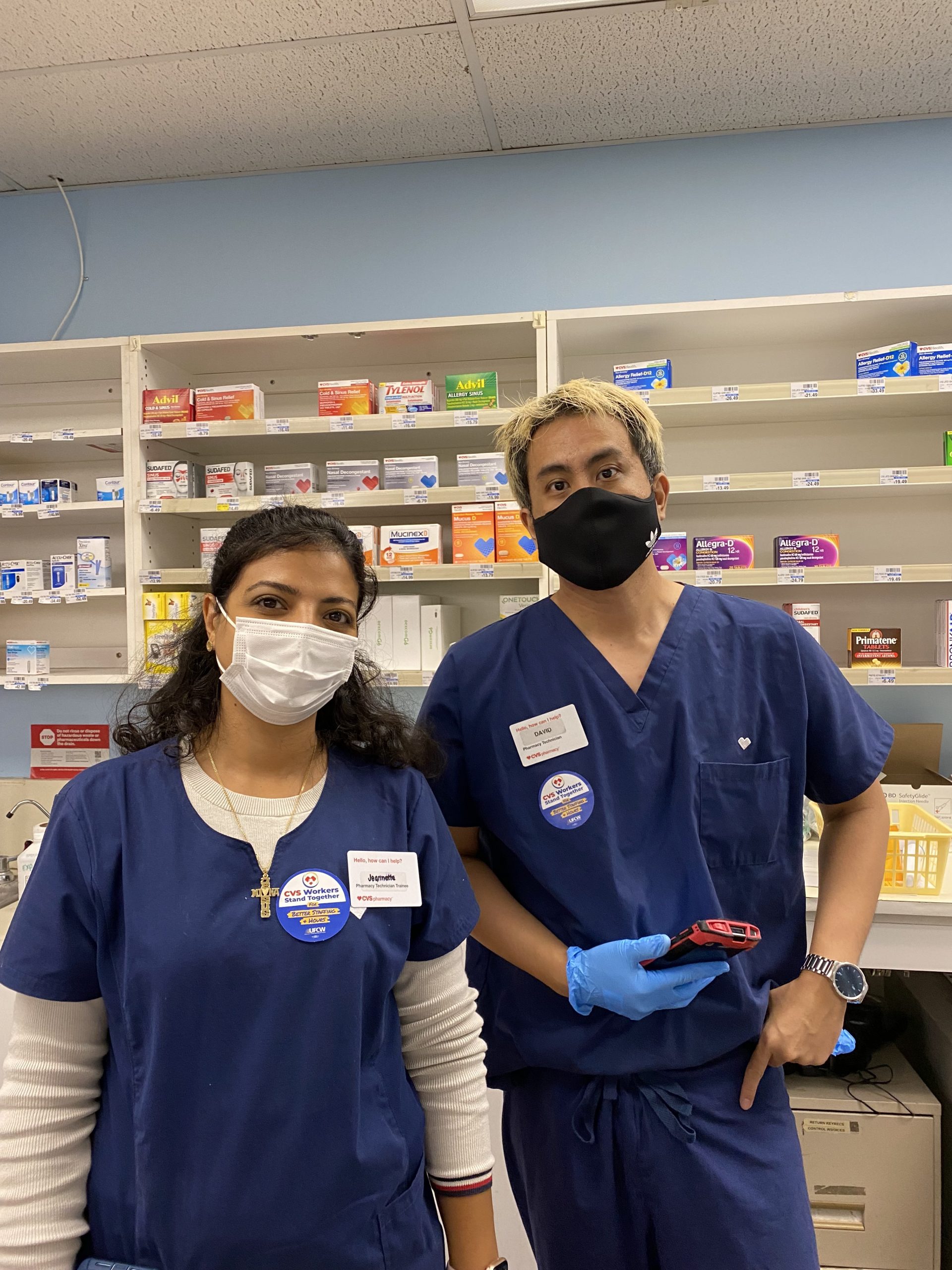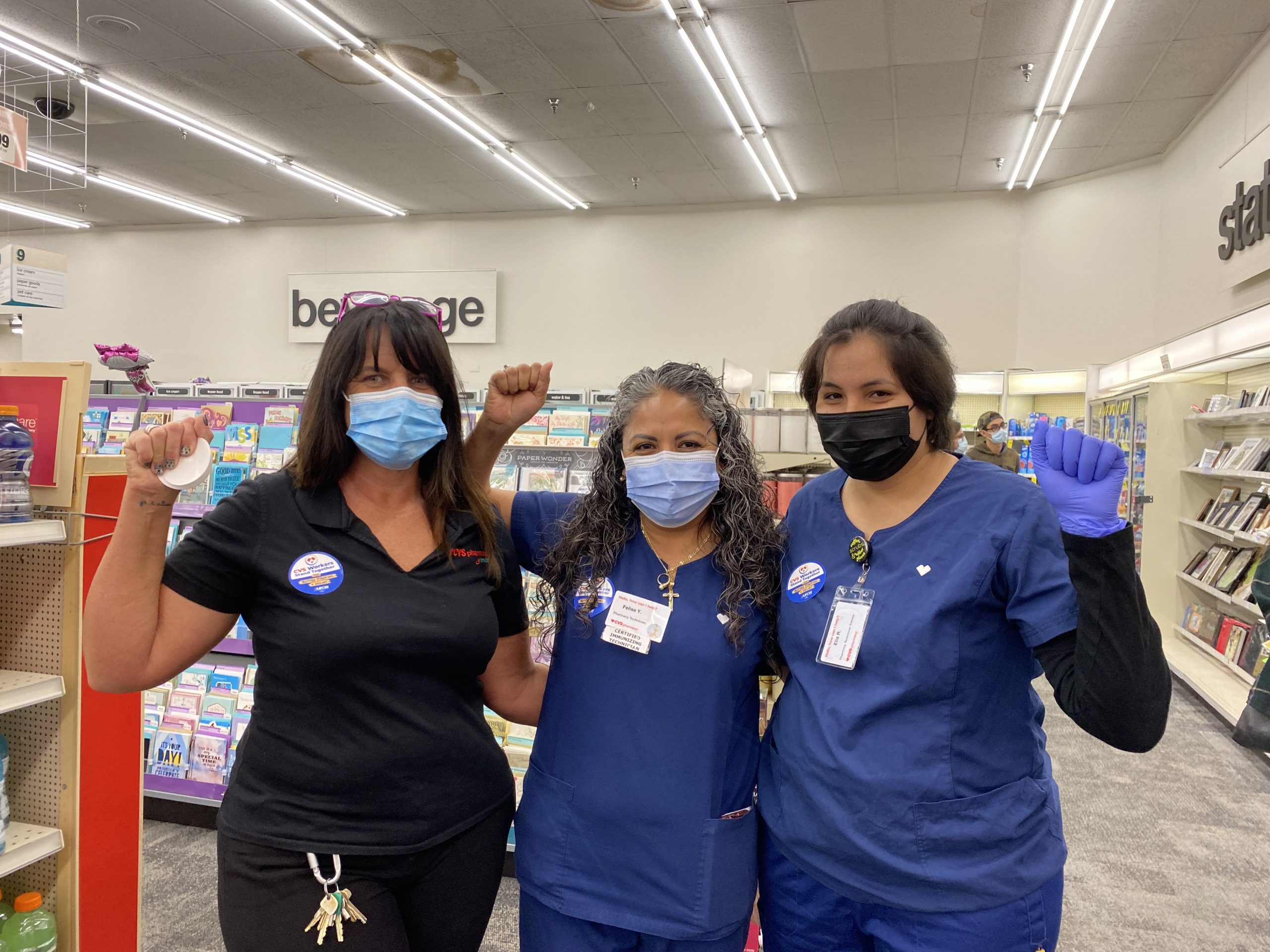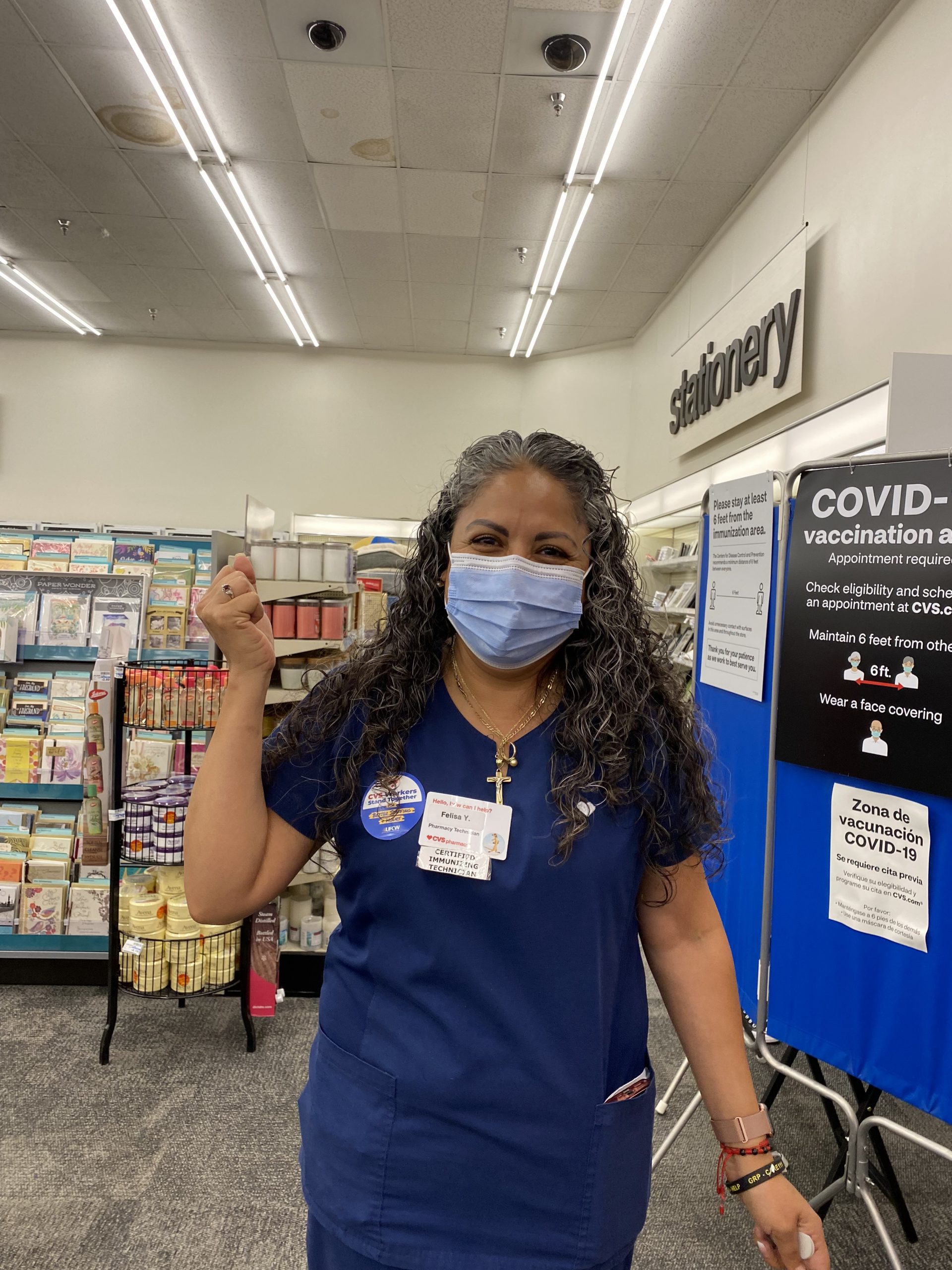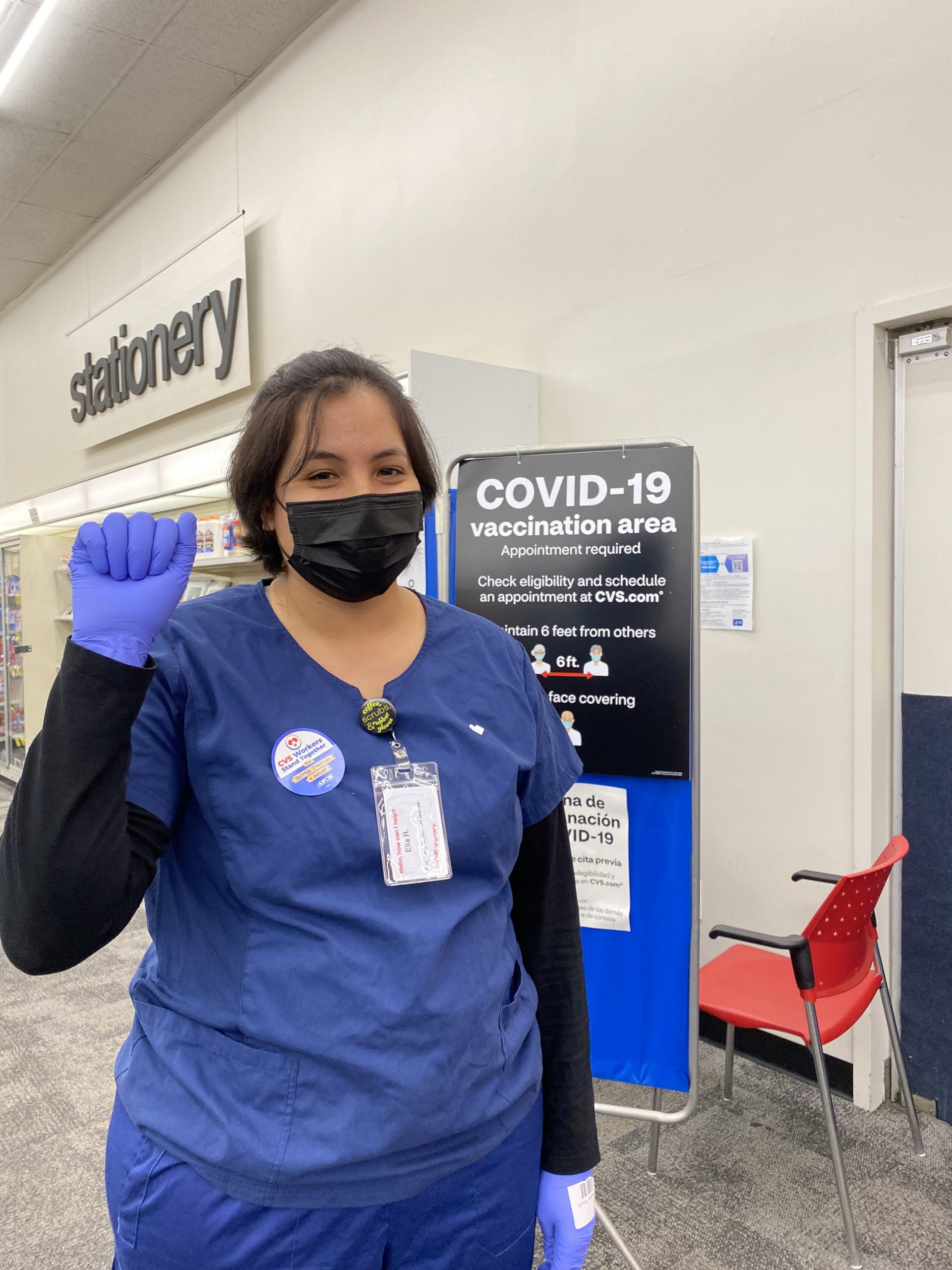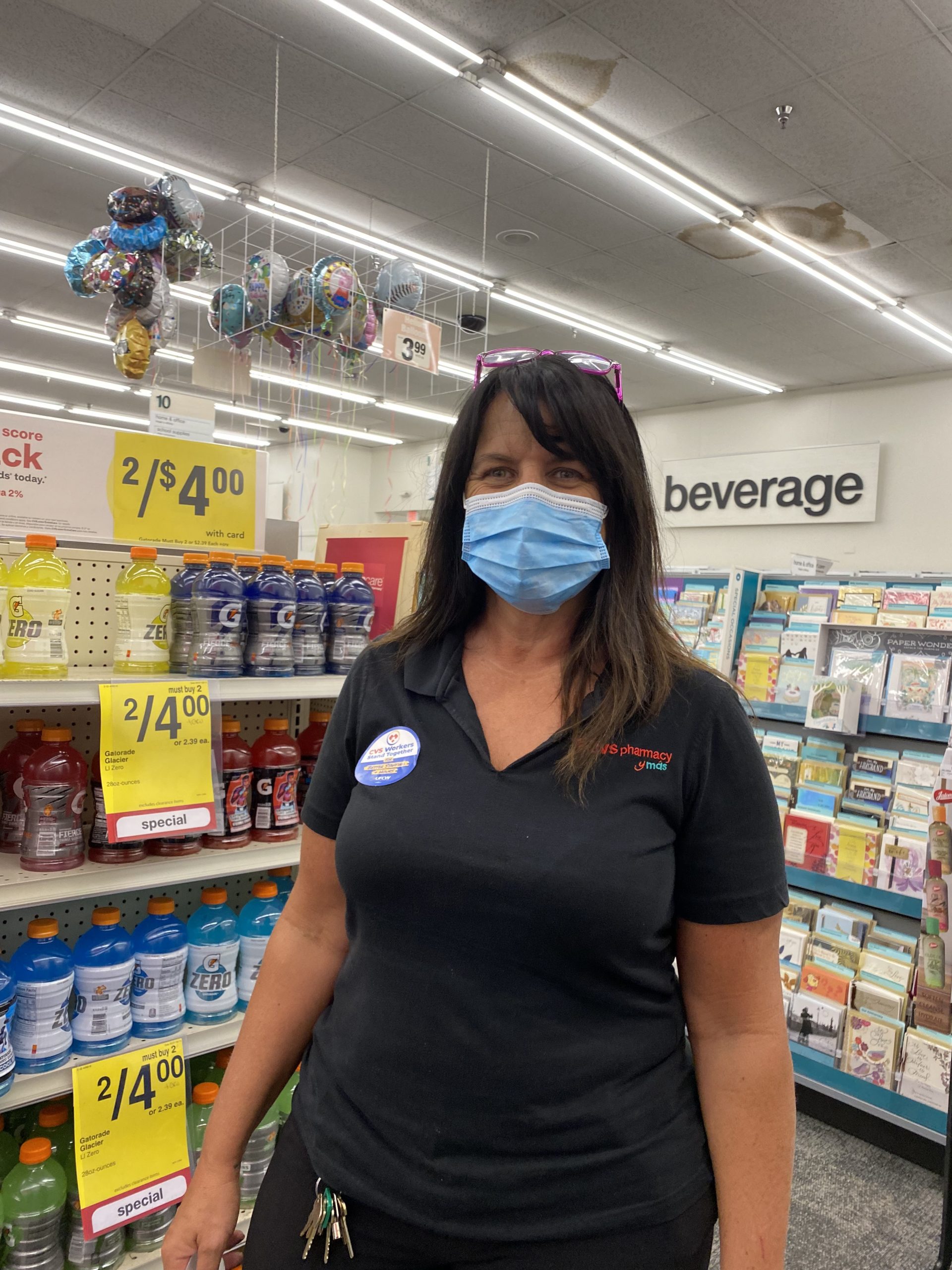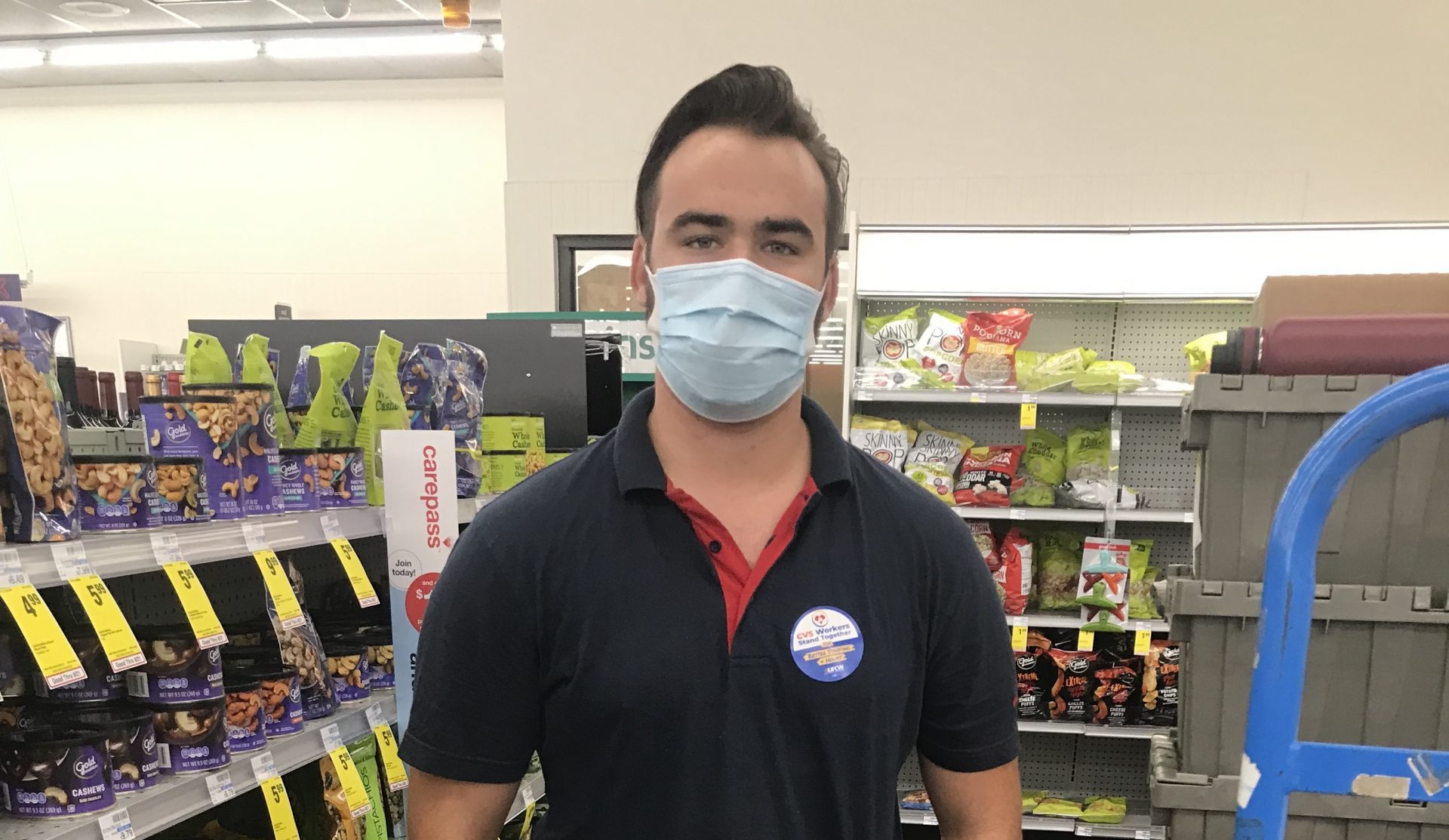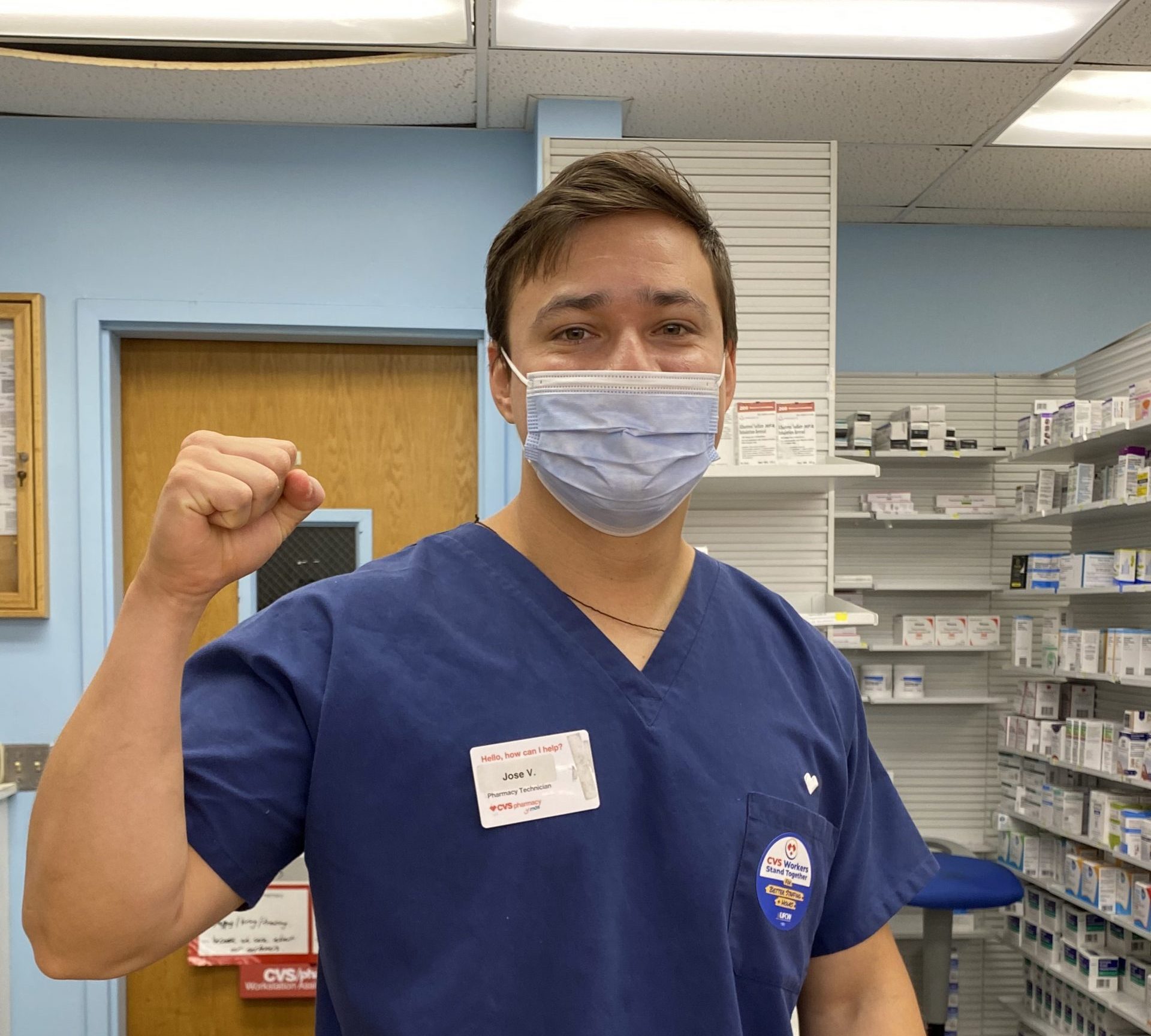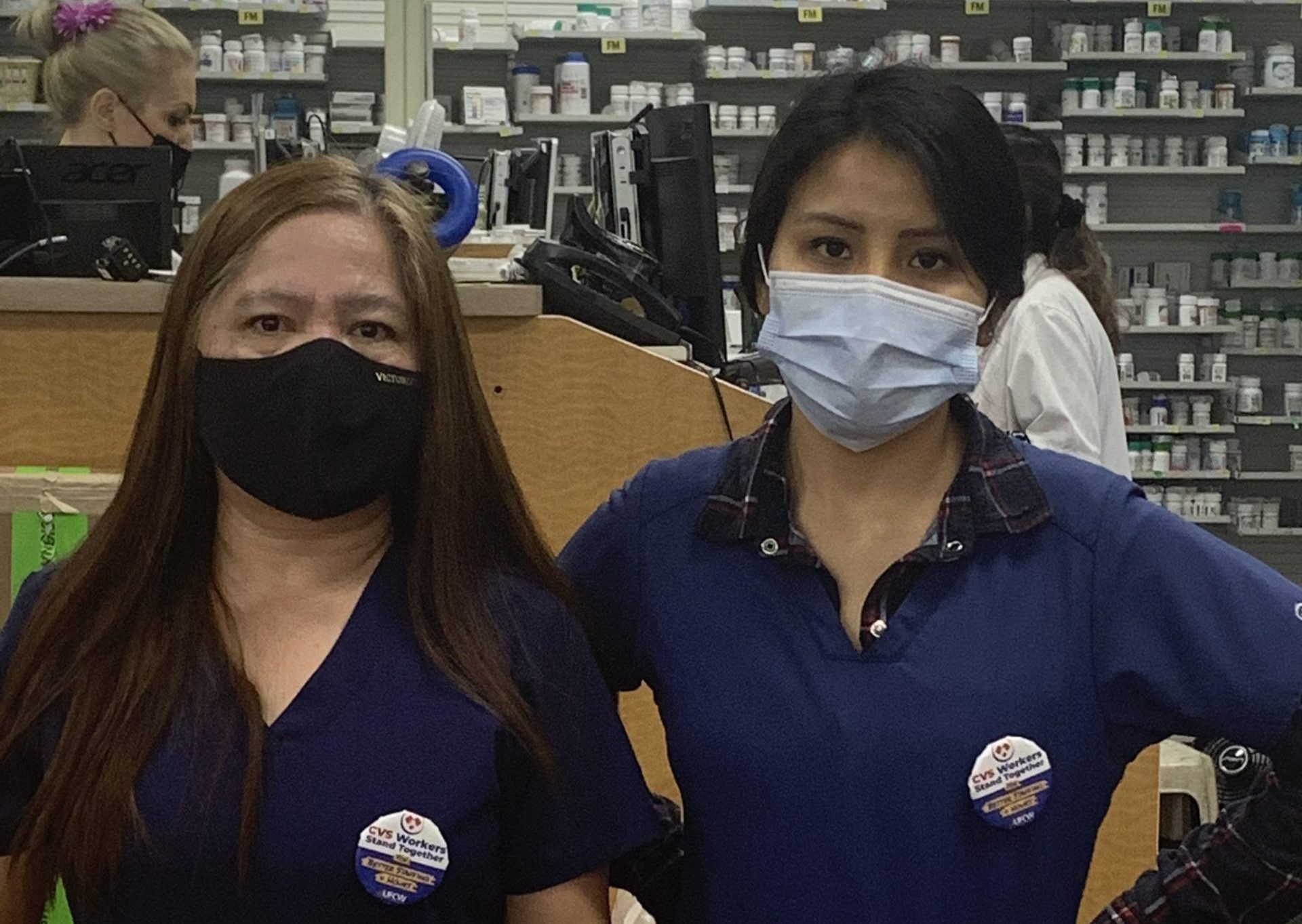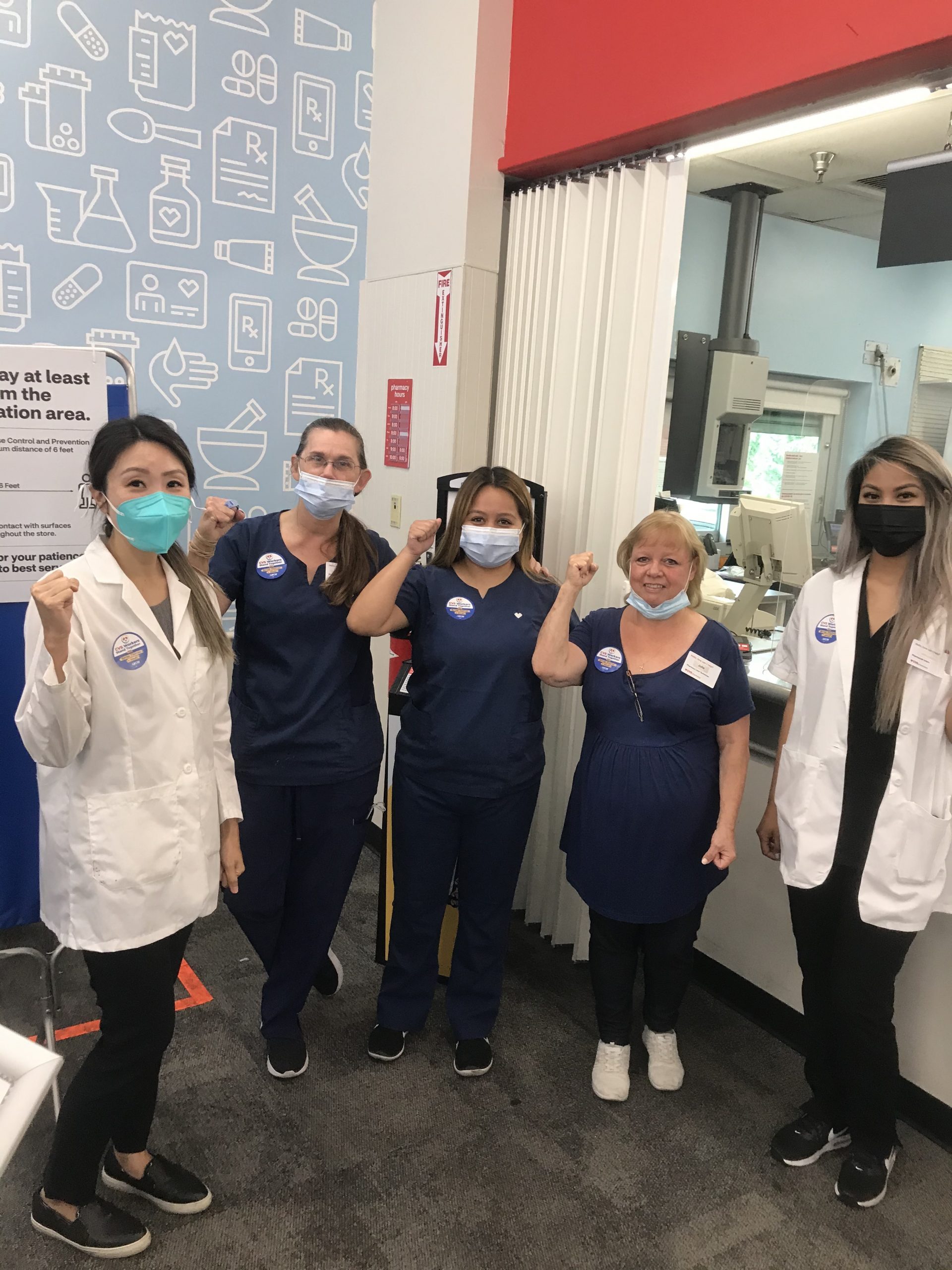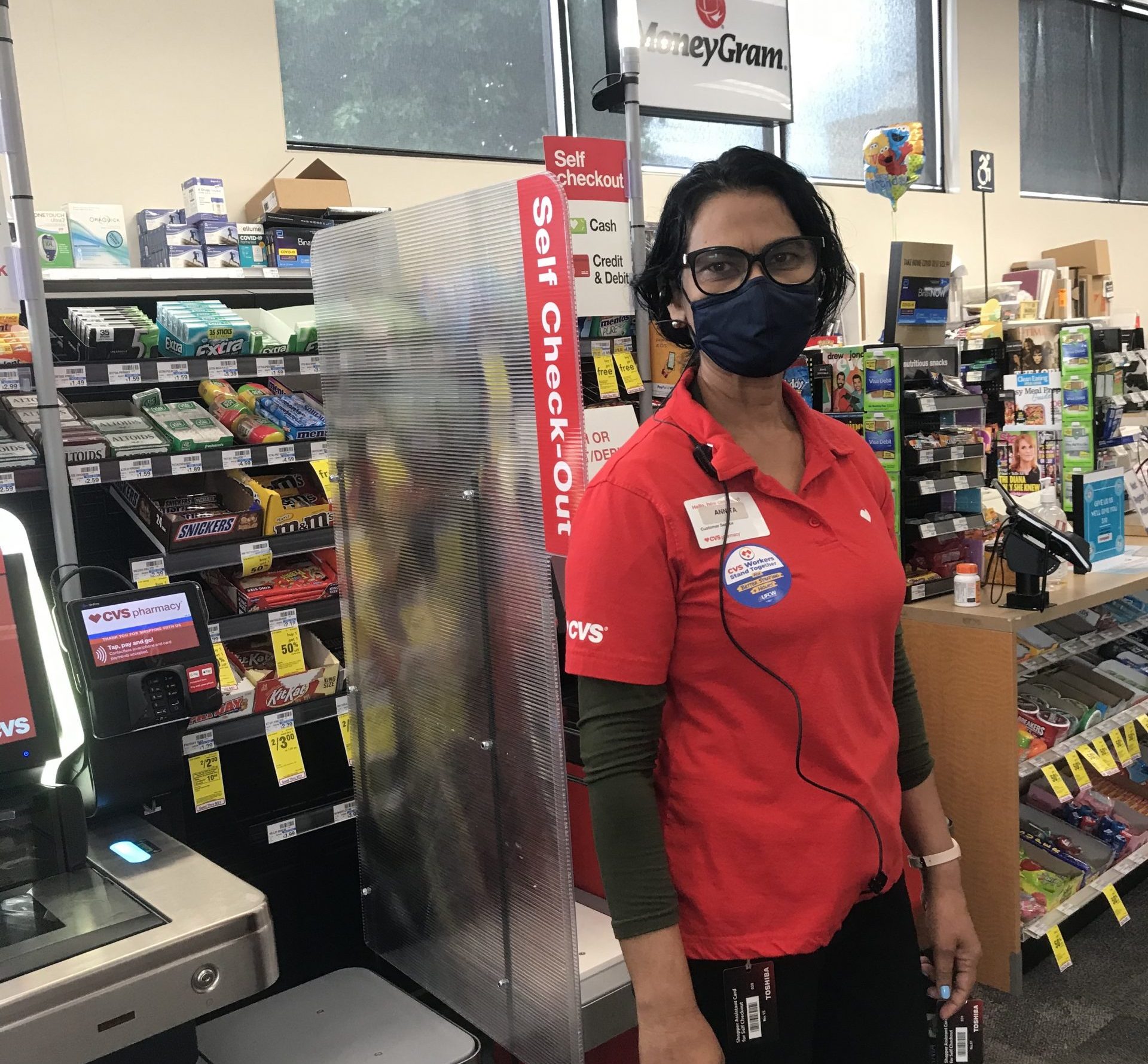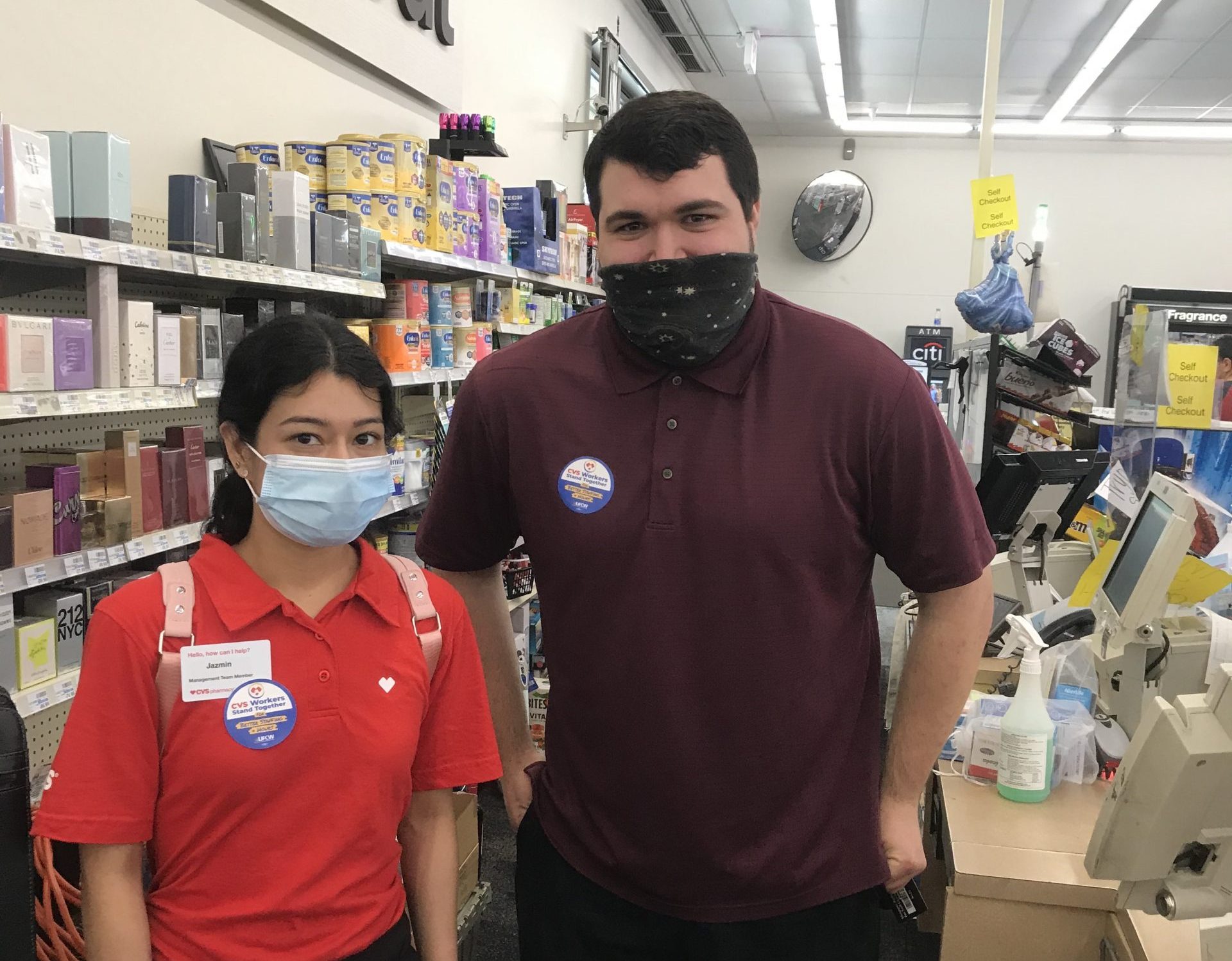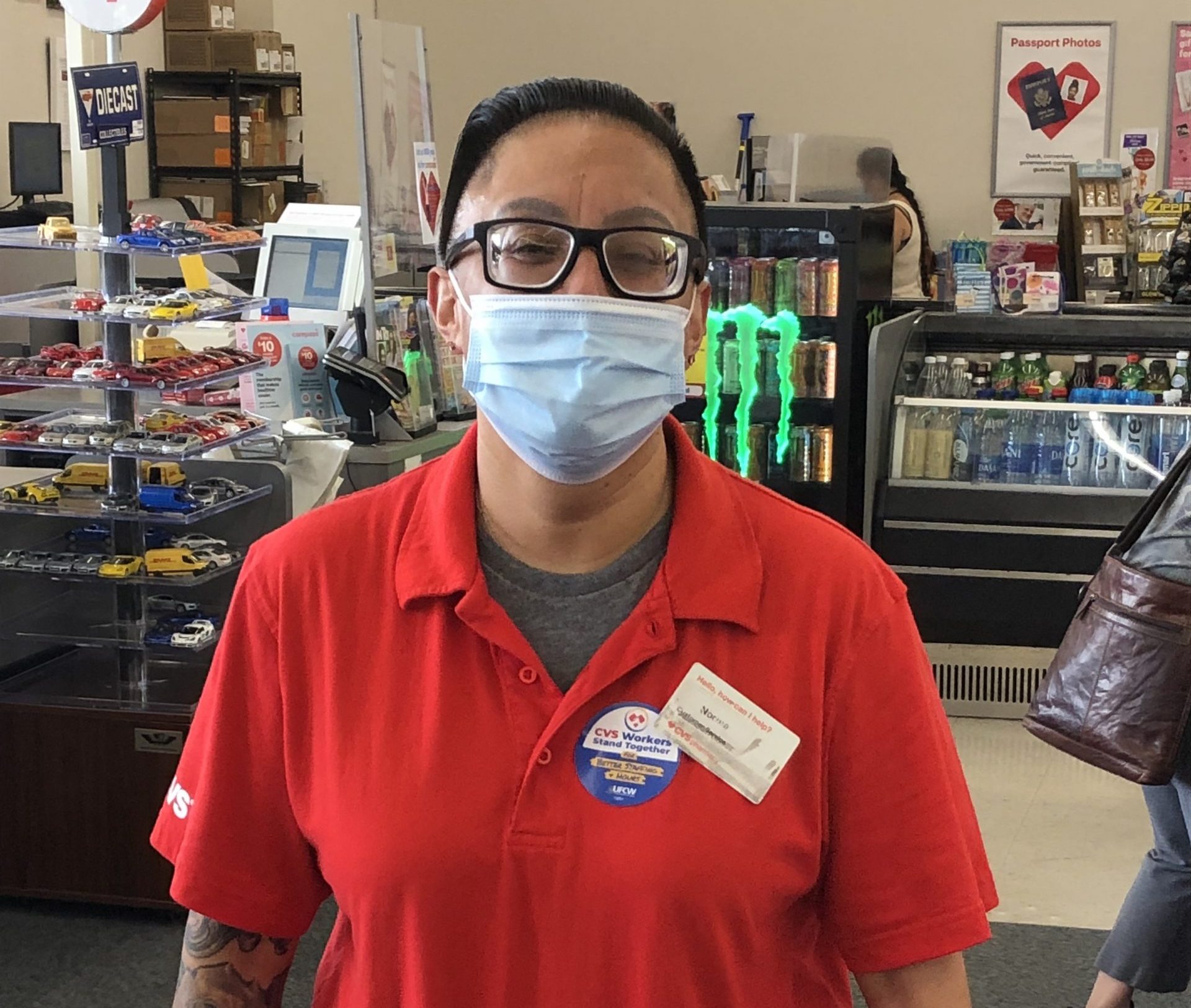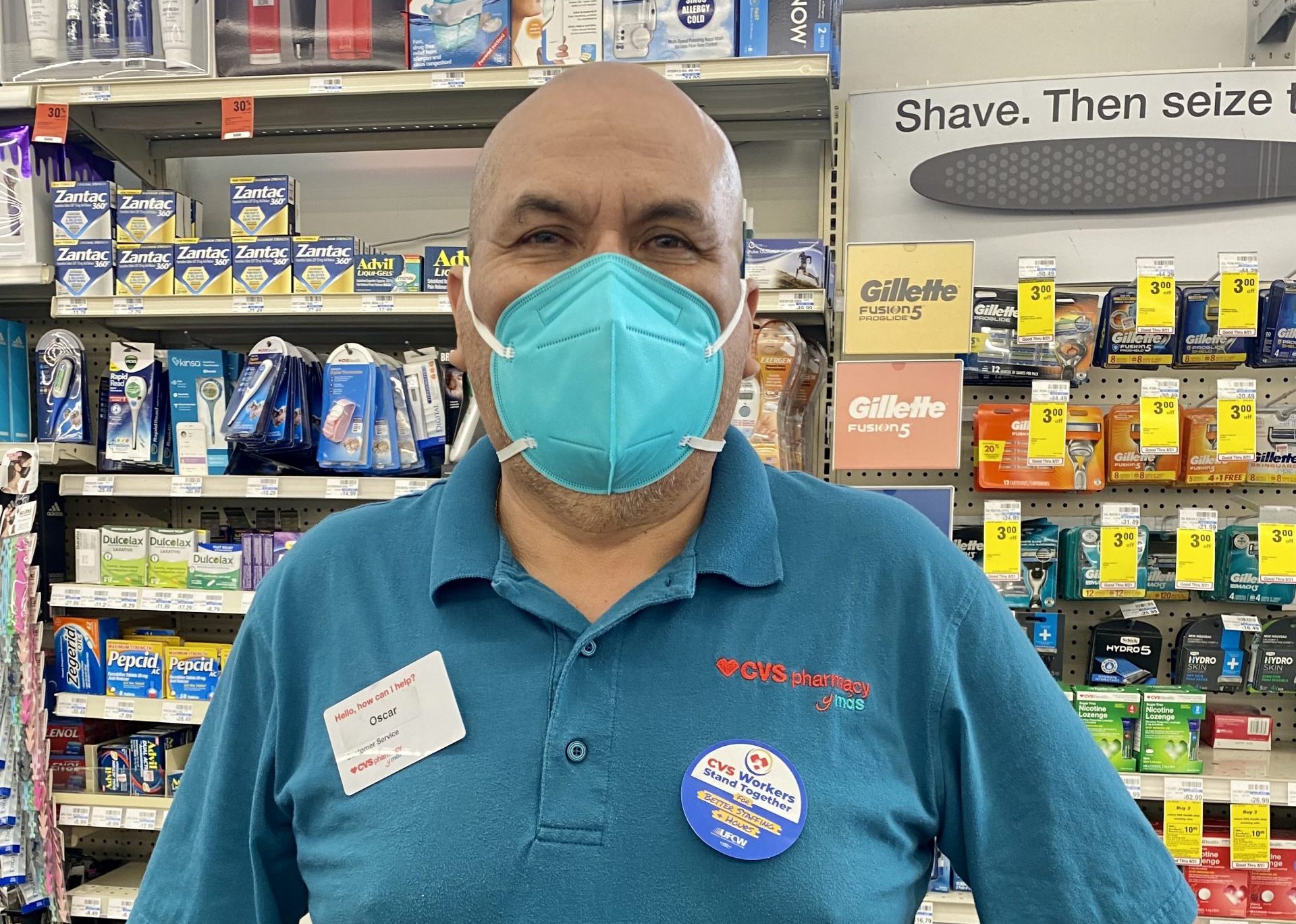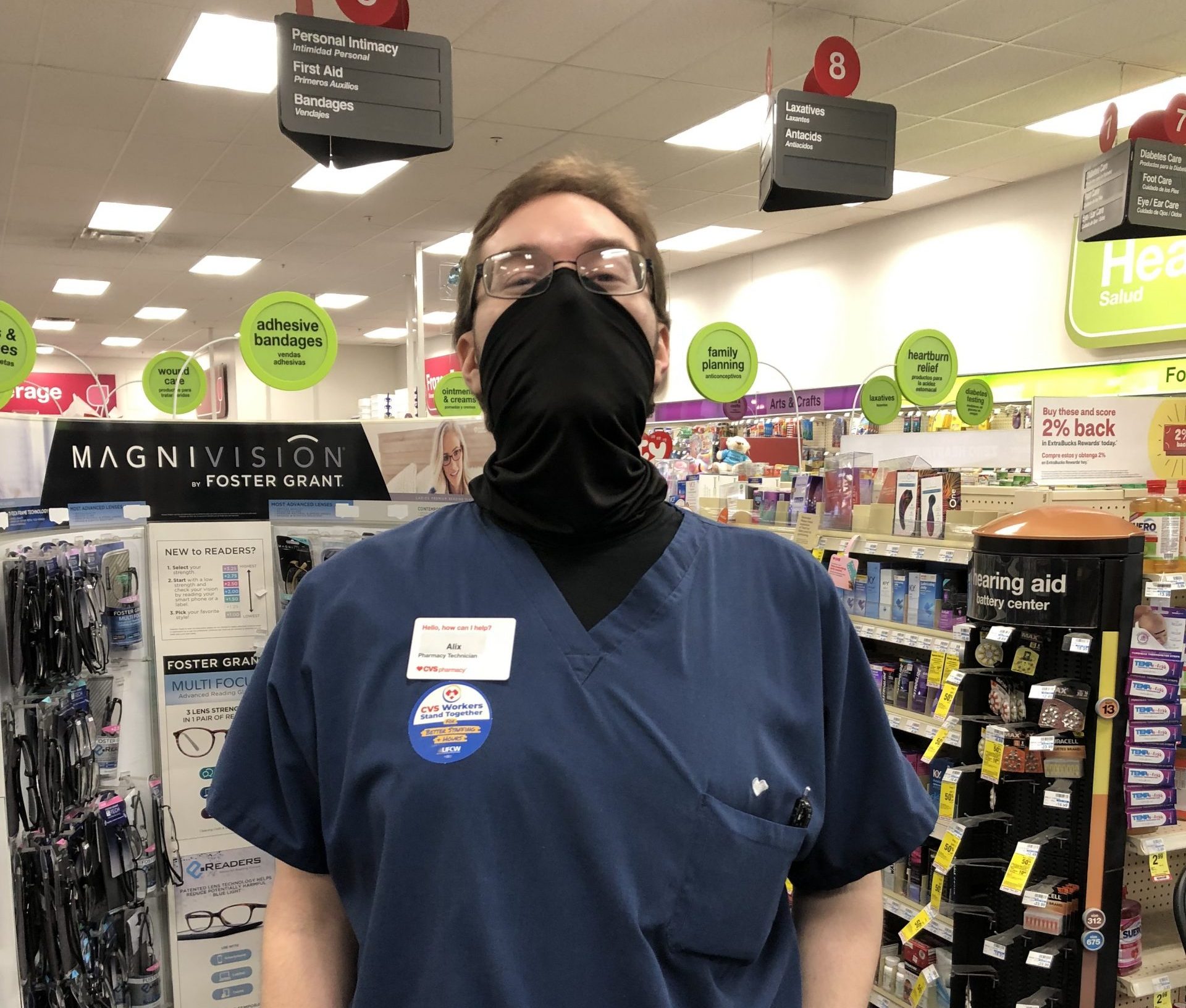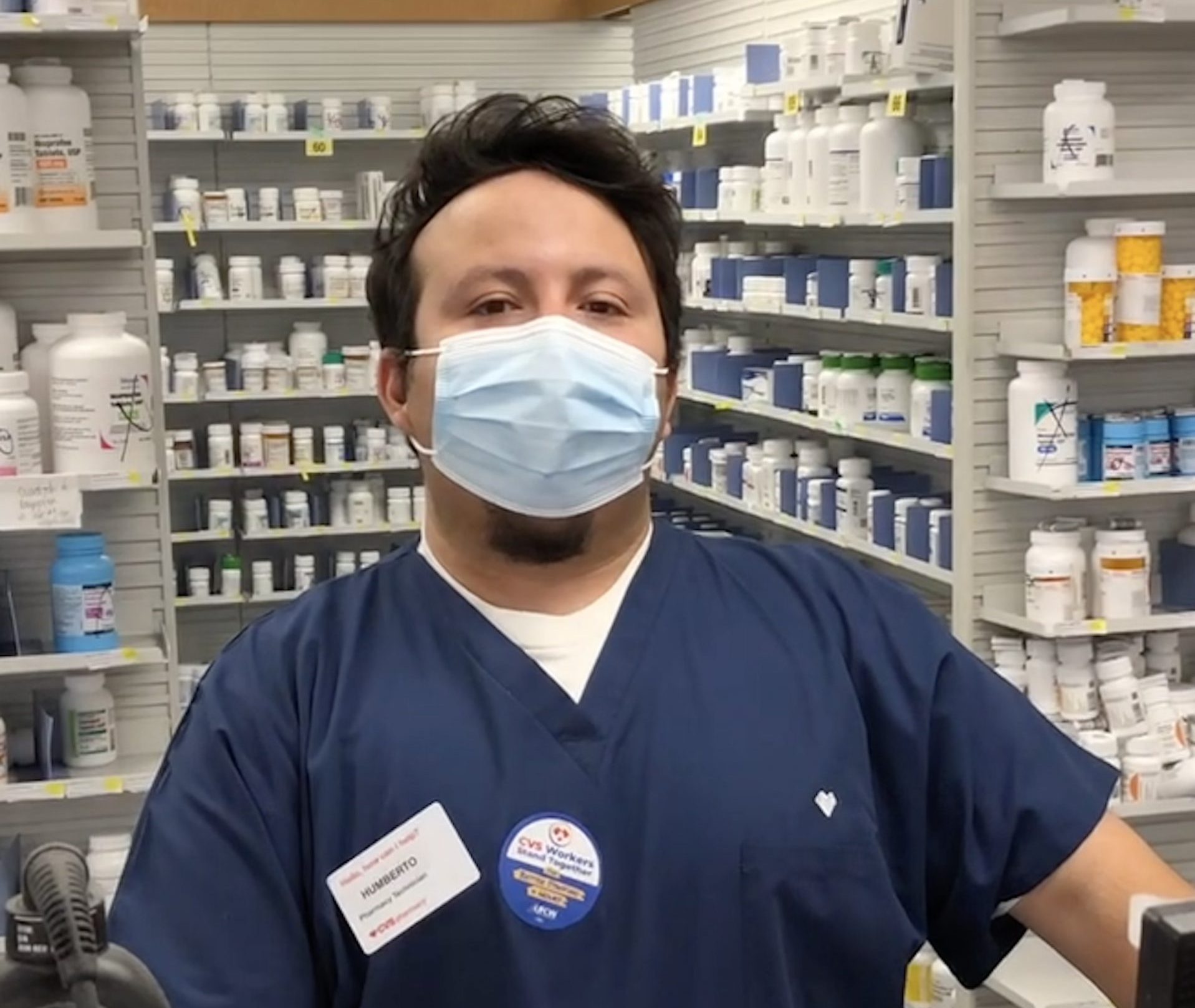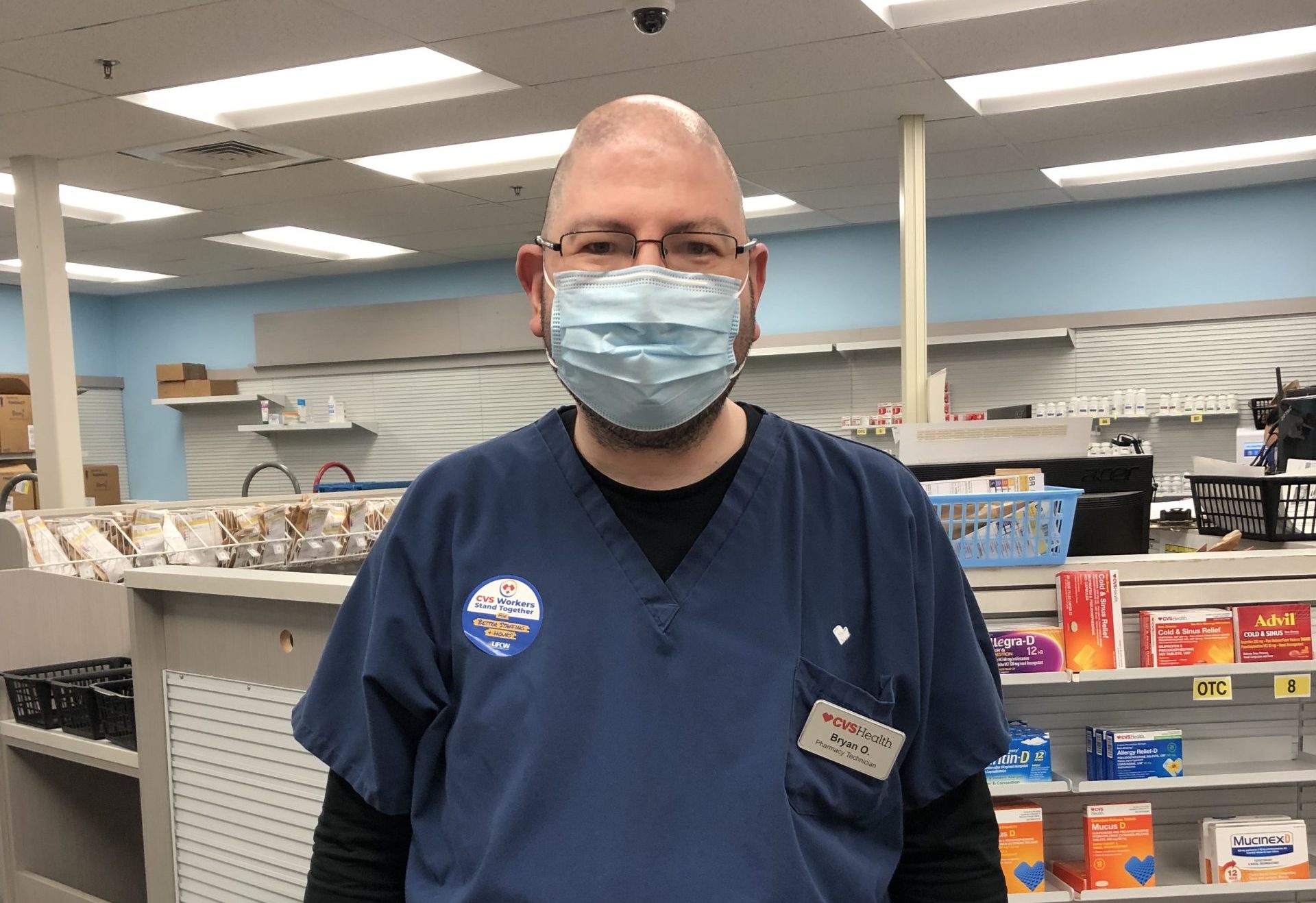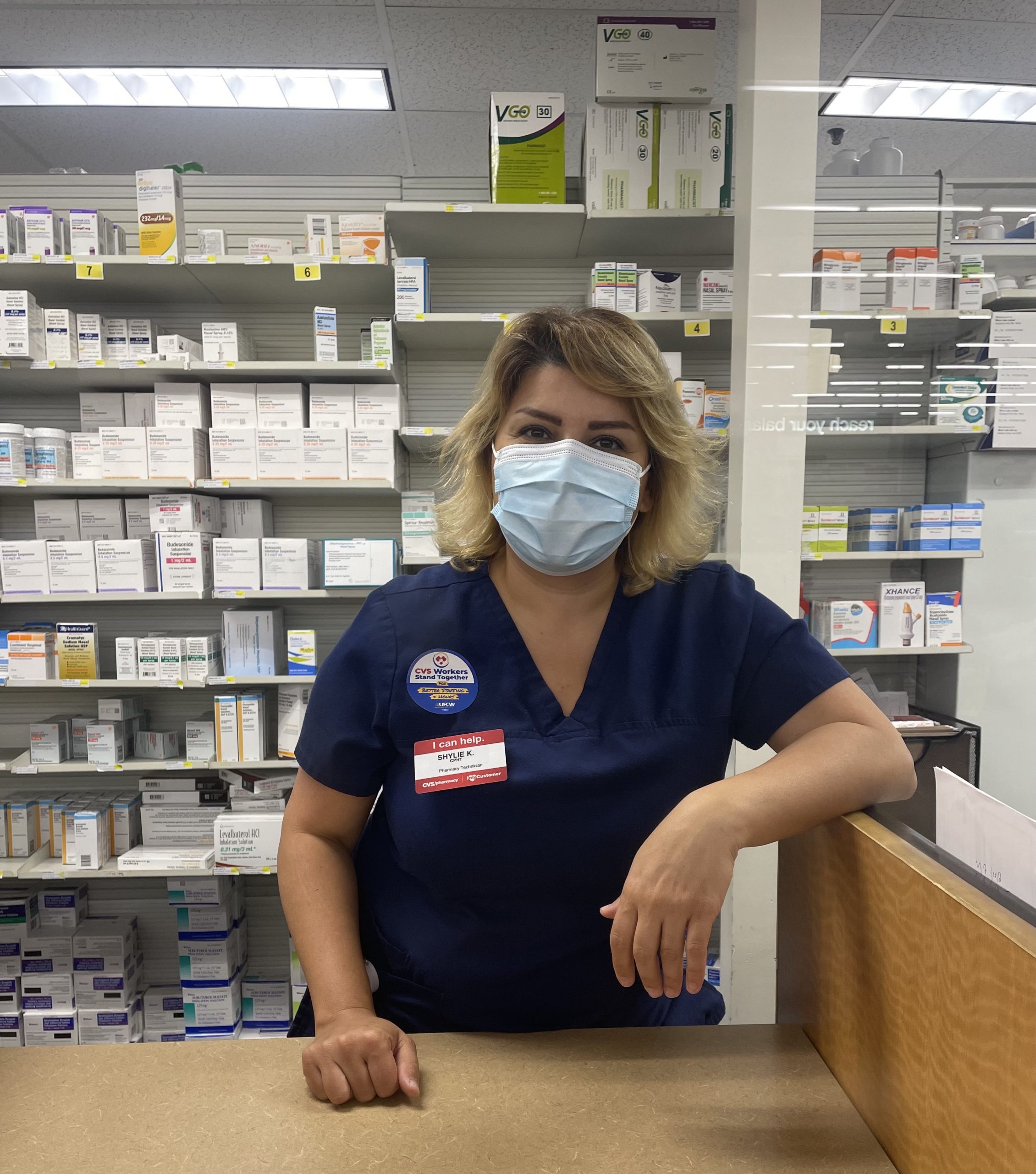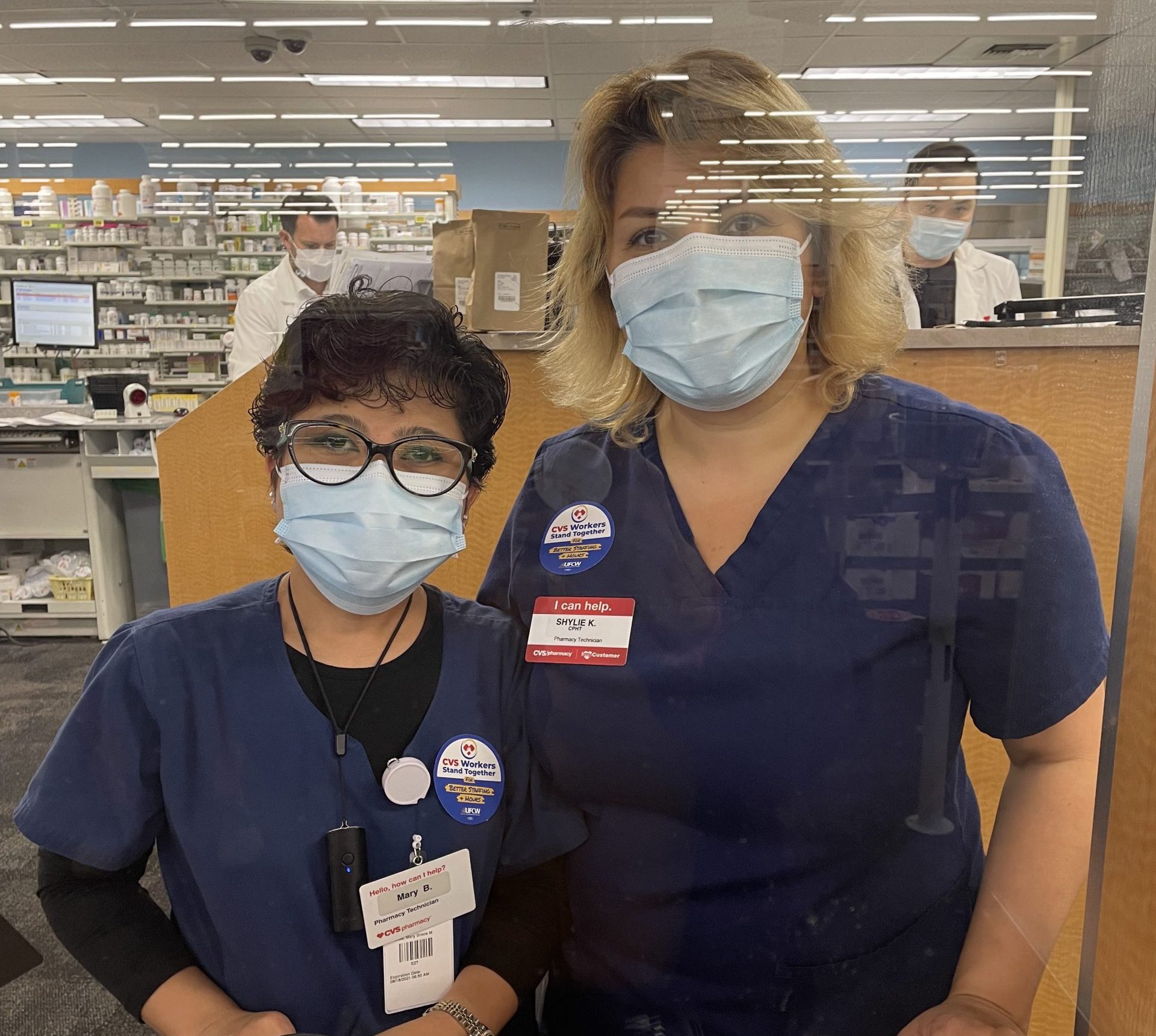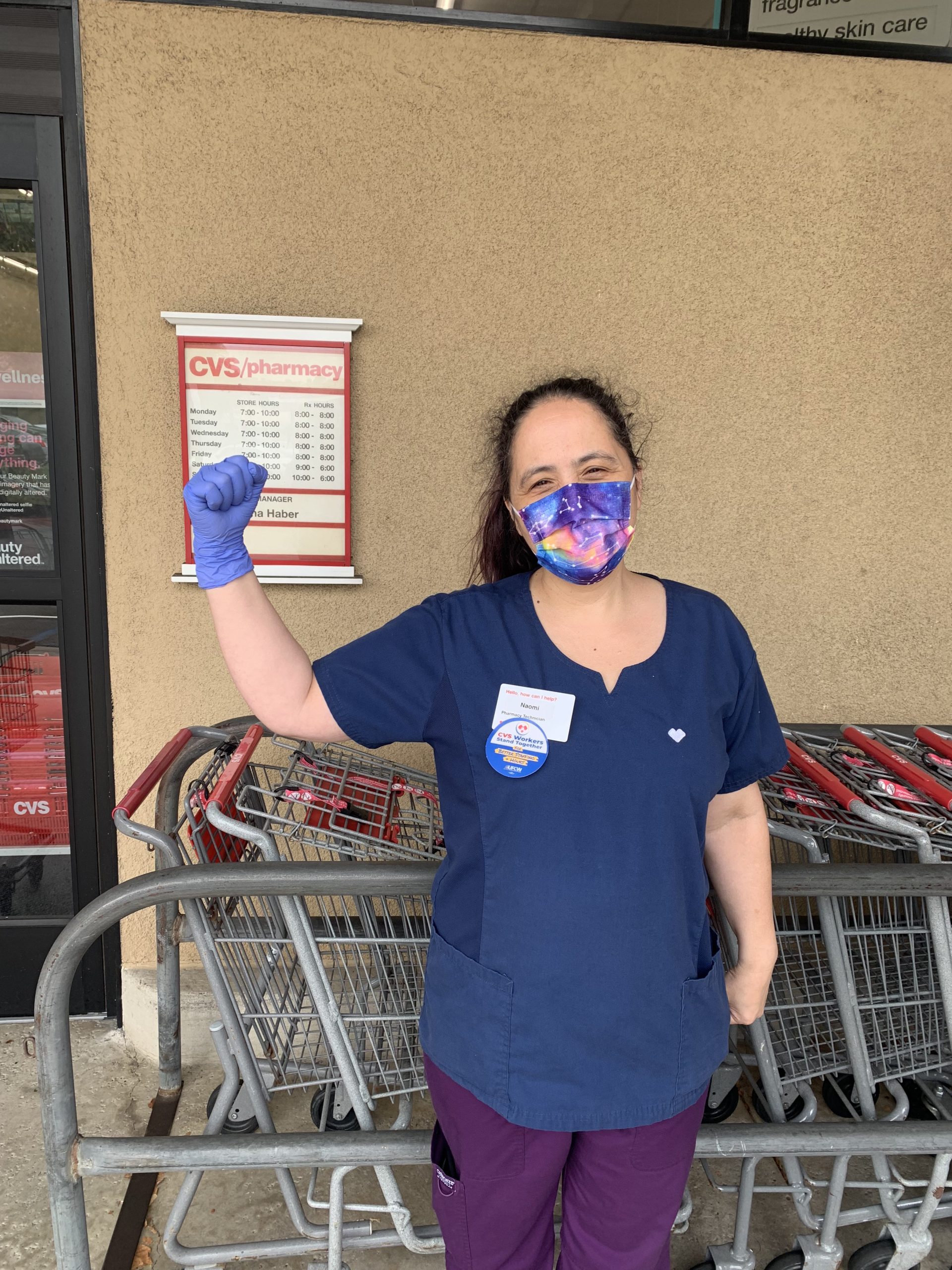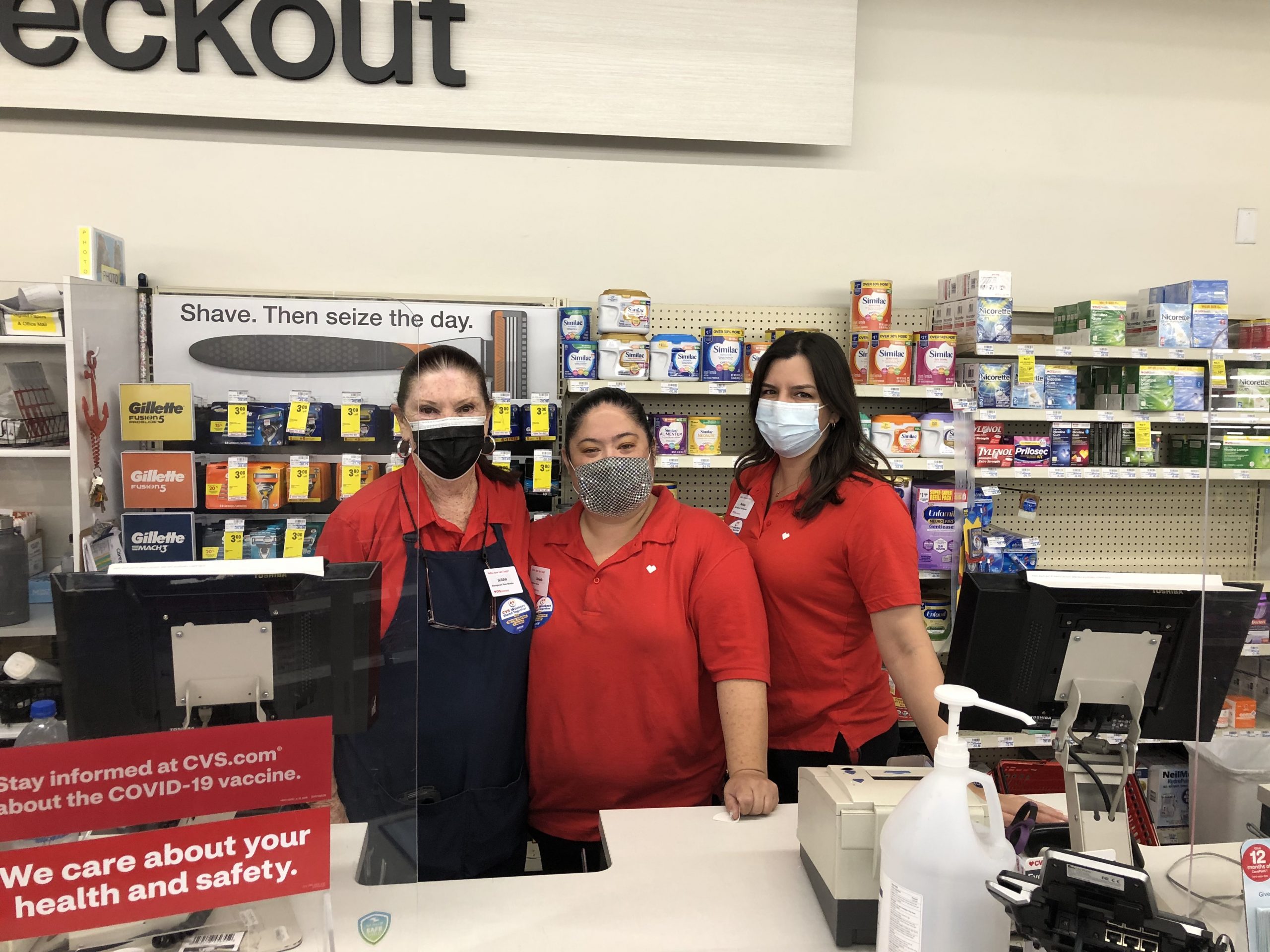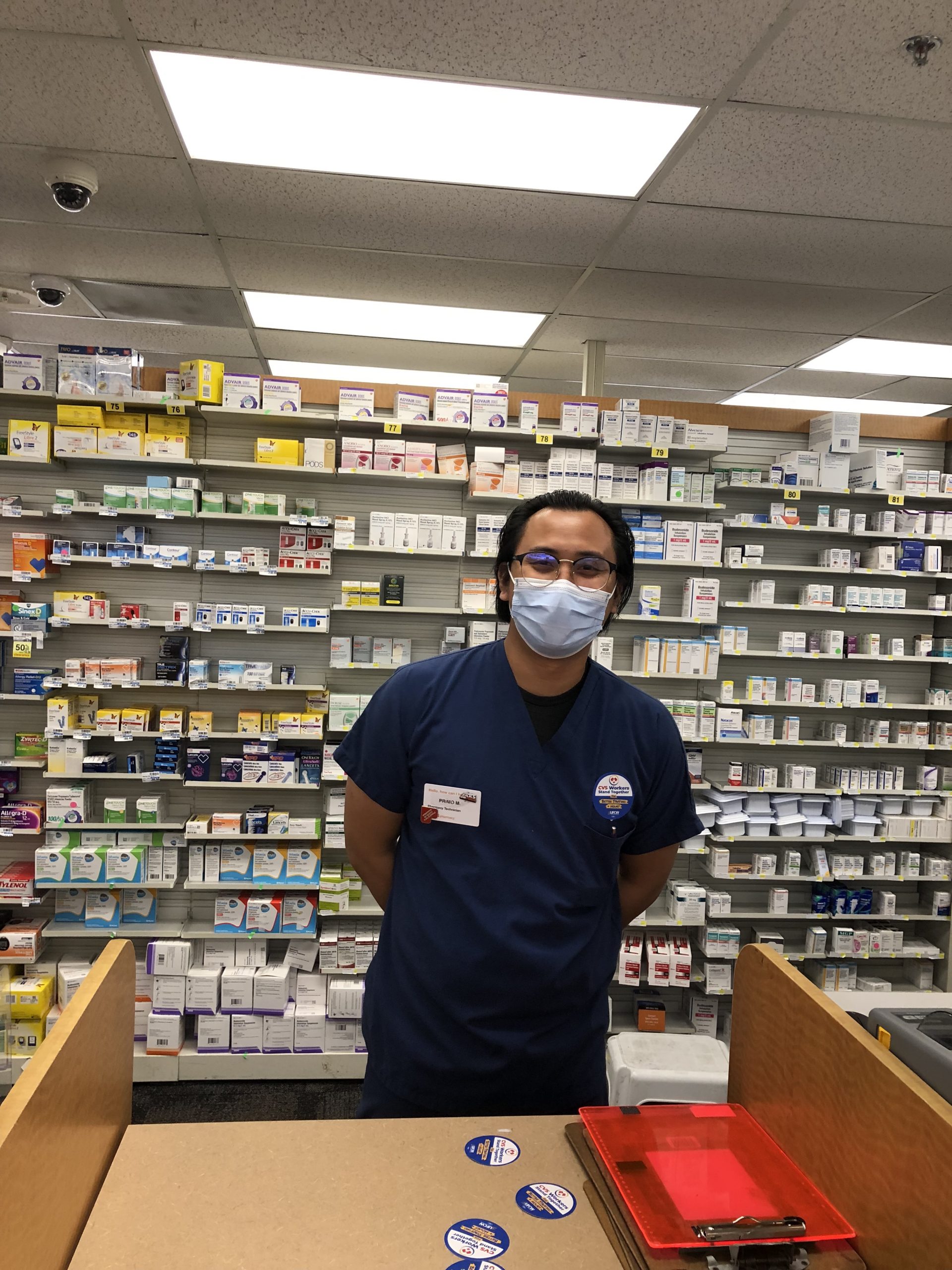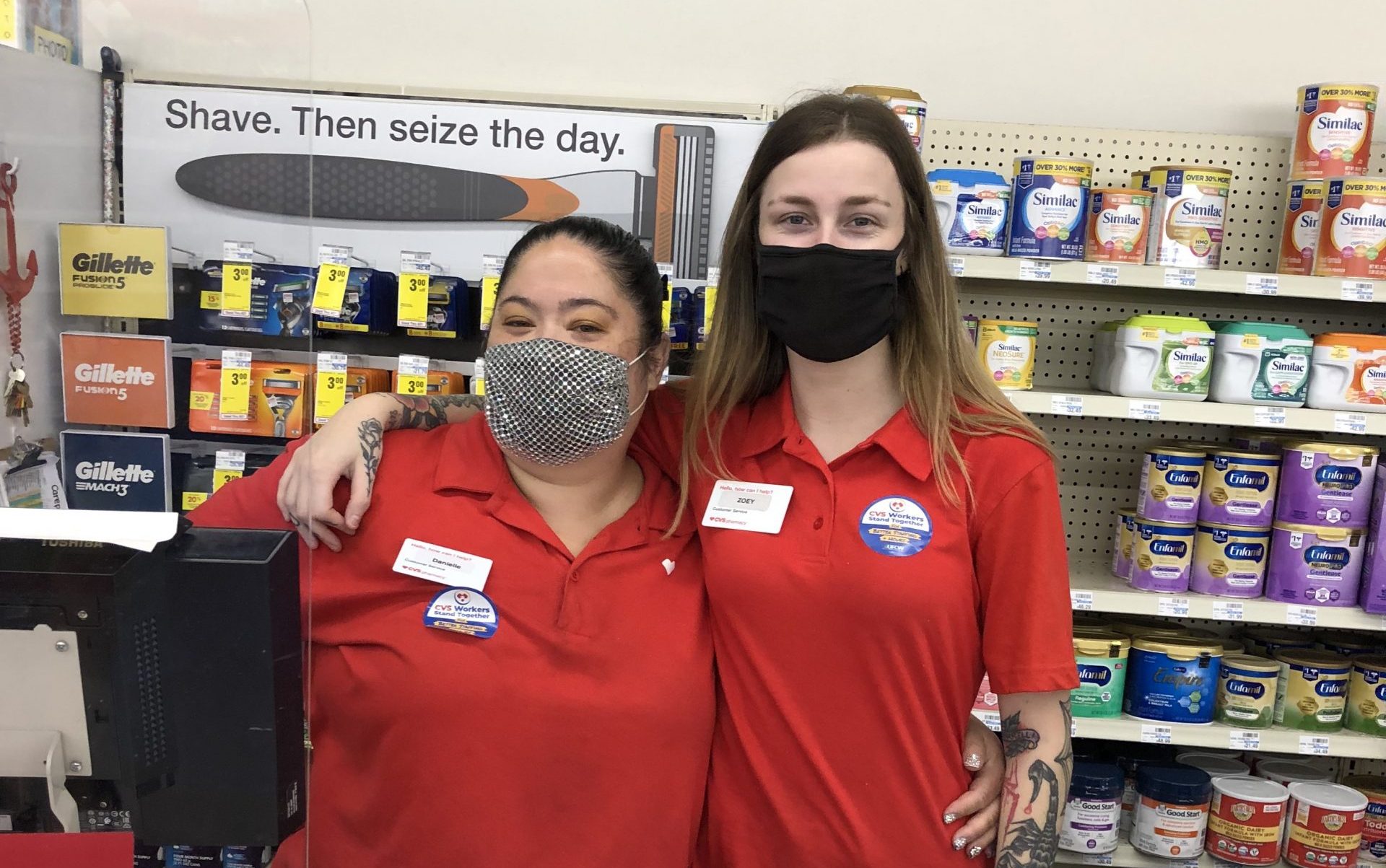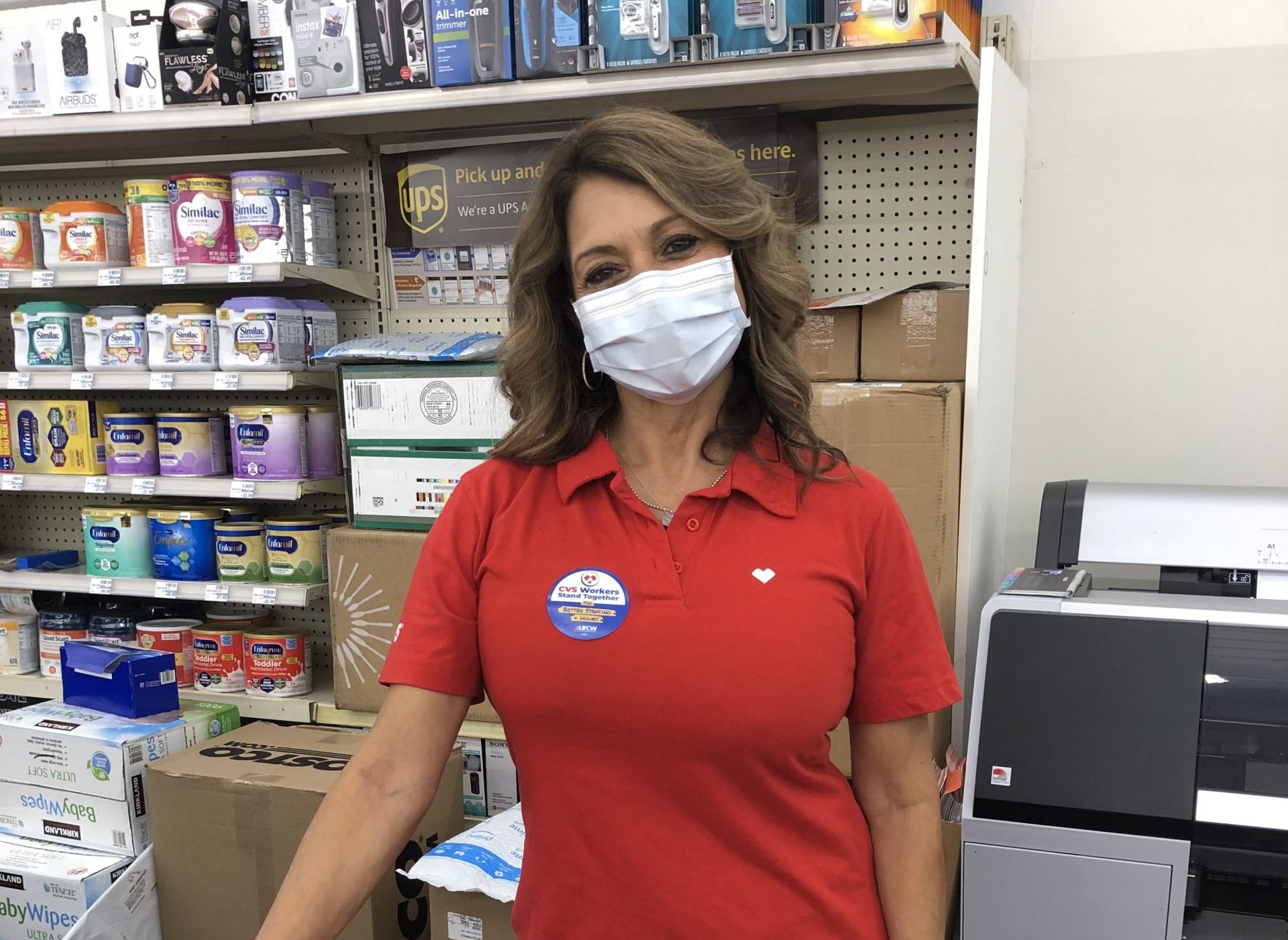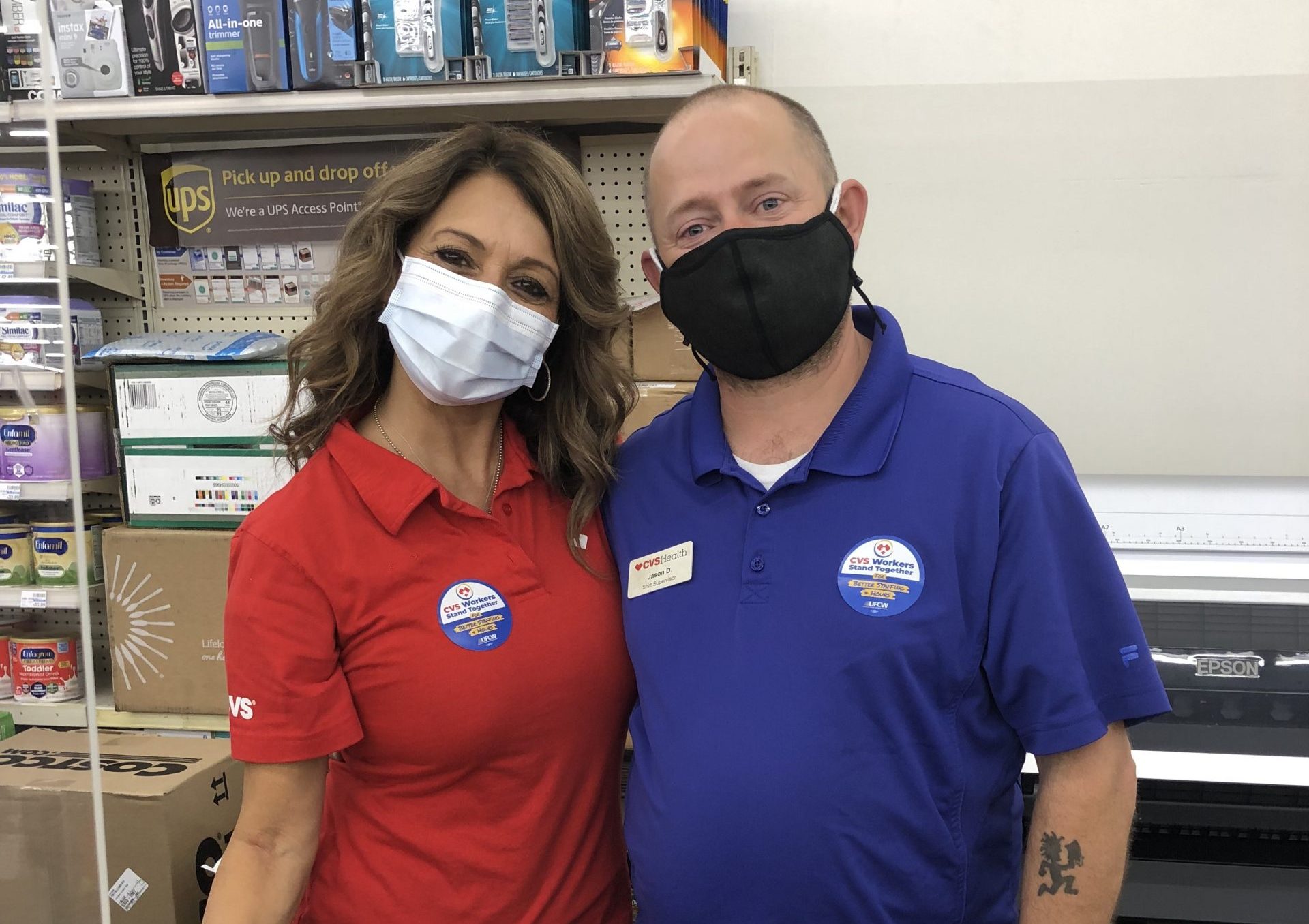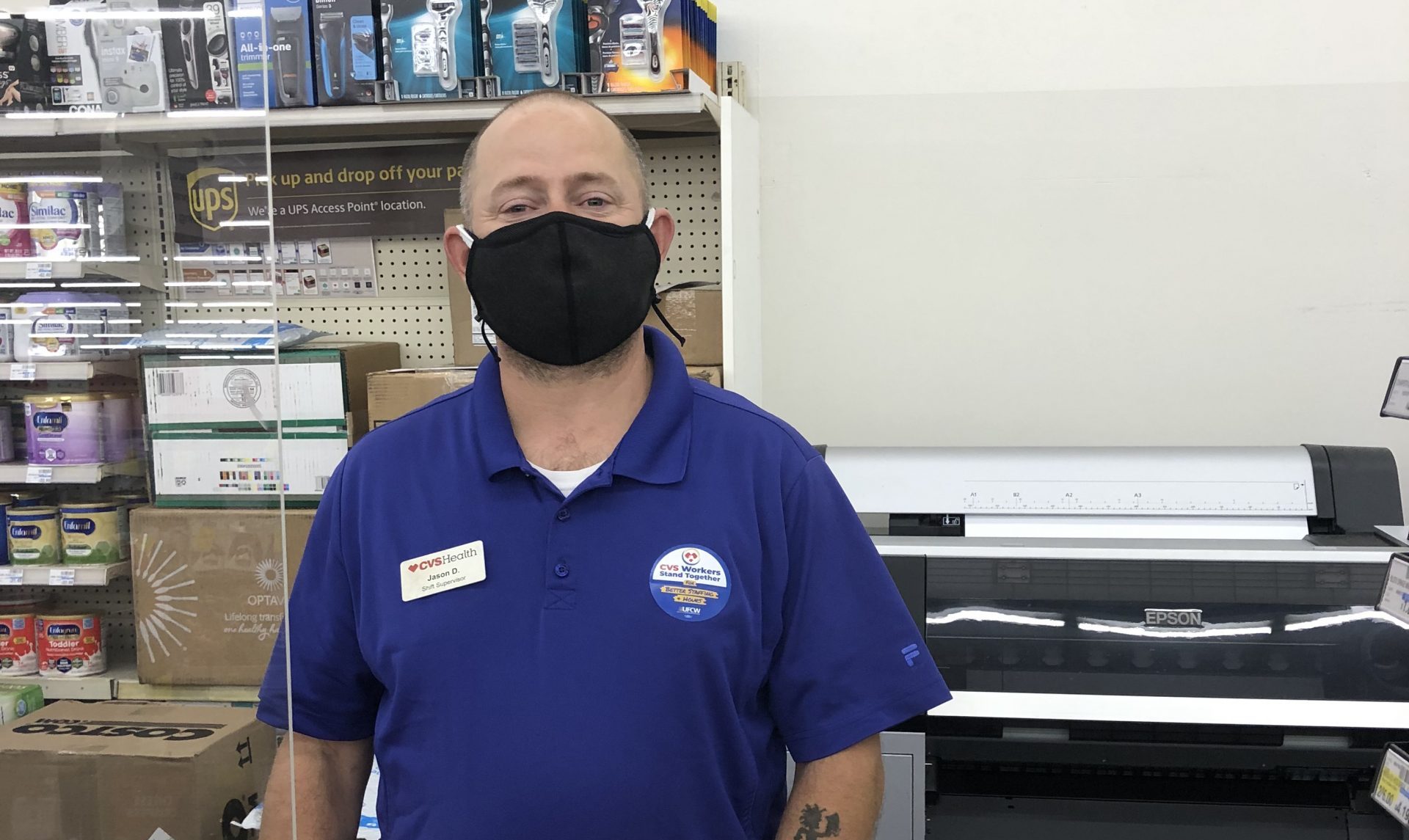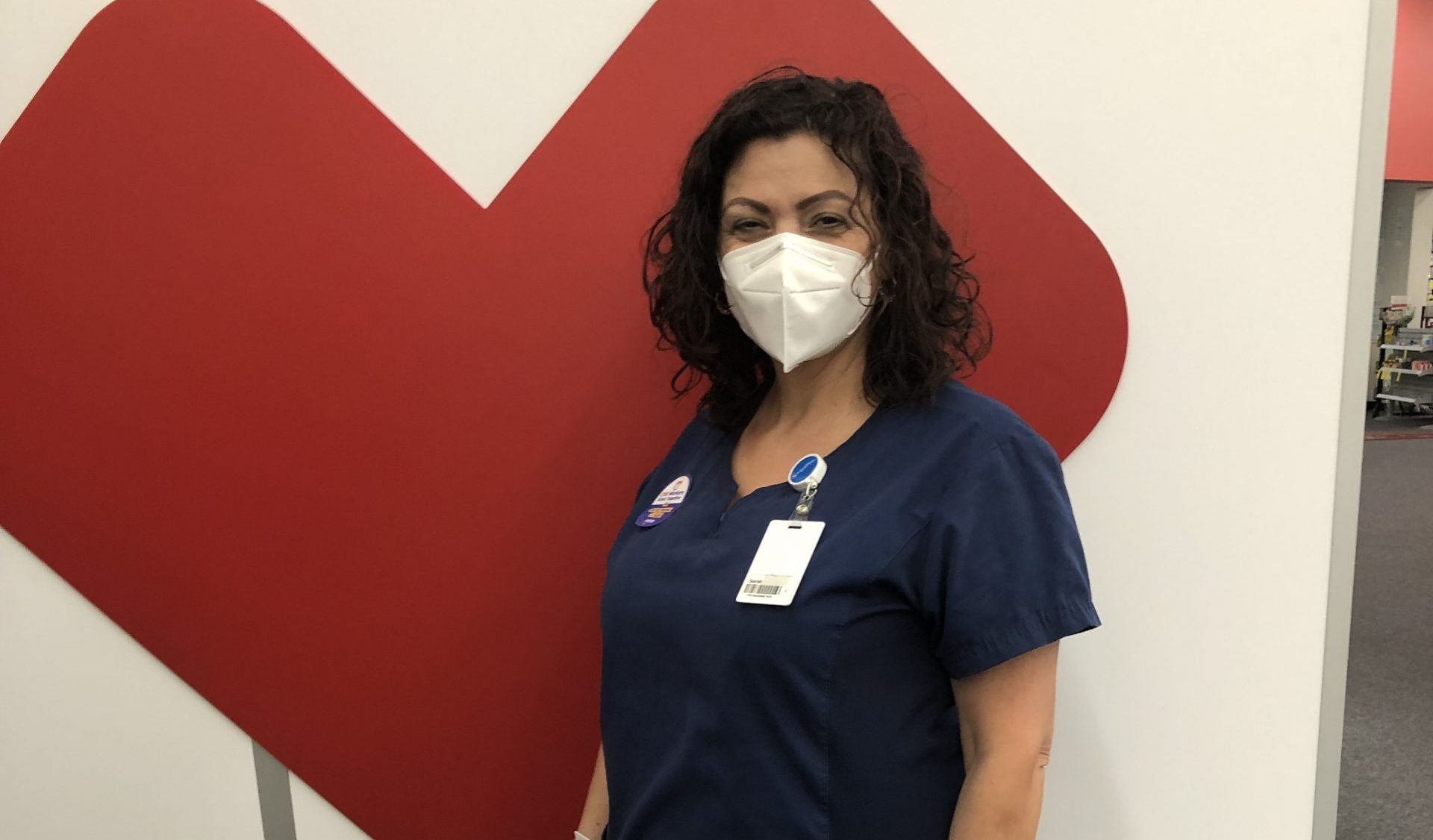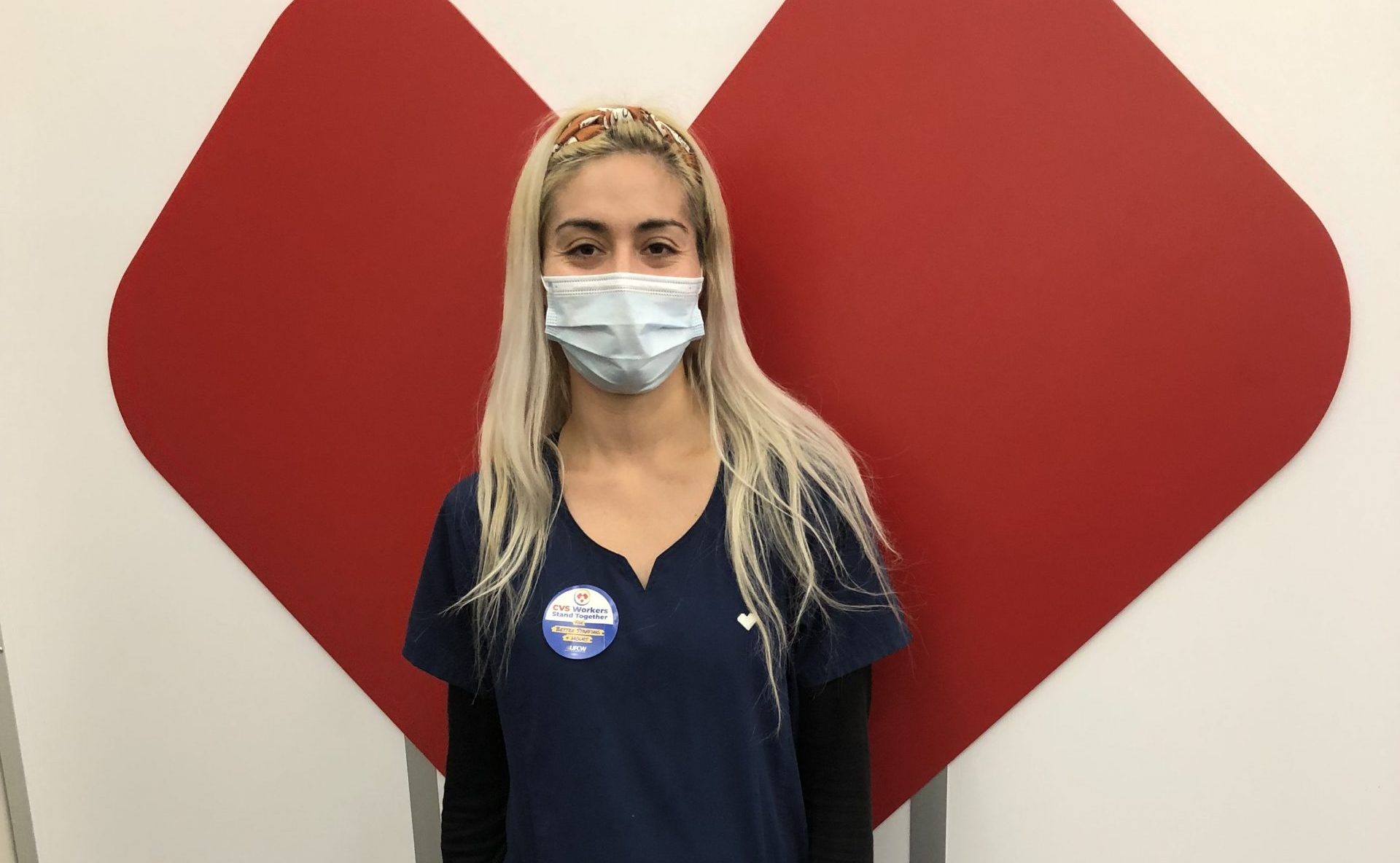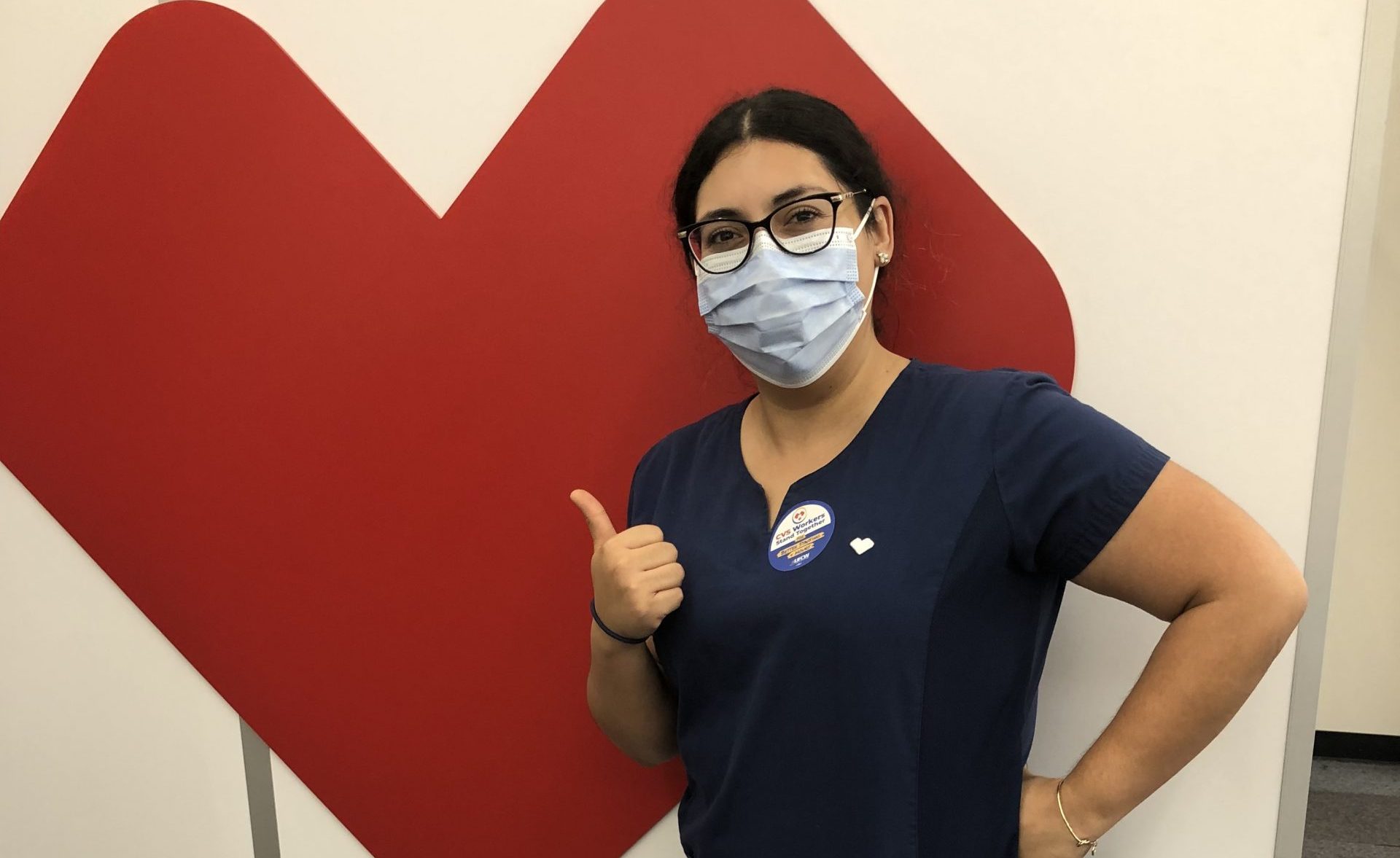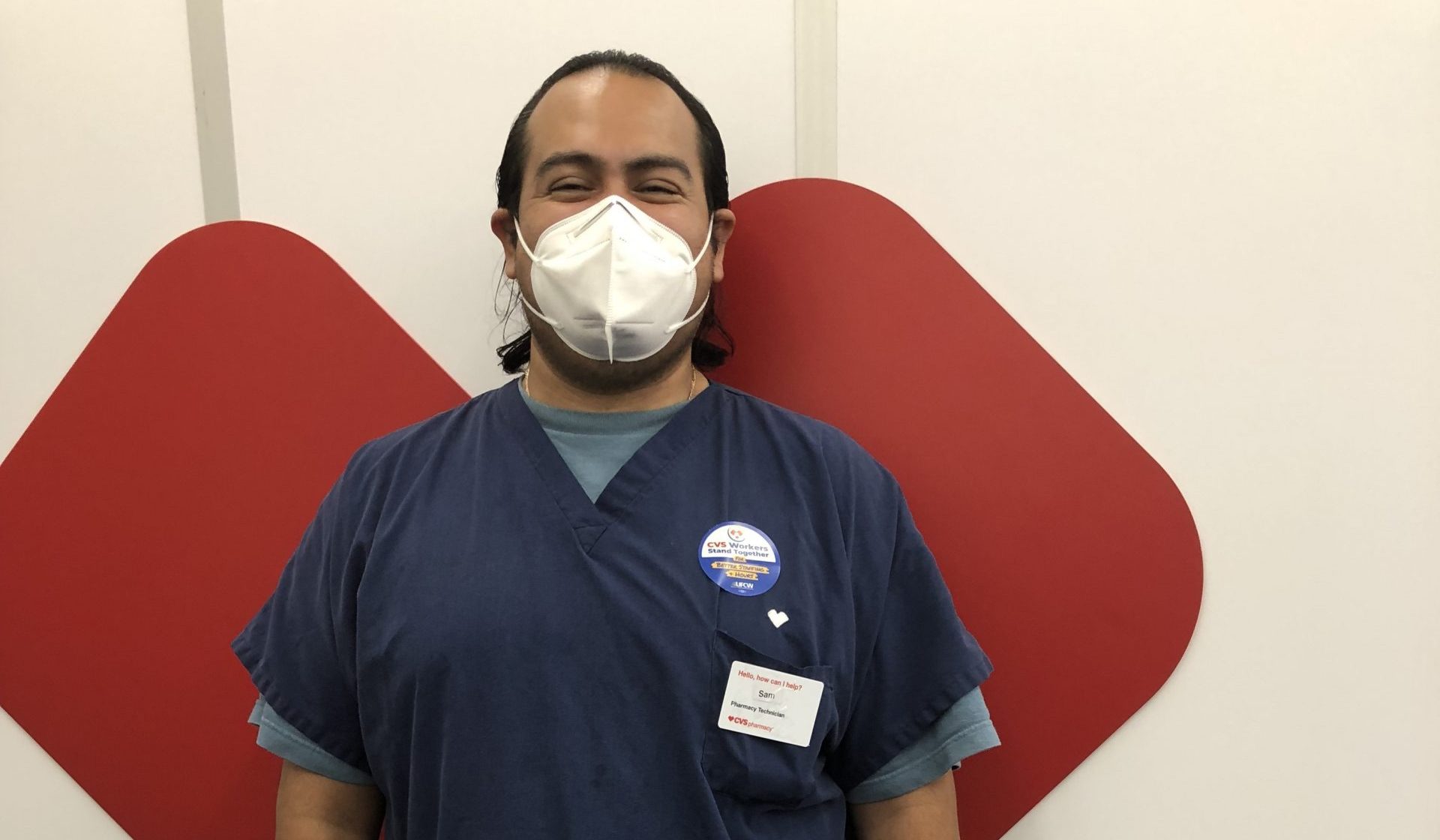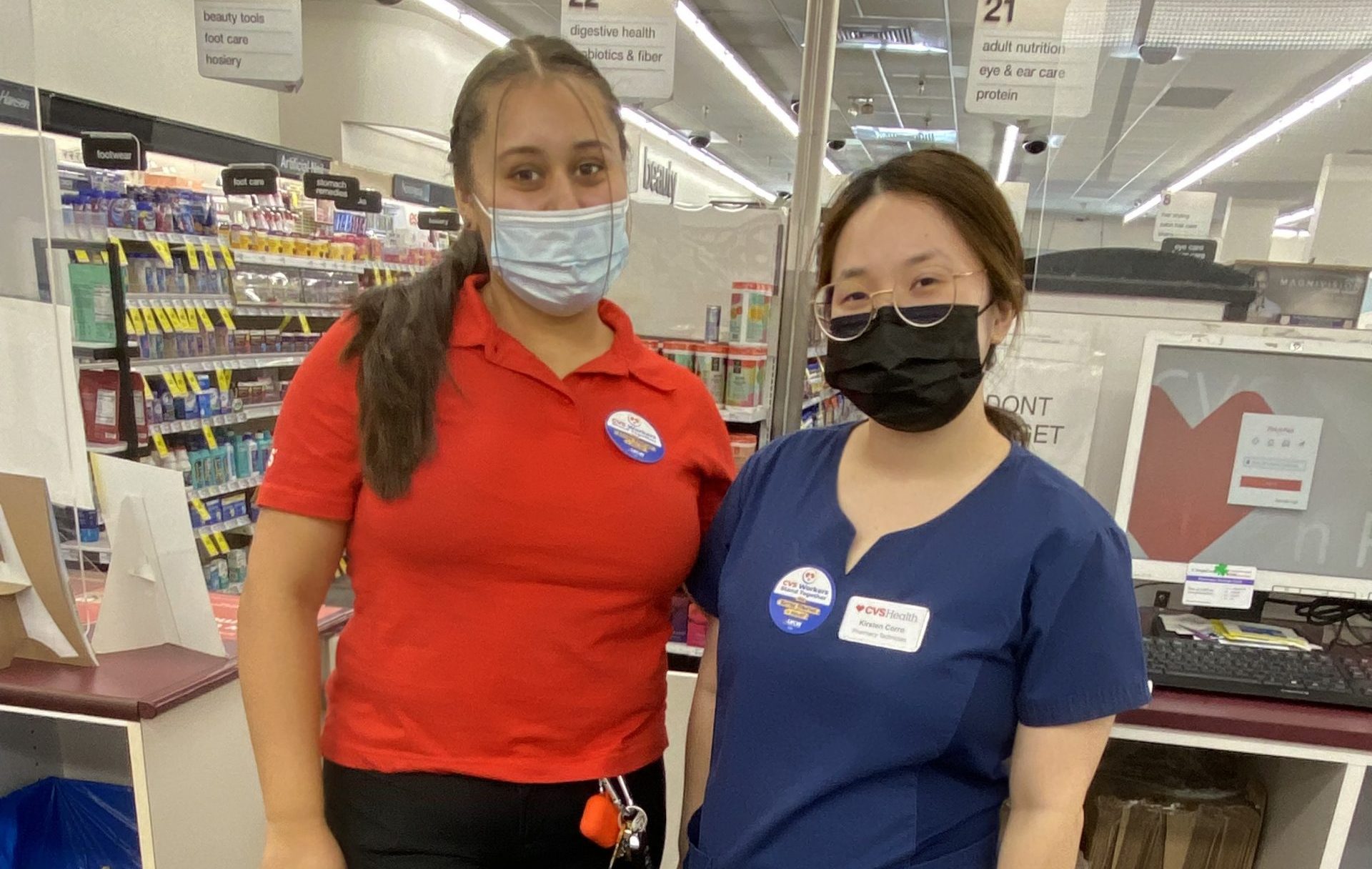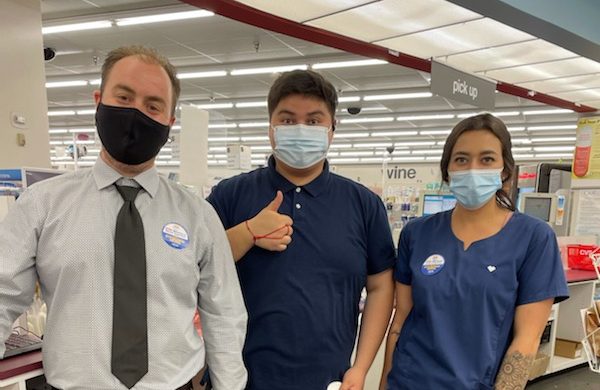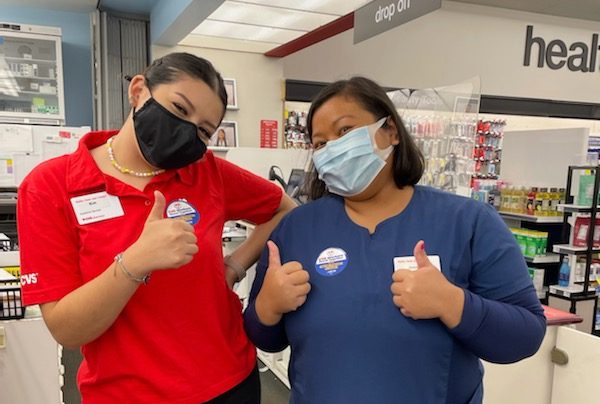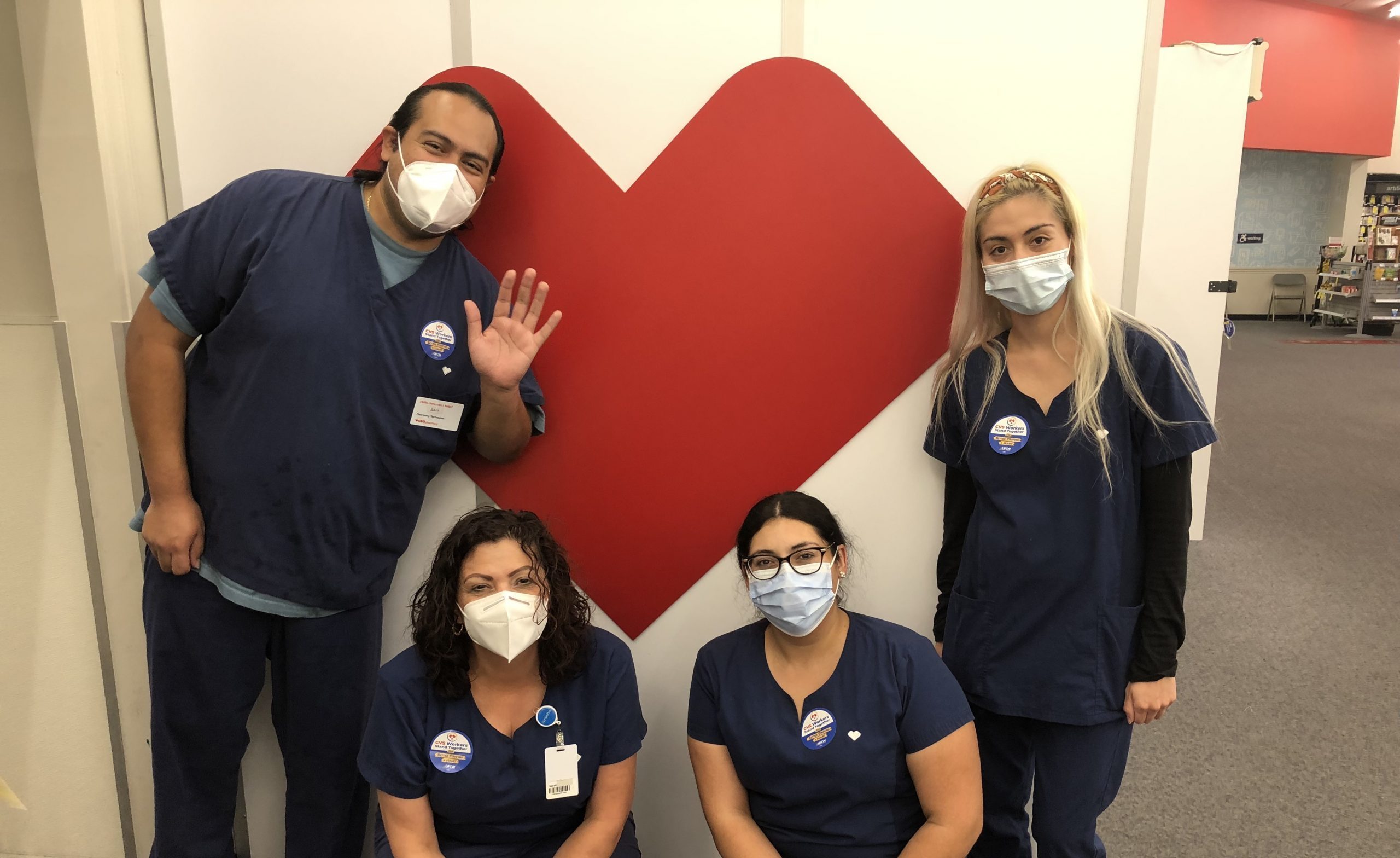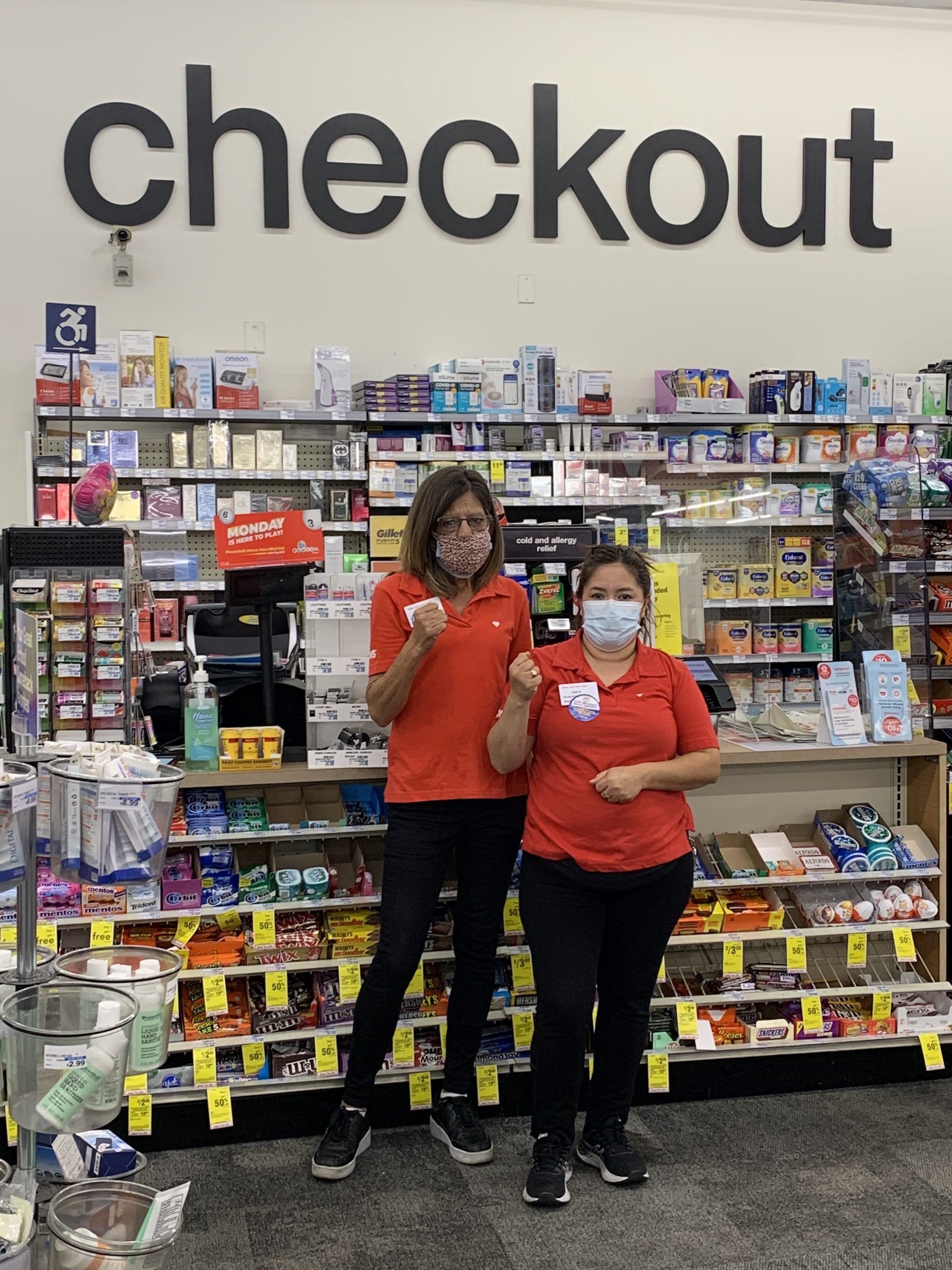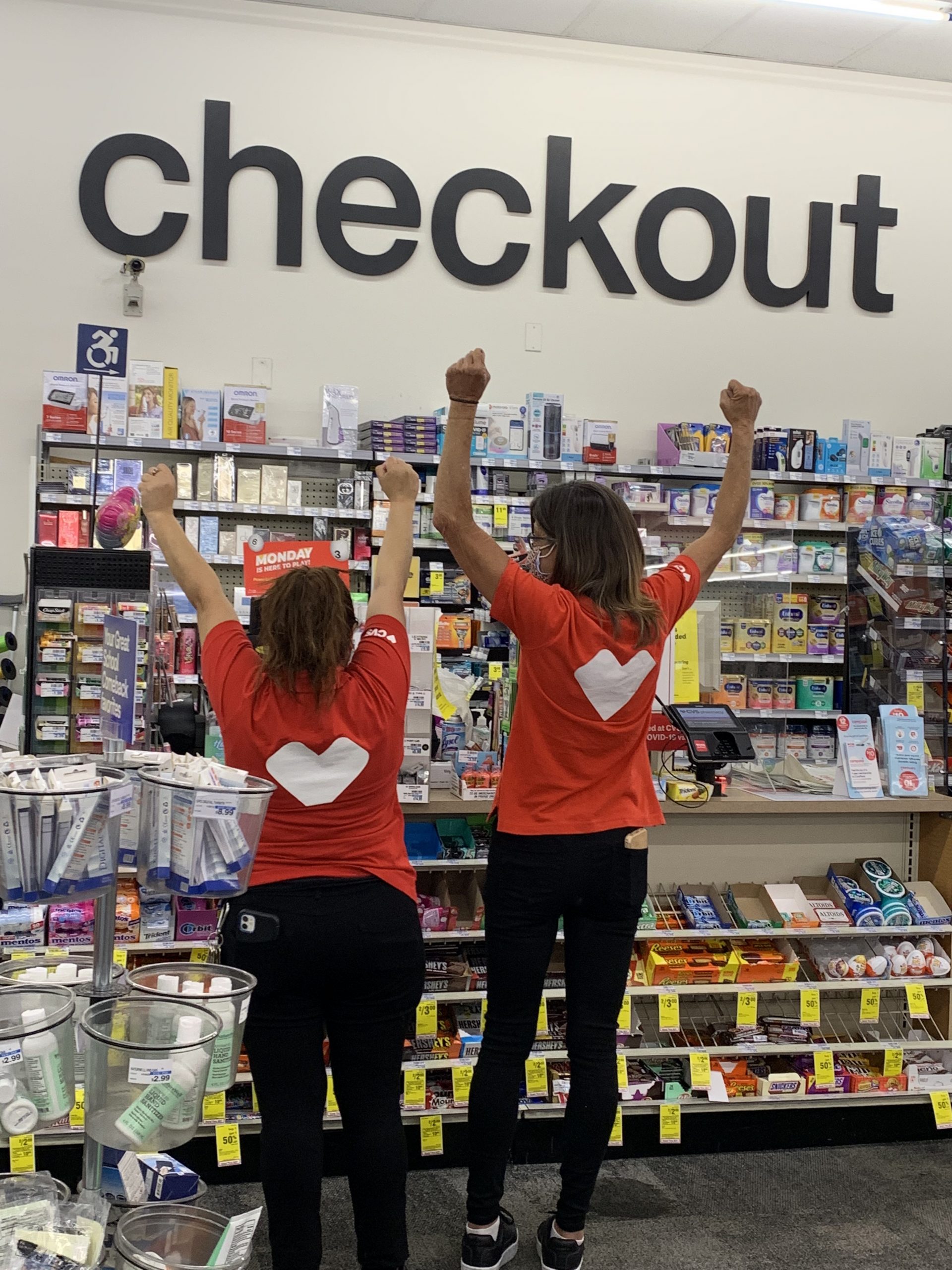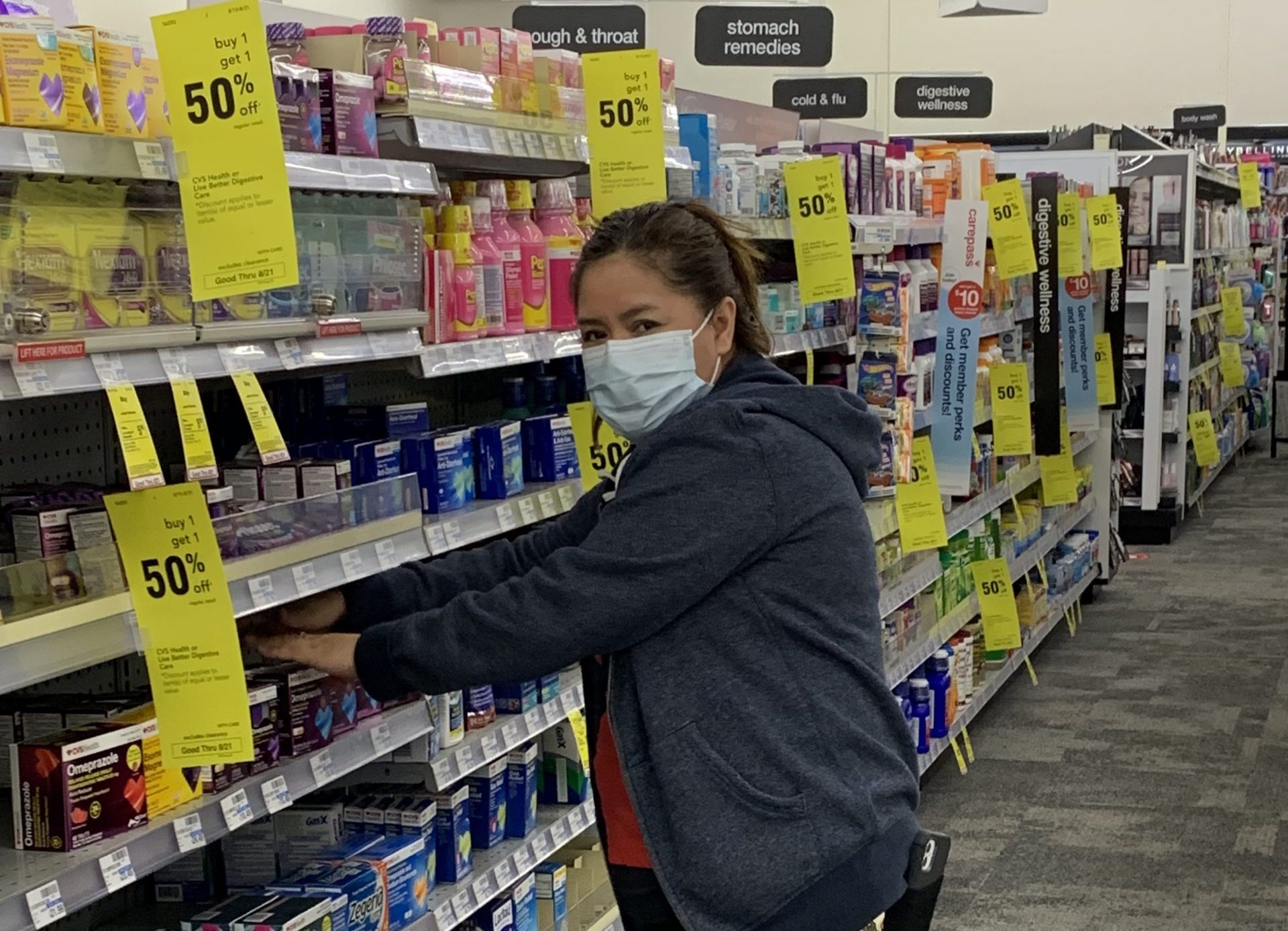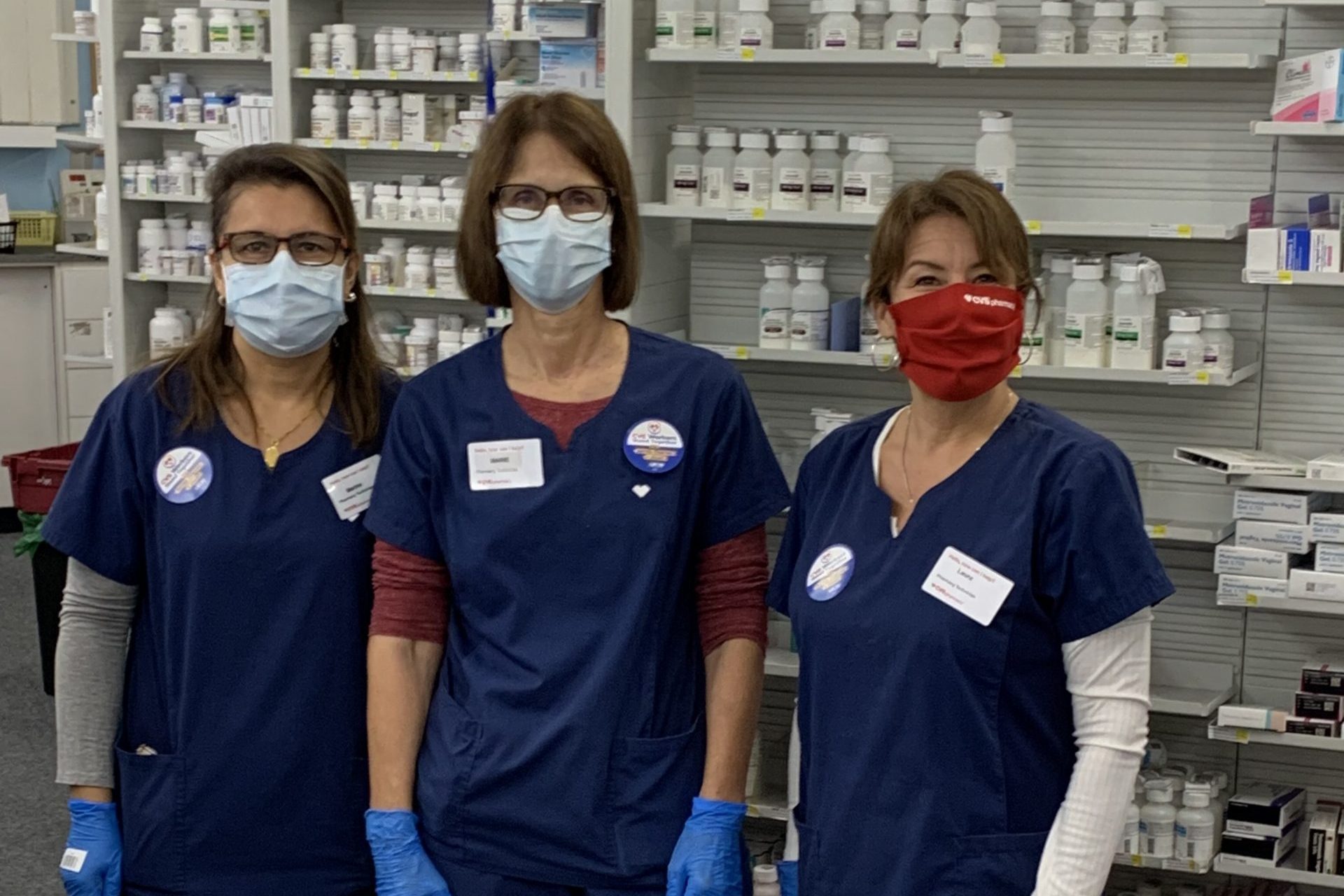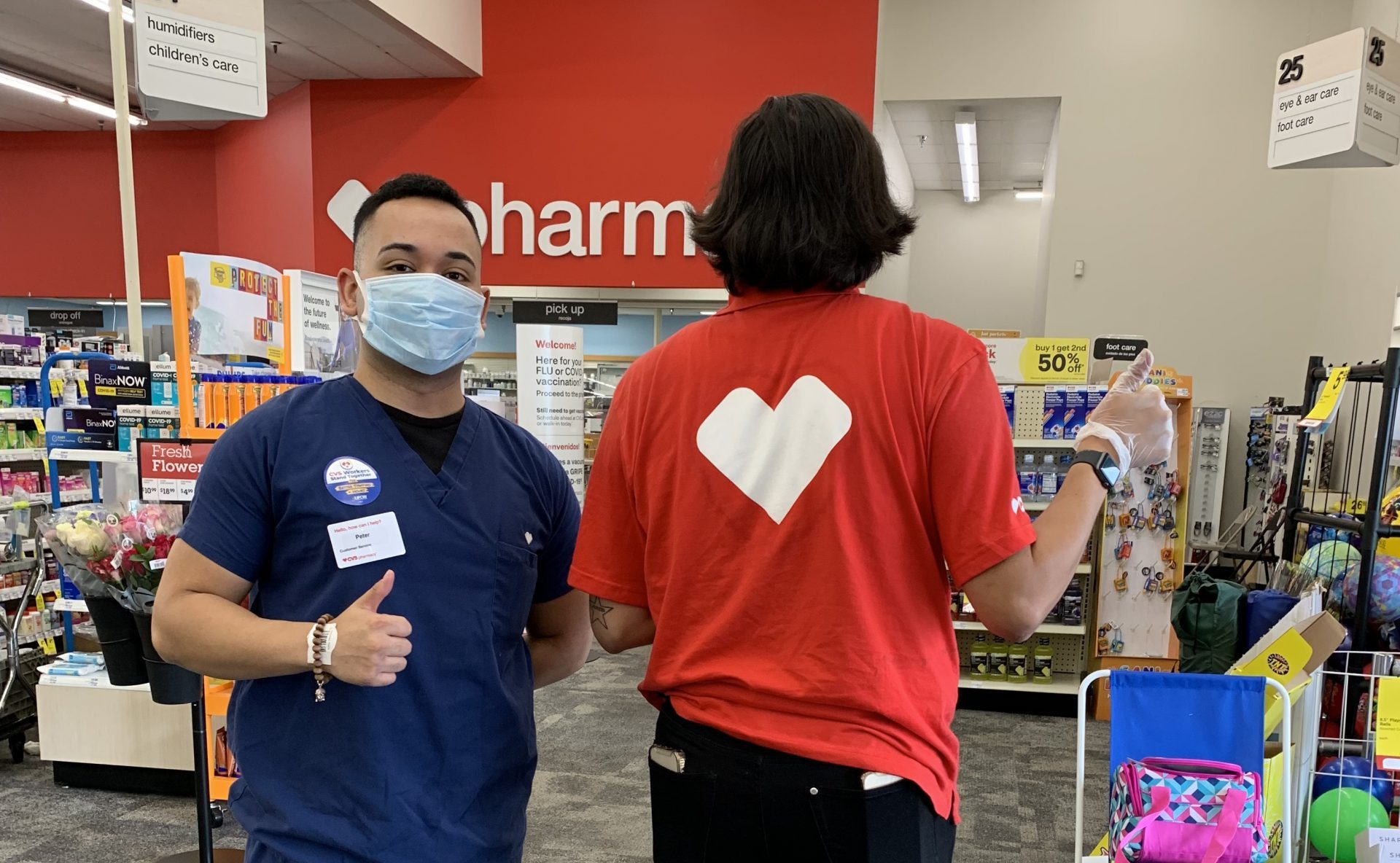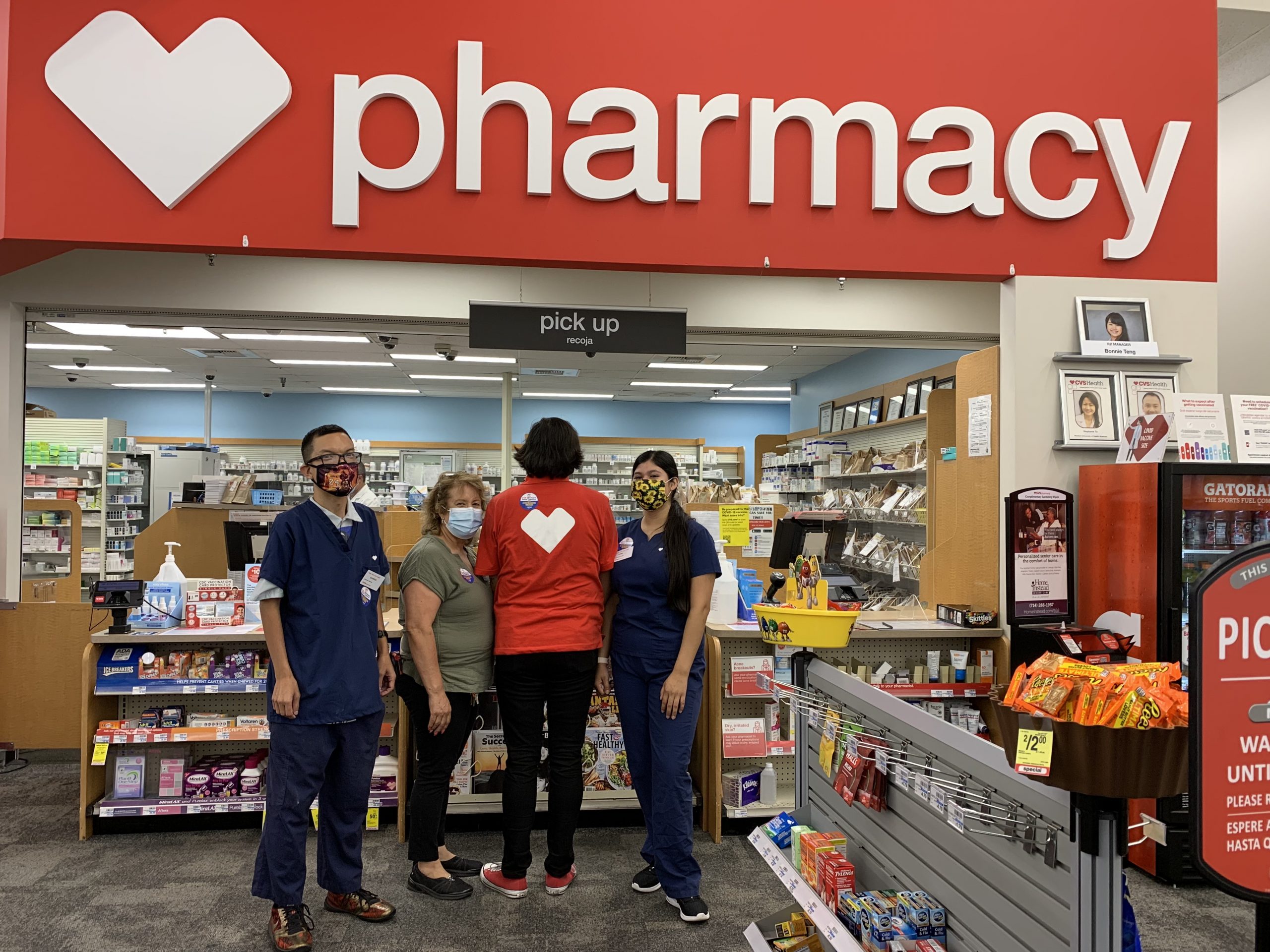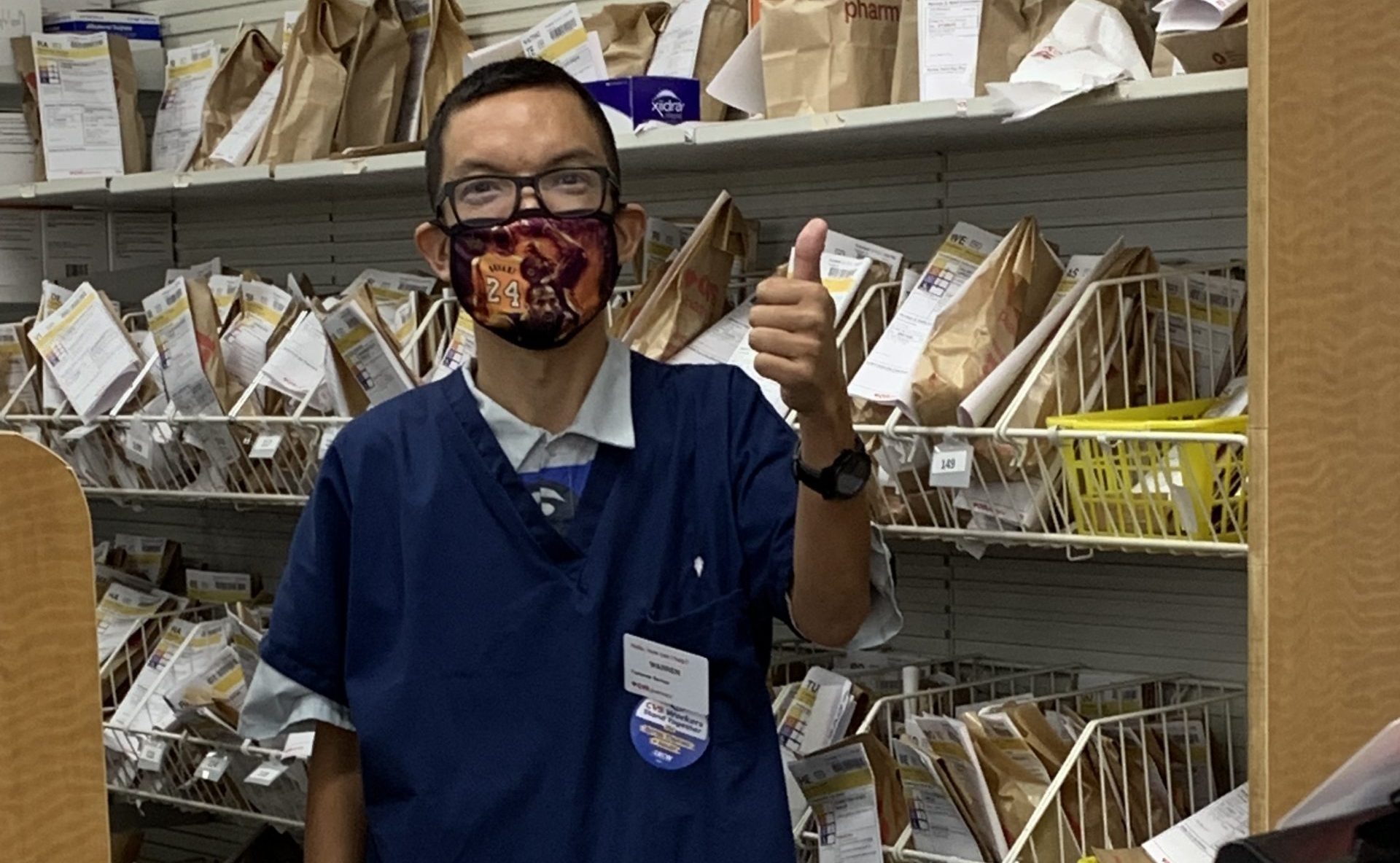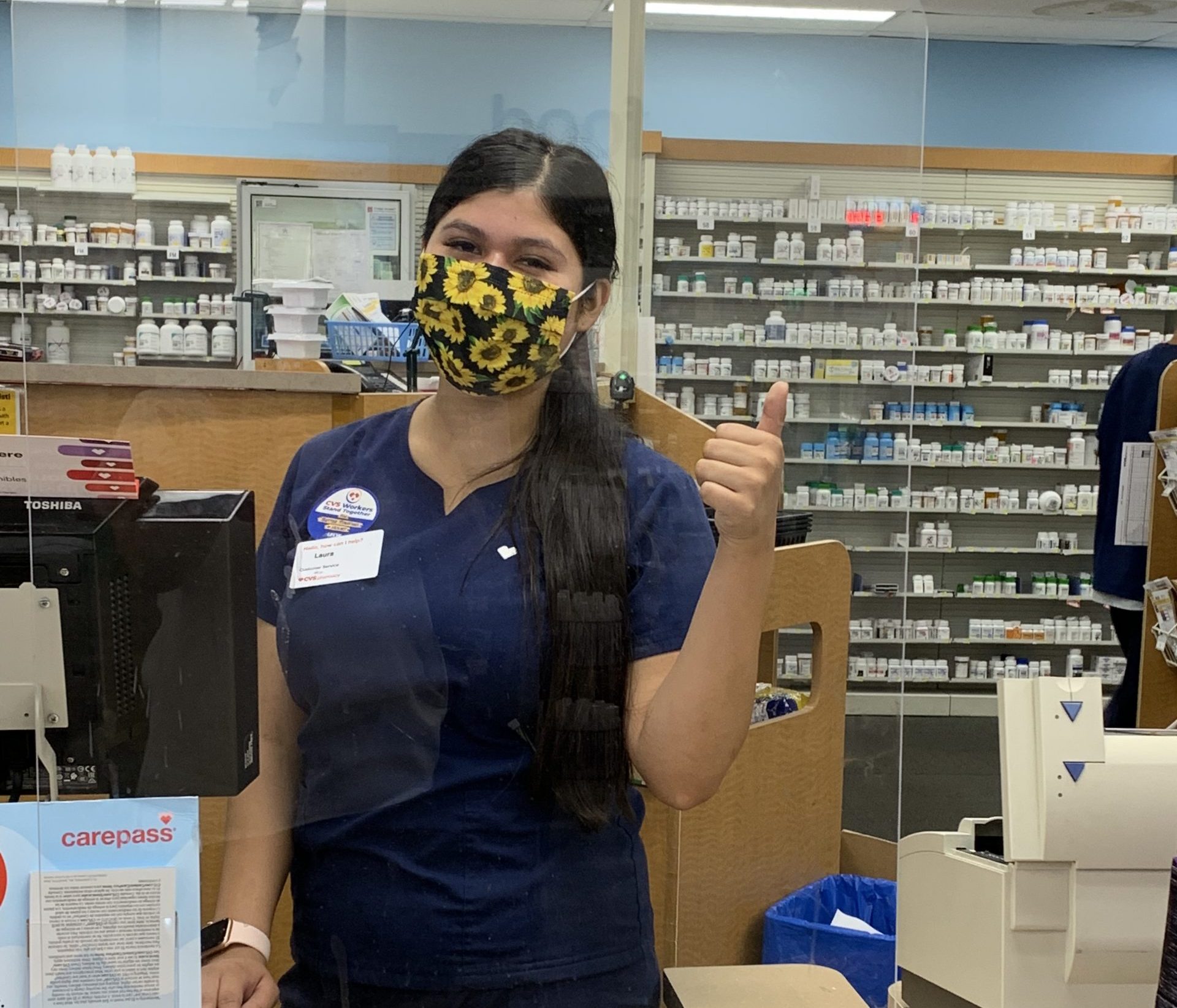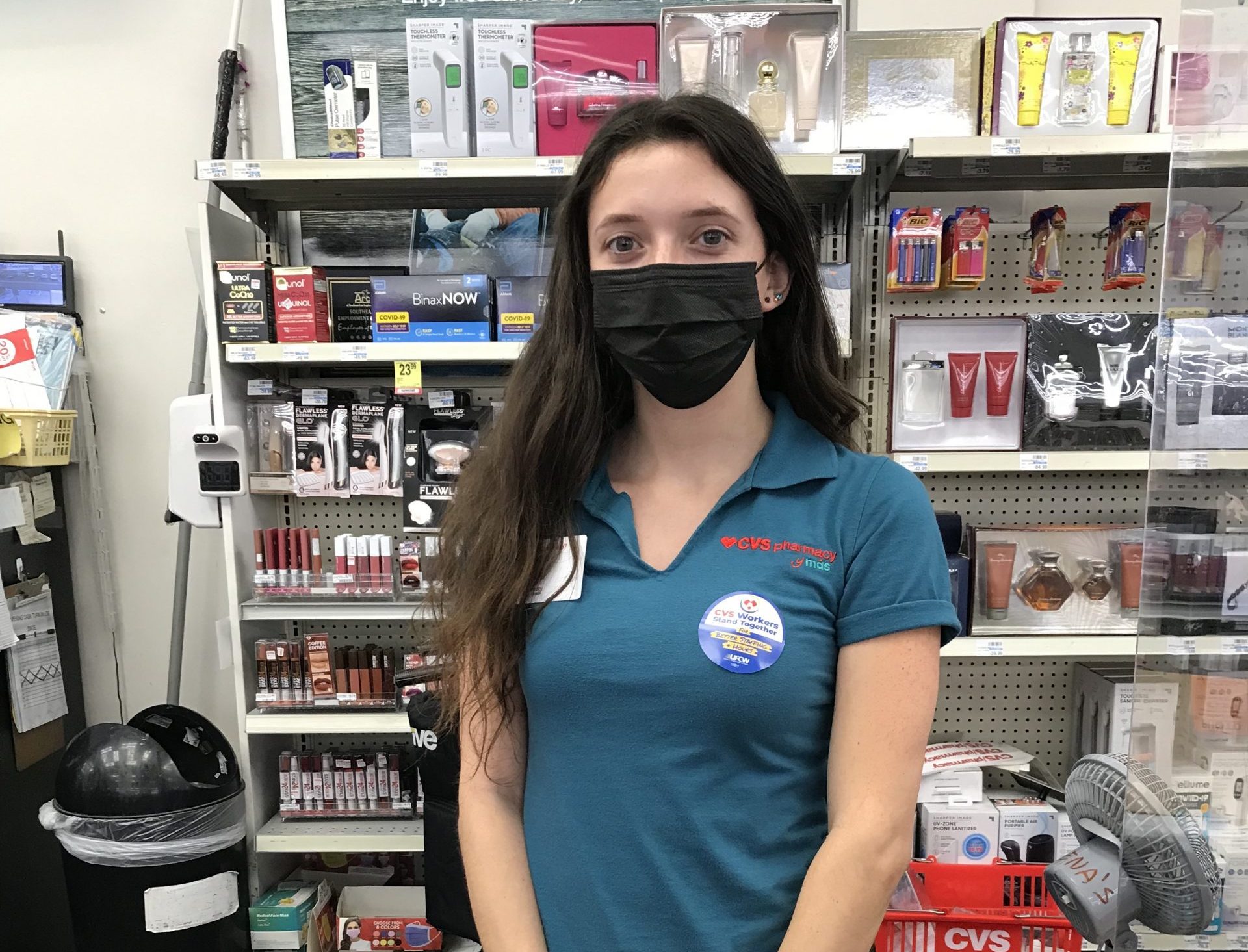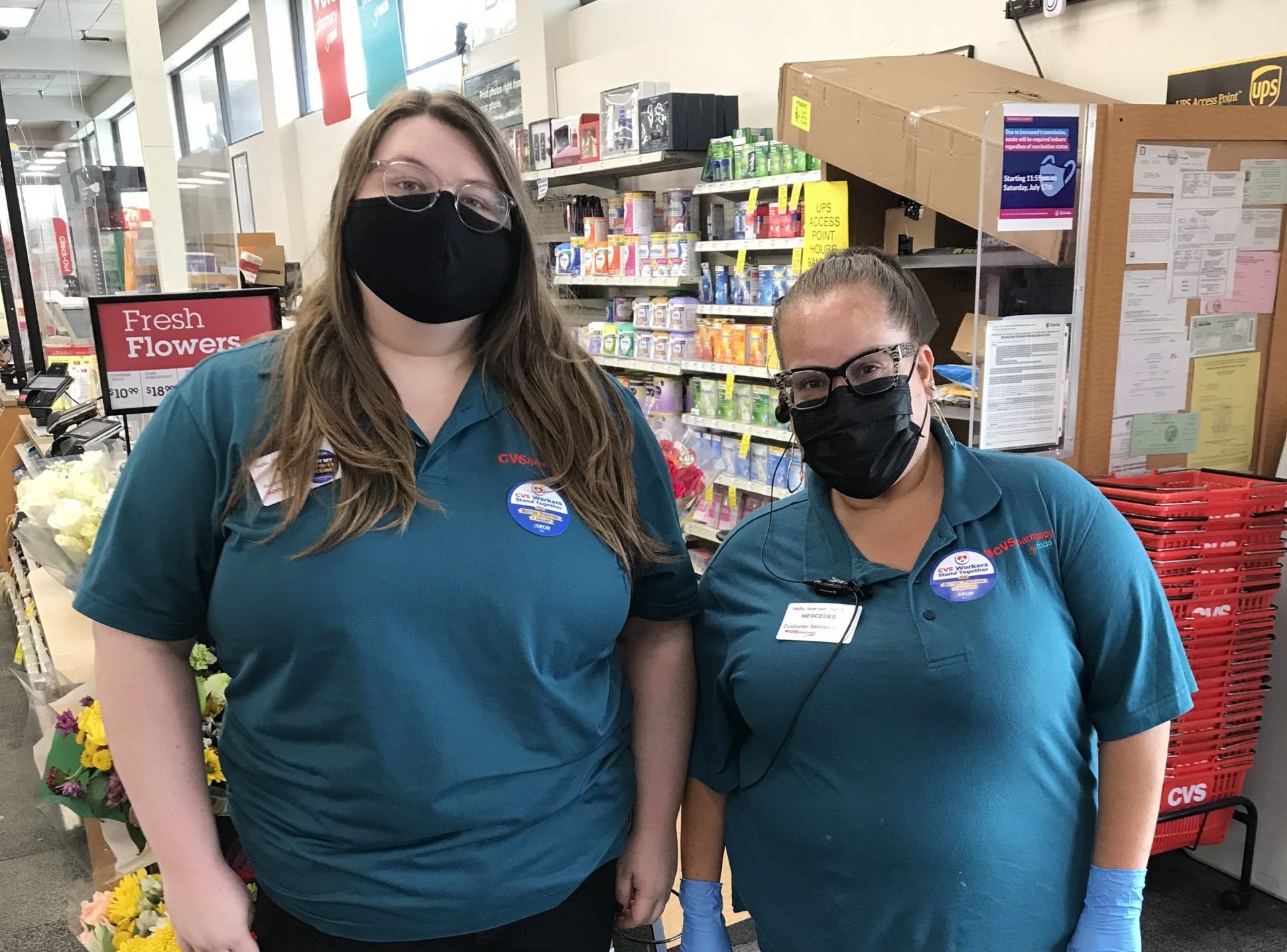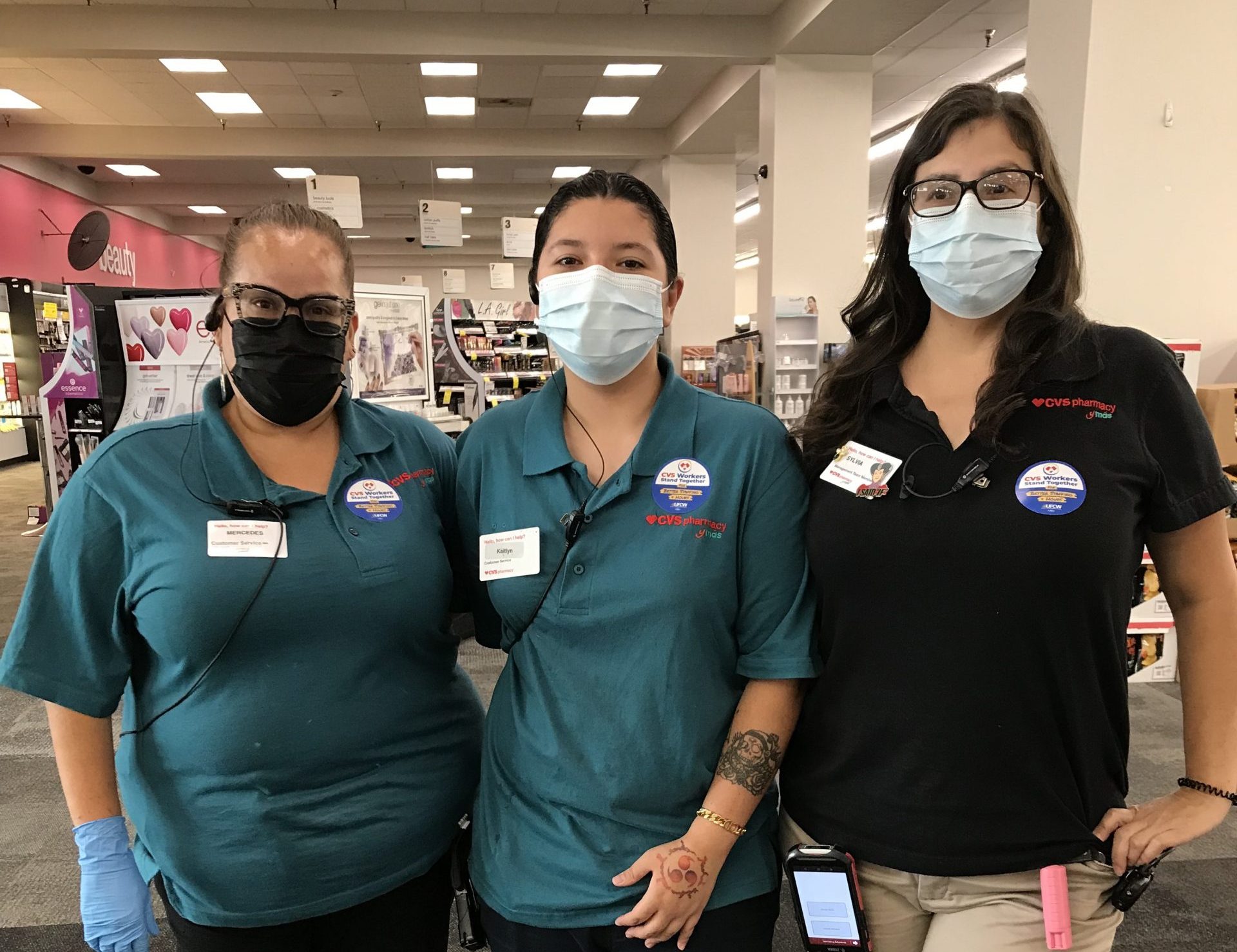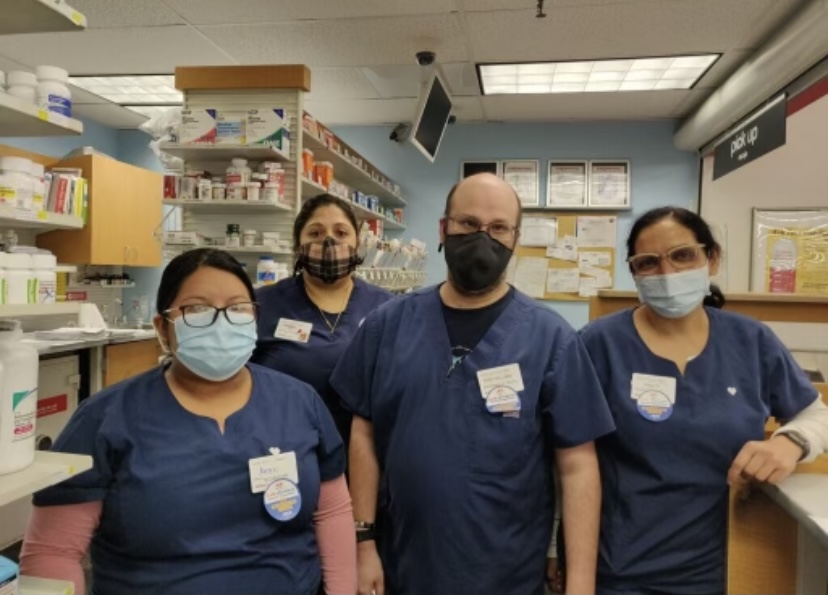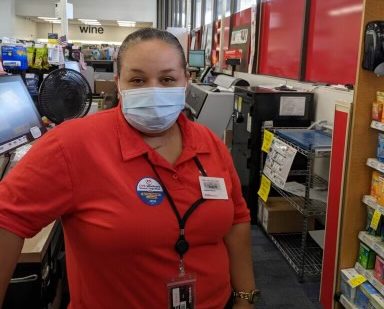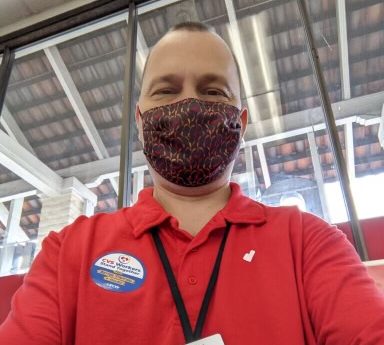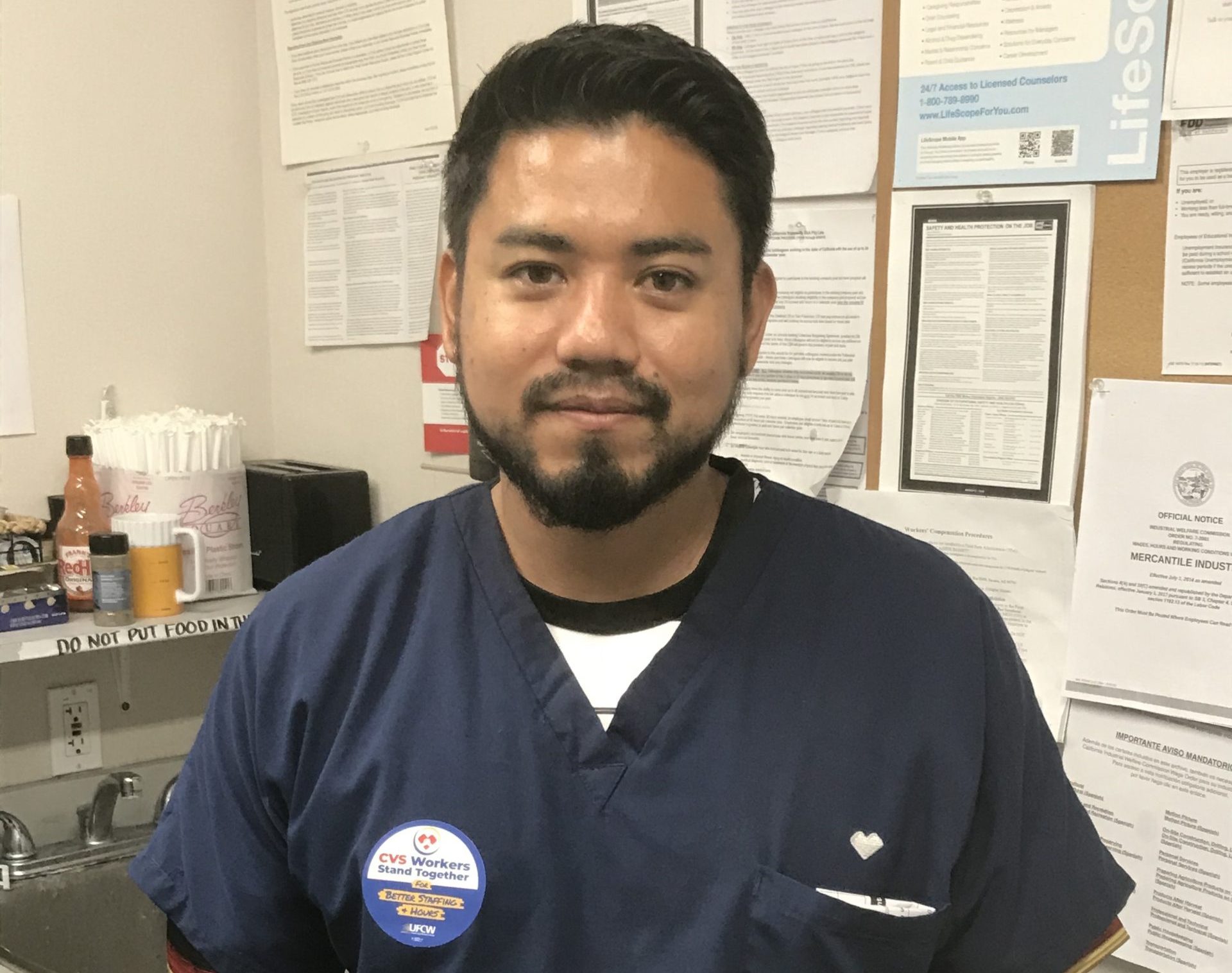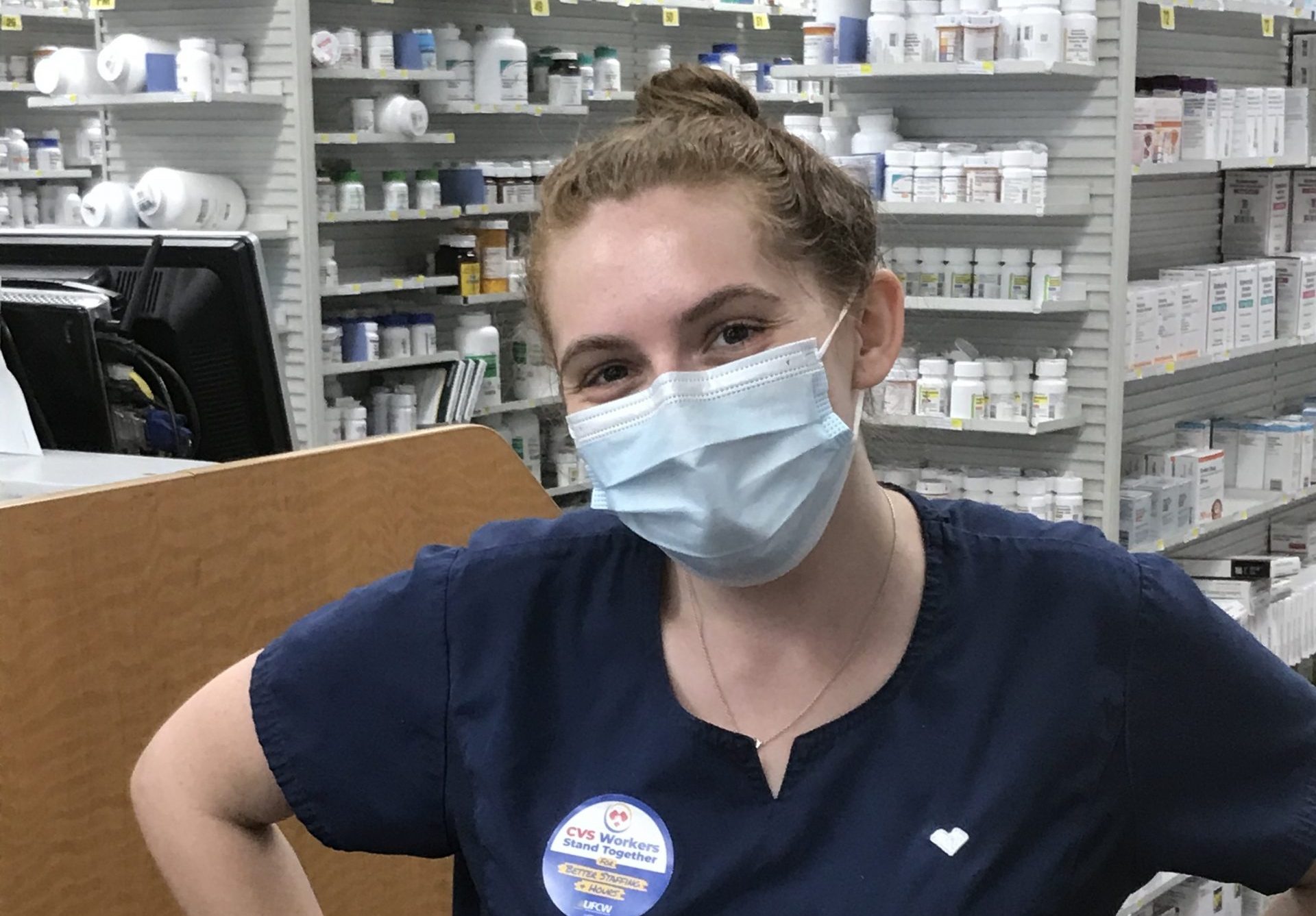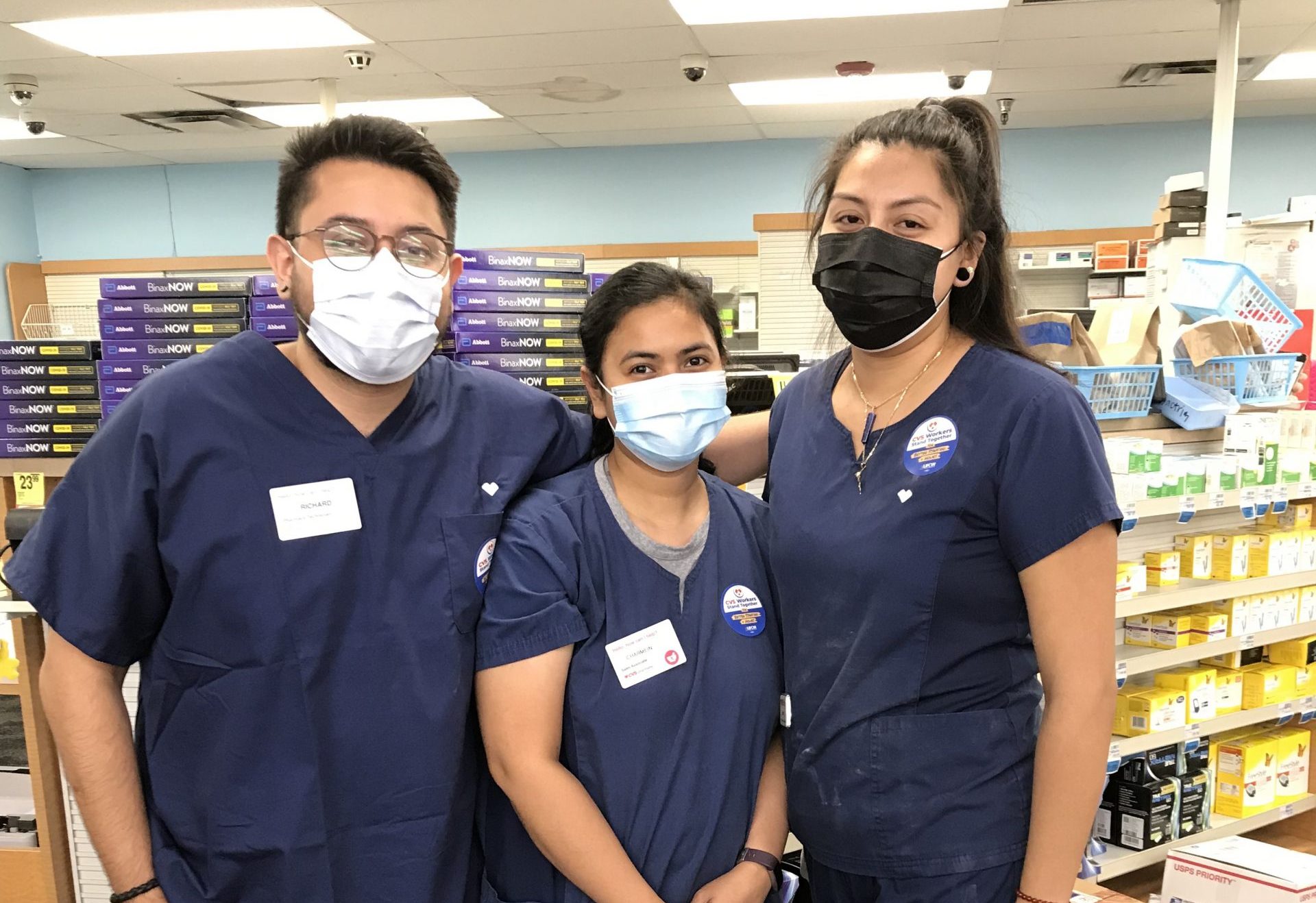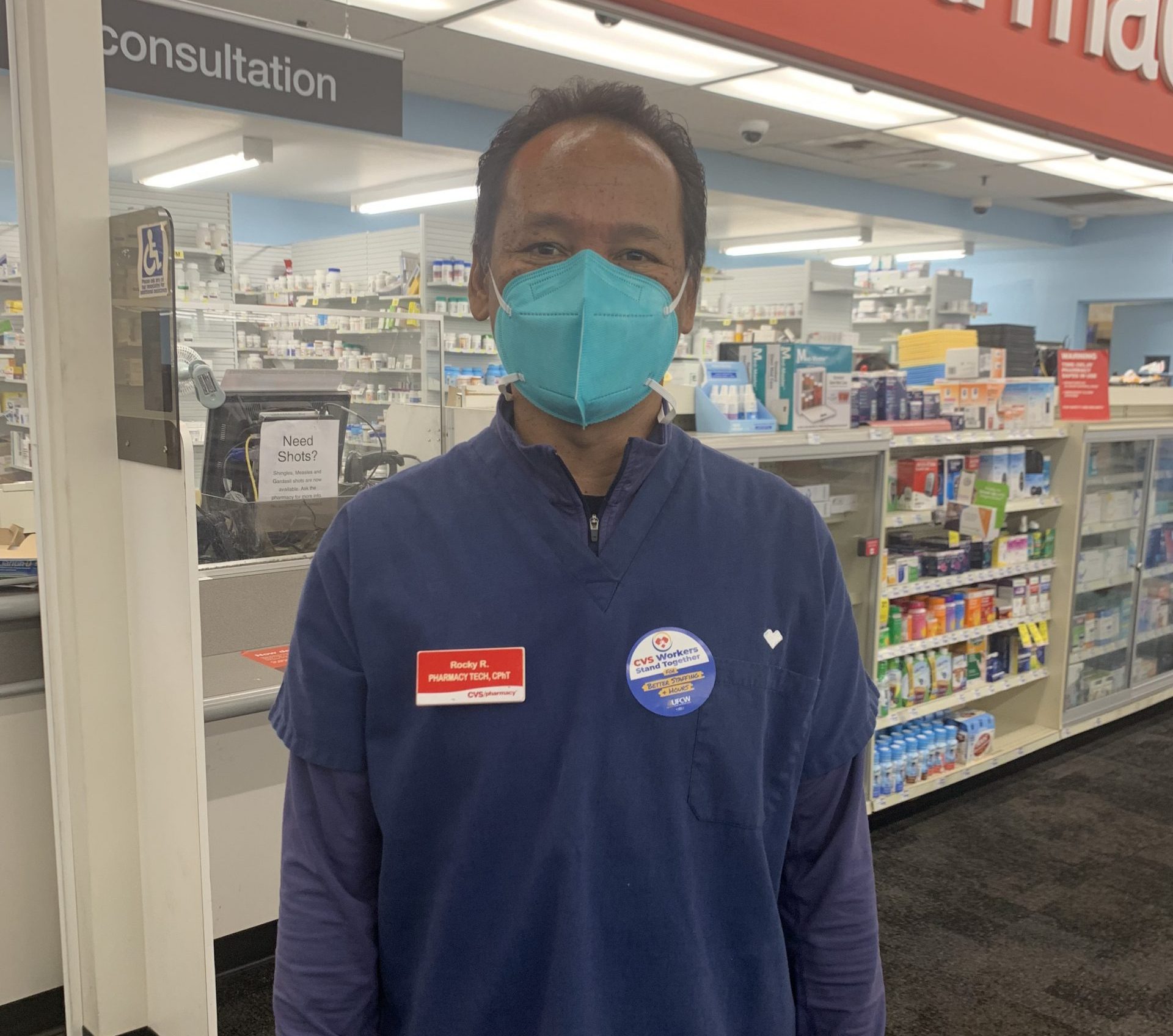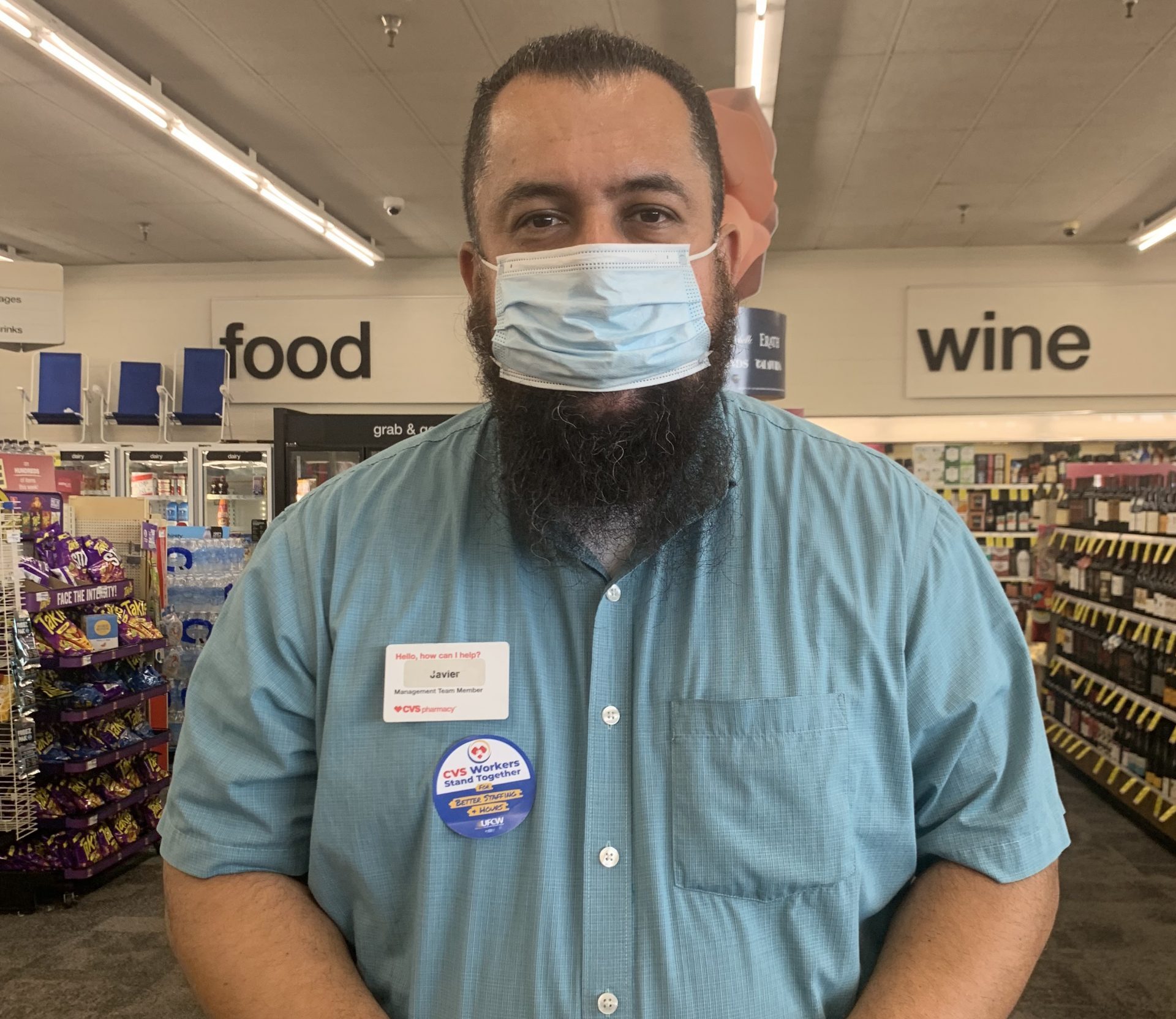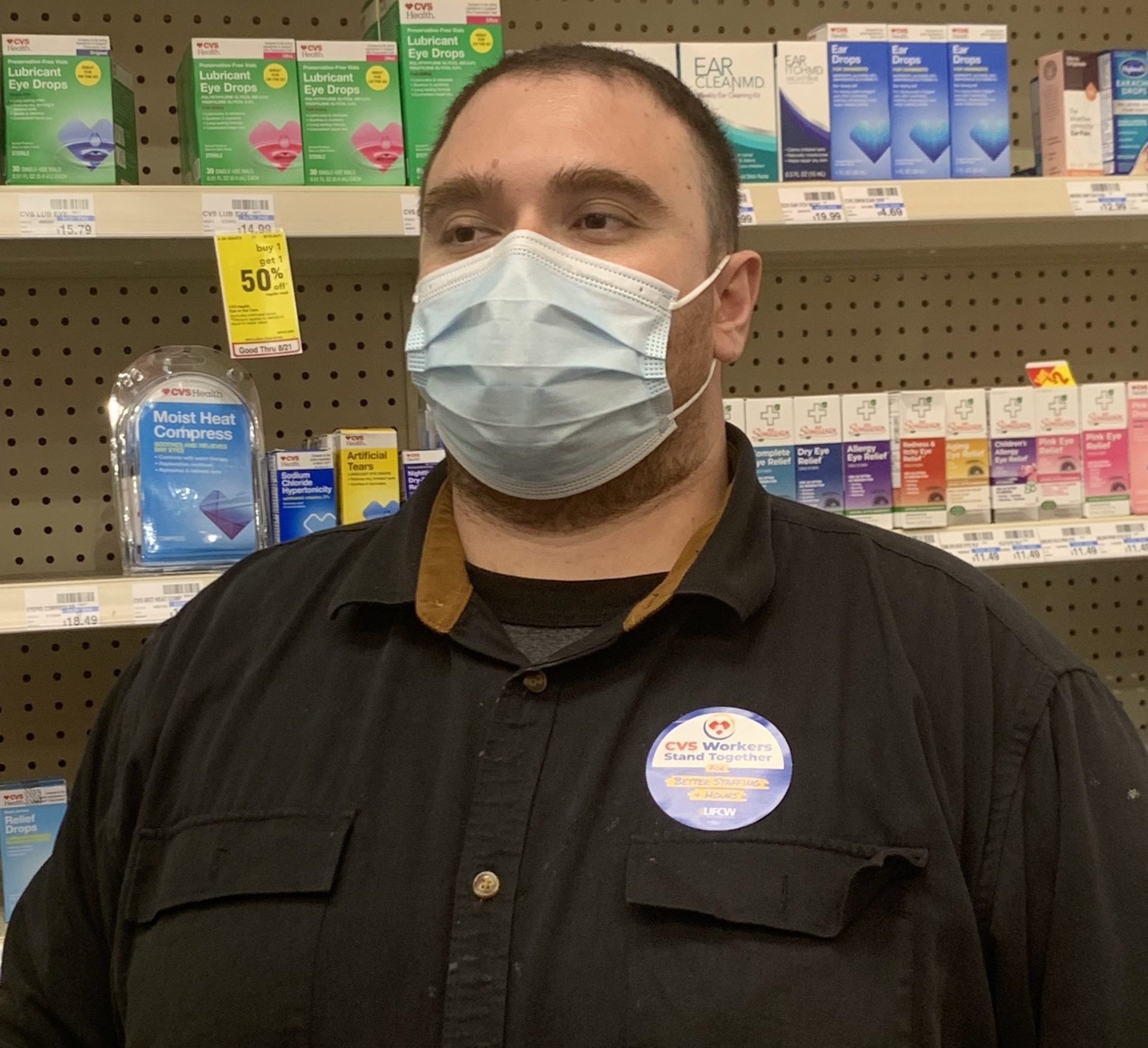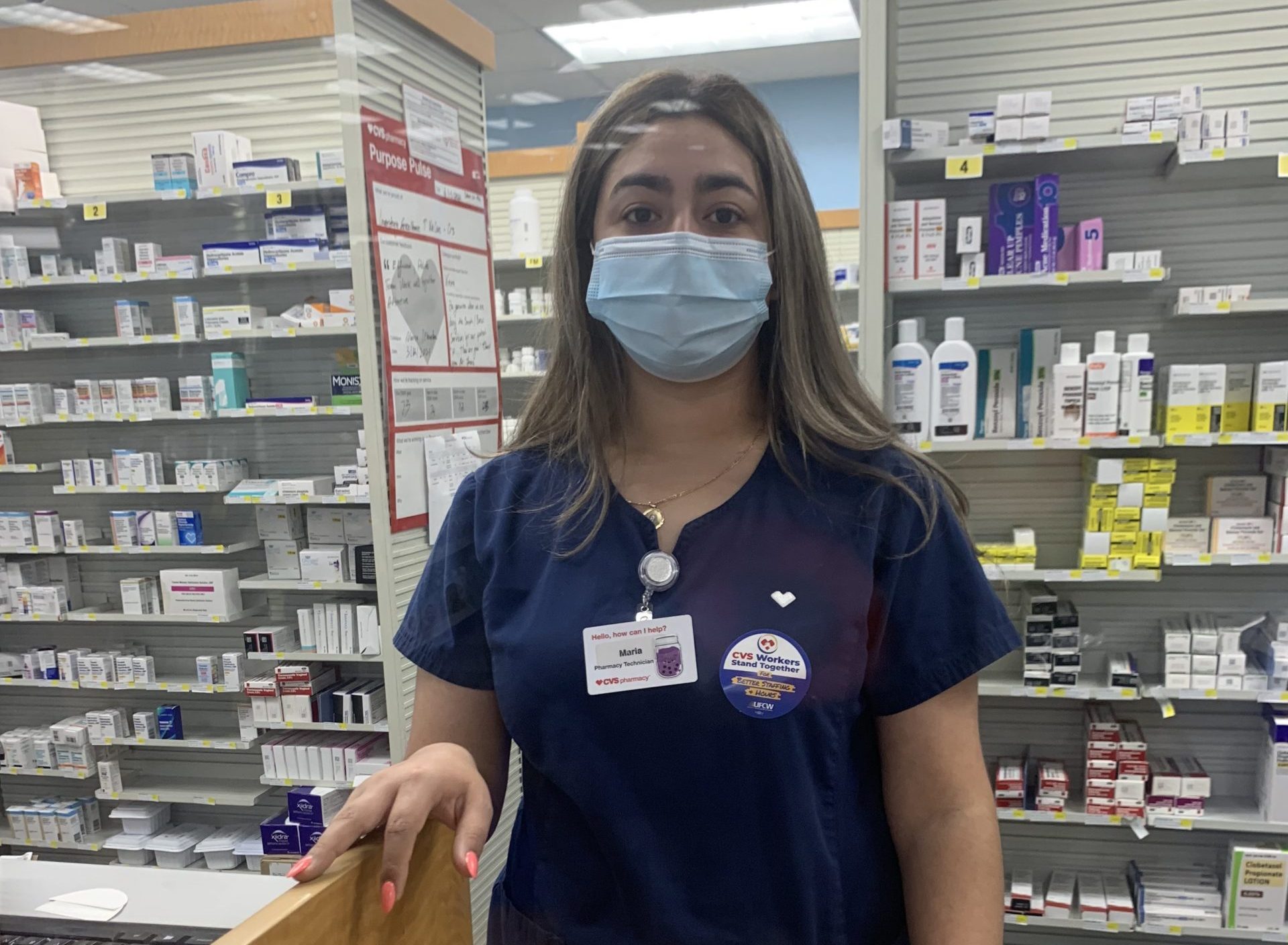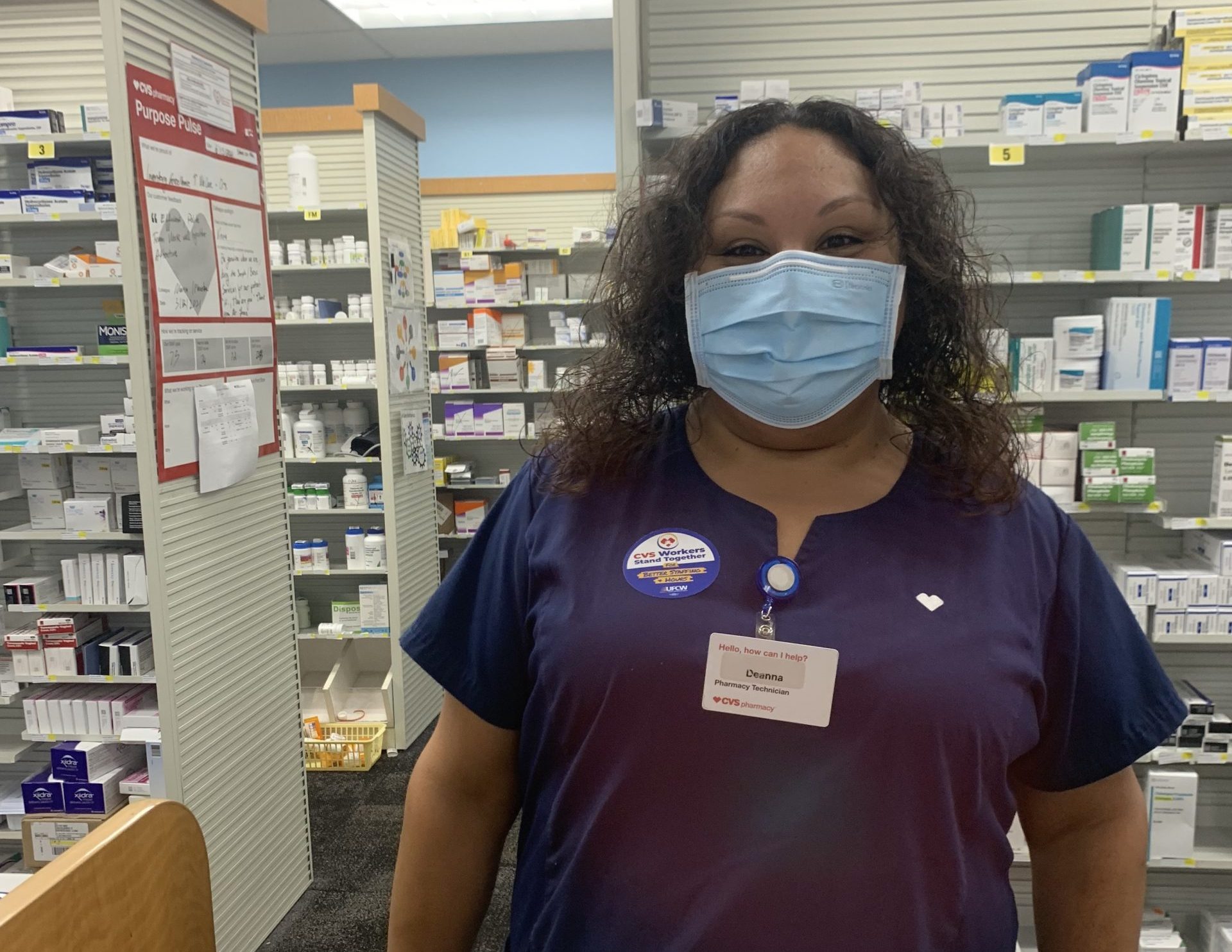 8/13/21
As CVS workers keep leading petition delegations, UFCW 324 members, community, and elected leaders are stepping up to stand together for a contract that reflects workers' sacrifices and hard work!
This week, CVS members in Buena Park, Irvine, Carson and Santa Ana were joined by workers from Albertsons, Food 4 Less, Gelson's, Ralphs, Stater Bros., other neighboring CVS stores and were determined to show there is power in numbers!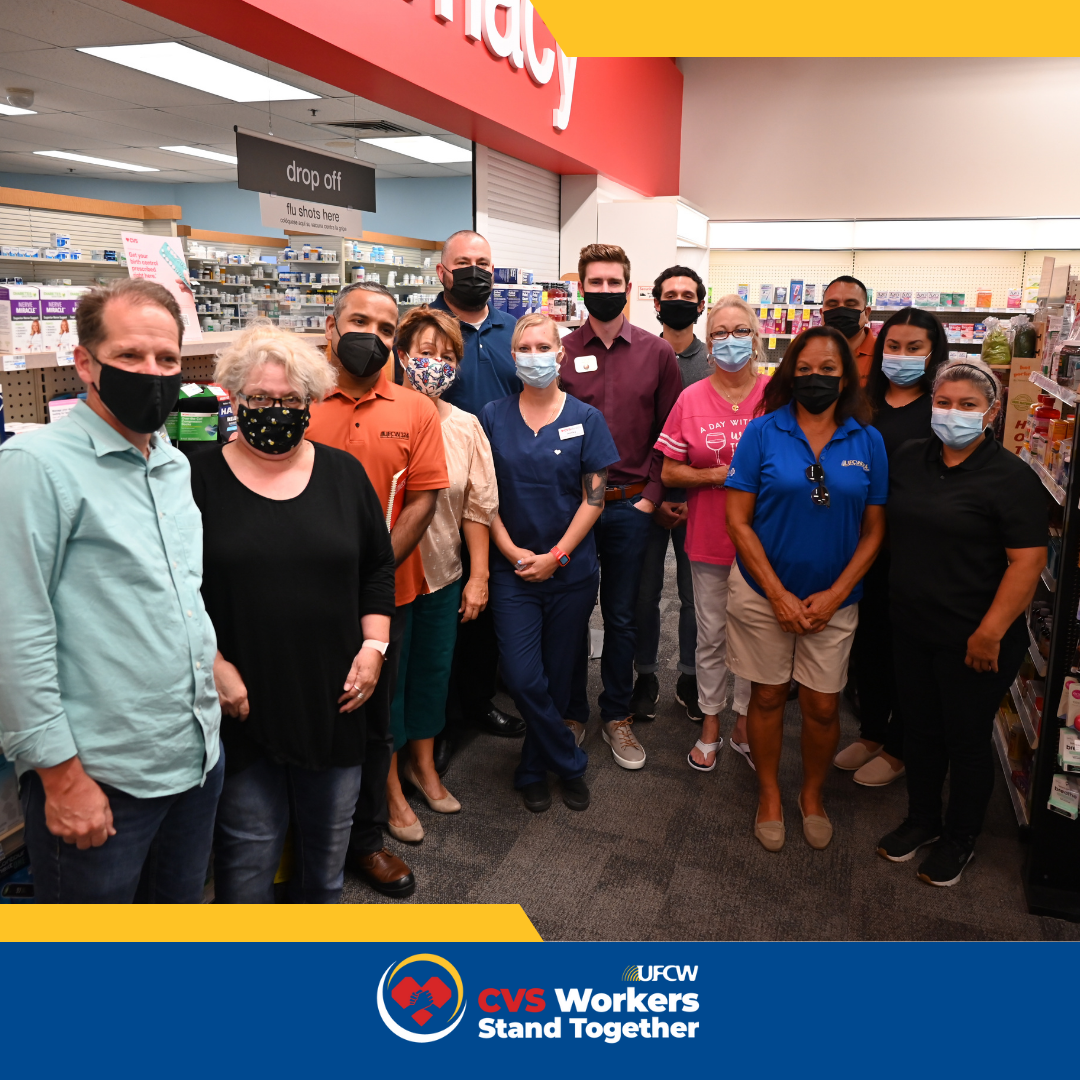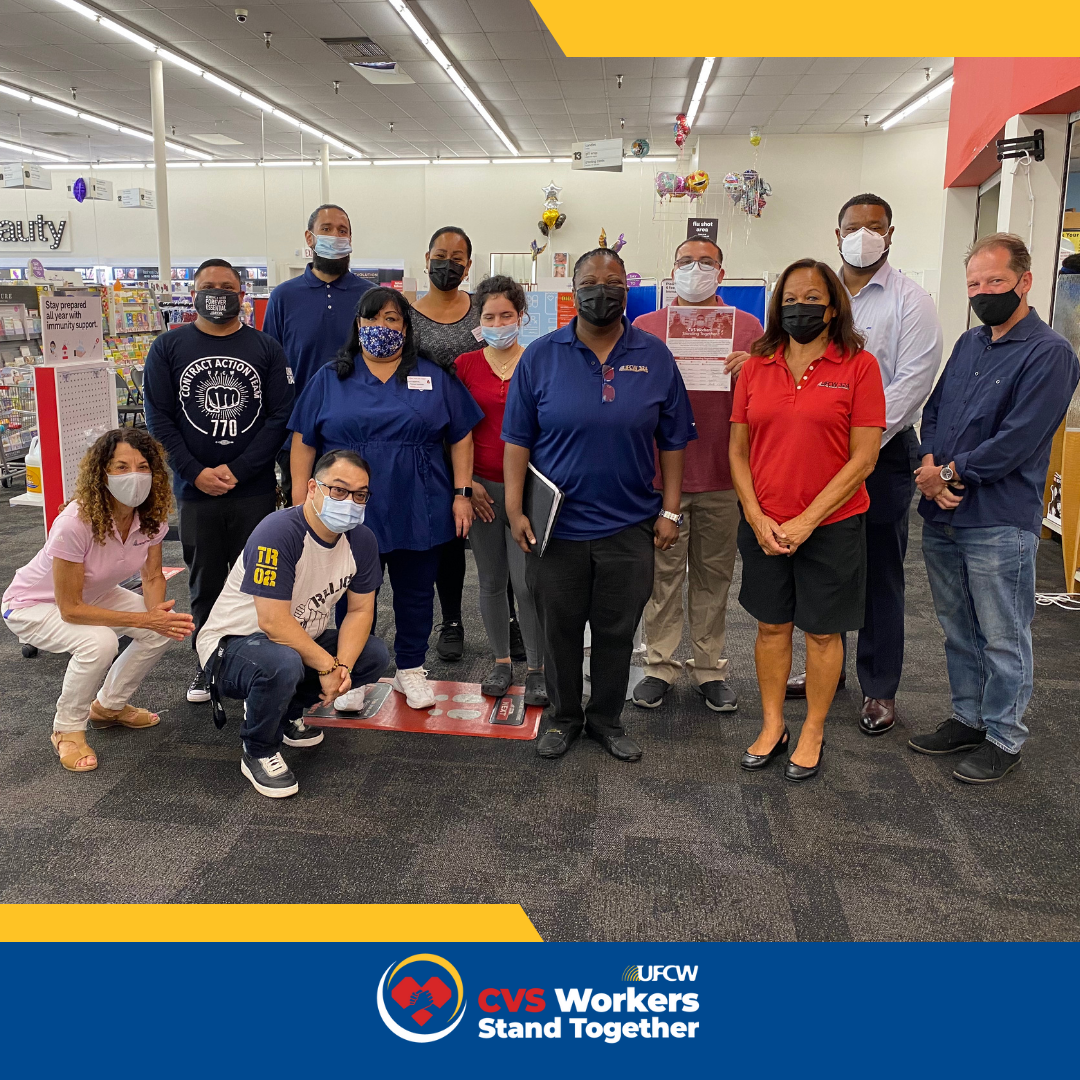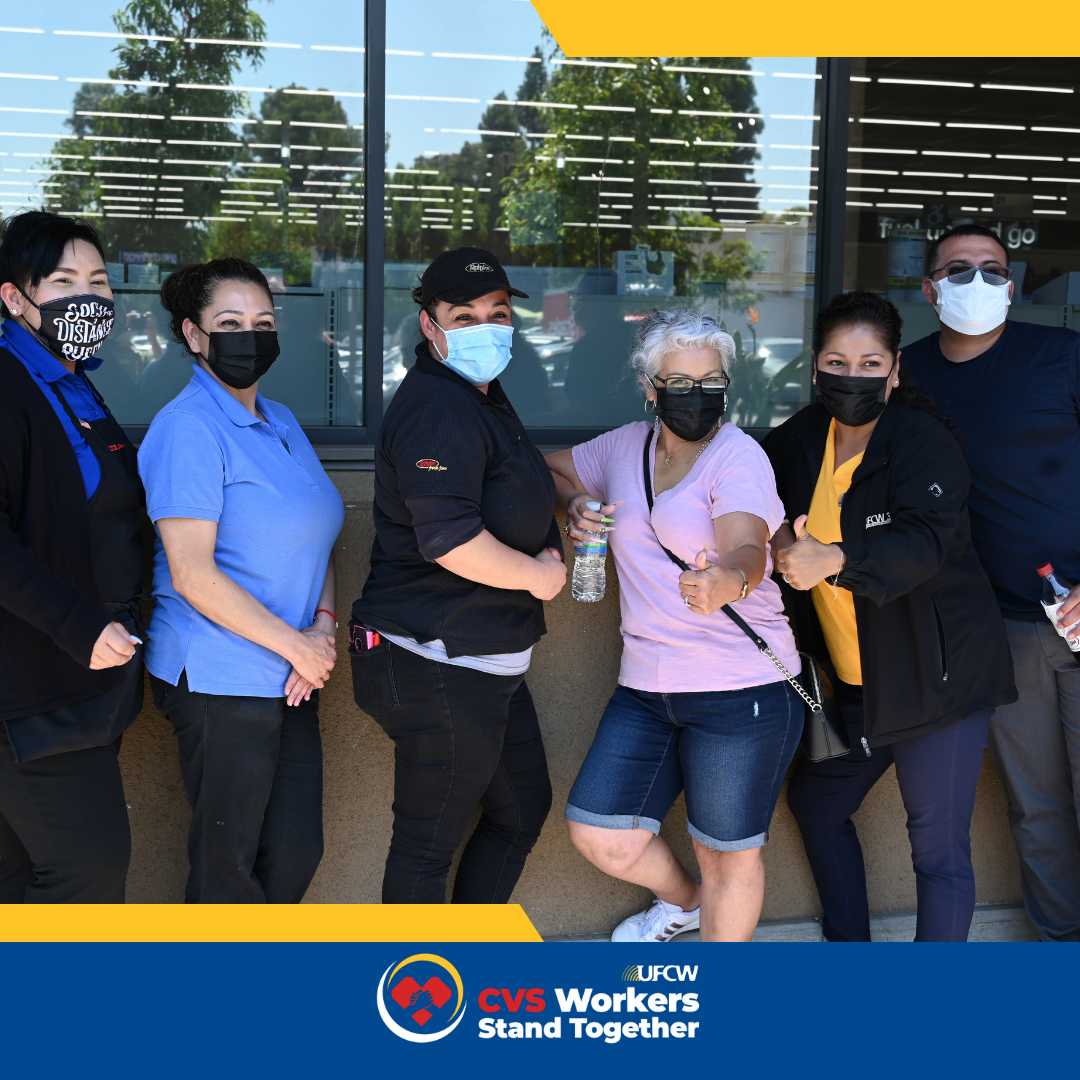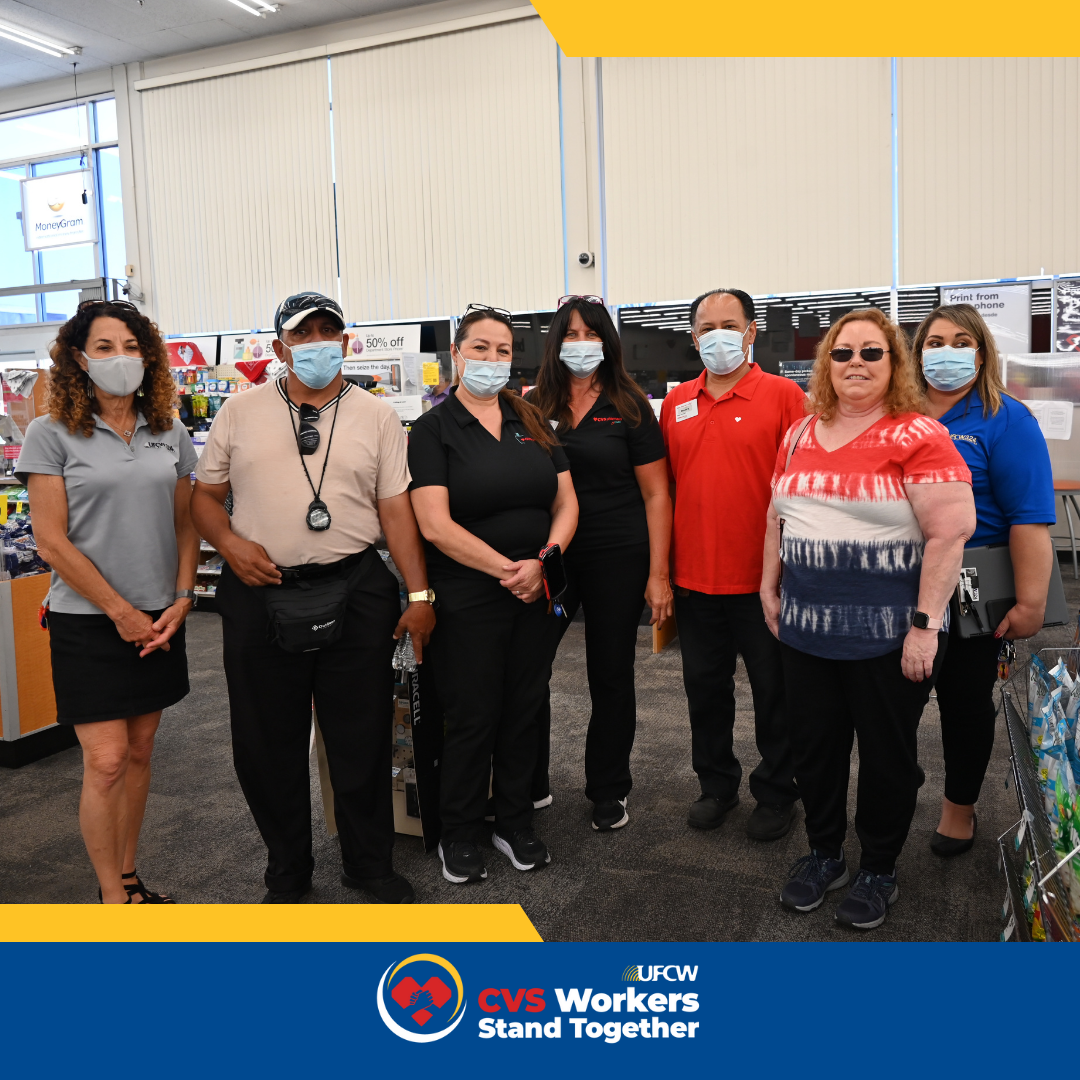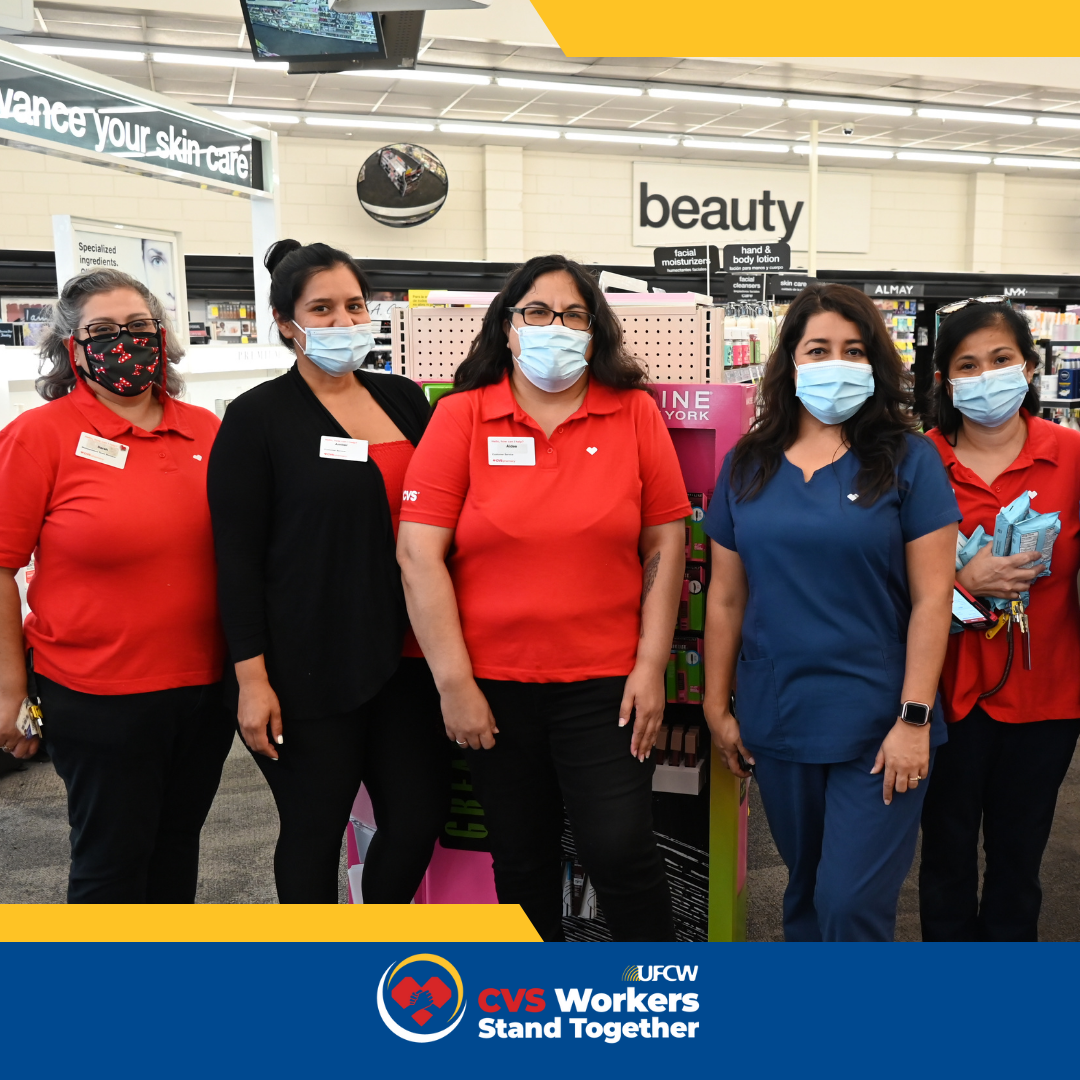 Update on 8/10/21
Not offering affordable health care and living wages to CVS workers is offensive. The vast majority of CVS workers cannot afford the company health plan and the company refuses to make any improvements. Shame on CVS for calling itself a health care company while abandoning their workers.
Store delegations continue this week as workers deliver petitions to management showing that CVS workers stand together!
No ofrecer servicio médico económico y sueldos dignos a los trabajadores de CVS es ofensivo. La gran mayoría de los trabajadores de CVS no pueden pagar el plan de salud de la compañía y la compañía se niega a realizar mejoras.  Vergüenza para CVS por llamarse a sí misma una compañía de atención médica mientras abandona a sus trabajadores.
¡Delegaciones a tiendas continúan esta semana, los trabajadores entregan peticiones a la gerencia mostrando que los trabajadores de CVS están unidos!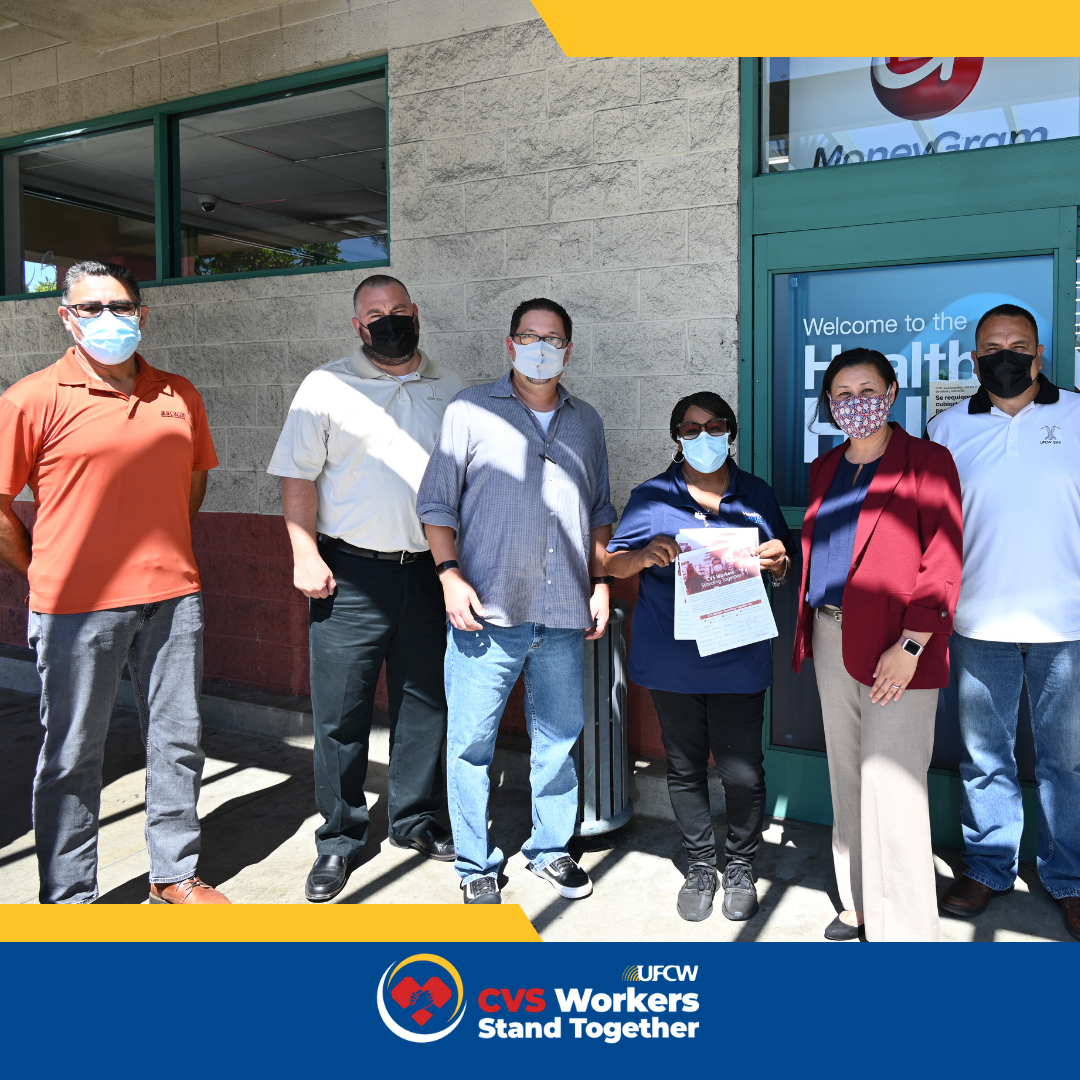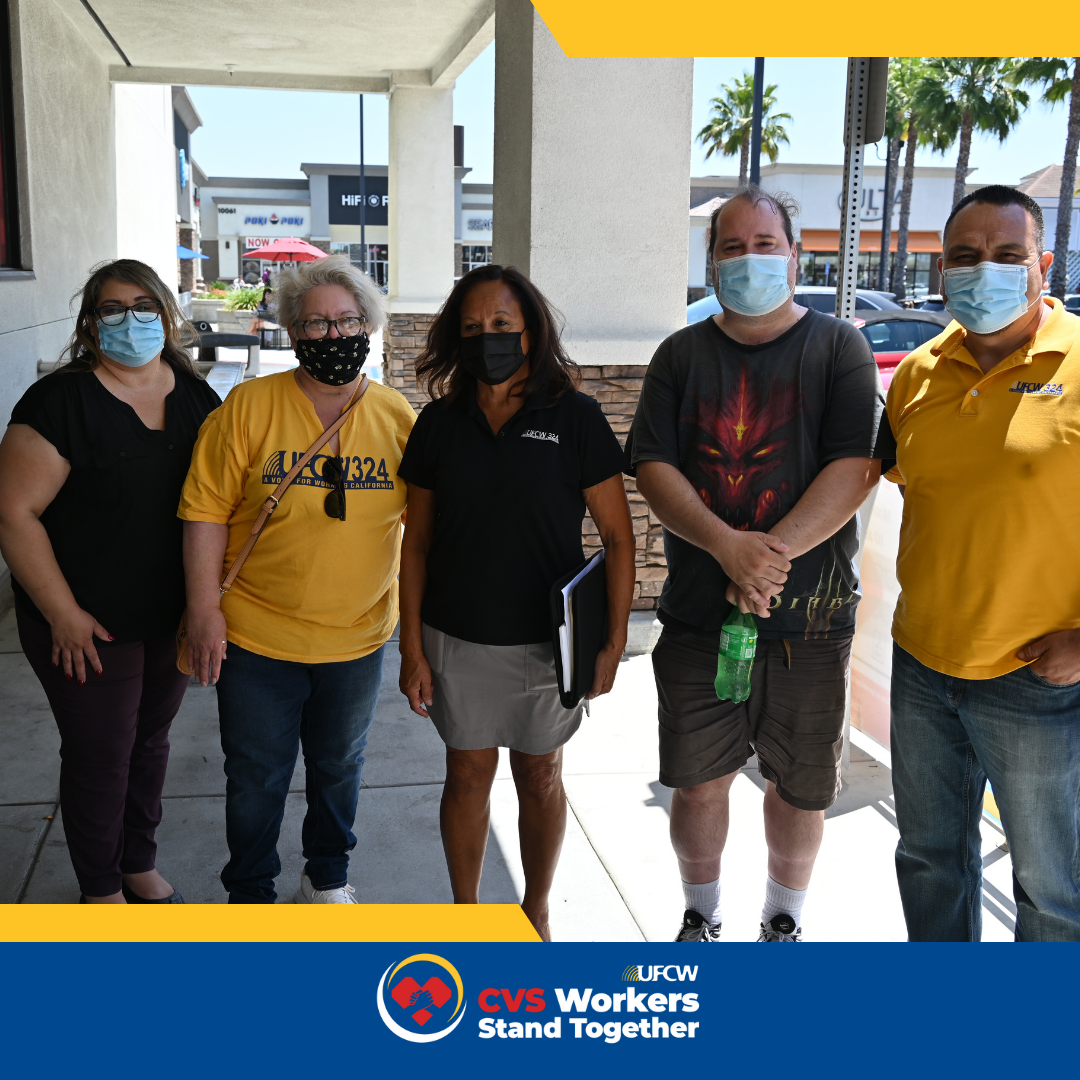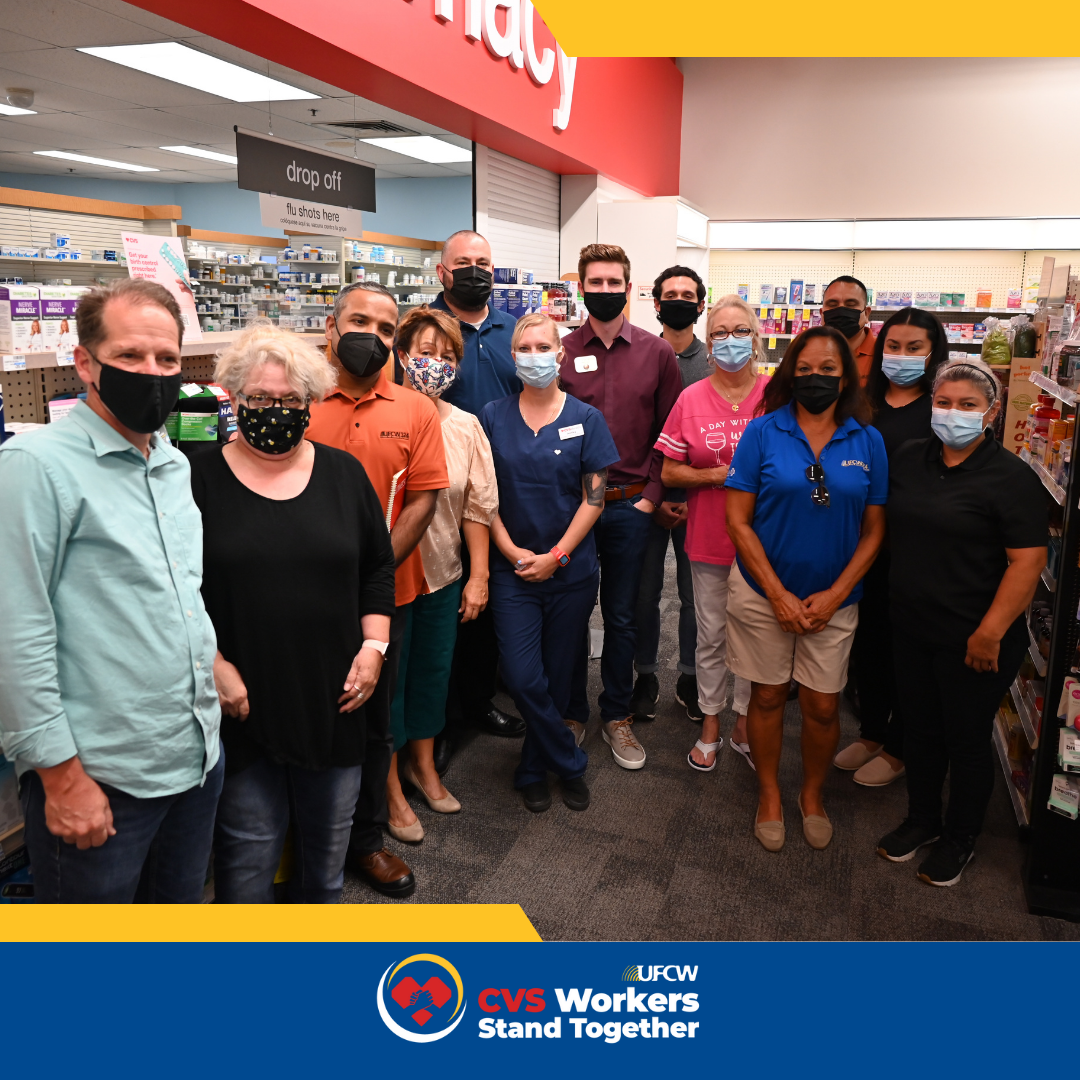 Action on 7/30/21
A great show of support today as CVS workers in Newport Beach held a delegation to deliver petitions to management. CVS workers are making it loud and clear that they are standing together and have an army of community support with them!
Special shoutout to State Senator Dave Min, and representatives from the offices of Orange County Supervisor Katrina Foley, State Assemblymember Cottie Petrie-Norris, Congresswoman Katie Porter, Clergy and Laity United for Economic Justice and the Orange County Labor Federation for joining us!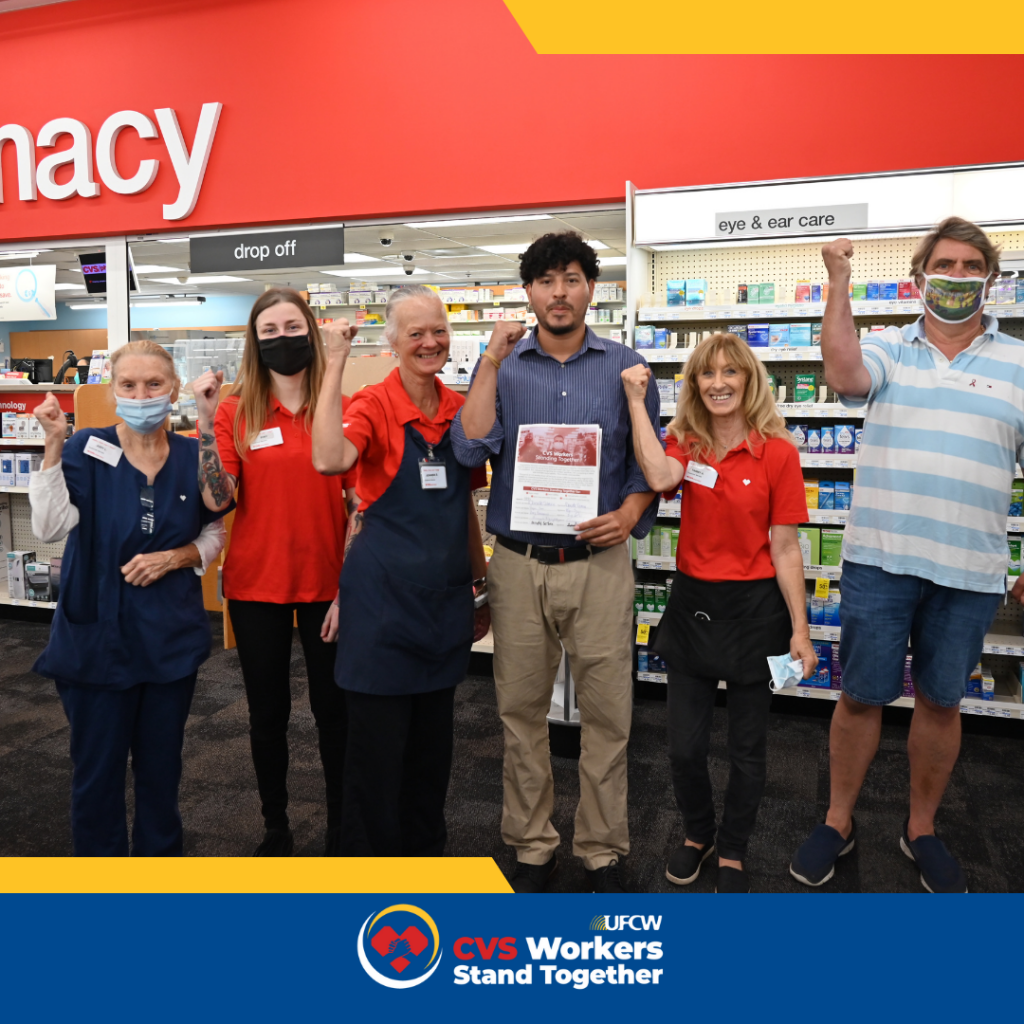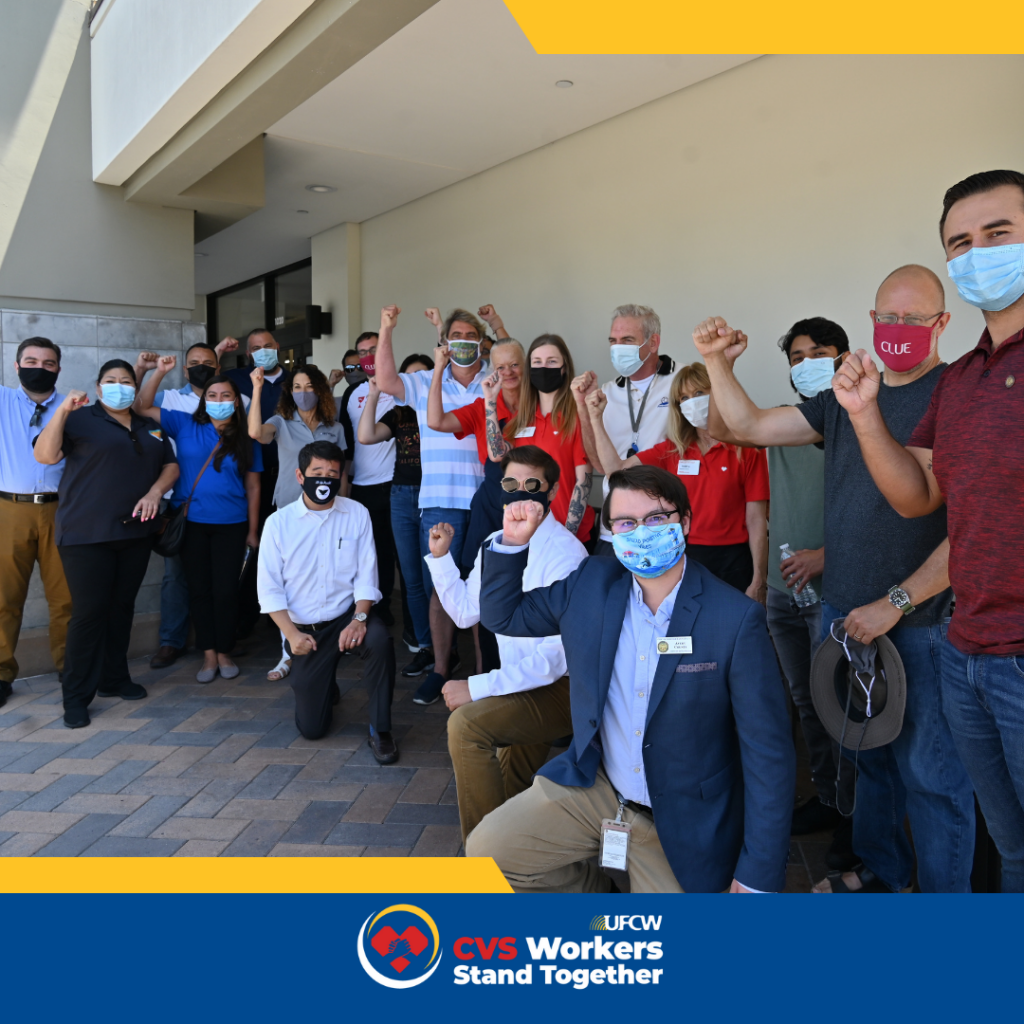 Update on 7/27/21
Your Union negotiating committee has now completed more than 18 bargaining sessions with CVS.  We concluded on July 26, with CVS making little progress.  Our next scheduled negotiations are on August 9.
Our main issues of respectable wage increases, adequate staffing, safety in the stores, and affordable medical benefits for all remain unresolved.
For the last year and a half, you have gone to work every day, exposing yourself and your families to COVID-19.  You have faced crowds and difficult customers. In addition, crime in drug stores has increased along with the risks you take in stores with little security and inadequate staffing.
This contract is an opportunity to improve your work life. But we can only do it with a strong and united membership.  We have been circulating petitions in all stores, started worker-led delegations, presenting the petitions to management and will soon be distributing stickers for all members to wear at work.
But this may not be enough, and we may need to further escalate our plan to get CVS to hear your voices.  If necessary, we may start actions in front of stores, speaking to your customers.
We will continue to strategize with your union stewards and leaders, along with all locals in CA representing CVS workers.  Together we can show CVS they cannot operate without you.  CVS has made billions of dollars and continues to profit because of your hard work.  You are and have always been essential.
We will continue to update you on our actions and encourage you to speak to your union stewards and representative about what you can do.
Action on 7/27/21
On July 27, UFCW Local 324 members led another petition drive at a CVS store in Downey, CA to support essential CVS workers.
The petition demands management take the right steps to make CVS a safer place for workers and better protect our communities. Let's make sure that the new contract reflects workers' sacrifices during the COVID-19 pandemic!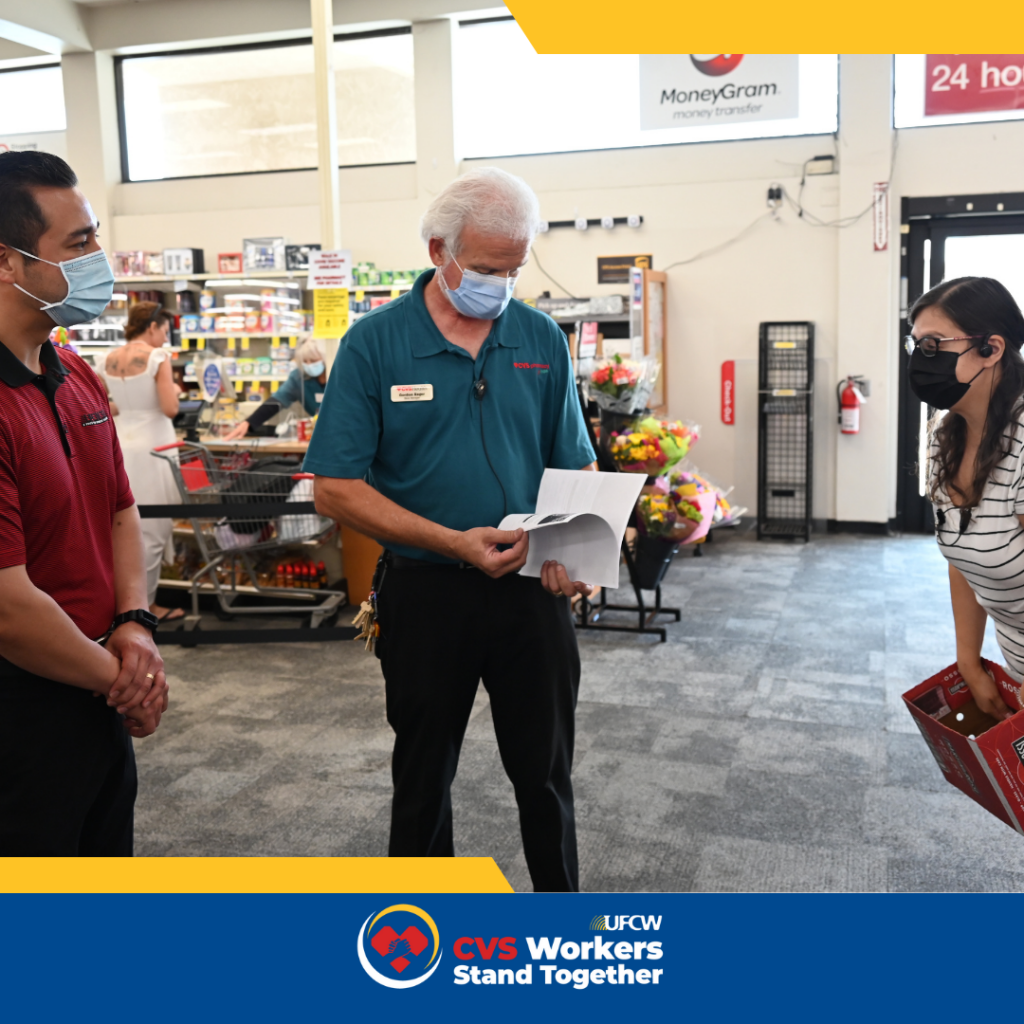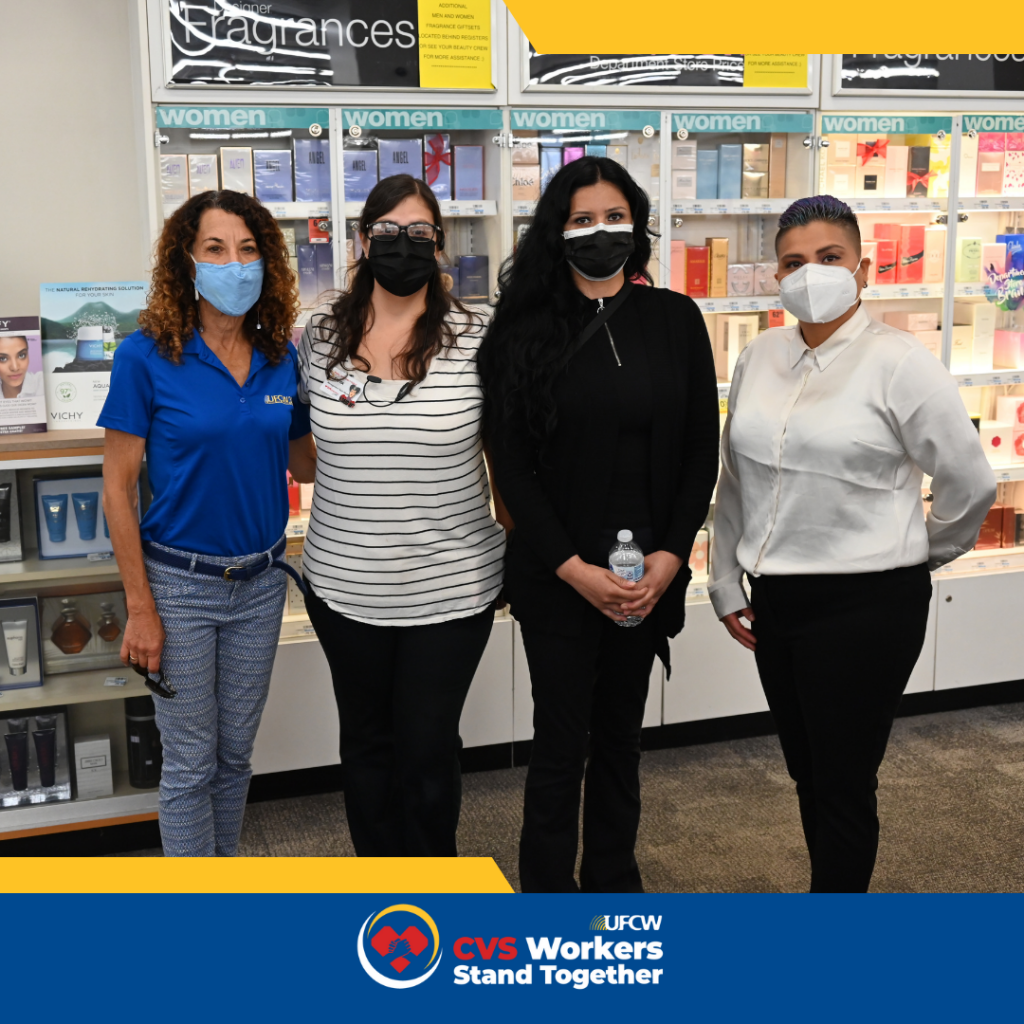 Update on 7/23/21
CVS Workers in Anaheim were joined by Councilmember Jose Moreno this week to deliver petitions to management, calling for fair wages, better staffing, improved safety standards, better store and worker security, and affordable family healthcare. UFCW 324 members from Stater Bros. and Rite Aid also joined the delegation to show their SOLIDARITY.
Delegations will continue throughout the next few weeks and are also happening throughout California with our sister locals. Reach out to your union representative to get involved!
Los trabajadores de CVS en Anaheim estuvieron acompañados por el concejal José Moreno esta semana para entregar peticiones a la administración, pidiendo sueldos justos, más personal, mejores estándares de seguridad, más seguridad en las tiendas y para los trabajadores, y atención médica familiar económica.  Los miembros de UFCW 324 de Stater Bros. y Rite Aid se unieron a la delegación para mostrar su SOLIDARIDAD.
Las delegaciones continuarán durante las próximas semanas y también estarán sucediendo en todo California con nuestros locales de unión hermanos.  ¡Comuníquese con su representante de la unión para participar!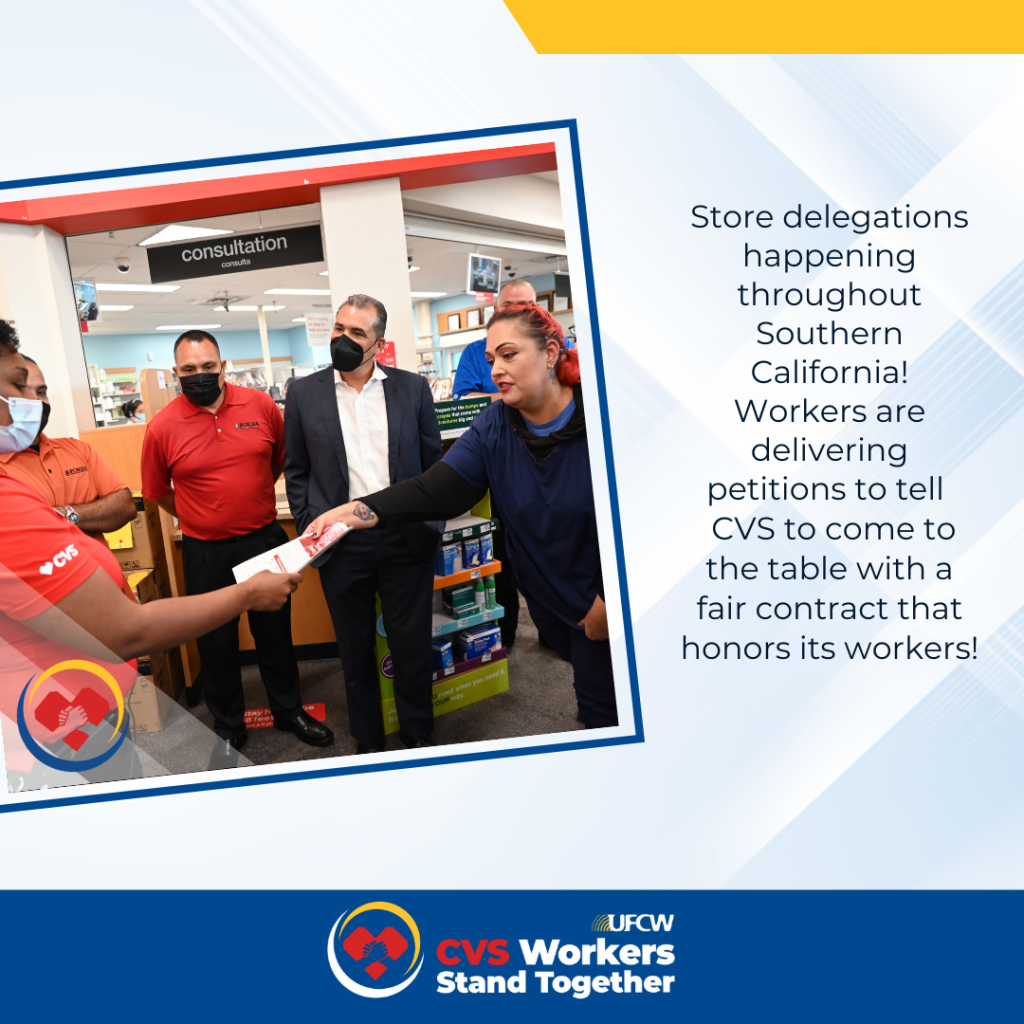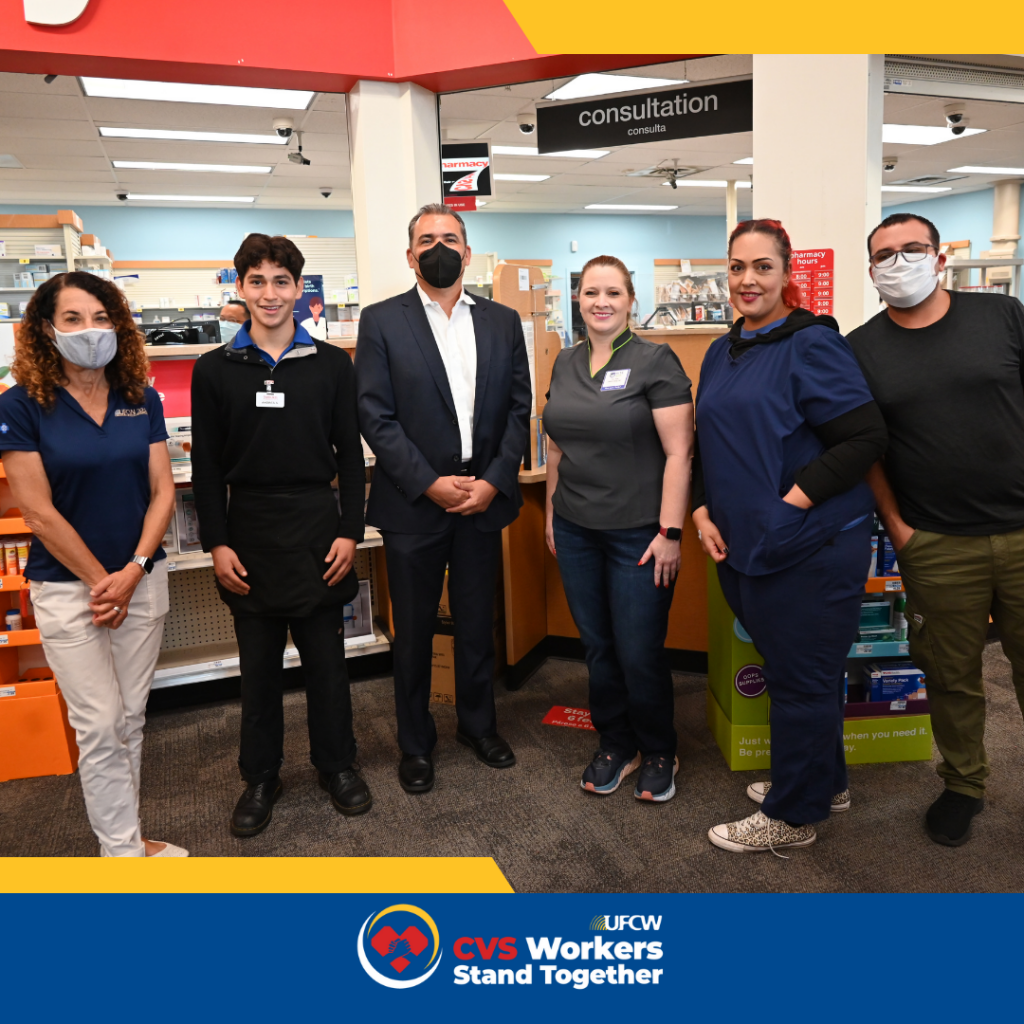 Update on 7/15/21
This week CVS's gave us an incredibly insulting economic wage proposal.  For most employees, the company's proposal is an increase of only $ .05/hour.  This offensive proposal does nothing to recognize the risks you have taken over the past year, the billions in profits CVS has enjoyed or the increasing cost of living.  You deserve more, so we are beginning actions at stores to send a strong message to CVS. Contact your union steward or representative to find out what you can do to join the fight.  Negotiations continue next week, but only through strength and unity can we achieve the contract you deserve.
Check out what CVS workers like Gabriela have to say about standing together!
Esta semana, CVS nos dió una propuesta de salario increíblemente insultante.  Para la mayoría de los empleados, la propuesta de la empresa es un aumento de solo $ .05 / hora.  Esta propuesta tan ofensiva no hace nada para reconocer los riesgos que ha asumido durante el año pasado, los miles de millones en ganancias que ha disfrutado CVS o el aumento del costo de vida. Usted merece más, por eso estamos comenzando acciones en las tiendas para enviar un mensaje contundente a CVS.  Comuníquese con su delegado o representante sindical para averiguar qué puede hacer para unirse a la lucha.  Las negociaciones continúan la próxima semana, pero solo a través de la fuerza y ​​la unidad podremos lograr el contrato que usted merece.
¡Vea lo que los trabajadores de CVS como Gabriela tienen que decir acerca de estar unidos!
Update on 7/1/21
CVS contract expired 6/30, all terms stay in effect. After 15 bargaining sessions, CVS has not provided any proposal on wage or benefits. STOP STALLING CVS!
Update on 6/19/21
After 12 bargaining sessions, CVS has not addressed any of our key issues-safety, wages, medical benefits. Negotiations continue next week.
Update on 5/27/21
We are disappointed that after 3 days of CVS bargaining this week, there is no progress to report.  CVS has not addressed any of your key issues like fair wage increases, store safety and security, staffing ratios, affordable health care.  They are attacking the Full-time guarantee and want to reduce hours for everyone. They fail to recognize the difficult work you do and your essential positions not just during the pandemic but always.  This is disrespectful and unacceptable.
We resume negotiations on June 3 and 4 with additional dates scheduled throughout the month of June.
It is time for CVS to get serious. We must begin to prepare for actions that send a strong message.  You deserve better. Check out what co-workers like Vincent have to say about standing together!
Es decepcionante que después de 3 días de negociaciones con CVS esta semana, no hay ningún progreso que informar.  CVS no ha abordado ninguno de los problemas clave, como aumentos de sueldos justos, seguridad en las tiendas, proporciones de personal, atención médica adecuada.  Están atacando la garantía de Tiempo completo y quieren reducir las horas para todos.  No reconocen el trabajo difícil que realiza y sus posiciones esenciales, no solo durante la pandemia, sino durante todo el tiempo.  Esto es irrespetuoso e inaceptable.
Reanudamos las negociaciones el 3 y 4 de junio con fechas adicionales programadas a lo largo del mes de junio.
Es hora de que CVS se ponga serio.  Debemos comenzar a prepararnos para acciones que envíen un mensaje contundente.  Usted merece mas.  ¡Mire lo que compañeros de trabajo como Vincent tienen que decir sobre estar unidos!
Negotiations Update on 5/21/21
We have ended the first week of negotiations, and the company has not agreed to any of our Union's substantive proposals that come directly from your collective input.
Instead, the company is proposing takeaways to include:
Reducing hours by changing the definition of full-time to 30 hours
Removing the requirements to schedule part-timers by seniority
UFCW 324 members, your bargaining committee, and thousands of workers from across the other locals in California are UNITED for a fair contract and will not settle for takeaways.
You are an essential worker; you have been on the frontlines of the pandemic, taking on all the risks to provide medication and supplies for our communities. Now it's time for CVS to do better in taking care of workers like you and the communities you serve.
Negotiations resume next week. Encourage your co-workers to sign up for text updates by contacting their union rep. We will keep you updated.
Actualización de las negociaciones el 5/21/21
Hemos terminado la primera semana de negociaciones y la compañía no ha aceptado ninguna de las propuestas sustantivas de nuestra Unión que provienen directamente de sus aportaciones colectivas.
En cambio, la compañía propone rebajas que incluyen:
 Reducir horas cambiando la definición de tiempo completo a 30 horas

 Eliminar los requisitos para programar empleados a medio tiempo por antigüedad

 Los miembros de UFCW 324, su comité de negociación y miles de trabajadores de todos los demás locales de California están UNIDOS por un contrato justo y no se conformarán rebajas.
Usted es un trabajador esencial;  ha estado al frente de la pandemia, asumiendo todos los riesgos para proporcionar medicamentos y suministros a nuestras comunidades.  Ahora es momento que CVS haga mejor en el cuidado de trabajadores como usted y las comunidades a las que sirve.