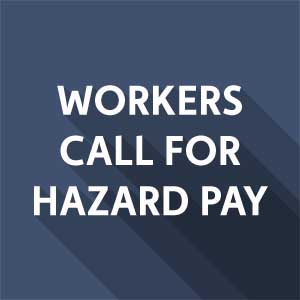 Essential Grocery Workers to Long Beach City Council: Require Employers Provide Hazard Pay
Wages Should Reflect Risk Workers and Their Families Face with Increasing COVID-19 Holiday Surge
Buena Park, CA – Today, United Food and Commercial Workers (UFCW) Local 324 introduced a resolution in front of the Long Beach City Council ordering grocery store employers to pay their essential employees an additional four dollars per hour in hazard pay wages. Grocery workers have rightly been deemed essential since the beginning of the COVID-19 pandemic, and as COVID-19 cases are rapidly increasing in our state, these workers are risking their lives, and the lives of their families, to serve their communities.
"UFCW members are the definition of essential – keeping food safe and grocery stores open during these last 10 hard months," said Andrea Zinder, President of UFCW Local 324. "Our members work hard every day while companies continue to ignore the dangers facing their frontline grocery store employees. As the COVID-19 pandemic stretches on and on this year, workers deserve wages that reflect the risks they face performing their job duties during the pandemic. Now is the time for the Long Beach City Council to stand with these workers and help provide the hazard pay they deserve."
According to a Brookings Institution analysis, many of the United States' top retail companies have earned record-breaking profits during the pandemic, but this increase in profit has not made its way back to workers. The hazard pay many grocery stores across California provided to workers when the state was under lockdown this Spring has been gone for months, while workers are forced to shoulder more and more responsibilities as COVID-19 cases increase.
"Essential grocery workers like myself don't have the luxury of working from home," said Teri Mondor, a grocery worker at Ralphs in Long Beach. "We have to come into work each day and have substantial face to face interaction with customers while infections are skyrocketing, hospital capacity is rapidly declining, and the virus is killing more of us than ever. It's time to guarantee meaningful hazard pay for every grocery worker in Long Beach. California can't hope to beat back the virus unless we stay on the job so that others can safely shelter in place at home."
Over 1,000 grocery workers within UFCW Local 324 alone have been reported to have tested positive with COVID-19 this year, and many members of the union have been hospitalized or lost their life to COVID-19 The number of workers who have been infected this year is difficult to estimate because of the lack of transparency from grocery store employers.
UFCW members – and all essential workers – have suffered greatly in the pandemic from a lack of basic data needed to prevent worksite exposure and target COVID-19 hotspots. In order to combat this lack of transparency, UFCW sponsored AB 685 (Reyes), essential legislation requiring employers to report COVID-19 infections in worksites. This important bill was signed into law by Governor Newsom and will go into effect in January, helping unions, workers themselves, and the public to all combine forces and minimize collective risk from COVID-19.  A study published in the journal Occupational and Environmental Medicine showed that grocery workers are at heightened risk of infection, 20% testing positive, and the majority asymptomatic.
If the ordinance is approved by the City Council, grocery workers would receive an additional $4 per hour for four months. The City Council is expected to vote in January on the measure. Grocery workers in San Francisco and Los Angeles have also introduced similar ordinances requiring employers to pay "Hazard Pay" to grocery workers and compensate them fairly for the risks they undergo every day they report to work.
# # #